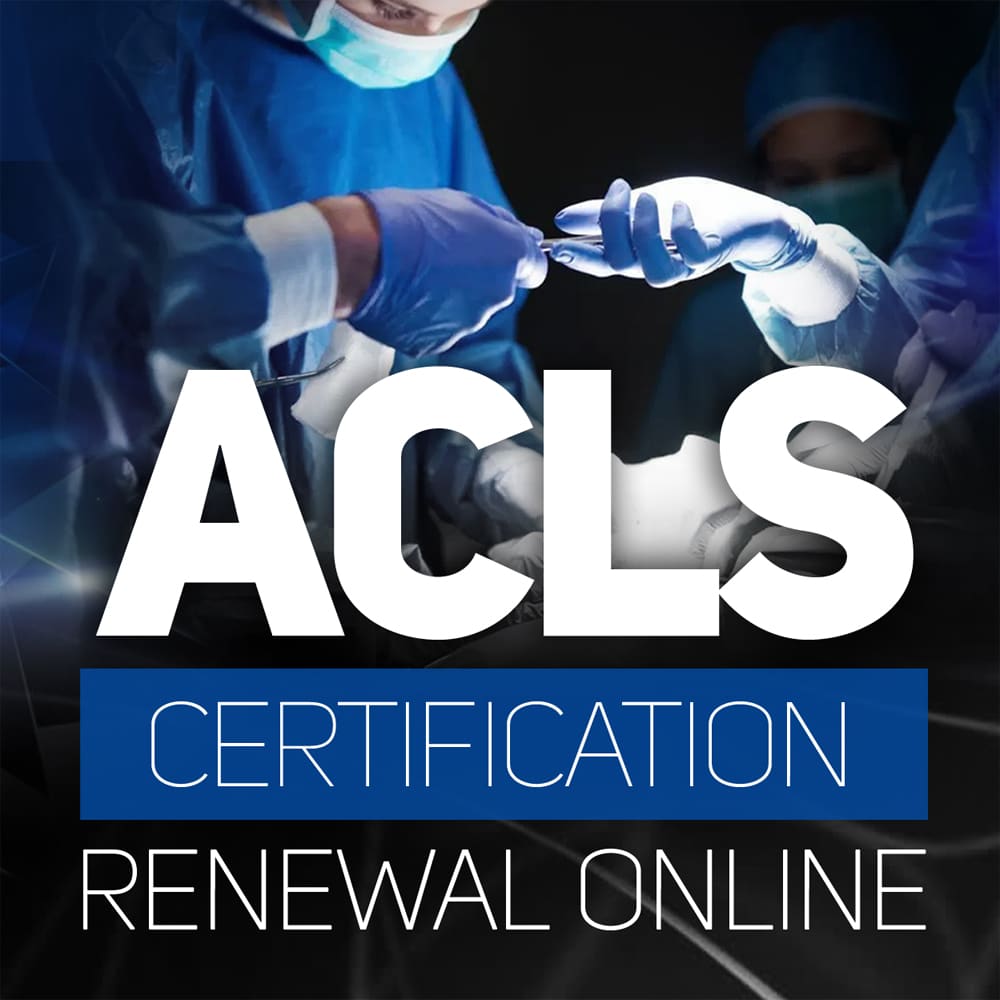 You're reading this post because you already have an ACLS certification. But in case you're yet to earn one, it's also important you get to read it. Knowing the options available for you before you get certified is going to help you in settling on the certification plan that offers you great choices to update your skills through recertification. This post discusses about ACLS certification renewal online. You're going to learn about available renewal options. You'll also get to know about the ACLS recertification courses you're required to take and the course providers before you pursue recertification. Ready to learn more? Go ahead and read the post…
---
Why the ACLS Recertification?
Recertification enables professionals to learn continuously and obtain up to date skills in their areas of specialization. For ACLS (Advanced Cardiac Life Support), taking recertification courses and passing relevant exams enable you to comply with latest standards in the industry. It also ensures you're competent and are able to efficiently provide emergency services anytime you're required to. The good thing about these courses is in the ease of accessing them.
Let's now take a look at various options available to you and that you can utilize when the time to renew your ACLS credential comes.
---

As a provider for ACLS emergency services, NHCPS offers you a great recertification plan. Their course includes study material that meets the latest AHA standards and guidelines. The NHCPS ACLS course has also received accreditation by Postgraduate Institute for Medicine (PIM) and meets the AHA guidelines. This is to ensure the skills and knowledge you obtain as you recertify is reliable and can help you to adequately provide the required emergency life support services when called upon. That's why it's important to recertify as required, two years after obtaining your certification.
You can access their 100% online ACLS recertification course through your PC, mobile phone, or tablet. All you need to do is pay $129 to get access to the recertification course. It's also possible for you to renew your skills at $299 by getting the ACLS for Life bundle. You can also purchase a value pack that offers you a chance to renew your certifications in BLS, ACLS, and PALS at $258. Another way to recertify is to obtain BLS Life coming free with ACLS and PALS for Life, which is currently on offer at $599. Remember by recertifying with NHCPS, you gain up to 4 CME units.
Beside the ACLS recertification, NHCPS also has amazing renewal plans for BLS and PALS for anyone wishing to obtain them. For the BLS, you can recertify at $99. You can also decide to go for BLS for Life that will cost you $199. If you'd like to recertify in PALS, you also have two options. The first one costs you $129, while the second one, which is PALS for Life requires you to pay $299.
LEARN MORE ABOUT NHCPS Online Certification Renewal
---

Through the ACLS Certification Institute, you can find excellent options to ensure your ACLS skills are up to date and meet the required standards. Their certification and recertification curriculum has been accredited by ADA, ANCC, and AMA in partnership with Postgraduate Institute for Medicine (PIM). Their purely online recertification course format provides you with study materials that enable you to attain the knowledge you need.
If this is your preferred plan, then this will cost you $175. Maintaining your certification requires you to renew every two years. The nationally accredited course allows you to access 4 CUE credits.
For professionals who wish to obtain online recertification in BLS and PALS, ACLS Certification Institute also gives you a chance to do so. The BLS recertification plan goes for $65, while the PALS recertification plan goes for $175.
LEARN MORE ABOUT ACLS Certification Institute ACLS Renewal Online
---

ProMed Certifications ensure the right knowledge and skills are passed onto anyone who takes their certification courses. Their recertification plan also enables life emergency service providers to scale up by updating their ACLS skills. Their courses have been designed in collaboration with leading medical professionals and engineers to make sure the right standards are met.
Their best fully online ACLS recertification course meets the latest AHA and ILCOR standards and guidelines. You'll be able to access helpful training and exam material to prepare you for the exam and the tasks that await you as an emergency service provider. Professionals must recertify exactly two years after receiving their certifications. With this renewal option, you get 4 CME/CUE credits.
If you choose to go with ProMed Certifications, your ACLS renewal will cost you $129. Other certifications offered by ProMed are BLS and PALS, which are also renewable online. For BLS renewal, professionals are required to pay $65, while those intending to renew their PALS certification need to part with $129.
LEARN MORE ABOUT ProMed Certifications ACLS Renewal Online
---

This is also another fast and convenient internationally accepted way to obtain your ACLS certification renewal online. Their ACLS recertification course is 100% online as you can access it through your tablet, PC, or mobile phone. The ACLS Medical Training ACLS renewal course also meets the latest AHA and JCAHO guidelines. AMA, ANCC, ADA, and ACPE have also accredited it. Apart from passing their exam, those who take this recertification course get access to numerous materials to help them gain knowledge and skills needed to be applied in the real world.
To renew your ACLS certification after the required two years, you need to get it at $175. Apart from recertifying in ACLS, ProMed also provides you with simple options to recertify in BLS and PALS. BLS recertification costs $65, while that for PALS goes for $175. Professionals who choose ACLS Medical Training renewal path get access to up to 8 AMA PRA credits.
LEARN MORE ABOUT ACLS Medical Training ACLS Renewal Online
---

The mandate of Disque Foundations in ACLS training and certification is based on their goal to empower millions of emergency service providers across the world. This is done to ensure undeserving populations all over the world are able to access emergency services with ease. To ensure your skills are up to date and can meet the needs of these people, the foundation offers you an opportunity to renew your ACLS certification. This recertification process happens after every two years. This is to make sure you're always ready with the right skills for the job you do.
Their online ACLS recertification program goes for $129, but you have an option to recertify at 25% off if you register before the end of February 2023. In this program, Disque Foundations have partnered with NHCPS. By taking their course, you ensure that your skills meet the AHA standards. The ACLS course is packed with in-depth material that allows you to learn the core areas and practice with assessment tests before you take the exam. If you choose this renewal option, you'll be able to get 8 CME credits.
Other recertification courses by the foundation include BLS and PALS, which go for $99 and $129, respectively. If you take the courses before the end of February 2023, you're going to recertify at 25% off the original cost.
LEARN MORE ABOUT Disque Foundations ACLS Renewal Online
---

eMedCert (Electronic Medical Certification) ACLS recertification online course is internationally accepted. You're going to get access to both hard copies and digital materials to use for your studies. This course has received accreditation by PIM and California Board of Registered Nursing (CA BRN). You'll get access to online interactive training with materials that cover the core sections and includes several assessment tests.
ACLS certification is valid for two years, after which every professional must renew. To go through this process, you're required to pay $119. This renewal process also comes with 4 CME/CE credits. eMedCert also gives medical professionals an opportunity to renew their BLS and PALS certifications. For BLS renewal, individuals pay $60 and to renew your PALS certification, you have to part with $199.
LEARN MORE ABOUT eMedCert ACLS Certification Renewal Online
---
Conclusion
Connecting with the right trainer and recertification provider will help you renew your skills and get the right support needed to work efficiently. ACLS recertification courses are designed to meet the required standards. Professionals can take these courses and recertify with ease. Accessing your ACLS recertification renewal online is an advantage as it offers you a chance to register and take your exam anytime you want. The courses ensure you get the flexibility you need as you prepare for your exam. You can study at the comfort of your home or even at work whenever you find time. When all this is possible, you have no excuse to be late in renewing your ACLS certification. Ensure your skills and certifications are always up to date!