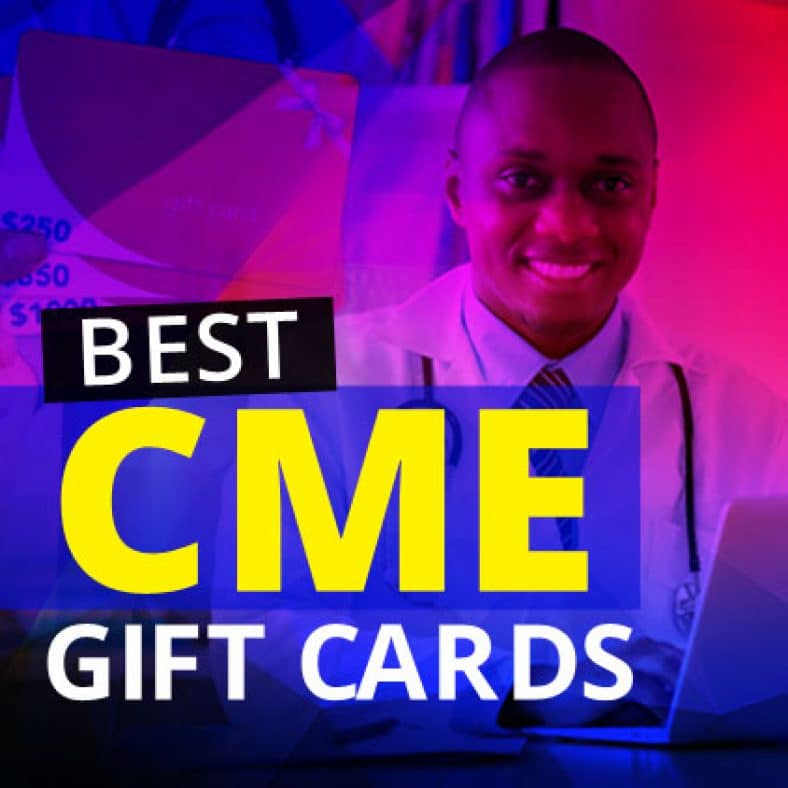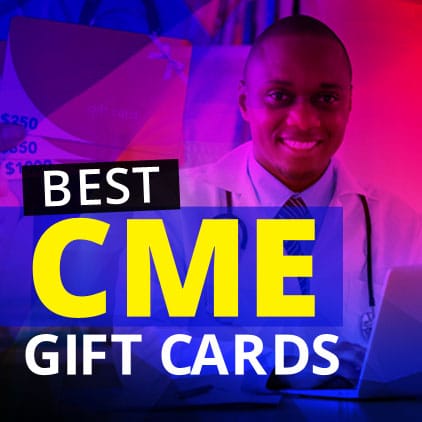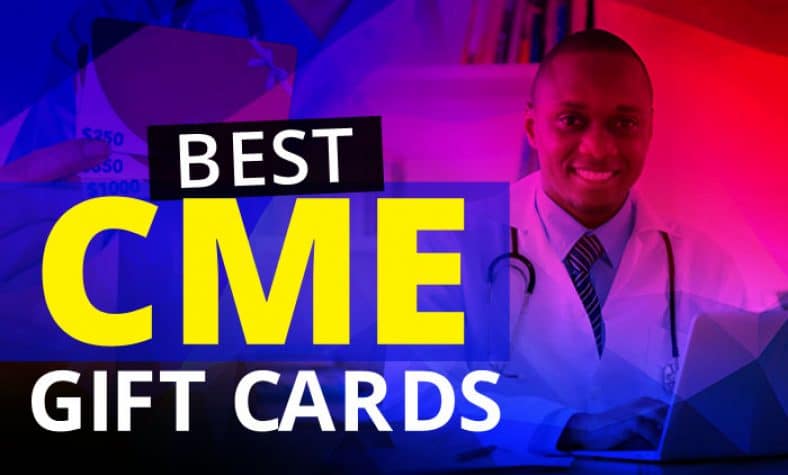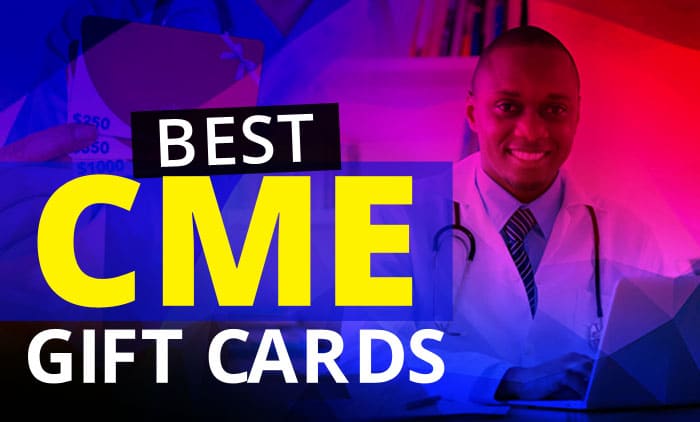 CME gift cards are one of the many ways that you might choose to spend your CME allowance. 
While you may already have some experience choosing CME gift cards, we are here today to try and help you make sure you choose from the best online cme.
What's a CME Gift Card?
CME gift cards are one of the ways different physicians choose to receive their CME allowance each year.
CME, or continuing medical education, is an abbreviation for trained physicians updating their skill set. 
Medicine is an ever-changing field with breakthroughs and research being made constantly. It's important to ensure that doctors continue their education and are kept up to date with best practices using tools lik0e CME gift cards.
So how do doctors manage to stay up to date on best practices and advances in their field? 
Easy, CME allowance!
Most states have a CME credit requirement that acting physicians adhere to stay in practice. CME classes are an approved set of medical classes that count toward this state requirement. 
Many physicians are given a certain amount of money from their hospital or institution to keep their CME credits. This allowance is a common benefit in the medical industry. It incentivizes doctors to stay up to date with their craft.
CME gift cards serve as a means for physicians to receive this funding, making sure the money goes towards CME credits.
When To Use a CME Allowance?
While there are many ways to fulfill CME requirements, the most popular way is to choose a CME with a gift card option. Choosing a CME with an Amazon gift card is a way for doctors to get the most out of their allowance.
Certain CME gift cards have the added benefit of giving a physician their gift card afterward. Companies like Amazon partner with these CME cards because it incentivizes physicians to maximize their CME usage and stay as educated as possible.
Taking an online medical course may sound like a daunting task, especially when required annually. But when an extra prepaid gift card is used as an incentive, many physicians are more adamant about keeping learning.


| | |
| --- | --- |
| Most physicians must meet and maintain a certain CME credits each year. These credit requirements vary by state and can even be required by a specific board. | While CME gift cards are certainly a helpful resource, they don't come without their faults. |
| CME credits are quite expensive! | The main argument against CME gift cards is that they are an item created from a problem that shouldn't exist! |
| This is why many hospitals or other medical institutions offer a CME training fund as a benefit. While this designated money is nice, rising education costs have made it so that these funds don't usually cover the entire expense. | Many would argue that CME credits should be covered by hospitals and that if they gave a higher balance to physicals, they wouldn't need to seek out secondary forms of funding in the first place. |
| CME gift cards serve as a way to bridge this gap between employer-provided funds and leftover expenses. Having gift cards provided to those seeking further education incentivizes physicians to stay educated beyond the bare minimum required. |   |
| Medicine as a whole benefits from physicians staying educated, as more educated doctors can maintain more modern medicine standards. Without constant CME credits, physicians can fall out of the loop and work off outdated information.  |   |
Audio Digest Clinical Compendia with up to a $2,000 Amazon Gift Card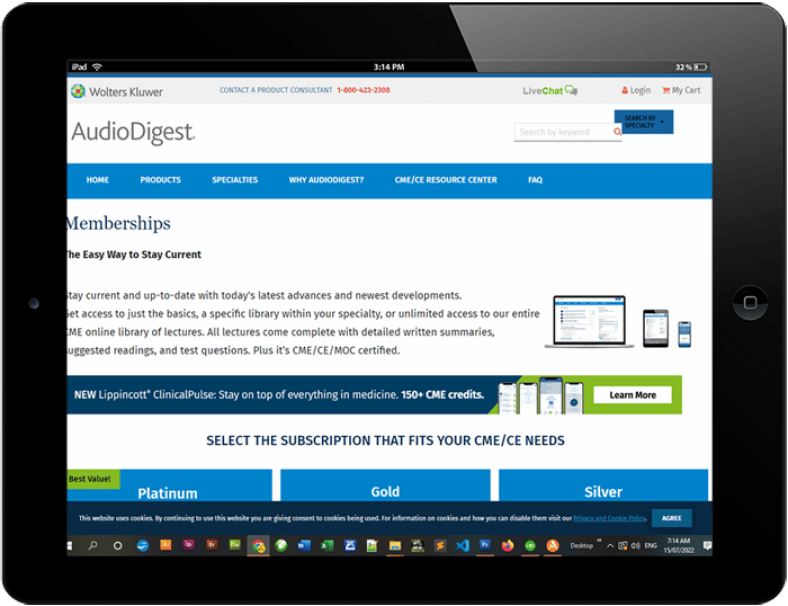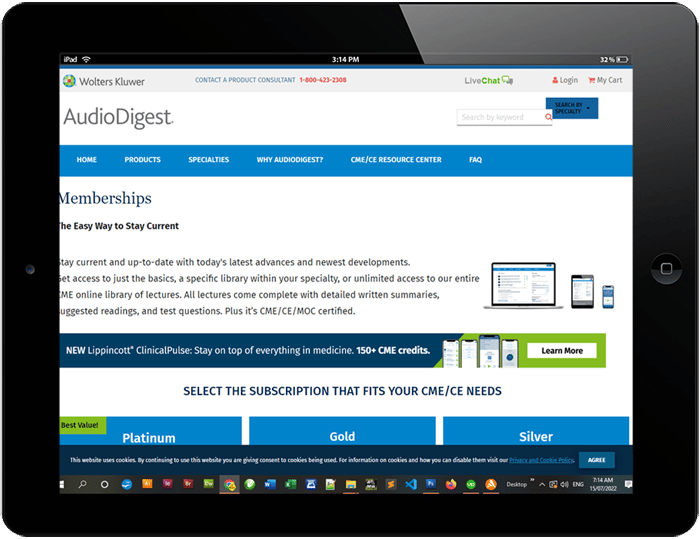 Benefits of the Audio Digest Clinical Compendia:
Audio recorded CME test questions and other learning material
Up to 413.5 credits worth of AMA PRA Category 1 Credit. These vary by specialty
Up to $2000 spending money on an Amazon gift card
Algorithms to better suggest lessons and other specifications
Offered through both mobile and desktop
The audio digest gift card plan is great for those looking for audio in their education. Online courses can struggle to maintain engagement, but this plan offers an exciting vocal aspect to their credits.
The audio provided through this plan helps maintain engagement through its custom educational objectives. Different lessons ask for content summaries and CME test questions to ensure that physicians maintain the information.
This package also offers an impressive list of specialties to choose from. Some of the specialties covered by this CME gift card include:
General Surgeon
Oncology
Orthopedics
Psychiatry
Urology
Not only is the plan exciting and versatile, but what better institution to receive a gift card from than Amazon? They offer the widest selection of products on the internet and will surely be the most versatile gift card available.
TAKE ME TO AUDIO DIGEST CLINICAL COMPENDIA
---
MDCalc CME Bundle with a $3,000 Gift Card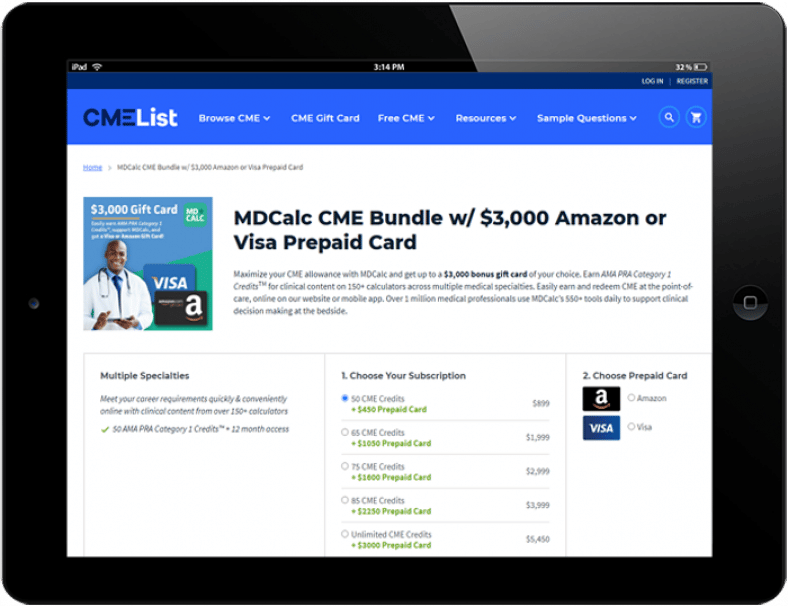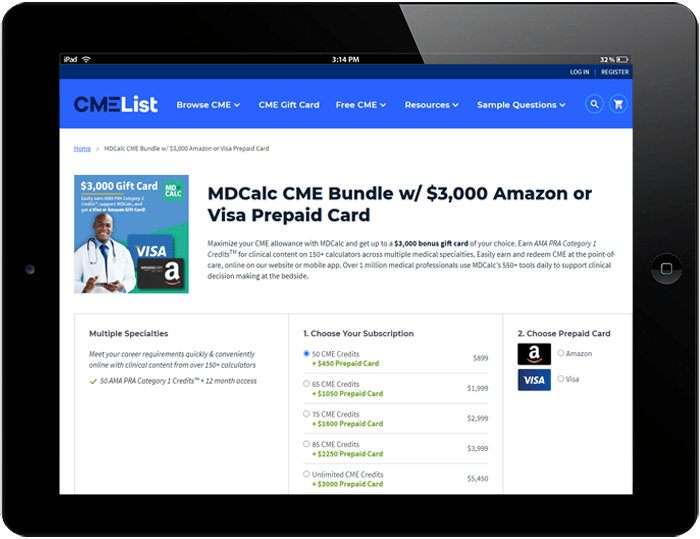 Benefits of the MDCalc CME Bundle:
Supports the practice of evidence-based medicine
$3000 gift card of choice with the purchase
Obtain AMA PRA Category 1 Credits from over 150 calculators
12 months to earn credits
This gift card bundle allows physicians to earn as many AMA credits as they want. This bundle is beneficial for those looking for quantity. Their unlimited cap makes earning credits as cheap as possible if utilized correctly.
If the unlimited package isn't for you, MDCalc also offers credits in increments of 50, 65, 75, and 85. Those who know a specific set of credits they want to obtain will benefit from these packages over the unlimited ones.
MDCalc remains one of the best options for CME gift cards because it offers a lot of value and flexibility in its package. 
---
BoardVitals CME Pro Plus with up to a $3,000 Amazon Gift Card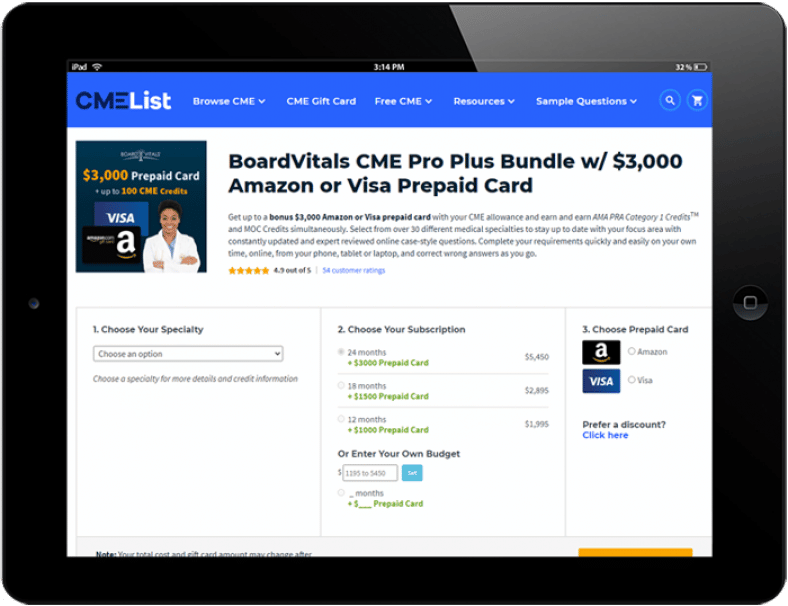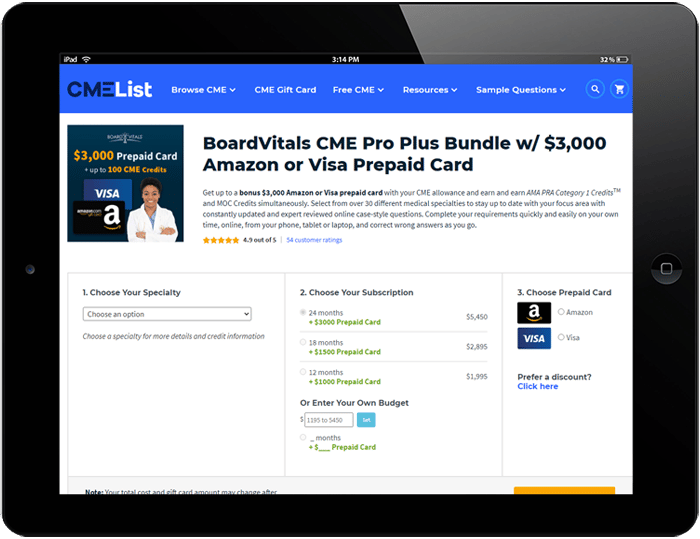 Benefits of the BoardVitals CME Pro Plus:
Customizable based on CME allowance
Up to $3000 spending money on an Amazon gift card
Up to 100 credits worth of AMA PRA Category 1 Credit. These vary by specialty
Offers a 12, 18, and 24-month plan
The BoardVitals CME Pro Plus Bundle is a great option for those looking into CME Gift Cards. This bundle offers a customizable plan that allows physicians to work with what's best for them. 
The special "build your own" feature offered in this bundle is great for physicians who know what they need.
As another institution offering an Amazon gift card, BoardVitals furthers its options available for its gift card recipients.
TAKE ME TO BOARDVITALS CME PRO PLUS
---
CME Procedures Gift Card Bundle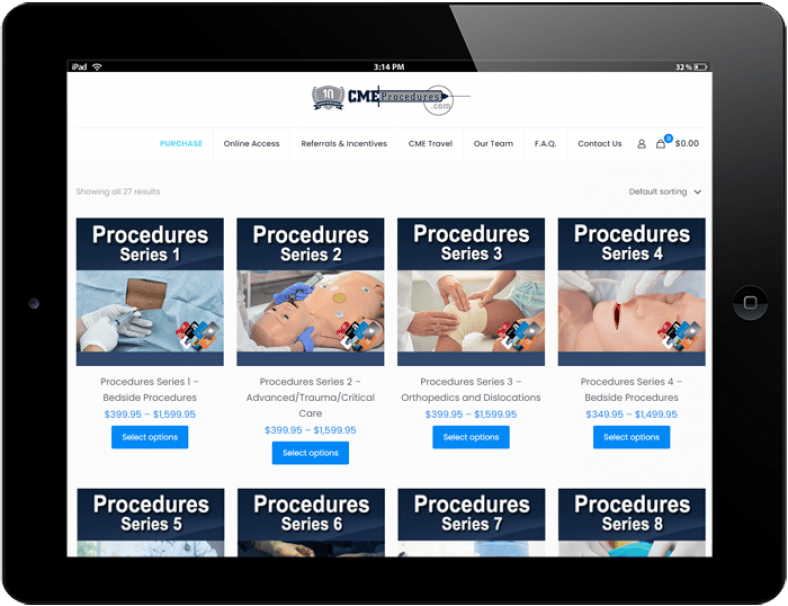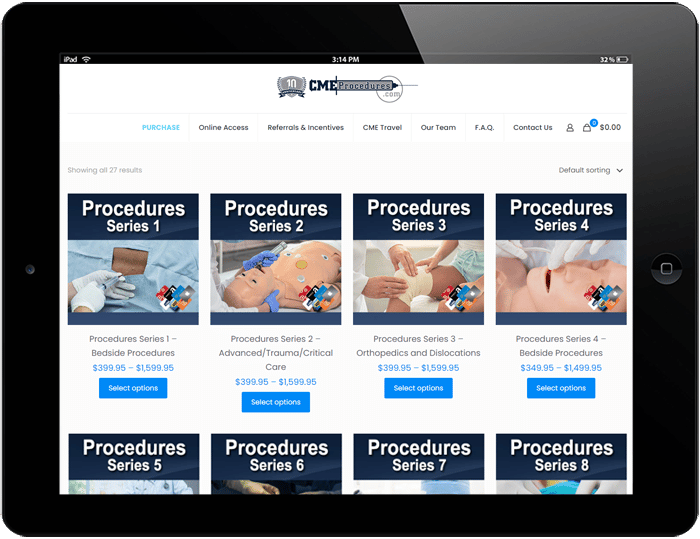 Benefits of the CME Procedures Gift Card Bundle:
The plan provides one full year of online access
Up to $1000 spending money on an Amazon gift card
Up to 10 credits worth of AMA PRA Category 1 Credit
Access to lectures and other quality learning material
This package provides great value, as it only costs $1595.95. 
This low price means that almost two-thirds of the price of the package comes back to the physician in the form of a gift card. This means that physicians gain access to up to ten credits for less than 600 dollars in this medical cme gift card bundle.
This package is good because it's designed to help physicians gain key information without all the extra fluff. The key points of each lecture are the focus of this package.
TAKE ME TO CME PROCEDURES GIFT CARD BUNDLE
---
Hippo Education CME Gift Cards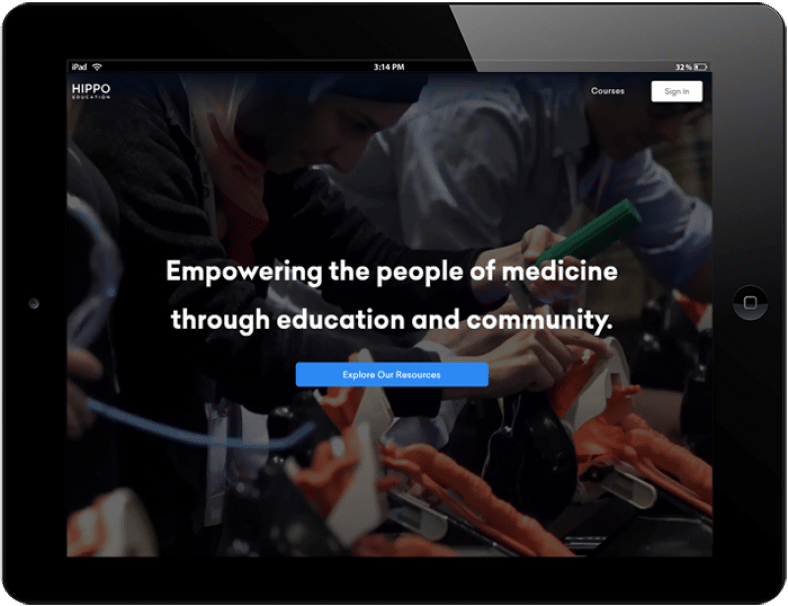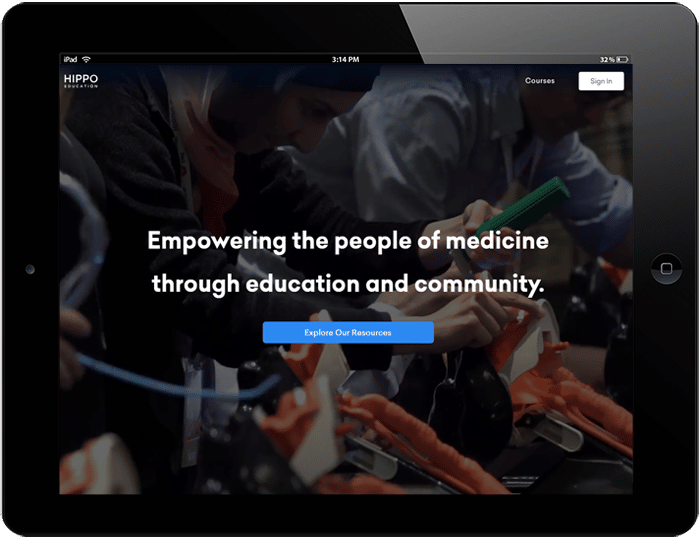 Benefits of the Hippo Education CME:
Classes are physician-led by trained professionals 
$25 Amazon gift card per friend referred
Offered through both mobile and desktop
Hippo Education CME Gift Cards offer an advantage to those who know a lot of other practicing physicians. There's an offer for a $25 gift card if a physician refers someone else to the card. This leaves a lot of potential for Amazon gift cards while taking CME courses.
Hippo Education is unique because it offers physician-led content to improve a doctor's skillset. This gift card package should benefit those looking to improve their practicing medicine.
These courses are beneficial for many different types of clinicians. Some of the course of their course topics include:
Primary Care
Pediatrics
Telemedicine
Urgent Care
While these are only some of the many CME gift cards on the market, they are all solid options for those looking to obtain CME gift cards. Physicians can find a plan on a card built for their needs and will benefit from looking into the pros of all the products listed above.
TAKE ME TO HIPPO EDUCATION CME
---
CME Gift Cards: Key Takeaways
In conclusion, CME gift cards are a great way to fulfill your CME credit requirements. 
As a physician, you must stay up to date with medicine and maintain a high knowledge of your craft. While different doctors have different specialties, you will want to maintain the highest level of knowledge to continue practicing medicine.
Not only is there a level of pride in maintaining this standard, but it's a must when making sure to practice safely.
CME gift cards offer an easy and affordable way to stay up to date with CME credits. These cards are understandable and provide extra incentive for you to stay educated.0