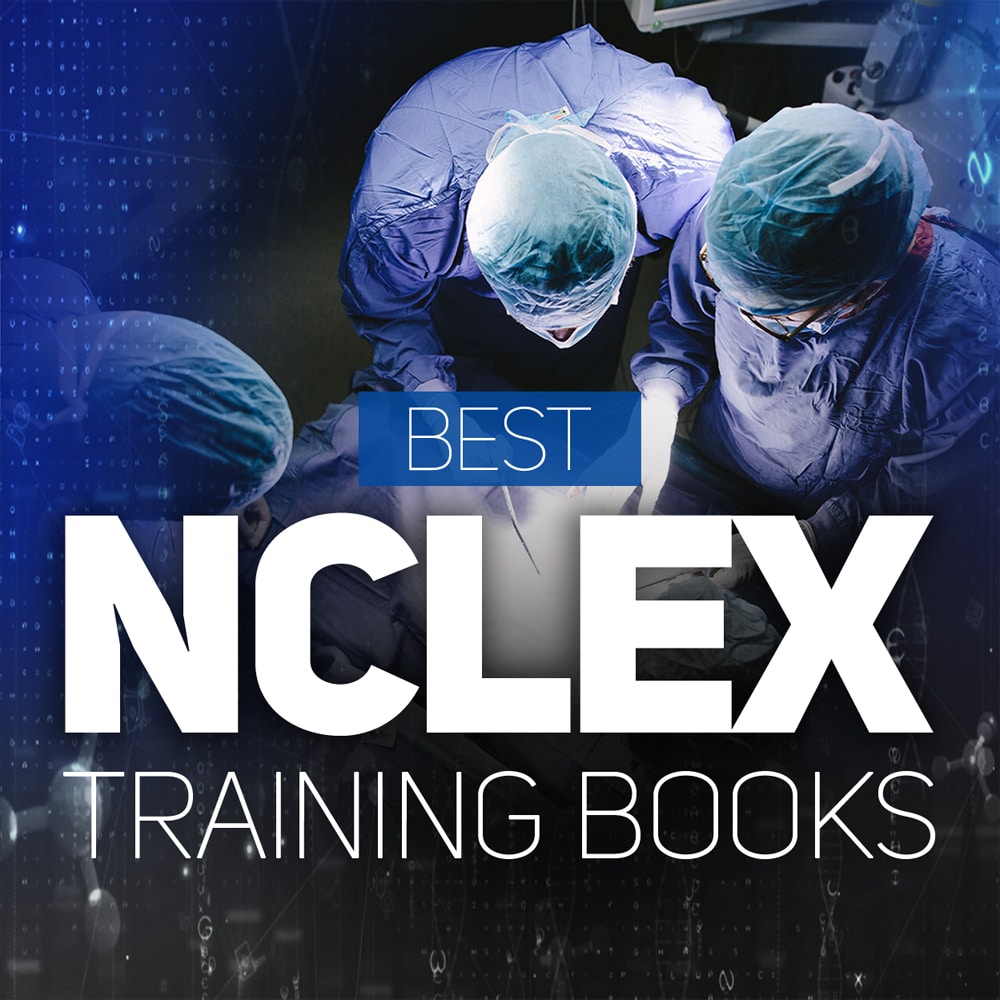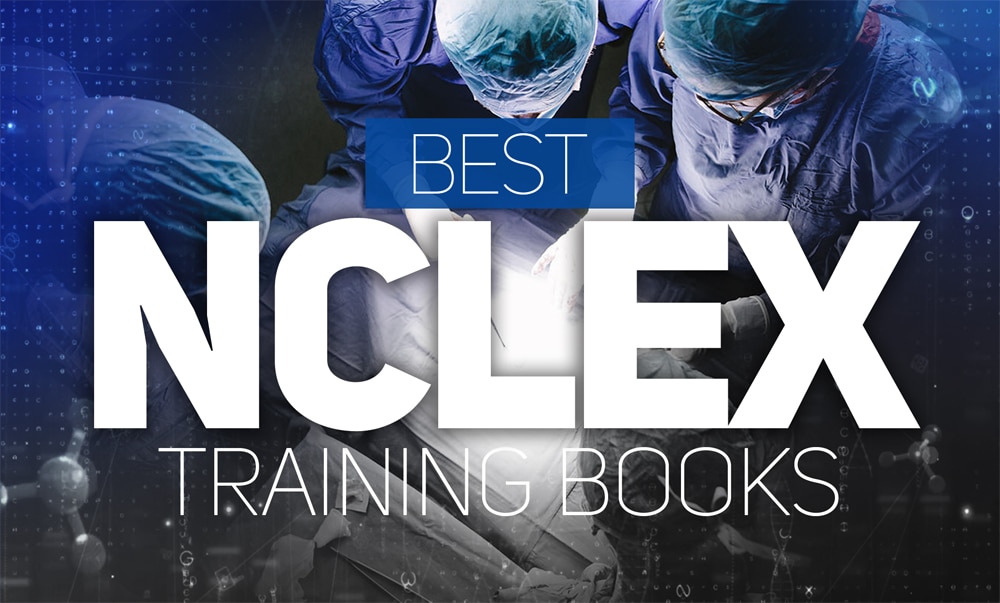 Introduction
The NCLEX exam is tough but possible to pass with the help of the right study books. You'll need a guide that will help you get a comprehensive review of what the exam needs of you. That's why after in-depth research that included seeking the opinions of the experts, we've come up with a list. Our list of best NCLEX training books brings you a detailed description of each book. You'll also get a clear picture of what each one of these books offers you. Some of the books contain an exhaustive coverage of the NCLEX exam objectives. Others consist of questions and answers whose sole purpose is to help you understand what questions to expect and how you can answer them.Who Takes the NCLEX Exam?
The National Council for Licensure Examination (NCLEX) exam is administered to nurses who wish to be licensed for them to practice as nurses. This exam has two options. There's the NCLEX-RN targeting someone seeking to practice as a Registered Nurse (RN) and wishes to be licensed for the same. The other option is NCLEX-PN for anyone wishing to obtain licensing so that they can practice as a Licensed Practical Nurse (LPN).
So before you start your studies, ensure to get the right study material meant for the specific exam you're preparing for.Best NCLEX Training Books
Let's get down to the list and description of the best training books to use for your NCLEX test. Are you ready? Read on…Best NCLEX Training Books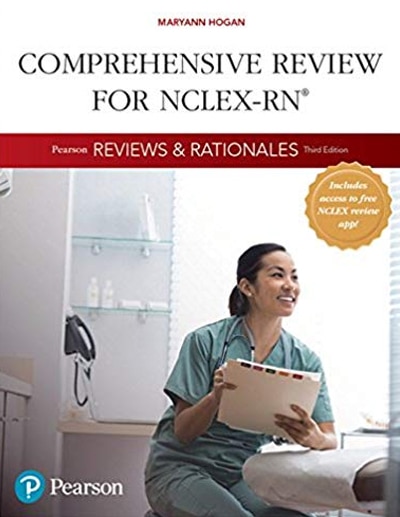 1. Pearson Reviews and Rationales: Comprehensive Review for NCLEX-RN, 3RD Edition
This up to date guide by Maryann Hogan gives you a full outline review of all that the NCLEX exam is expected to test you on. Just like a text, this book is dense and detailed and includes unique features that would come in handy during your exam prep. In the course of studying with the 'Pearson Reviews and Rationales: Comprehensive Review for NCLEX-RN' book, you'll come across challenging questions. And according to those who have used it, the questions were almost similar to what they found in the real NCLEX exam. Apart from a few grammatical errors and an online interface that might prove challenging to use, this review guide passes for a great exam prep companion.
Important Features of this Guide
Special boxes included to help you remember information easily
Detailed explanations of answers and why they are correct
Includes special tips targeting ESL students
Includes a website giving access to more than 5000 questions as well as practice exams
The questions and answers are included to help you simulate the actual exam experience
Thorough online questions
Access this review book right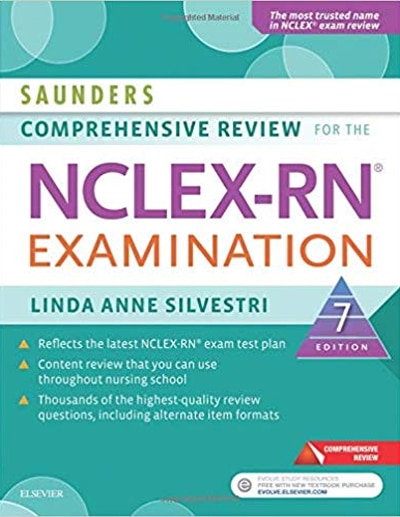 2. Saunder's Comprehensive Review for the NCLEX-RN, 7TH Edition
Pass your NCLEX exam on your first try with this concise review text! Popularly known as 'the best NCLEX exam review book ever', the guide gives you all you need to get ready and pass the exam. This large volume 'Saunder's Comprehensive Review for the NCLEX-RN' is packed with information as well as questions. Written by Linda Anne, the book will help you develop critical thinking skills by consistently testing you through unique and thorough questions. To get the most out of it, it's recommended that you use this guide six weeks to taking your exam. And because of its large size, you may want to reinforce it with some tape so that the pages don't fall off.
Important Features of the Guide
Covers latest exam updates
Includes texts, diagrams, and images that make it easy for you to understand concepts
Uses pyramid points to drive the key concepts home
Includes an easy to use study schedule targeting those who find it hard to cram
Get more details of the review guide here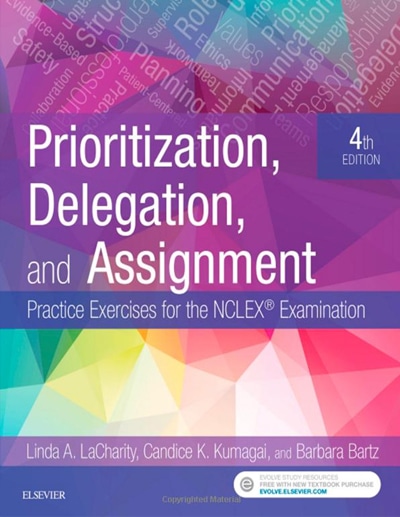 3. Prioritization, Delegation, and Assignment: Practice Exercises for the NCLEX Exam
To pass your NCLEX exam, you must get yourself into the exam mindset! This is basically what the 'Prioritization, Delegation, and Assignment: Practice Exercises for the NCLEX Exam' study book does for you! The practice questions are multiple choice in nature and designed exactly like the actual exam questions. The difficulty of the questions increases as you work through the questions. You'll experience the escalating difficulty as you take yourself from Prioritization, to Delegation, and to Assignment Nursing. This is because the book intends to let you experience what happens in the real world. There's also a possibility of finding exam questions similar to what you find in this review guide.
Important Features of the Guide
Takes care of the QSEN (Quality Safety and Education for Nurses) concepts
Has chart-format test questions
Get access to the guide here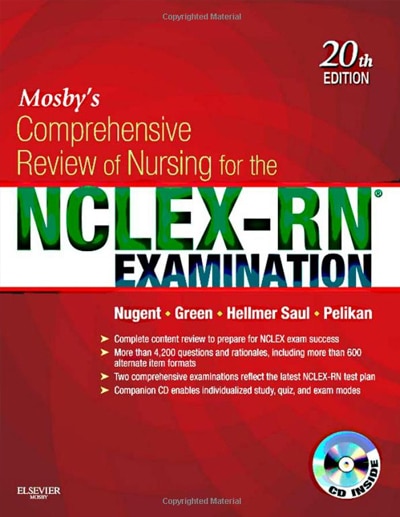 4. Mosby's Comprehensive Review of Nursing for the NCLEX-RN Examination
This best NCLEX training book is for anyone who needs a complete coverage of the NCLEX exam topics. Its latest update reflects the new requirements of the NCLEX-RN exam. 'Mosby's Comprehensive Review of Nursing for the NCLEX-RN Examination' is a well organized text and provides you with an exam overview that's fairly comprehensive. The guide's layout is more or less similar to Saunder's as they share the same publisher. You can therefore use this Mosby's guide as an alternative option to Saunder's should you wish to.
Important Features of the Guide
Core topics like paediatrics, mental health, medical-surgical, and women's health are included
Includes practice questions
A new nursing management section included
Comes with a CD with practice questions and downloadable summaries on helpful information
Here's how to get yourself a copy of this guide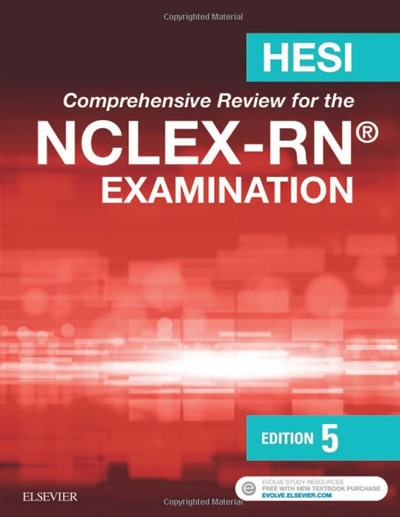 5. HESI Comprehensive Review for the NCLEX-RN Examination
This 2-in-1 'HESI Comprehensive Review for the NCLEX-RN Examination' helps you cover the contents of both the HESI and NCLEX-RN exams. It reflects the latest updates of the NCLEX exam that include neonatal resuscitation, paediatric immunization schedules, as well as psychiatric nursing.
There are those who consider this text as the best review guide around for the NCLEX-RN exam. They claim that mastering the contents of this guide helped them score well in their exams. The book is on-point and strives to move away from using fluff. It's durable and easy to carry around with you.
Important Features of the Guide
Clinically oriented
Includes tables meant for pharmacology
Includes hint-boxes specifically meant for highlighting tips
Features multiple charts as well as graphics to help reinforce and retain various aspects of the exam material
Up to 700 questions included in the accompanying website
Get your copy of the guide here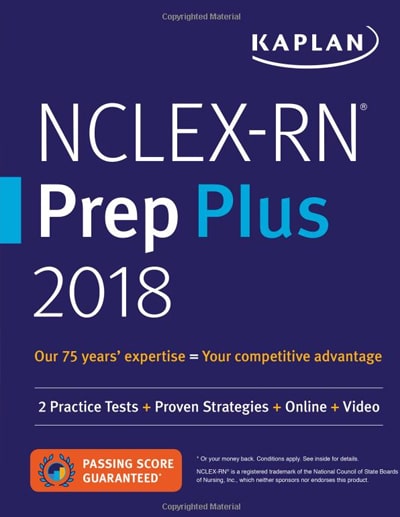 6. NCLEX-RN Prep Plus 2018: 2 Practice Tests + Proven Strategies + Online + Video
'This NCLEX-RN Prep Plus 2018' review guide has been compiled by Kaplan to help you experience the unique Kaplan's learning method. Kaplan's renowned training and test prep support spans many years and covers many disciplines. The preparation of this guide is based on their many years of teaching various courses. The book's critical thinking approach helps you in analyzing questions. If you want to get the best knowledge and experience without having to spend so much on a course, then this is the guide for you!
Important Features of the Guide
2 practice tests
Questions at the end of each chapter
Video tutorials available
Useful test taking strategies available on the online site
Grab your copy of the guide right here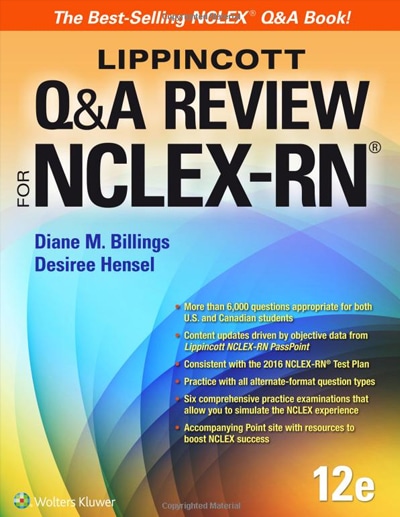 7. Lippincott's Q & A Review for NCLEX-RN
This is one of the best NCLEX training books so far! The 'Lippincott's Q & A Review for NCLEX-RN' is such a pretty looking book. It also happens to be glossy and quite colorful. Most nursing programs recommend it as a reliable resource during exam prep. The other attractive feature of the book is how it has been organized. Sections have been broken down into sub-categories that are systems based. This is to help in connecting the dots found in various sections. Your exam prep would be such an interesting experience with this great guide!
Important Features of the Guide
Includes 6,000 practice questions
Covers four key content areas including obstetrics, medical-surgical, paediatrics, and mental health nursing
Includes six comprehensive exams
Get your copy of the guide here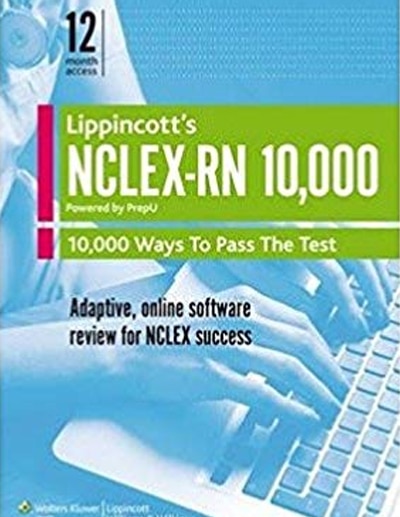 8. Lippincott's NCLEX-RN 10,000
For the best NCLEX prep experience, you have to use this best NCLEX training book. The 'Lippincott's NCLEX-RN 10,000' harnesses today's computing power in delivering the best NCLEX exam study experience. The kind of quizzing experience you get is also something that cannot be ignored. The guide isn't exactly a book but is a study material that helps you access the PrepU platform. This is an online based learning system featuring an intelligent software designed to detect your capabilities and knowledge progress. Get yourself ready for the NCLEX exam by using this relevant exam prep tool!
Important Features of the Guide
Includes 10,000 questions
Focused questions with answers and immediate feedback
A 12-month access to the question bank
Check out the study guide hereConclusion
A great NCLEX exam prep study experience depends entirely on which guide you choose to use. These best NCLEX training books are the right ones for those candidates who feel like they need reliable study companions as they prepare for their exam. These books are designed to help you nurture your capabilities even as you get ready for your exam. Using any of them would bring out the best in you.