At vælge den rigtige USMLE Step 1 prep kursus er den vigtigste beslutning, du vil gøre på din rejse mod at passere din eksamen.
Du vil bruge mange timer på at studere, så det er afgørende at finde den kursus, der passer bedst til din læringsstil og baggrund. Forskellen mellem beståelse eller mangel USMLE Step 1 eksamen i høj grad afhænger af, hvor godt dine undervisningsmaterialer forberede dig til det.
Ved hjælp af en prep kursus, der ikke er et godt match til din læringsstil kan få dig til at score lavere eller endda svigte din eksamen, koster dig måneders studietid og yderligere eksamen gebyrer. CRUSH er her for at sikre det ikke sker!
Her er den gode nyhed: Vi har personligt forsket og revideret alle større USMLE Step 1 prep kursus på markedet for at gøre det nemmere for dig! Nedenstående sammenligning diagram vil hjælpe dig med at beslutte hvilke online kursus bedst passer til dine behov.
Some of the links on this chart are affiliate links, meaning I get small commission (used to fund this website) when you purchase by clicking through. Don't worry though, by using the USMLE promo codes and USMLE review course discounts you'll get the best possible deal.
On-Demand USMLE Step

1

Course Comparisons

& Rabatter

USMLE Step 1
Kurser
RANGlISTER

#1

#2

#3

#4

#5

SAMLET
BEDØMMELSE
SELSKAB
Smash USMLE
Kaplan USMLE
Board Vitals

GraduateX USMLE

Becker USMLE
PRIS
$795
$1,999
$179
$289
$1,500
RABATTER

Gem $79.50




Show Coupon

Ingen

Gem $17.90




Show Coupon

Gem $57.80




Show Coupon

Ingen
Praksis spørgsmål
2,000
2,000
1,600
1,500+
2,000+
Fuld længde praksis eksamener
VIDEO FOREDRAG
250 Timer
200 Timer
200 Timer
PASS GARANTI
GRATIS SMARTPHONE APP
PROGRESS TRACKING
STUDENT SUPPORT
Instruktør E-mail Support
Instruktør E-mail Support
Instruktør E-mail Support
E-mail-support
E-mail-support
Onlineadgang PERIODE
12 Måneder
3 Måneder
6 Måneder
12 Måneder
12 Måneder
Læs min FULL
ANALYSE
Læs hele anmeldelsen
Læs hele anmeldelsen
Læs hele anmeldelsen
Læs hele anmeldelsen
Læs hele anmeldelsen
KOM IGANG

Start Now

Start Now

Start Now

Start Now

Start Now
Best Live-Online USMLE Step

1 Kurser
USMLE Step 1


Live Online Courses

RANGlISTER

#1

#2

SAMLET
BEDØMMELSE
SELSKAB

Pass Program USMLE

Kaplan USMLE
PRIS
$4.390
$3,999
RABATTER
Ingen
Ingen

METHOD OF INSTRUCTION

8

Weeks of Live-Online Instruction

7

Weeks of Live-Online Instruction

COURSE FORMAT

Class Options

8:30

am-5pm EST

(

Monday-Friday

)

Class Options 11am-9pm EST

(7

Days a Week

)
PASS GARANTI
STUDENT SUPPORT

Dedicated Instructor Email Support

Instruktør E-mail Support
Onlineadgang PERIODE
4 eller 8 Uger
7 eller 14 Uger
Læs min FULL
ANALYSE
Læs hele anmeldelsen
Læs hele anmeldelsen
KOM IGANG

Start Now

Start Now
2017 Bedste USMLE Step 1
Prep Course Rankings
1. Smash USMLE


SAMLET BEDØMMELSE: ★★★★★

Populære og engagerende Video Forelæsninger: Smash USMLE grundlægger, Dr. Adeleke Adesina, har en imponerende følgende blandt lægestuderende, der elsker hans optimistiske og ligetil video foredrag og forklaringer. Nogle af hans mest populære videoer er blevet set millioner af gange på YouTube!

Omfattende Spørgsmål Bank: Den Smash USMLE Spørgsmål Bank omfatter mere end 3,500 praktisere spørgsmål for at hjælpe eleverne forberede sig til Step 1 og trin 2 CK eksamener. Detaljerede forklaringer hjælpe eleverne lære, hvorfor specifikke svar er rigtigt eller forkert. Testen bank kan også nulstilles to gange, og spørgsmål gennemgås regelmæssigt for at sikre, at de er up-to-date. Øve tusindvis af kvalitets spørgsmål er en fantastisk måde at hæve din score på USMLE!

Ydelse Feedback og Analytics: Kurset dashboard gør det nemt at overvåge dine fremskridt og evaluere din præstation, mens du studerer for USMLE eksamener. Et blik på cirkeldiagrammet viser dig den procentdel af videoer, du har set, og software holder styr på din præstation på praksis spørgsmål, så du kan skræddersy dine studier til de områder, der vil drage fordel af yderligere praksis.

Grundlæggende, Low-Budget Videos: De streaming videoer i dette kursus kan være populær og dynamisk, men de er ikke i samme liga som de professionelle videoer skabt af mere kendte anmeldelse selskaber. Adesina accent er også lidt svært at forstå i visse videoer, selv om hans engelsk er meget god.
2. Kaplan USMLE Step 1

SAMLET BEDØMMELSE: ★★★★★

Stor Spørgsmål Bank og Video Collection: Kaplan Medicals USMLE Step 1 Kurset giver de studerende adgang til et stort antal eksamensspørgsmål-lignende spørgsmål i en Qbank og omfatter et omfattende videobibliotek med 2,000+ spørgsmål. Skær timer ud af din bedømmelse tid ved at se videoer på 1,5x deres regelmæssige hastighed. Den høje kvalitet videoer er informativ og underholdende, gør den store mængde materiale mindre skræmmende.

Diagnostiske Eksamen, Quizzer, og Practice Eksamen: Der er mange muligheder for studerende til at teste sig selv på den viden, de skal beherske, før de sidder til eksamen. Diagnostiske test, kortere quizzer og fuld længde simulerede eksamener give de studerende praksis og målrettet feedback på deres evne og ydeevne.

Mobil-venligt: Alle foredrag kan ses fra din iPhone en Android-enhed, hvilket gør det nemt at få studie timer, uanset hvor du befinder dig. Step 1 Qbank inkluderer en gratis app for dig at arbejde på praksis spørgsmål og kontrollere svar samt.

International Student venligt: Kaplan Medical har førsteklasses muligheder for internationale studerende, der forbereder sig på at ansøge om et residency program i USA. Levende, Lev Online og On Demand muligheder er suppleret med medrivende i Center læringsmuligheder og studiecentre med state-of-the-art faciliteter, computere, Internetadgang, og hjælpsomme personale til at besvare spørgsmål.
3. Board Vitals USMLE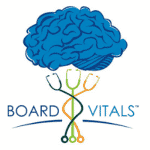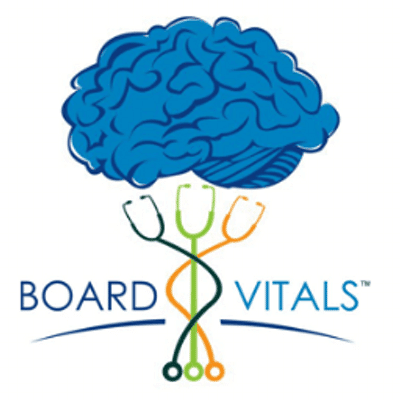 SAMLET BEDØMMELSE: ★★★★★

Eksamen-Ligesom Practice Tests: En timer hjælper eleverne holde styr på deres fremskridt på hvert spørgsmål, og den samlede eksamen. Du kan flytte frem og tilbage mellem spørgsmål, som er designet til at matche sværhedsgraden af ​​de spørgsmål om den egentlige eksamen. Du kan også vælge mellem Timed og anmeldelse tilstand, når praksis spørgsmål at besvare eller tage en praksis eksamen.

Stor Spørgsmål Bank med forklaringer: Detaljerede forklaringer og svar for hver enkelt praksis spørgsmål udgør kernen i denne prep program. Du får adgang til 1,500 board anmeldelse spørgsmål at forberede sig til USMLE Step 1 eksamen. Spørgsmål er skrevet og revideret af praktiserende læger, medicinske fakultet, eller kommer fra 3 førende medicinske udgivere.

Adaptive Learning Technology: Du får individualiserede spørgsmål anbefalinger baseret på din præstation. Når du har besvaret praksis spørgsmål og taget en praksis test, du kan sammenligne din præstation med den for andre studerende. Din præstation gør det muligt for programmet at foreslå specifikke praksis spørgsmål for yderligere undersøgelse, så du kan fokusere på de områder, der vil drage størst fordel af revision.

Great Price: For kvaliteten af ​​materialet, du kan ikke slå prisen. Prissat mellem $79-$199 op til 6 måneders adgang, dette kursus er et godt køb, og kunne nemt kombineres med andre undervisningsmaterialer. Passet garanti gør dette tilbud endnu bedre: Bestyrelse Vitals tilbyder gratis udvidet abonnementer på dit kursus, hvis du ikke bestå eksamen, som du studerer.
Tag mig til bord livstegn USMLE
4.
GraduateX USMLE Step

1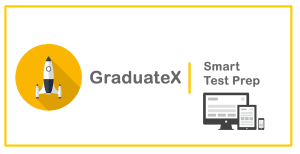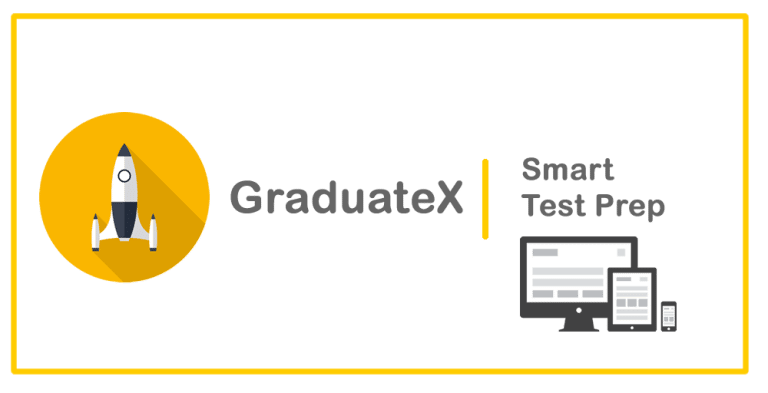 SAMLET BEDØMMELSE: ★★★★★

Stor Spørgsmål Bank:
GraduateX's USMLE Step

1

course give students access to a vast bank of practice questions

.

For a fraction of the price

,

you get almost as many questions as the larger

,

more comprehensive courses

.

You'll have plenty of time to get through all of the different sections

,

so don't worry about trying to squeeze all of your studying into a short window

.

Mobile

:
Don't worry about being in front of the computer for your studying—you can take your USMLE prep on the go with the GraduateX mobile app

.

While it's not anything earth shattering

,

it has all of the basics

. Så,

enjoy your access to the study materials when you're out of the office or not at home

,

as you'll be able to knock out some key lessons while commuting or traveling

.

Limited Course

:
While this prep tool is great for people who are great at studying at their own pace and with written content

,

there's a lot that's missing from this review program

. For eksempel,

there's no video content and it covers only the first step of the USMLE

. Dog,

there's plenty of materials for students who have a handle on the information and really just need some repetitive reinforcement and test-taking tips

.
5. Becker USMLE anmeldelse

SAMLET BEDØMMELSE: ★★★★★

Levende online klasser
:
Becker's live online classes show expert medical faculty explaining concepts in real time in the evenings and weekends
.
This is a solid solution if you can't attend a traditional classroom course but need more structure than a self-study course
,
but you're going to overpay for this offering
. Du får 275 timers undervisning, herunder integrerede sager, og du får også adgang til eCoach for 9 måneder, i tillæg til den store spørgsmålsbanken.

Stor, Højtratede Spørgsmål Bank: Step 1 Qbank indeholder mere end 2,000 eksamen-lignende spørgsmål, som ofte opdateres i overensstemmelse med de nyeste eksamener. Eleverne fortæller, at spørgsmålene er på niveau med andre højtratede spørgsmål banker, der tilbydes af konkurrenterne. Den lave pris gør det værd at købe spørgsmålet bank alene som et supplement, hvis du vælger ikke at købe hele kurset.

Guarantee
:
It's hard to not mention the lack of a real guarantee for passing the USMLE—with the amount you're paying for this course
,
they should basically hold your hand through the certification process and throw a little party for you once you pass
.
Instead
,
you have to jump through hoops and even if you qualify
,
the refund isn't sufficient given what you originally paid
.

Pris
:
This course is priced way out of many people's range—it's almost absurd how expensive the course is
,
given that there are much better
(
and cheaper
)
options out there
.
I wouldn't recommend this solution for anyone
,
as it's way overpriced and something that will throw you into debt without guaranteeing that you'll pass the exam
.
6. UWorld Step 1

SAMLET BEDØMMELSE: ★★★★★

Omfattende Spørgsmål Bank: UWorld s Step 1 spørgsmål bank omfatter mere end 2,200 praksis spørgsmål. Det er en fremragende læringsværktøj med hyppigt opdaterede spørgsmål. Alle spørgsmålene også komme med detaljerede forklaringer, og de studerende kan sammenligne deres resultater med andre UWorld brugere at se, hvordan de måler op.

Selvevaluering Eksamen: Lavet af læger, Selvevalueringen eksamener ligner formatet af Step 1 eksamen og bestå af 4 blokke af 46 multiple-choice-spørgsmål. Selv om USMLE eksamen indeholder 7 blokke, udfylde flere af UWorld s selvevalueringer vil give dig en idé om dine styrker og svagheder. Hver vurdering kommer med en detaljeret analyse og en omtrentlig 3-cifret score.

Gratis Mobile App: Den bekvemmelighed i en gratis mobil app er altid en populær funktion med studerende. Practice spørgsmål fra UWorld omfattende Qbank kan tilgås fra smartphones og tablets, når du har et par minutter til overs. Den app er kompatibel med iOS og Android og dine fremskridt er synkroniseret til en central database, så du kan flytte problemfrit mellem enheder, mens du studerer.

Ingen video foredrag eller yderligere materialer: Dette kursus omfatter ikke video foredrag eller yderligere anmeldelse materialer til at hjælpe dig med at gå over materialet i en mere struktureret måde. UWorld tilgang til at studere består af praksis spørgsmål, selvevalueringer, og tilbagemeldingerne genereret fra din præstation på disse opgaver.
USMLE Live In-Person Step

1 Prep Kurser
1.
MedSmarter Test Prep

SAMLET BEDØMMELSE: ★★★★★
Located in Atlanta, GA 30096, USA

Enroll Anytime

:
While other courses make you wait
,
MedStarter doesn't
.
Continuous enrollment means that you can start the MedSmarter USMLE program at anytime
.
This is a huge advantage bcause you'll have no downtime
.

Experienced Instructors

:
MedSmarter's faculty has experienced professionals who have taught around the world including the U.S.
,
Canada
,
Caribbean
,
Middle East
,
and South Asia
.
Their instructors hold MDs and/or PhDs
,
and have years of experience in preparing future physicians for the USMLE
.
6

to 7-week comprehensive review course to prepare for USMLE Step

1

Exam

Subject and System-Based Teaching approach

Small Class Sizes

1

on

1

Study Plans

Test Taking Strategies

Exam Related Anxiety

/

Stress Management

Time Management

Study Lab Available for Self Study

Coffee and Tea Provided

End of Course Self Assessment
LEARN MORE ABOUT MEDSMARTER
The MedSmarter courses are for students who are interested in a more focused and individualized approach to studying for their USMLE prep. The programs can be best described as a "hybrid" of tutoring and class room learning.
Classes are offered Monday thru Friday, usually from 9:30 AM t0 3:00 PM (depending on the subject/topic some classes may be longer or shorter). A typical day consists of lectures, u-world questions, and group discussions. Students are asked to subscribe to UWorld Qbank.
Step 1 og trin 2 CK courses are continuous enrollment, meaning students can enroll at any time and start classes at beginning of the next subject/topic. Step 1 Course is 6-7 weeks and Step2 CK course is 4-5 uger. The difference in weeks is due to accommodating for any holidays that may come up during a cycle.
For Step 2 CS, the scheduling is based on the students' needs. They ask students to enroll at least 2-3 weeks prior to wanting to attend the review program so that they may schedule the standardized patients and instructors accordingly. They also advise students to leave at least a one week gap in completion of the course and the actual exam date; to ensure time to overcome any weaknesses identified.
5

Day CS Course

:

Monday thru Friday

,

with a Mock Exam on Saturdays

3

Day CS Course

:

Wednesday thru Friday

,

with a Mini-Mock on Saturdays
Med/Smarter USMLE Reviews

:

"In my opinion MedSmarter is the way to go. Kaplan and falcon do help with content knowledge and have a lot of books and resources but that's it. You don't get the focused, INDIVIDUALIZED, review that is necessary for you to succeed.

MedSmarter is a great prep program if you're interested in a focused and more individualized approach to studying for your USMLE Step exams. I am a detail oriented individual with a lot of knowledge however I did not know how to focus that knowledge on exams. I often choose detailed answers when they are looking for commonly tested topics. MedSmarter reviews all the details necessary to be successful on the exam, but They make sure to tell you what you need to know, and for me they were extremely helpful with test taking skills!!! I improved my score from original assessment to actual test over 25 points. I also finished blocks with 10-15 minutes left because I was confident in the answers. I picked and moved on. Even on the exam! It was crazy how well I improved and how easy the questions were after opening my eyes to how to take the test. I am forever indebted to them for helping me be successful on my step 2ck as I have graduated Med school and well on my way to securing a residency position!!

At the end of the day if you want content knowledge any program will work, but if you want someone to understand and point out your strengths and weaknesses and work with you to improve those strengths and eliminate weakness MedSmarter is the way to go!!"
Bedste USMLE Step 1 Prep Kurser
Bedste USMLE Step 1 Prep Kurser

Practice Questions

Pris
Becker USMLE
2,000+
$1500
Kaplan USMLE
2,000
$2399
Board Vitals
1,600
$179
Smash USMLE
2,000
$1295
Læger under uddannelse
1,020
$825

U World Step

1
2,200
$429

Graduate X

1,500
$289
Resumé
Bedste USMLE Step 1 Prep Kurser
https

://

crushtheusmleexam.com/wp-content/uploads/2014/11/Top-5-Image.jpg
300
300
James Edge
https

://

crushtheusmleexam.com/wp-content/uploads/2017/01/Crush-The-USMLE-Logo-300x120.png
James Edge
2017-01-02 23:45:58
2017-07-26 21:46:31
Bedste USMLE Step 1 Prep Kurser