Students preparing for the MCAT need every advantage they can get: a good sleep schedule, several months of dedicated studying, and high-quality MCAT study materials. Ultimately, the first two of these will depend on your own preparedness. However, when it comes to that third point, Curvesetter MCAT Prep has everything you need in one convenient package!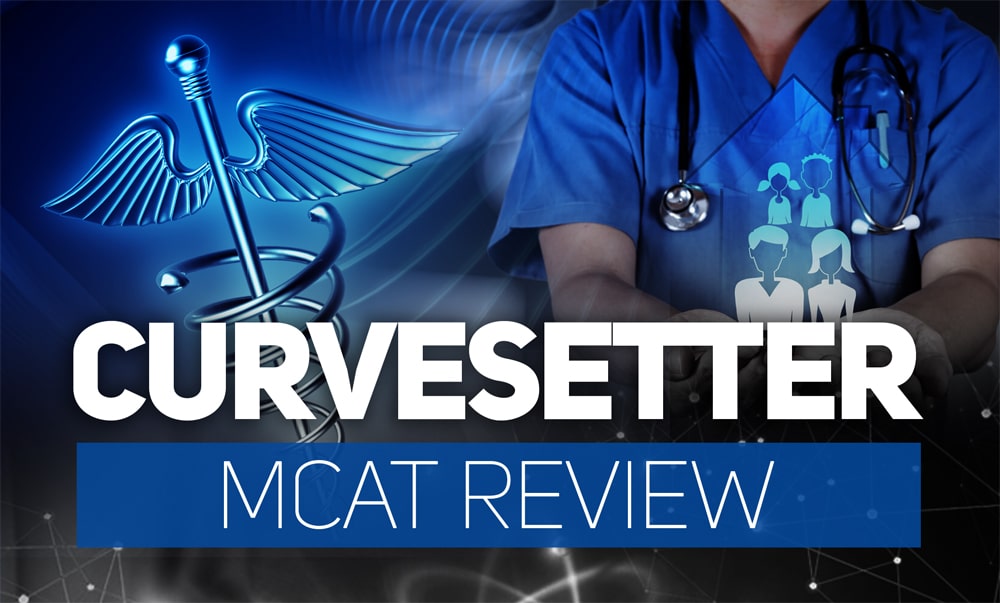 Although Curvesetter's MCAT study materials are primarily online, their self-paced prep course has a design reminiscent of a traditional classroom. Students can compare notes and study collaboratively through 24/7 discussion boards, and the professors organizing each lecture even provide "office hours" to provide additional help.
Keep reading to learn more about all the appealing features Curvesetter has to offer MCAT students!
How do you rate Curvesetter MCAT Review ?
[kk_stars]

About Curvesetter MCAT Review
Curvesetter was founded in 2013 by Alex Aabedi, a UCLA graduate and current medical school student. According to his website's About Us section, he was inspired to start his test prep company when he received several offers from prestigious medical schools. Determined to pass his test-taking expertise onto his fellow struggling med students, Aabedi organized fellow med students with top-to-perfect MCAT scores to create the ultimate study curriculum.

Curvesetter Features
64 video lectures with in-depth content coverage

Instruction from 100% MCAT scorers

Discussion boards with 24/7 access

7 hours of extra tutoring sessions

1,900+ practice questions (

Complete

course only)
CLICK HERE TO COMPARE THE BEST MCAT COURSES
---

Course Features Breakdown
Check out this detailed breakdown of Curvesetter MCAT Review's specific features:

Video Lectures
The core of Curvesetter's prep course is their 64 content lectures. These hour-long lessons were designed with efficiency as their top priority. Additionally, all content covered in these lectures are pulled from the AAMC— the governing body in charge of the MCAT. As a result, everything covered on these lectures are directly related to actual exam content!
---

High-Scoring Instructors
The second biggest draw for Curvesetter is the instructors they provide to teach MCAT material to aspiring med school students. In a similar vein to other high-quality test prep courses, all the instructors organizing and presenting this material have had perfect MCAT scores and ample experience in medical school.
---

Discussion Boards
Typically, online prep courses lack the ability for students to collaborate in groups like they can in a traditional classroom environment. Fortunately, the students who developed Curvesetter understood the importance of this practice. Consequently, they've provided 24/7 online discussion boards for all students enrolled in their prep course so they can interact with their instructors and with each other!
---

Office Hours
Although the aforementioned discussion boards are a terrific resource if you want to compare notes with other students, it can't solve every problem. To address this, Curvesetter offers free live tutoring sessions for all students! These sessions work as "office hours" and can be useful for all students who need extra one-on-one study sessions.
---

Bonus Practice Questions
Although the majority of Curvesetter's appeal comes from its lectures, instructors, and discussion platforms, there's one more cherry on top to entice students into signing up for their Complete MCAT review course. Thanks to a partnership with fellow test prep company UWorld, students who pay a small extra cost can take advantage of nearly 2,000 extra practice questions for their studies.
Final Recommendation
Here's the bottom line:
You Should Try Curvesetter MCAT Review If…
You're a medical student who doesn't have a lot of time or money to spend on additional study materials. You learn best in a collaborative environment where you can compare notes with classmates, or ask direct questions to instructors and receive instant feedback. You prefer to consult videos or lectures when learning and place less emphasis on practicing questions or exam simulations.
CLICK HERE COMPARE THE BEST MCAT BOOKS