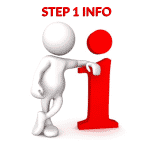 Prvním krokem třístupňového USMLE zkoušky pomáhá změřit, jak dobře Zkušební odběrateli pochopeny a jsou schopni aplikovat některé z hlavních konceptů a principů ústředním praktikování medicíny. Zde je tabulka z www.usmle.org specifikuje, která pole budou zahrnuty do zkoušky: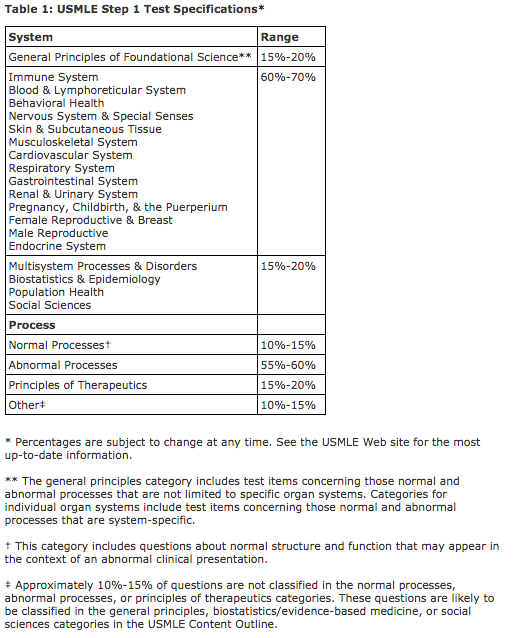 Prvním krokem je test založený počítač, který se skládá z přibližně 322 otázky s možností označení více odpovědí. Otázky jsou rozděleny do sedmi 60minutových segmenty, Díky vyšetření den 8 hodiny dlouhé. Zkouška se obvykle užívá po druhém ročníku lékařské fakulty.
How To prepare For USMLE Step

1
Study prep for USMLE step
1
tends to be somewhere between
2 a 3
months of active study time
.
You probably should start thinking about the test even before then and familiarize yourself with the structure of the test and the resources available for study
,
so that when it's time to study hard you'll be concentrating on the important material
.
Before you start studying take a practice test to find out where you're at and go from there
.
Choosing the right prep resources for you is integral for your success in the USMLE
.
Much depends on how you personally learn but I'd say anyone will benefit from having access to prep tests and a question bank
.
These resources will give you a clear idea with what you're dealing with and will make you more at ease walking into that exam
.
Using a good prep course can make all of the difference in studying effectively for the exam
. Prověřili jsme některé z nejlepších Step 1
prep courses so you don't have to
, Podívejte se na naše
Krok 1

Comparison Chart

.
Get used to the USMLE type multiple-choice questions
.
Make sure you also really work with the questions
.
Figure out your weaknesses and analyze your answers
.
Make sure you understand the logic behind all the questions and answers
.
USMLE Step 1 studijní plán
Start prepping early
.
Your study schedule is completely dependent on how much time you have
.
Most med schools give students about
2
months off classes for the preparation
.
Use this time wisely and make a schedule for yourself
.
Pencil in the hours you'll be at the library and a study plan to go with it
.
Hold yourself accountable of the process
.
Concentrate on your weak points
.
Tutoring with a friend and purchasing a
přípravný kurz
can make a lot of difference in many cases
.
It allows you to make further connections and more things become interrelated intuitively
.
You'll be amazed how much you'll learn explaining things to another person
.
It reveals weak points in your understanding and you'll most likely learn from others
.
Some people get good results revising on their own
,
but most can benefit from outside help
.
Set your schedule and stick to it
.
Divide the material into segments and work methodically
.
You'll be working long hours so make sure to schedule in breaks
!
USMLE Step 1 Skóre
USMLE uses a scaled 3-digit scoring system
. Nicméně,
the NBME does not disclose how the end score is calculated
.
Theoretically the maximum score for step
1 je 300. Je to chytrý, aby stanovila cíl pro USMLE. v 2014 přenesení skóre na testu 192, národní průměrné skóre 230, a skóre, které se dostanete do většiny konkurenčních specialit někde kolem 240. Pokud víte, co specialita se chystáte na cíl pro skóre, které se dostanete tam. Pokud jste nerozhodní, jít na skóre, které nebudou omezovat své možnosti do budoucna.
USMLE Step 1 Tajemství
USMLE je masivní a náročná zkouška. Dobrou zprávou je, že to nebude snažit přimět vás dávat špatné odpovědi.
The questions are straight-forward and if a question seems "too easy" it may just be an easy question
. Zkouška se skládá z několika základních otázek, některé další obtížné otázky a některé z nich velmi obtížné. Když se dostanete snadno otázku jen na ni odpovědět a dál rychle, aby se ušetřil čas pro ty náročnější. Klíčem k úspěchu v kroku 1 je připravit chytře. Cvičit s výběrem otázek každý den. Příjem 100 z nich každý den, pokud je to možné. Pak vypsat všechny chyby, které jste provedli, a číst tento seznam často. Toto je vaše šance učit se ze svých chyb. Udělejte to v pravidelných intervalech a budete ujistěte se, že nebude dělat ty chyby dnem skutečné zkoušce.
Dobrý přípravný kurz
je schopen poukázat vaše slabá místa pro vás a dotazující vás častěji v těchto oblastech. To nemusí cítit úžasné, se postarat o své chyby, ale to je celý rozdíl. Dozvíte se více, že byste očekávali používat tuto taktiku.
USMLE Step 1 Termíny
When you register for the exam you'll have to pick a 3-month eligibility period so for example January-February-March or June-July-August
.
During the period allocated to you
,
you'll be able to choose a location and a date available to take the test
.
Please keep in mind that prometric test centers are closed on major holidays
.
Also take into account that Step
1
testing is not available during the first
14
days of January
.
If you're unable to take the step one exam
,
you can apply for a one time extension only for the next contiguous eligibility period
.
USMLE Step 1 Registrace
Registering for the Step
1
of USMLE is a two to four week multi-step process
.
First you'll need to register online on the NBME website
.
After this your schools student affairs office will verify your enrollment and good standing
.
After this process you'll finally able to choose your exact test location and time
.
Test opportunities fill up fairly quickly
,
so in order to make sure you get to sit the exam in your preferred location on your preferred date
,
it is suggested to start the registration process early
.
If you wish to sit the exam in the summer
,
you should start the registration process in December of the previous year
.
Make sure you register with the exact name that is on the government issued valid ID you'll use when entering the exam center
.
USMLE Step 1 Náklady
The cost of registering for the step
1
exam in
2015 je $590.
This gives you a three month window in which you'll have to complete your step
1 zkouška.
You can apply for an extension once for a fee of
$70.
If you fail to complete the exam during your initial eligibility window or the extension period
,
you'll have to register and pay the fee again
.
https://crushtheusmleexam.com/wp-content/uploads/2014/12/USMLE-Step1-1.jpg
500
500
James hran
https://crushtheusmleexam.com/wp-content/uploads/2017/01/Crush-The-USMLE-Logo-300x120.png
James hran
2018-05-12 06:06:53
2018-01-10 22:00:00
USMLE Step 1 Informace