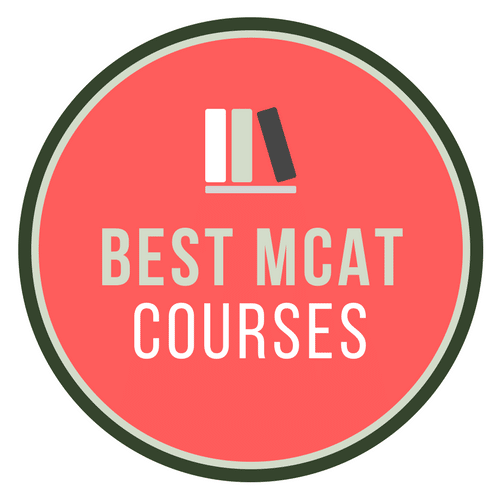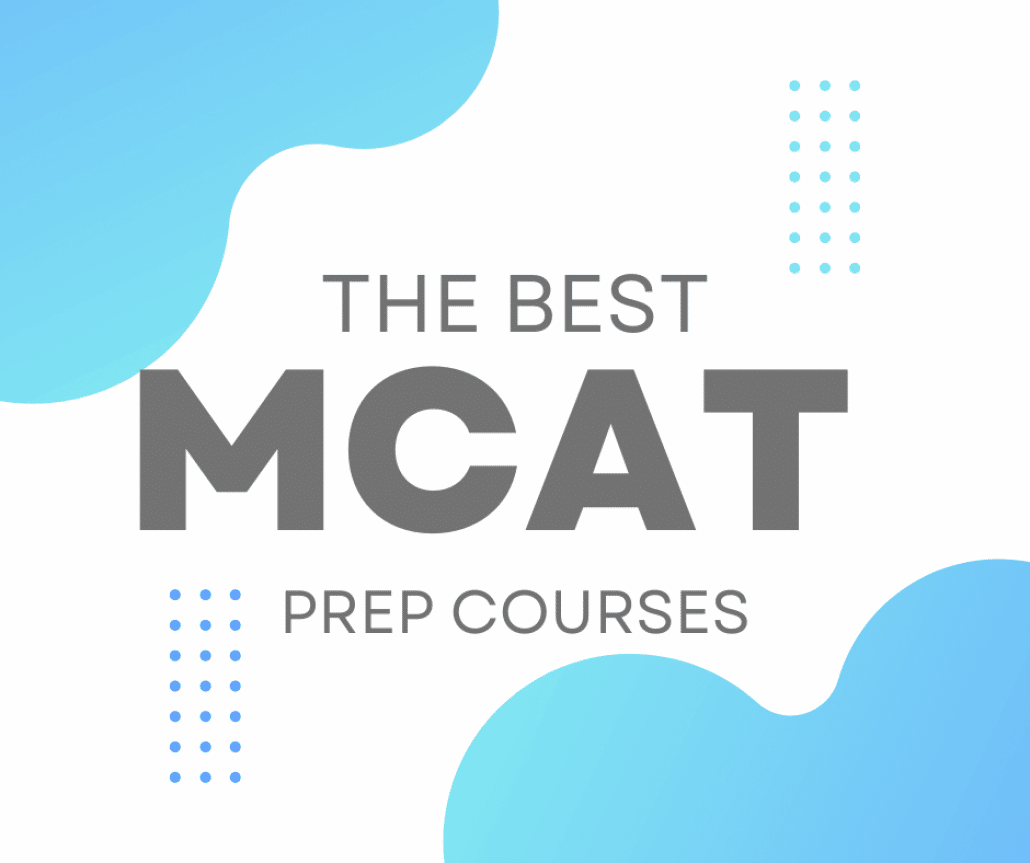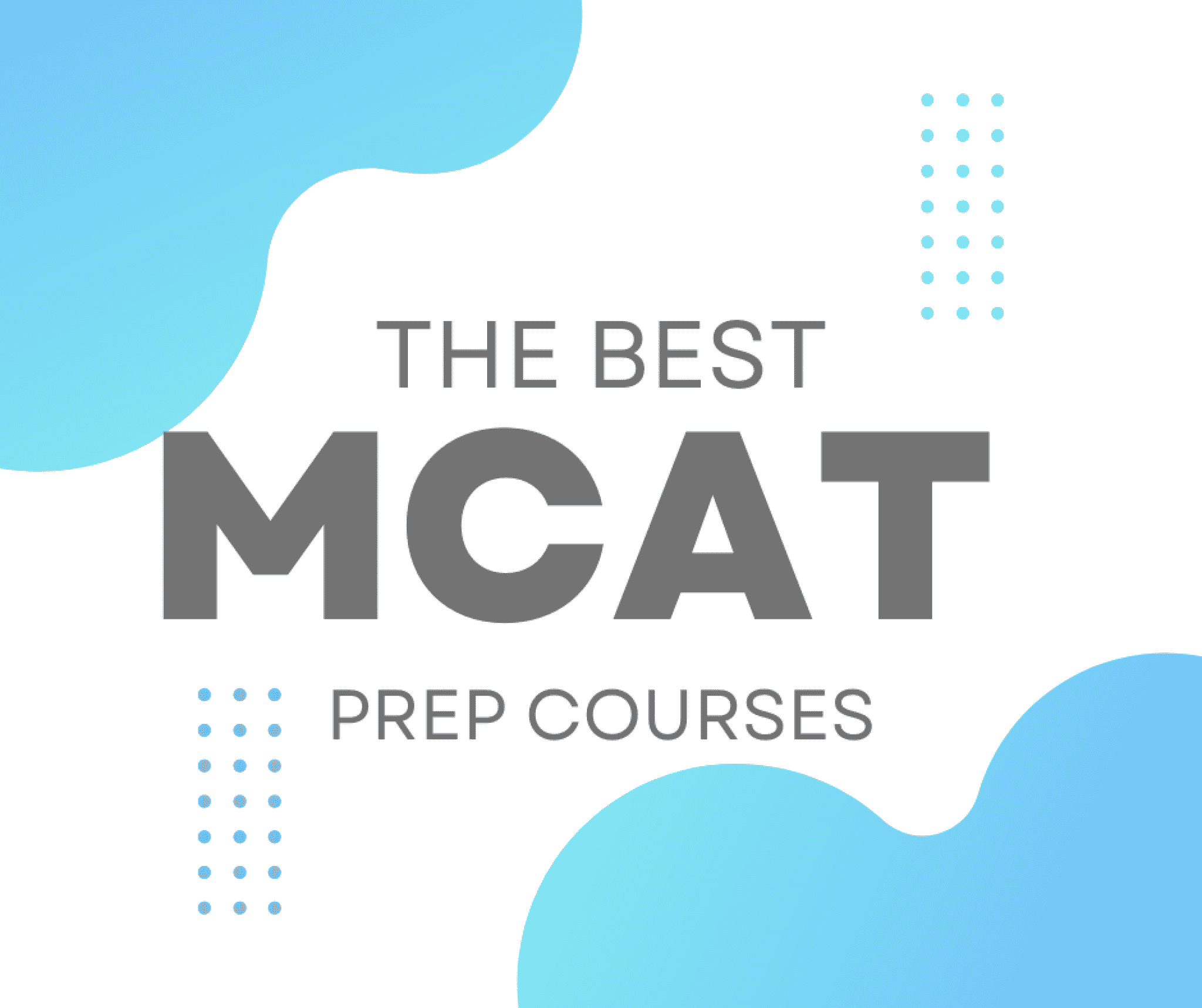 Our pick for the best MCAT prep course of 2023 is Blueprint's 515+ Course.
Go to
Blueprint
now or see the full list below.
The Medical College Admission Test (MCAT) is a crucial and challenging exam that medical school applicants must take. It tests the knowledge, skills, and problem-solving abilities that are essential for success in medical school and as a physician. With such high stakes, it's no wonder that many students turn to MCAT prep courses to help them prepare.
But with so many options available, it can be difficult to know which MCAT course is the best for you. I've personally tested and taken a detailed look at all the MCAT study materials below to help you decide which one is the best fit for your needs.
---
The Best MCAT Review Courses of 2023
---
1. Blueprint Online MCAT Prep Course
Best Overall MCAT Course

Blueprint MCAT Prep Course
After testing out all the courses on our list, we found that Blueprint is the only course you need if you want to pass the MCAT exam.
When it comes to MCAT prep, there is no substitute for the real thing. The Blueprint MCAT Prep Course teaches you the material and techniques critical for success on exam day, while also providing access to our expert MCAT tutors. With Blueprint, you'll master the science behind every question so that you can confidently answer them on test day.
Their classes are taught by experts who scored 517+ and have years of experience with the MCAT.
With 40+ hours of live instruction, 16 modules that are split over 2.5 hour sessions, and an unlimited number of retakes as long as your course access lasts, Blueprint is a comprehensive and effective way to prepare for the MCAT.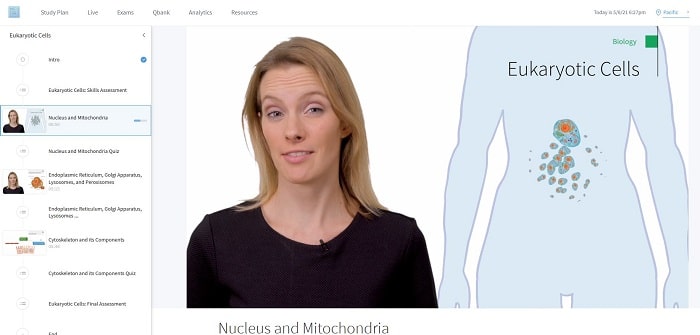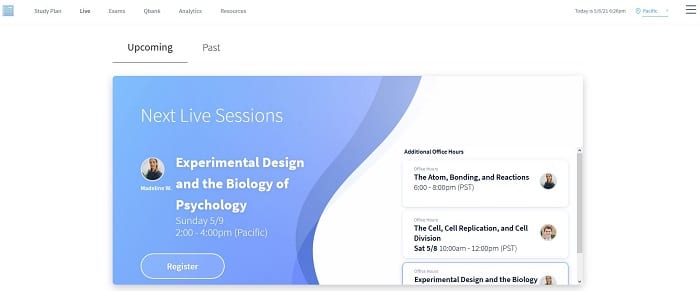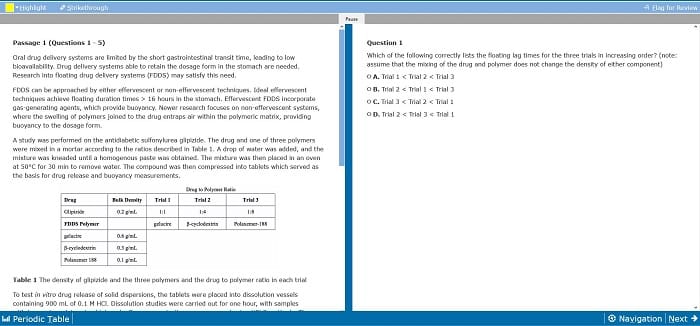 Interactive and Engaging Approach: Blueprint's teaching methodology focuses on interactivity and engagement. They use humor and relatable examples to make complex MCAT concepts more accessible and enjoyable to learn. This engaging approach can be particularly helpful in retaining information and maintaining motivation throughout the study process.
AAMC Material Integration: The inclusion of official AAMC (Association of American Medical Colleges) practice materials is a significant advantage. AAMC produces the MCAT exam, so using their materials ensures that students are practicing with content that closely resembles the actual exam. This familiarity can boost confidence and improve readiness for test day.
Diagnostic Assessments: Blueprint offers diagnostic assessments that help students identify their strengths and weaknesses in various MCAT subjects. These assessments allow for a more targeted study plan, as students can focus on areas where they need the most improvement. This personalized approach enhances the efficiency of the study process.
Live Online Classes: The availability of live online classes provides students with the opportunity for real-time interaction with experienced instructors and fellow MCAT aspirants. This live interaction allows students to ask questions, seek clarification, and engage in discussions, creating a more dynamic and immersive learning experience. It can be especially beneficial for those who prefer structured learning and guidance.
Customizable Study Plans: Blueprint allows students to customize their study plans based on their individual strengths and weaknesses. This flexibility enables students to create a study schedule that aligns with their personal needs and timelines, enhancing their ability to stay organized and on track during their MCAT preparation journey.


Blueprint MCAT Course Features
Pricing: $1,799-$2,499
Full length practice exams: 15
Video lecture hours: 160
Practice questions: 4,000
Course subscription options: 3, 6, or 12 months
MCAT Prep: Self Paced or Live Online
Bottom Line: There's so much to love about Blueprint MCAT (formally known as Next Step Test Prep). The mere fact that they offer so much educational content in such a reasonable price point should be reason enough for most students to dive right in. But they go a step beyond and offer so much more, like their live office hours, numerous practice exams, and personalized study planning. It's true that the MCAT is a test that comes with a lot of anxiety. However, studying with the help of Blueprint MCAT Review is one of the best ways to relieve some of that stress, hands down.

LEARN MORE ABOUT BLUEPRINT MCAT
---
---
Recent Blueprint MCAT Reviews
I LOVE Blueprint
I got a 497 on my half-length diagnostic, and I got a 520 on my actual MCAT using their materials. The videos were super helpful, and I liked the live class sessions. Honestly, the content of the live classes themselves wasn't the most helpful, but I liked the solidarity it created with the other students. Even after the class ended, we would share study tips and encouragement in the group chat.
~ Raavi Chokhawala
Great Instructors!
Kat and Ty are phenomenal instructors! They're both incredibly smart, but also very personable, and great teachers — very good at explaining their thought process and distilling down complex information into simple terms. They made the class so fun and I'll miss sitting in on their class!
~ Eric Kuptz
Worthy Investment for MCAT studying
When I studied for the MCAT, I primarily used practice tests to hone my test-taking skills. Blueprint's exams were well written and superbly thought out. They were difficult, however, but I loved the explanations they had for each question. I also liked the fact that they were able to give explanations for the answer choics that were wrong as well. I was able to learn more from doing NS's tests than by reading through those review books from brand-name companies. All-in-all, a worthy investment.
~ Rick C.
---
The Blueprint MCAT Prep Course Discounts
---
---
2. Kaplan MCAT Prep Courses
Most Comprehensive MCAT Study Materials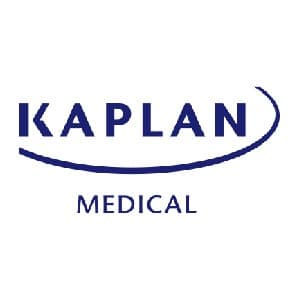 Kaplan MCAT Prep Course
Kaplan is another well-known and reputable test prep company. They offer a variety of MCAT prep options, including in-person classes, online classes, and self-paced study.

One of the strengths of Kaplan is their comprehensive curriculum. They cover all the material that you need to know for the MCAT, and provide students with plenty of practice questions and full-length practice tests.

Kaplan also offers a variety of online resources, including video lessons and flashcards.They truly provide one of the most comprehensive study packages available, and are one of the only remaining providers that offer live in-person MCAT classes.


MCAT Channel: Kaplan's MCAT Channel gives students access to live lectures from 1st-rate, experienced MCAT teachers 6 days a week in addition to on demand, pre-recorded content that is available 24/7. Best of all recorded episodes can searched by interests, study needs, or even your favorite professor!
Wide Range of Course Options: Kaplan provides students different options for MCAT prep above and beyond the competition. This makes it more convenient for you for studying anywhere. Choose from in-person classes, a live online course, an on-demand self-paced class, an intense 6-week summer live session in any of the 4 cities across the USA.
Higher Score Guarantee: Kaplan's courses come with a guarantee we all can believe in. If your score doesn't go up, you can do the same program again at no extra charge, or (the best part) you can ask for your money back. You can study up until the very day of your exam with Kaplan's course materials, which do not expire until you take the MCAT.
New for 2023: Prepare by taking MCAT quizzes on high-yield topics all in VR! Kaplan is enhancing MCAT memorizing through a partnership with Librarium, the world's first virtual reality study tool.




Pricing: Kaplan offers a top notch MCAT prep course, but it comes at a price.  They have the most expensive on-demand option we found, starting at $1,799. Their other options for in-person or live online are even more. If prices is an important consideration for you, keep reading to see the cheapest MCAT course we found.


Kaplan MCAT Course Features
Pricing: $1,799 – $6,999
Full length practice exams: 16
Practice questions: 2,900
Video lecture hours: 90
Course subscription options: 6 months (for on demand)
MCAT Prep: Self Paced, Live Online, 1v1 Tutoring, In Person MCAT Bootcamp
Bottom Line: MCAT students who sign up for Kaplan's prep course will enjoy many different study packages and convenient access to live lectures with real instructors. Best of all is their impressive higher score guarantee.

Recent Kaplan MCAT Reviews
Amazing!!
Kaplan has been amazing throughout my MCAT studying experience. I had an amazing teacher who did not make me feel stressed out at all and explained concepts really well!
~ Lara
Kaplan MCAT Prep
As a non-traditional graduate student with a hectic schedule, Kaplan's integrated study schedule added much needed stability to my prep. Not only does it cover vast high yield topics but it does so in a concise and efficient manner. The instructors and workshops were just as good as the live online courses. Anytime a premed ask me what resources I used for my MCAT prep I will always direct them to Kaplan. Worth every penny.
~ Eddie
Great Content
This prep course is excellent if you don't do what they tell you to do. The videos on content are really helpful and the practice exams are as well. I would definitely use it again but it would be good if they changed the formatting because the placement tests are not very clear and not like real MCAT questions. I did do well on my exam afterwards and would recommend to people who are comfortable navigating and planning their own study schedule as it's a great resource.
~ Kati C.
Best Kaplan MCAT Coupon Codes
---
3. Princeton Review MCAT Review Course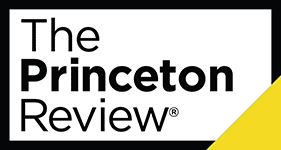 Princeton Review MCAT Review Course
When most students think of studying, they think about cramming and memorizing information. But with Princeton Review's innovative MCAT prep courses, you'll learn the material in a way that makes sense, so you can focus on your strengths. Their smart, engaging tools and techniques will help you master every topic on the exam–from biology to chemistry to physics–and put you on track for success.
Princeton Review's MCAT classes are small and interactive, so their instructors can get to know you personally and help you reach your full potential. You'll also have access to online resources like textbooks and supplemental materials that can't be found anywhere else. Plus, they offer a wide range of convenient evening sessions that make it easy for working professionals to fit in class around their schedule.


Quality and Quantity of Study Material: No matter which course they choose, students will benefit from an impressive number of practice questions, practice tests, MCAT prep books, online material, videos, and proprietary learning software (amplifire learning tool). The Princeton Review also stands by the quality of its instruction by offering satisfaction and money back guarantees.
Expert Tutors: Optional tutoring packages dedicated to helping guide you through the exam and exceed your MCAT goals. Great if you need a bit of extra help, or motivation.
Experience: With over 30 years and over 10,000 students guided, the Princeton Review knows how to make sure students pass, the first time.




No Free Trial: Many students like to try a review course out to see if it is compatible with their learning style, or to compare it to other options. The Princeton Review MCAT prep invites students to take a free online test and attend a free workshop, but trying out the actual materials requires purchasing a course.


Bottom Line: The Princeton Review MCAT prep course students the ability to choose a self-paced, live online, or in-person tutoring course, although no flashcards are included. Fortunately, one thing students don't have to choose is quality or quantity, as they provide both in spades.

The Princeton Review MCAT Prep Course Discounts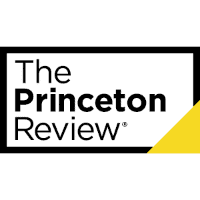 See Weekly Deals on Princeton Review MCAT Course
33 uses today
Last Used: 16 hours ago
---
---
4. Self Prep MCAT Course
Best Self Paced Online MCAT Prep Course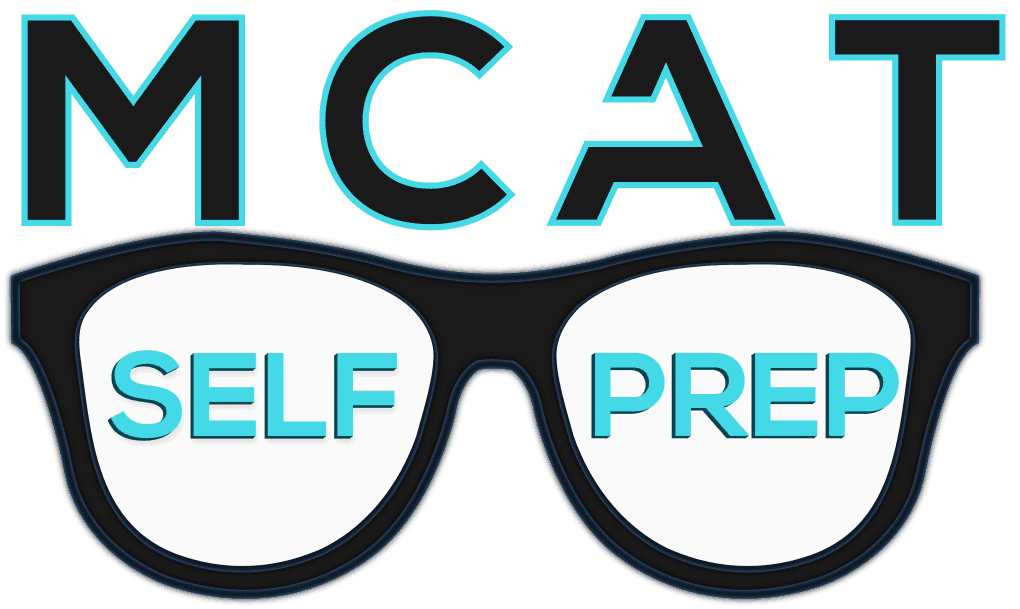 Self Prep MCAT Study Materials
Self Prep MCAT is an affordable alternative to the full featured courses offered by Blueprint and Kaplan. Designed by experienced educators and professionals, this app is full of useful tips and tricks that will help you ace the test. In addition to covering all important topics, this app also features an interactive learning methodology that helps users grasp difficult concepts quickly.
By using Self Prep MCAT, not only can you save time and money, but you'll also feel confident about your abilities when it's time for the big day.


FREE Course Option: No Get started with MCAT Self Prep for free, and upgrade when you're ready. This is the best way to test drive the MCAT course for yourself and determine if it's a great fit.
MCAT Prep & Score Guarantee: The Deluxe Pro Plan is backed by their higher-score guarantee. They promise that their plan will raise your MCAT prep score or they will give you your money back!
Expert Tutors: All MCAT Self Prep's tutors scored above the 97th percentile (519+) on the MCAT and provide an individualized study plans and feedback and attention.
Experience: Andrew (MCAT Prep's founder) has successfully led several of his students to achieve 100th percentile MCAT scores. He also leads the MCAT Self Prep Tutoring Team and has worked one-on-one with hundreds of students. He also has vast experience as a professional practice question writer and analyst for both the MCAT and DAT exams.
Study Planner: The Deluxe Pro plan comes with access to their Create-your-own Study Plan Course, which allows students to create a customized game plan. Students really love the Study Plan Spreadsheet that it comes with, complete with a score tracker for checking progress on AAMC practice problems over time.




No MCAT Practice Tests: While they don't offer practice tests per say they did build their course around the practice questions produced by the AAMC, the organization that actually writes the real MCAT. Additionally, they provide students with a list of free practice exams that can be used for extra practice during their program.


Self MCAT Prep Features

Pricing: $0 – $999
Practice questions: 5,000
Video lecture hours: 100
Course subscription options: Lifetime
MCAT Prep: Self Paced
Bottom Line: This MCAT Prep provides students with everything they need to be successful in preparing for the exam at one of the lowest price points. The best part is you can get started for free, so you have nothing to lose.

Self Prep MCAT Review Course Discounts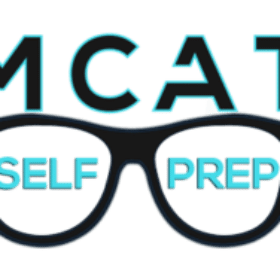 Save 10% – MCAT Self Prep Deluxe Pro Plan
1 uses today
Last Used: 2 days ago
---
5. Gold Standard MCAT Study Materials
Best Self Paced MCAT Course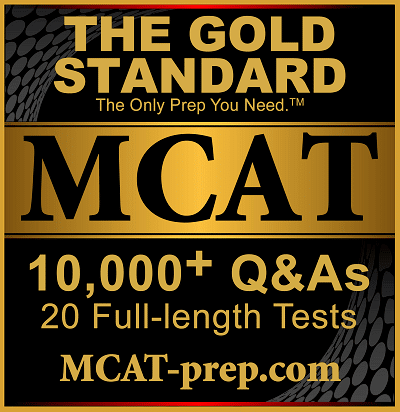 Gold Standard MCAT Prep Course
Do you want one of the most compressive and affordable ways to prepare for the MCAT? The Gold Standard has you covered as one of the best MCAT prep courses available. Their program includes books, videos, apps and full-length MCAT practice tests designed to help you get a great score. They actually incorporate some of the best MCAT practice tests and study materials from Kaplan, Exam Kracker's and the Princeton Review MCAT. This flexibility gives you the best of both worlds while only having to purchase one course. Which really sets them apart.


New Content: Students are now equipped with quality practice materials for 2023 with recently updated questions, passages, and explanations in their MCAT practice tests keeping with the AAMC's trends in released material.
MCAT Practice Questions: The Gold Standard has more MCAT practice questions than Blueprint or even Kaplan. This ensures you probably won't ever see repeats and you'll always have plenty of fresh content to review.
Great Value:  Offering more for less is the Gold Standard's motto and they back that up with more questions, practice tests and a better guarantee than many of the other MCAT prep course options.
Free Resources: Even if you decide to go with another course the Gold Standard has free MCAT practice questions, flashcards and other resources on their site.




Dated Platform: Compared to the other MCAT prep course options the Gold Standard just isn't as flashy or new.  This isn't necessarily a bad thing if you prep better with the least amount of distractions but it does leave a bit to be desired.


Bottom Line: With their large quantity of practice questions and free resources, The Gold Standard offers a very appealing MCAT course at a low price with à la carte options. Unfortunately, the platform used for their service is disappointingly outdated.

TAKE ME TO THE GOLD STANDARD MCAT
---
6. Magoosh MCAT Prep Courses
Best Low Cost alternative for MCAT Prep Books


Magoosh MCAT Prep Course
Magoosh by far is the most affordable MCAT prep course we reviewed. They cost hundreds less compared to Kaplan MCAT or others on this list. Their course does not offer the support and overall quality of Blueprint MCAT but they are the value option that still has a proven track record of helping students achieve their MCAT objectives. They have a limited number of practice questions, so you might want to pickup an additional MCAT question bank or other extras depending on your needs.


Breadth of Lessons: Magoosh has a large lesson library that is focused on high-yield material. Unlike Khan Academy, the lesson videos are big-picture level and organized based on subject. They have strategy lessons that explain how to study for specific sections of the MCAT and many of the lessons walk you through example exercises. Each lesson has a transcript you can skim so you can decide if you want to skip ahead or skip the entire video.
Challenging Practice Questions: Magoosh has 3 full-length practice tests that are designed to look like the real exam. They have features such as strikeout and highlight. Each question comes with thorough text explanations. The practice questions are attached to suggested lessons so if you miss a practice question, you can go to a specific lesson. Each question includes a level of difficulty and many of them are hard.
Embedded Study Plans: When you create an account with Magoosh, you are prompted to select a study plan based on the length of time you have to study. These range from 1 month to 6 months. The study plans give you daily exercises and even have built in rest days. This is a great way to stay organized and make sure you're maximizing your study time.
Email Support from Tutors: At this price point, it's rare to get 1:1 support, but Magoosh offers email support from their team of MCAT tutors. You can email them with any type of question and expect to receive a response within about 24 hours. Answers are thorough and very helpful.




Content: While Magoosh provides quality content, the amount of MCAT study materials is less than some of the other options. If you want a ton of multiple choice questions or physical books, you might want to consider a different course.


Bottom Line: Although Magoosh offers fewer questions when compared to some competitors, the quality and organization of their video lessons, structured study plans, and exam simulations make up for this in the eyes of many students.

---
7. Atlius MCAT Classes Online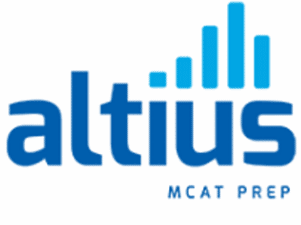 Ample Study Time: If you can devote a ton of time to studying, Altius is a fantastic choice for you. When compared to many MCAT prep courses that offer similar features and pricing, this one has the largest volume of cumulative study hours. Even if you're not interested in Platinum or Full Immersion, there's still enough material to keep a full-time student occupied over several weeks.
Intructor Feedback: Not all online courses are effective at teaching dense or complicated material; this is especially true in medicine, which requires a lot of tangible experience to truly understand its intricacies. Fortunately, the instructors at Altius have this experience, and the online platform is designed to provide constant feedback between them and their students.
Proven Results: It's common to see online courses make a ton of promises that they have no intention of keeping. Once again, Altius MCAT prep courses buck the trend by offering three different guarantees and an independent study proving the effectiveness of their materials. Thanks to the founder having so many negative experiences with other online study resources, Altius is one of the most reliable and transparent options available for pre-med students.




Course Formats: If you're the self study type then you'll want to check out our other options on the list. Unfortunately Atlius does not offer a self paced MCAT prep and instead focuses on the live-online style classroom.


Atlius MCAT Course Features
Pricing: $2,249 – $6,299
Full length practice exams: 10
Video lecture hours: 200
Course subscription options: Lifetime
MCAT Prep: Live Online, 1v1 Tutoring
Bottom Line: Ultimately, Altius MCAT Review has a ton of great features, and solid instructors that more than justify its price. Even if you're slightly interested, you should absolutely try one of their courses and take advantage of their 30 day refund policy. If it feels like a good fit, stick with them for the long haul and you won't be disappointed with your MCAT score!

---
The Medical College Admission Test (MCAT) is one of the toughest standardized exams around. Especially when considering you may be balancing work, school and a host of other responsibilities. The MCAT testing period of 7.5 hours can be brutal without the best MCAT prep course.
These courses not only include all the MCAT study materials you'll need to pass, but also help you to create a study schedule. That way you'll stay on course with a defined structure for the months of exam preparation. The best MCAT prep courses will also help you stay on task while providing clear explanations, interactive study tools, and practice exams that are similar to the real MCAT experience.
What are the best MCAT Prep Courses? How did you find them?
We looked for intuitive dashboards, mobile capabilities, adaptive study plans, and engaging instructors
We started by compiling a list of the top MCAT prep course providers online. There's many reviews out there already and we took the top courses from all of them. Then we separated their courses into two categories: self-paced, live online. Some reviews include in-person but since we can't afford to fly around the world to attend these courses we had to skip them for now. Some test prep companies offer on-demand, live-online and in-person classes, while others only have one single format. We evaluated each method individually as most students are only considering one option. Generally each teaching method has different advantages, and we created specific criteria for each method to rank the best prep courses in each.
Methodology
Before selecting our top 7 suggestions, we evaluated 24 different MCAT course options. The main consideration factors we evaluated were pricing, the quantity of questions in the test bank, quality of the video content, the exam pass rate for students who had attended the course, the technology used, and the qualifications of the instructors leading the course.
Due to the high cost of a MCAT prep course, having the option to try the product out before buying is crucial. Pass rates and teacher quality were also very important since they provide applicants confidence when making decisions that may affect their careers.
Additionally, we took into account actual user reviews, many of which were published on the Trustpilot.com. We also sourced feedback from the popular MCAT test forum: Reddit.com/r/mcat.
Do I need any MCAT Prep Courses?
You should seriously considering buying an MCAT prep course given the high stakes of the exam. Most students will want the subject review and practical tips provided by the numerous MCAT prep companies.
What is the price of an MCAT prep course?
The cost of MCAT preparation courses varies greatly, from $30 per month for low-cost subscription courses to $5,000+ for all-inclusive packages with tutoring. Nevertheless, the majority of learners choose to enroll in courses that cost between $2,000 and $3,000.
Can I improve my MCAT score by taking a course?
A MCAT prep course is more likely to raise your score in comparison to doing your own research using free resources or doing no study at all. You will get access to topic reviews, study materials, and practical tools aimed at improving your MCAT score.
Are MCAT prep classes worth it?
We recommend everyone take MCAT classes to be fully prepared for the exam.
Kaplan MCAT Prep Course vs. Princeton Review MCAT Prep
Many people narrow their choices down to either Kaplan's or Princeton Review's MCAT courses, as both companies have been around for more than 35 years. Their MCAT prep courses are refined and packed with features. The choice between these two depends on your specific needs and your learning style. Kaplan offers 15 full-length practice tests and over 10,000 practice questions. Princeton Review offers 11 MCAT books, and over 123 hours of instructor led classroom time (with their Ultimate Course package) which correlates closely with MCAT success. They also have a MCAT 510+ score guarantee course which can double your acceptance rate into U.S. Medical School. The Princeton Review goes above and beyond to make sure you pass, and that's why we recommend going with them over any other provider. You can see my full comparison of Kaplan and The Princeton Review MCAT here.