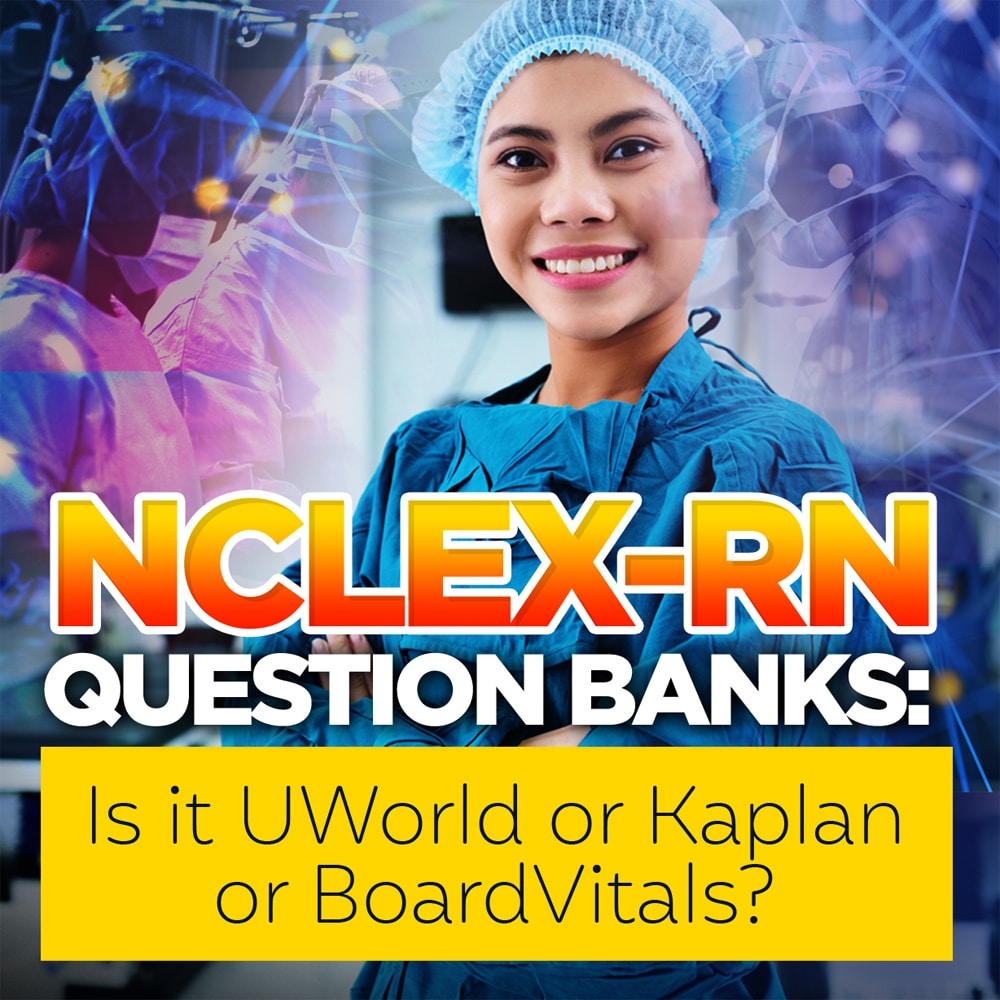 Best NCLEX-RN Question Banks
Kaplan VS. Uworld VS. Board Vitals
When preparing for an exam, there is a possibility of feeling that all the available preparation options are overwhelming. And this is what happens with the NCLEX exam. This post is for you if this is where you are now. We've included question banks for NCLEX-RN exam from UWorld, Kaplan, and BoardVitals because we want you to choose what you think can serve your prep needs best. First is a glimpse of the exam!
---
The NCLEX-RN Exam
The exam for NCLEX-RN should go for up to 5 hours and carries questions in multiple choices. They include selecting all applicable responses, hotspot, graphic, drag-and-drop, fill-in-the-blank, exhibit questions, and audio.
The test adopts an interactive form of testing called CAT (Computer Adaptive Testing). This approach adjusts the level of difficulty for the exam based on a candidate's ability. This ensures candidates are measured based on their nursing competence. It is thus a more authentic and reliable way to test candidates. In the exam will be questions ranging from 75 to 265 based on the answers to items.
Considering the test plan for NCSBN NCLEX-RN, these are the categories for Client Needs that you ought to get ready for:
A care environment that is safe and effective

Care management: 17-23%

Safety & Infection Control: 9-15%

Health Promotion & Maintenance: 6-12%

Psychosocial Integrity:

Basic Care & Comfort: 6-12%

Pharmacological & Parenteral Therapies: 12-18%

Reduction of Risk Potential: 9-15%

Physiological Adaptation: 11-17%
---
Best Options for NCLEX Study Materials

BoardVitals NCLEX-RN Review Course
For BoardVitals, there is a practice question bank designed for the NCLEX-RN exam. It carries over 3300 questions. For access of one month, it costs $79, for three months, it costs $99, and for six months, the cost is $129. Every question has been designed and evaluated by professionals in healthcare with a recent experience with the exam.
Each review question includes comprehensive explanations and can as well take the place of mini-lectures if you'd like a detailed coverage of the related topic. The bank is designed like actual plan for the NCLEX-RN test to give you a chance to identify your weaknesses and encourage a proper usage of your prep time.
Free Trial
BoardVitals avails for you a free test for trial targeting the NCLEX-RN exam questions. This way, you can get the actual experience of the bank and discover how questions as well as explanations are given.
Progress Tracker
For every question bank for BoardVitals, there are individual scores and the average scores for all the users. Also available is the percentile rank for the users based on the questions presented in a test.
Content
BoardVitals dispense their exam questions either in a 'review' or 'timed' mode. You can prepare your set of questions based on a subject or various subjects. In addition, users can design adaptive practice tests using CAT technology, just exactly as the real NCLEX exam. In the questions are audio questions as well as other styles as available in the real exam. You'll receive explanations for both correct and wrong answers so that you can cover all the exam's related topics. BoardVitals NCLEX bank has been revamped with additional question styles, features, as well as support to give your help in combating anxiety.
Response and Customer Service
BoardVitals offers a link for feedback for every question. This helps users in asking questions and getting additional feedback from clinicians. This is great for learners who may require explanations that go beyond what is provided. Access to customer care is 24/7 through email or phone during business hours.
Additional Features
Unlimited tests:
You have a choice to design practice tests with as many questions as you wish
Sharing questions:
If you wish to send a question to a fellow learner or your professor for the purpose of discussion, you have a chance to do it
Send exam:
Faculties at institutions have a choice to forward exams to learners for assessments or class reviews
Ability to delete previous performance and start a new set of questions so that can make use of everything available that the question bank has
Vaccine donation
: BoardVitals makes a donation of vaccine to needy children every time a new customer signs up
Board Vitals NCLEX Promo Code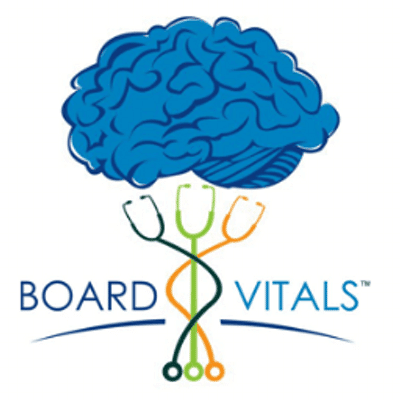 Get 10% Off Board Vitals NCLEX Test Prep
36 uses today
Last Used: 3 hours ago
---

Kaplan NCLEX-RN Prep Course
Kaplan's NCLEX-RN exam prep package has various options that you can choose from. Besides practice questions, it offers you a Live Kaplan access of 24/7. This includes online, on-demand, and live video courses accompanied with textbooks in addition to highly efficient videos.
The Kaplan's question bank for NCLEX-RN includes over 2100 questions for practice which costs $99 to access for six months. In these questions are interactive answers as well as explanations with images, content refreshers, term definitions, and animations. With Kaplan, there is emphasis on different question types. It also offers realistic practice through an NCLEX-like interface. Their package includes test prep, three tests designed in NCLEX style, and on-demand videos, with all going for $279.
If you compare with the others, this option for Kaplan enables you to access affordable test prep package if you intend to study for months. However, if you'd like to study for slightly a month, you'll still be required to pay the full yearly amount. And this can be a drawback.
Free Trial
Kaplan has 50 free questions that you can use to test your readiness for the NCLEX-RN test.
Progress Tracker
If you wish to know your performance, there is a chart that shows your performance. This includes your strong as well as weak areas so that you can know where to base more of your attention.
Content
Kaplan's question bank includes content as well as questions designed by their staff nurses. Featured are questions whose system is similar to what the NBME uses. In the banks are audio questions accompanied with explanations which show correct as well as incorrect answers that ensure all topics related to the exam for NCLEX-RN are covered. You can choose to practice with the questions in a timed or tutor mode.
Response and Customer Service
For every question, Kaplan has ensured there is a link that you can use to obtain additional clarification. A doctor will be available through email to give further help on the medical related content that the questions will have. And if you'd like to access Customer Service, you can use the available phone or email.
More Features
Mobile App: Kaplan has a mobile app that offers access to study plans, practice questions, video content, and CAT among other things
The Kaplan NCLEX Prep Course Discounts

---

UWorld NCLEX-RN Practice Questions
The pride of UWorld is to provide excellent question banks targeting nurses. Their questions are a reflection of the challenging nature of questions found in the NCLEX-RN test that demands critical thinking. This makes preparing for the real exam easier!
The question bank has been designed by expert nurses already in practice. The bank includes over 2000 practice queries with a fee of $119 for one month, $249 for up to six months, and $299 for a one-year package. The UWorld question bank for NCLEX-RN has the same format as the actual exam. You'll find assessment questions and practice exams based on the subscription option you choose.
Free Trial
UWorld has no free trial package for all their products. However, you'll find a demo on each product page. This includes a product interface sample and a few trial questions.
Content
UWorld's interface is user-friendly and is paired with realistic illustrations in addition to images. This is to assist mastery of content. Also available are customizable exams as well as flashcards to aid in quick review.
Response and Customer Service
With UWorld, a link is provided for forums for every exam, FAQs, 24/7 email for customer service.
Additional features
Renewal function
: There is a function for renewal in case you'd like to have your question bank duration extended just before expiry. But you need to note that you have to make payment for any extension depending on its length.
Resetting function
: In case you'd like to begin your practice again from scratch, there is a reset function to help delete any of your previous performance. To utilize this function, you'll need a subscription of not less than six months.
Performance tracking and progress comparison (You can compare your progress with fellow candidates)
Mobile app
---
Conclusion
Now, you have the three options of question for your NCLEX-RN exam preparation. It is up to you to choose the one that deems best for you after carefully considering the attributes.
NCLEX Discounts & Promo Codes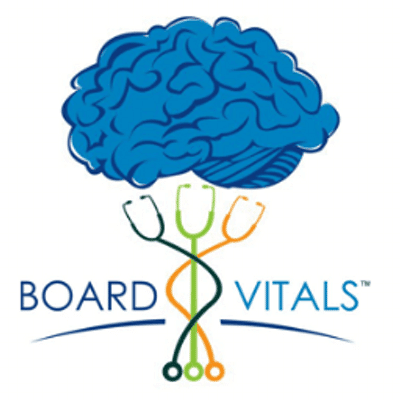 Get 10% Off Board Vitals NCLEX Test Prep
36 uses today
Expires in 2 days
Last Used: 3 hours ago

Save 10% on ExamEdge NCLEX Course
4 uses today
Expires in 2 days
Last Used: 17 minutes ago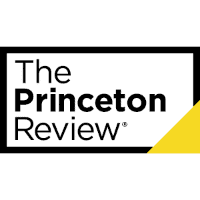 Check Weekly Deals on Princeton Review NCLEX Course
9 uses today
Expires in 2 days
Last Used: 19 hours ago
Flash Sale- Save 25% on Mometrix Test Prep
842 uses today
Expires in 2 days
Last Used: 38 minutes ago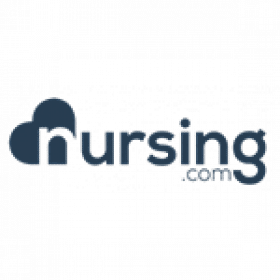 200% Nursing.com NCLEX Pass Money-Back Guarantee
19 uses today
Expires in 3 days
Last Used: 7 hours ago

Save 15% on ExamEdge NCLEX Course
3 uses today
Expires in 2 days
Last Used: 22 hours ago