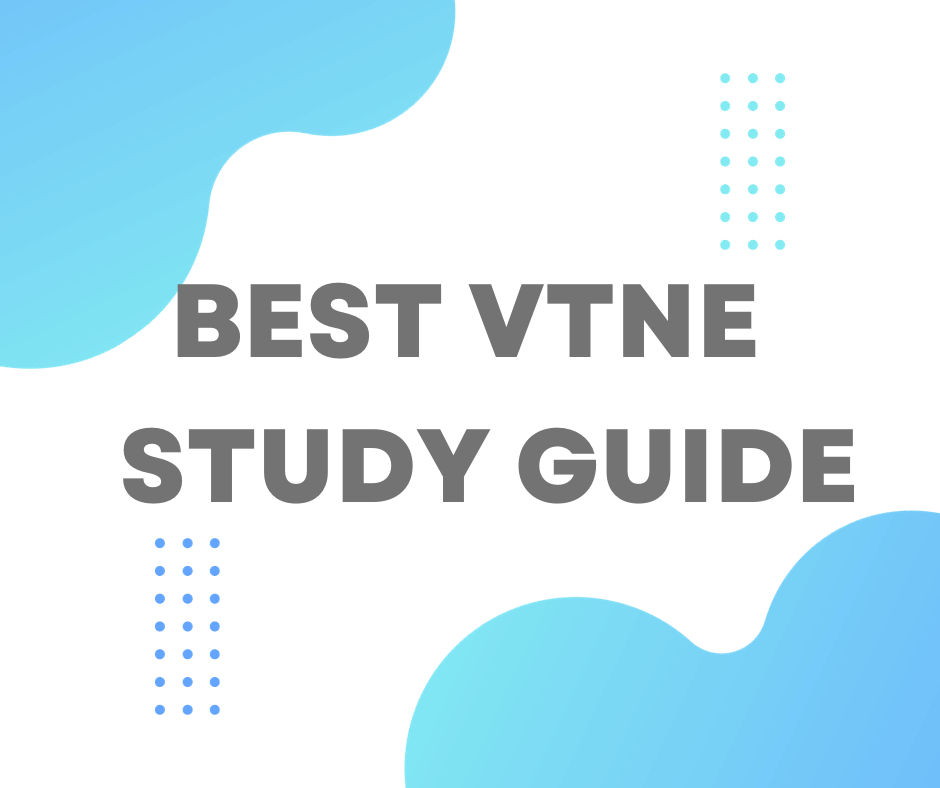 Hey there! Ready to tackle the VTNE?
You're not alone if you're feeling like a deer in headlights thinking about the Veterinary Technician National Exam. It's like figuring out if your cat's meow means "feed me" or "stop petting me." But, with the best VTNE study guide, you'll be as ready as a vet tech can be. So, let's dive in!
Best VTNE Study Guide
Here's your roadmap to acing the exam and getting a positive raw score. Whether you're into traditional study methods or the techy type who loves online quizzes, there's something here for you!
1. Mometrix VTNE Study Guide


Meet Mometrix, the underdog turned leader in the test preparation world. Different from the rest, Mometrix takes a holistic approach, and if you don't feel the course is worth it after one week, get your money back immediately.
Course Features:
Over 500 multiple-choice questions
50 video lessons covering core domain areas
Interactive online practice test sessions for real-time feedback
Pros/Cons Section:
Comprehensive content following the American Veterinary Medical Association standards.
Accessible on any device so that you can study on-the-go.
Test-taking strategies and tips included.
User-friendly interface with easy-to-understand explanations.
Affordably priced so that you won't break the bank.
bottom line
Why go with Mometrix? Because they've meticulously crafted their course to mirror the VTNE's format. Whether you're revisiting anatomy or diving into critical care and emergency medicine, they've got your back. This could very well be the best VTNE study guide out there.
Take Me To Mometrix VTNE Guide
---
2. VetTechPrep VTNE Prep Course


Say hello to VetTechPrep, the Picasso of VTNE prep. With their unique, artful approach to teaching, they stand out in a sea of typical study guides.
Course Features
A whopping 1,200+ practice questions
100+ bite-sized video lessons – perfect for those cramming sessions.
Email support for any queries or concerns about the material.
Customizable study plans catering to your pace.
Pros/Cons Section
VetTechPrep covers the broad spectrum of the test.
Dynamic content updated regularly to reflect future examinations.
Intuitive user interface – you won't need a manual to navigate!
Includes a "test day" simulation for an authentic testing center experience.
Provides instant feedback on practice questions.
More on the pricey side compared to some other options.
bottom line
Investing in VetTechPrep is like getting VIP backstage access to the VTNE content. Their course is immersive, engaging, and most importantly, effective. If you're more about studying smart, rather than hard, this is the one for you!
---
3. Pocket Prep VTNE Study Guide


Enter the scene, Pocket Prep – the modern age's answer to bulky textbooks. The American Association of Veterinary State Boards created this guide which adapts to every student's time.
Course Features
A striking 600+ practice questions designed for different versions of the VTNE
Adaptive and customizable quizzes.
Detailed answer explanations for understanding mistakes.
Daily study goals to keep you on track.
Pros/Cons Section
Super flexible; study anytime, anywhere, from your phone.
Real-time progress tracking so you know where you stand.
Detailed explanations that clear concepts, not just rote memorization.
Affordable with options for monthly subscriptions.
An intuitive, user-friendly app interface.
Limited to mobile; no desktop version.
Fewer video lessons compared to competitors.
bottom line
Pocket Prep is not just an app; it's your test pocket companion. This is a game-changer if you love to squeeze in study sessions during commute or breaks. It's modern, sleek, and downright effective! One of the best VTNE study guides.
---
4. Peterson's Veterinary Technician Exam Prep

Peterson's is like the seasoned professor everyone respects – they've been around, and boy, do they know their stuff.
Course Features:
Over 400 comprehensive operational questions.
Two full-length practice tests to simulate the real exam
Detailed answer explanations for every question.
Diagnostic tests to pinpoint areas needing improvement.
Pros/Cons Section:
Experienced and trusted name in the test-prep industry.
Comprehensive content coverage across all domains.
Detailed feedback to understand and rectify mistakes.
Diagnostic tests are a unique feature to get a study direction.
Slightly old-school approach may appeal to only some.
Fewer practice questions than some competitors.
bottom line
With Peterson's, you're not just buying a course but investing in expertise. This is your best shot for those who value experience and a tried-and-true approach. It's like having a sensei guiding you!
---
5. CFido Exam Prep's VTNE Guide

Fido Exam Prep might sound playful, but they mean business when it comes to VTNE. If you take their course and don't pass the exam, they won't charge you a penny.
Course Features
500+ practice questions tailored for mastery.
Interactive learning modules.
Engaging video lessons and visual aids.
In-depth feedback and performance analytics.
Pros/Cons Section
Modern and engaging course design.
Visual aids make learning complex topics easier.
Performance analytics to track improvement.
Supportive community and discussion boards.
Newer to the market, so less proven track record.
Pricing is on the higher side.
No mobile app version for on-the-go learning.
bottom line
If you love a mix of innovation and thorough content, Fido Exam Prep is your match. Their course is vibrant, engaging, and meticulously designed for modern learners. Give Fido a shot and experience the future of VTNE prep!
---
6. Exam Edge's VTNE Practice Tests
Ever met someone who's laser-focused on getting results? That's Exam Edge for you. 
Ditch the fluff and jump into serious test prepping with Exam Edge's tailored content.
Course Features
Whopping 1,260 practice questions
Timed tests to simulate the real exam experience.
Detailed explanations with each answer.
Instant online access and flexible test-taking modes.
Pros/Cons Section
Extensive question bank is one of the largest out there.
Industry experts design questions.
Allows you to take the test in practice mode or real exam mode.
Track your progress over time with detailed history and performance analytics.
Focuses mostly on MCQs; less comprehensive learning resources.
The website interface could be a tad more modern.
No mobile application for studying on the go.
bottom line
Exam Edge strips away the distractions and offers what matters most – extensive practice. If you're looking to test yourself rigorously before the D-day, this platform promises that. Dive deep into their vast question bank and come out VTNE-ready!
---
7. VTNE Flashcards: Brainscape's VTNE Flashcards
Flashcards are the age-old trusted allies of students. But, Brainscape isn't just another set of flashcards; they're the masters of flashcards no matter the topics, and their VTNE guide is no exception to their excellence.
Features
Thousands of digital flashcards on various VTNE topics.
Based on cognitive science to optimize your study time.
User-created flashcards mean a diversity in question types and topics.
Mobile compatibility lets you revise on the move.
Pros/Cons Section:
Cognitive-based learning ensures better retention.
User-generated content means endless variety.
Handy for quick revision and last-minute preps.
Compatible across devices, so learn as you like.
Lacks structured courses or video content.
Quality may vary as flashcards are user-generated.
Limited interactive learning tools.
bottom line
When it's crunch time and every second counts Brainscape's VTNE flashcards are the go-to. Ditch the heavy books and go digital with your revision. It's quick, efficient, and backed by cognitive science!
---
8. VTNE Tutoring: Varsity Tutors VTNE Courses
Some folks need a personal touch in their studies, and that's where Varsity Tutors shine. If you need someone to help you specifically, Varsity Tutors has plenty of expertise to throw your way.
Features
One-on-one tutoring sessions tailored to your needs.
Access to several VTNE practice tests.
Flexibility in scheduling and session lengths.
Tutors are thoroughly vetted and are experts in their domains.
Pros/Cons Section
Personalized attention ensures your specific pain points are addressed.
Flexible scheduling means learning at your own pace.
Access to a variety of practice tests.
Vetted tutors guarantee quality teaching.
More expensive than self-paced online courses.
Lacks extensive digital resources like some competitors.
Limited to certain geographical areas for in-person sessions.
bottom line
If you've always felt that personal touch makes learning more effective, Varsity Tutors is your dream come true. With dedicated tutors and a focus on one-on-one sessions, it's like having a personal VTNE coach. Dive in and make the most of personalized learning!
---
General Information About the Exam
The Veterinary Technician National Exam is your golden ticket to a promising vet tech career.
Conducted by the American Association of Veterinary State Boards (AAVSB), it's a rigorous test aimed at assessing your proficiency in the domain areas of the VTNE, spanning anatomy to emergency medicine.
If veterinary medicine is your jam, this is the exam to ace. But don't fret; with the best VTNE study guide and ample practice questions, you'll be on your path to achieving that coveted passing score.
---
Free VTNE Practice Tests: GoTestPrep
Everyone loves freebies, especially when it's something as valuable as VTNE practice tests. GoTestPrep is your online buddy offering sample questions that mimic the real test.
It's a stellar starting point, especially if you're just dipping your toes into the vast world of test preparation. So, give it a whirl and gauge where you stand!
---
FAQ's
Got queries buzzing around in your head about the best VTNE study guide? Let's swat them down!
How many questions are on the VTNE?
The exam comprises 170 multiple-choice questions, but only 150 are scored. The rest are pilot questions meant to evaluate their worth for future examinations.
How to study for the VTNE?
Strategize! Dive into a mix of the best VTNE study guide, practice questions, and join forums. Don't shy from taking online practice tests. And maybe even join a course from one of the providers we discussed above.
What is the Veterinary Technician National Examination?
It's the pivotal exam for vet techs in the U.S. and Canada, administered by the AAVSB. Clearing this exam is crucial for vet techs to get licensed in most states.
How hard is the VTNE?
Let's not sugarcoat it – it's challenging. But it's entirely achievable with dedication, ample practice and the best VTNE study guide.
---
Conclusion
The exam might seem daunting, but remember, it's a stepping stone to becoming an accomplished vet tech. Whether you dive into dedicated courses, rely on flashcards, or get tutored, consistency and practice are key.
With the best VTNE study guide and a sprinkle of determination, you're set to ace this exam! Remember, the internet is your oyster, full of study guides and test prep, so make the most of it! Best of luck, future vet tech!