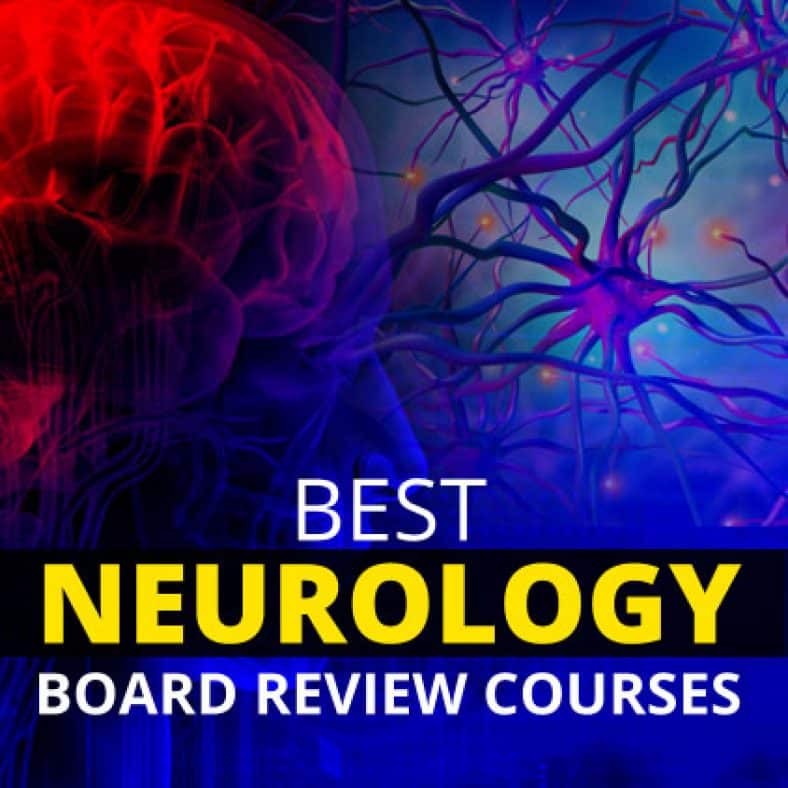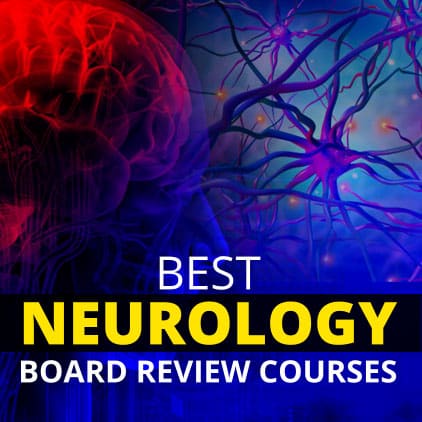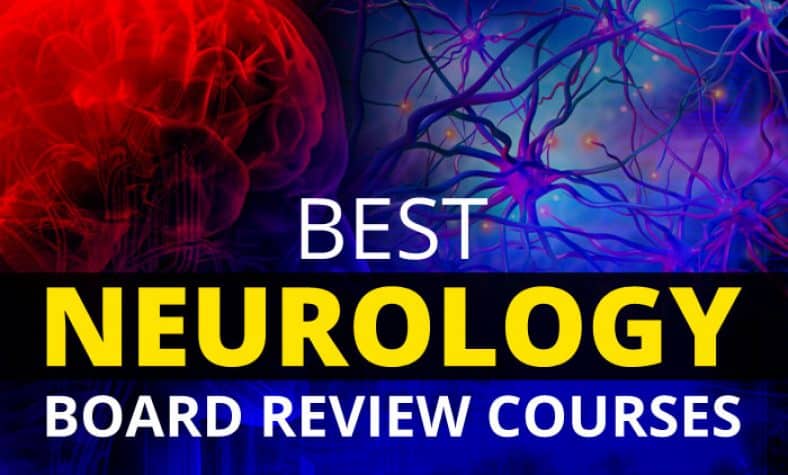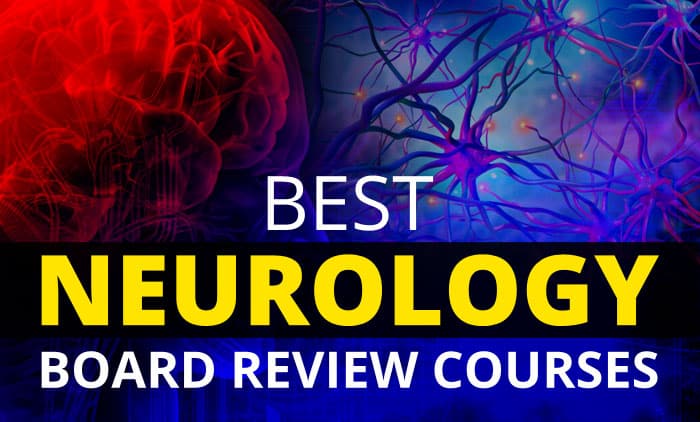 When studying for your neurology boards, it's essential to find the most helpful review courses to prepare yourself for success. You shouldn't just rely on one resource to study; ideally, you should find several review courses to get the most well-rounded and diverse perspective on the material. 
Each review course has strengths that another might lack, so looking through different sources can help you get a holistic view of the material. 
You'll need to look for specific features and criteria when finding the best neurology board review course for you. Finding one with practice exams and questions to test your knowledge will be helpful. Below are a few of the best studying materials and review courses for the neurology board. 
Oakstone Neurology Board Review & CME

This review course includes insight and expert knowledge about imaging, lab tests, and interpretations of the tests. The review course has over 55 review lectures, each around one hour long.
With this online continuing medical education (CME) program, you can use the take-home exams to practice everything you've learned in topics such as neuromuscular ultrasound, back and neck pain, neurocardiology, and neurological complications of checkpoint inhibitors, to name a few. 
Other topics included in the course offerings include:
Cognitive and behavioral neurology
Sensory complaints
Movement disorders
Stroke
Neurointensive care
Neuromuscular disorders
Neurology below the belt
Multiple sclerosis
Sleep disorders
Epilepsy
Neuro-ophthalmology
Neuro-otology
Spinal cord disorders
Pain
Neurology of systemic diseases
Cancer neurology
Neurological infectious diseases
Coma and other disorders of consciousness
Autonomic neurology 
There are also special topics you can choose for extra studying time. These special topics include:
Neurology of alcohol
Neurotoxicology
Palliative care of the neurological patient
Women's neurology
Concussion
Functional neurological diseases
Seizures/attacks
Social networks in neurology
Neurology in a global context
Clinical neuroanatomy
Chimeric antigen receptor (CAR) T-cell therapies
TAKE ME TO COMPREHENSIVE REVIEW OF NEUROLOGY
---
BoardVitals Neurology Board Review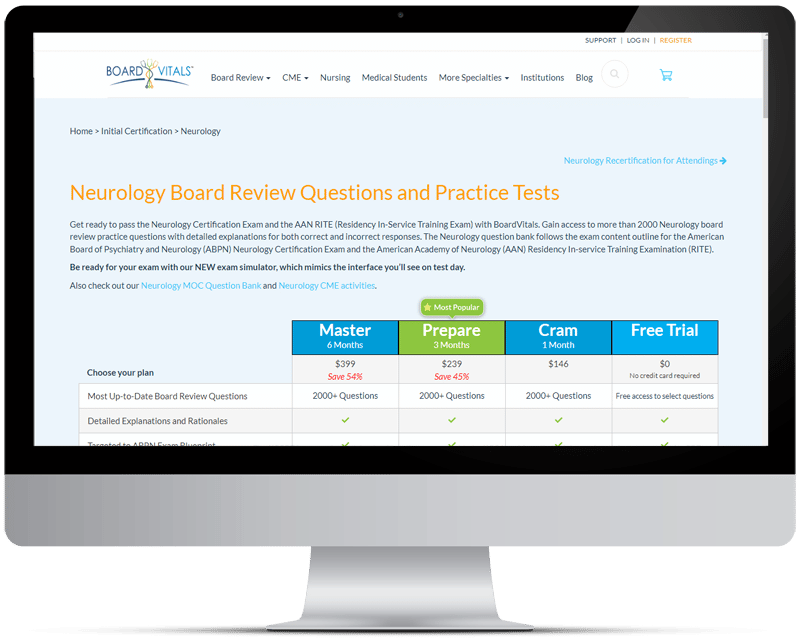 BoardVitals is the official website for information about the neurology board exam and hosts more than 2000 practice questions for the exam.
If you're unsure if this review course is for you, they offer a free trial so you can dip your toes into their material. Along with the ample study material, you'll receive information about the exam's structure and what topics will be covered, including a breakdown of specific topics by percentage. 
All the information about the exam comes directly from ABPN Neurology CERT Content Blueprint. Neurology practitioners scored an average of 84 percent on their first time taking the official exam after they studied using BoardVitals. 
As part of the review course, BoardVitals offers resources and tips on how to do well on the ABPN Board Exam, including study strategies and test-taking tactics. You can also check out their pass rate when students studied and prepared with their review course versus the national average of students passing the neurology board exam using some other study method. 
---
Harvard University Neurology Board Review Course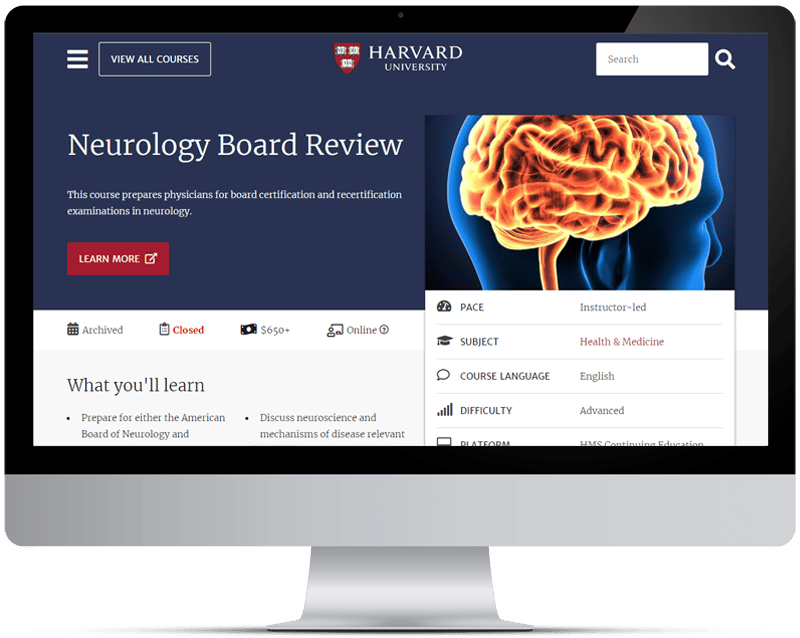 Even if you're not enrolled in Harvard for medical school, you can still check out their review course for the neurology board exam. Topics in this review course include:
Diagnosis and treatment of diseases
Impairment of spinal cord function
Muscles, peripheral nerves, and blood vessels
The autonomic nervous system
In another portion of the review course, you will learn neuroscience and disease mechanisms relevant to board certification. You'll also go over interpersonal and communication skills, professionalism, practice-based learning and improvement, and system-based practice skills that go hand-in-hand with the neurology board exam. 
This course is an accredited live stream from the Brigham and Women's Hospital. You can watch the lecture and review the course from anywhere using your laptop or smartphone. 
---
Penn Medicine Board Review Practice Questions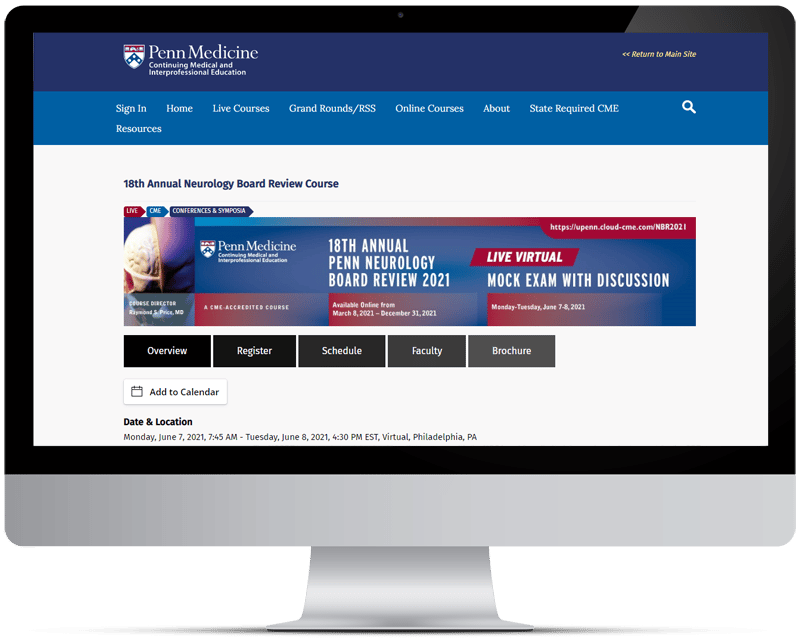 Penn Medicine also has a live stream people can join when preparing for the neurology board exam. Anyone can sign up; you don't have to be a student at Penn. The material you'll need for the review course will be mailed to you; therefore, you must sign up as soon as possible so Penn can get these materials to you for review before the live video lecture. 
A huge advantage when selecting this review course is the ability to purchase an additional 900 practice questions beyond those you work on during the review course. These questions will be sent to you via email. There is also an option to attend the mock exam that will mimic the same testing conditions you will have during the actual neurology board exam. 
---
Beat the Boards Neurology Certification Board Review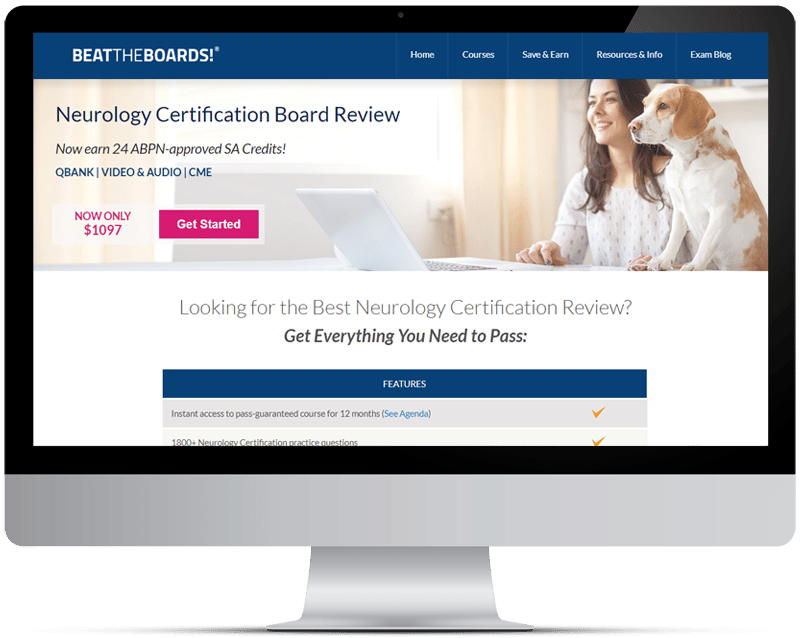 Beat the Boards is pricier, but it's still very beneficial and offers the extra support you'll need to succeed on exam day. This review course includes the following: 
Instant one-year access to a method that guarantees you'll pass the exam
Over 1800 practice questions
Over 58 hours of lectures from board faculty
A course study guide via download
An app to use for review
An online study group with other participants of the course
A guarantee of a passing grade or you'll be refunded
---
FAQs
Q: How difficult is it to pass the neurology board exam?
While the exam can be challenging, it generally has a pass rate of around 90%. Practicing and reviewing key concepts can help you pass the exam on the first attempt.
Q: How much does the ABPN examination cost?
The non-refundable examination fee is $1945. You'll make your payment through the ABPN Physician Portal when you register for the exam.
Q: Will my certification expire?
For new doctors taking the exam, your certificate will depend on completing a three-year cycle of requirements. As long as you maintain these requirements, your certificate will remain valid.
Q: How often will I have to retake the examination?
The examination cycle is ten years.
Q: If I don't pass the first time, how many times will I be able to apply for the certification exam?
There's no limit on how many times you can apply to take the examination; however, studying for your boards using one of these online providers will significantly increase your chances of passing the first time.
Conclusion
Any of these neurology board review courses are definitely worth looking into and can help you pass the most crucial exam of your medical career's future. 
No matter what fits your criteria and budget, you should always have a plan to sign up for a review course for the neurology board. This exam doesn't just shape your future as a doctor; it's essential to pass to become one in the neurology field.