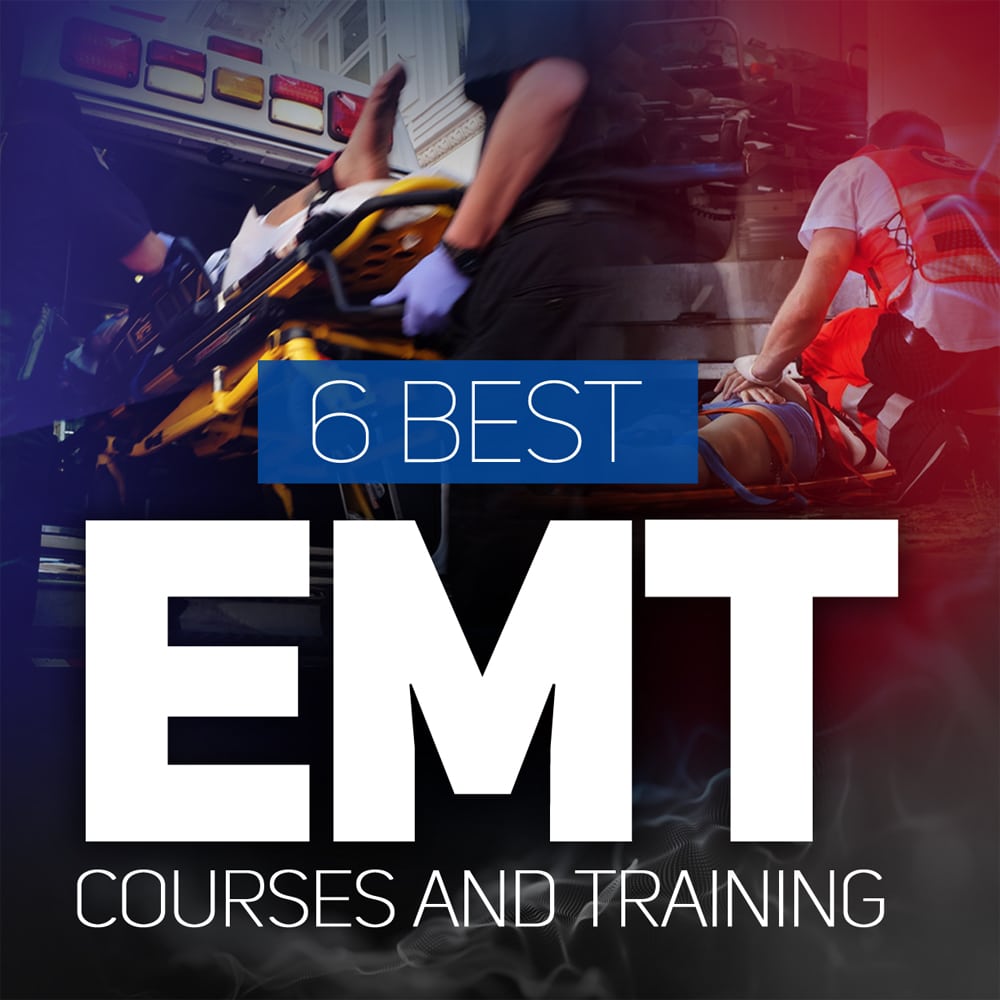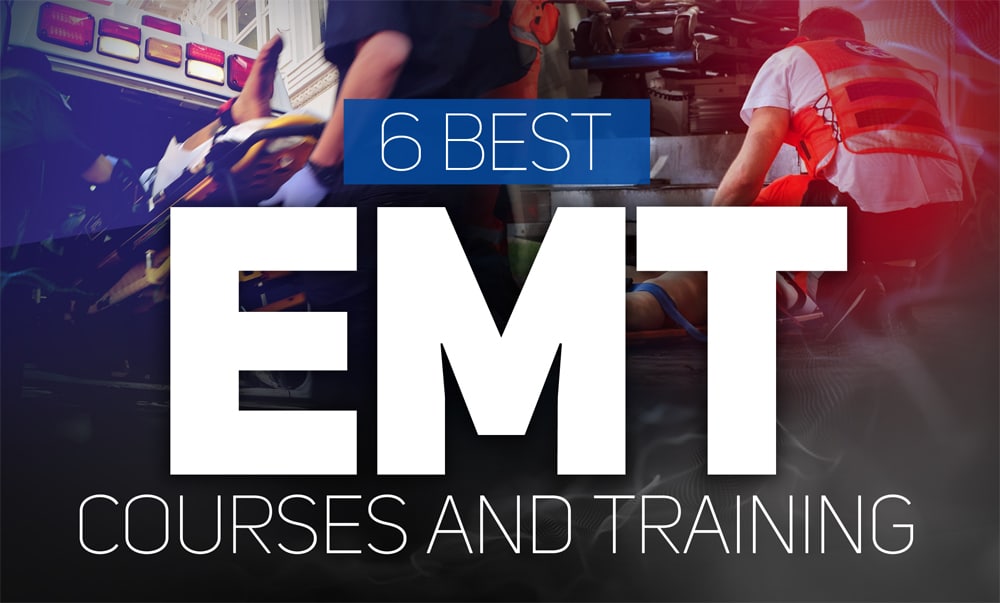 Online EMT Courses

Emergency Medical Technicians (EMT) are a critical part of healthcare. We have emergencies in our homes, on the roads, in school, in the workplace, and other places. Someone has to take care of these medical emergencies. This necessitates proper training of healthcare personnel who can attend to them professionally. If this is a place you'd want to be involved in, it's important you find a course that ensures you're fit to perform. That's why we've put together the Best EMT Courses and Training to help you get the knowledge and skills you need to fit in your EMT role well.
The list includes free and paid courses targeting beginners, learners with intermediate skills, and experts. Study the course list to help you determine the one you think will give you what you need.
---
Best EMT Courses and Certification Schools
1. Mometrix Online EMT Course


The Mometrix online EMT course is a convenient way to learn the skills that you need as an emergency medical technician. The modules are short and easy to follow, making them perfect for busy professionals who want to get up to speed on their new career path quickly.
With clear instructions and videos provided by experts, you'll be able to learn the skills that will help you work effectively in any situation. With our EMT course, you can become part of a growing community of professionals who share your commitment to safe patient care and saving lives.
Mometrix EMT Course Features:
450 EMT Practice Questions
75 Lessons
20+ Instructional EMT Videos
351 EMT Flashcards
100% Money Back Guarantee
Ace the Emergency Medical Technician (EMT) exam by the National Registry of Emergency Medical Technicians (NREMT) by using Mometrix today.
---
Flash Sale- Save 25% on Mometrix Test Prep
752 uses today
Last Used: 15 minutes ago

2. Coursera's Online EMT Course

The medical field is a vast area offering numerous career opportunities that include EMT. Providing emergency medical care needs specific skills. This EMT course equips you with skills in emergency medicine, EMT, and trauma. This is one area that allows individuals to have better chances of scaling up the ladder of their career. This is beside the social cause these individuals serve in the society.
In this course rated 4.8 out of 5, students will be learning emergency medical skills including how to take care of stable as well as unstable patients on their way to the hospital. Among other things, you'll get to know about emergency patient care, how to stabilize them as well as disease processes. Coursera offers this course in collaboration with the University of Colorado. You'll have to go through six courses and an exam at the end. The final course forms part of preparation for the exam you're going to take.
Online EMT Course Highlights
| | |
| --- | --- |
| | 100% online course |
| | Targets beginners in healthcare |
| | Instructions from qualified instructors with vast experience in patient emergency care |
| | Students learn fundamental skills needed to take care of medical emergencies |
| | Includes video tutorials, assignments, and quizzes to help you go in-depth into what's required of you as an EMT |
| | Includes a series of courses one can take at their own pace |
| | Learners can pause their learning anytime or even stop subscription to a course anytime they wish |
| | A hands-on project to ensure you practice what you're studying and to enable you to effectively attend to a real world problem |
| | Includes a peer review focused on care plans put together by other learners |
| | The peer review enables you to understand what other learners would do in the same situation as well help reinforce what you're learning |
| | Certification offered after finishing the course modules and completing the project |
| | |
| --- | --- |
| Course Length: | 4 months; 8 hours/week |
---

2. Allied Medical TrainingEMT Training Course Online

It's not all the time that people find an opportunity to attend class in person. If this is the case for you, then you need to consider studying with this course. This best EMT training course by Allied Medical Training is a self-paced course to be taken purely online. You're going to learn through provided study materials, presentations, and assessments.
The course with a student rating of 4.5 out of 5 comprises Part I and Part II that a student must complete. Part I involves going through the study material for the course, while Part II involves a week long patient care to allow you gain hands-on skills to use during medical emergencies. There's also a psychomotor skilled-based exam that you must take before moving to the next step. The final part of the course is to pass a computer-based exam in order to get the NREMT certification. This certification is one of the licensing requirements asked by most states.
Key Course Highlights
| | |
| --- | --- |
| | Completely online EMT course |
| | Access of up to 6 months for Part I and 7 consecutive days of practical patient care and learning for Part II |
| | Learners acquire fundamental skills needed to take care of emergencies as an EMT |
| | Students study with guidance from qualified EMTs, paramedics as well as physicians to ensure they're successful in healthcare |
| | Includes a psychomotor skill-based exam at no extra cost to you |
| | Includes a psychomotor skill-based exam at no extra cost to you |
| | You get a NREMT practice license once you complete the course and earn a certification |
| | |
| --- | --- |
| Course Length: | Self-paced |
---

3. EMT & Fire Training Online EMT Certification Course

This EMT online training course meets the required National Standards for EMT. It has been designed to offer students a chance to gain specialized knowledge and skills in emergency patient care. As an EMT, you basically act as a critical link between an emergency scene and the medical care system.
The course is rated 4.6 out of 5 and it's self-directed and interactive. It leads to a NREMT certification once a student meets all the requirements. By learning through this distance-learning course, you'll gain an understanding and experience in EMT since the course curriculum covers it in detail.
The course targets individuals who are goal-oriented and ready to offer their input and help in the medical field. In fact, every self-motivated individual who enjoys finding solutions to challenges should take the course.
Once you complete the training modules, you can now take practical skills and cognitive certification exams. Passing the exams leads to the award of a NREMT certification. The exams also form the basis for licensure or certification by majority of states. Since the course targets the expectations of entry-level jobs, it's important that students demonstrate the knowledge, skills, and attitude they've gained. This is what the course prepares you to do.
Key Course Highlights
| | |
| --- | --- |
| | Online EMT course based where learning is through self-paced LMS |
| | Workbooks and textbook for EMT provided |
| | 24 hours of instructor help |
| | Five day-long hands-on learning |
| | Six to nine months of access to the course material |
| | Gain basic knowledge and skills on how to stabilize a patient and transport them |
| | Course curriculum covers areas such as non-emergencies, routine medical transport, and life-threatening emergencies |
| | A completion certificate awarded on completing the program's didactic as well as practical skills requirements |
| | Once they have received the NREMT certification, graduates can then apply for state certification |
| | |
| --- | --- |
| Course Length: | Self-paced |
---

4. American Red Cross Online EMT Prep Course
Individuals who wish to take their EMT training online can go for this Red Cross training course. Through their simulation training process, students are enabled to gain skills and knowledge in providing of emergency care services. The course is designed to meet AHA's regulations for CPR. Through it, you'll manage to provide primary healthcare as well as medication to children and adults. Course instructors utilize scientific methods to help in illustrating patient care needed at different emergency levels before a patient's hospitalization.
This course with a rating of 4.3 out of 5 enables learning through BLS (Basic Life Support) courses targeting healthcare providers. This approach is to make sure EMTs are equipped with current skills in AED, CPR, and other BLS skills for infants, children and adults.
The other advantage of taking your course with Red Cross is in the ability to help foster relationships with an intention of driving better patient outcomes. This is because learning isn't just about gaining individual skills, but also about being able to work with others to achieve what's required. There are expert instructors to take you through the course material via a flexible learning schedule.
Key Course Highlights
| | |
| --- | --- |
| | Available as an online EMT course, in-person as well as hands-on classes |
| | Course is by qualified instructors with many years of experience in the EMS field |
| | Adopts a science-based simulation learning process so that you can understand the topics and concepts better |
| | Covers topics such as performing of primary assessments, AED use, CPR, airway ventilation for adults, children and infants, medical as well as trauma emergencies, pharmacological interventions, and EMS operations |
| | Students obtain certifications based on the course they've taken |
| | |
| --- | --- |
| Course Length: | Varies; depends on course taken |
---

5. UCLA Online EMT Classes: Online & Traditional Training Course
This top EMT course online targets entry-level healthcare providers whose work is to take care of patients with medical emergencies and traumatic injuries. The skills gained through the course are also useful to paramedics who form part of healthcare providers handling patients needing emergency care. And since pre-hospital patient care is critical, this course includes practical labs to help students get real world exposure.
The course lasts for 8 weeks and includes practical assignments that students can take whenever it's convenient. After completing the course, you can take the NREMT certification exam. This will help you apply for your practicing license. The intention of this Los Angeles based emergency training provider is to assist you begin your career in healthcare with top skills in EMT.
Students taking the course can either opt for the accelerated EMT program that takes one month or the online EMT program that takes 8 weeks. The accelerated program is for those who wish to begin treating patients quickly. Classes for this program are available on Monday, Tuesday, Thursday, and Friday. Wednesday is meant for students to seek skills guidance, review content, and ask questions from the instructors in the faculty.
For the online based program, students attend lectures, self-paced interactive assignments, and skills labs on Monday and Wednesday. The other days of the week are set aside for students to pursue on-site skills.
Key Course Highlights
| | |
| --- | --- |
| | Los Angeles' online EMT program includes six exams |
| | Best course to acquire professional EMT skills to help those who need emergency healthcare |
| | Access to online training materials and skills labs offline to help you master practical skills |
| | Course includes recorded online lectures posted for students to access |
| | Four parts to cover in the curriculum that include didactic, skills, exams, and ride along shifts |
| | Connect with agencies in EMS seeking to recruit EMT students from UCLA |
| | Eligibility to take the NREMT certification exam on course completion |
| | Become a licensed EMT through your county after passing the certification exam |
| | |
| --- | --- |
| Course Length: | One month for Accelerated EMT Program and 8 weeks for Online EMT program |
---

6. National Medical Education & Training Center (NMETC) Online EMT Prep Course
This best EMT course is a live virtual classroom course that you can take from anywhere. Students interact with their instructors as well as fellow learners in real-time. The intention of the training course is to help you get equipped with skills for medical emergency cases.
These skills enable learners to effectively prepare for tasks such as answering emergency calls and transporting patients needing emergency care to hospital. They need to know how to assess a patient's emergency condition, manage respiratory, cardiac as well as trauma emergencies. It will take you 192 hours of live instruction to cover the whole course.
Key Course Highlights
| | |
| --- | --- |
| | Course takes 4-5 months to complete |
| | Course covers patient assessment survey & triage, physiology, anatomy, bleeding control, shock treatment, and oxygen therapy among others |
| | Recorded lectures available to those who are unable to watch the live lectures as long as they can watch them within five days of the actual lecture |
| | Six days of on-campus intensive skills training as well as testing through hands-on instruction and training, and simulation labs |
| | On day six of the practical skills training, students take the NREMT EMT certification skill-based exam |
| | Eligibility to take the written NREMT exam in your home state |
| | Those who complete qualify to apply for the National Registry exam and Massachusetts EMT certification |
| | |
| --- | --- |
| Course Length: | 4-5 months |
---
Conclusion
The goal of the best EMT courses and training list is to assist you find your preferred course with ease. When this happens, you save yourself the time you'd have wasted scouring online through loads of information that may not be helpful. The EMT courses are the leading courses for emergency healthcare providers. The information here will help you understand about the courses. Check out each one of them and choose the one to use in taking your healthcare career further.