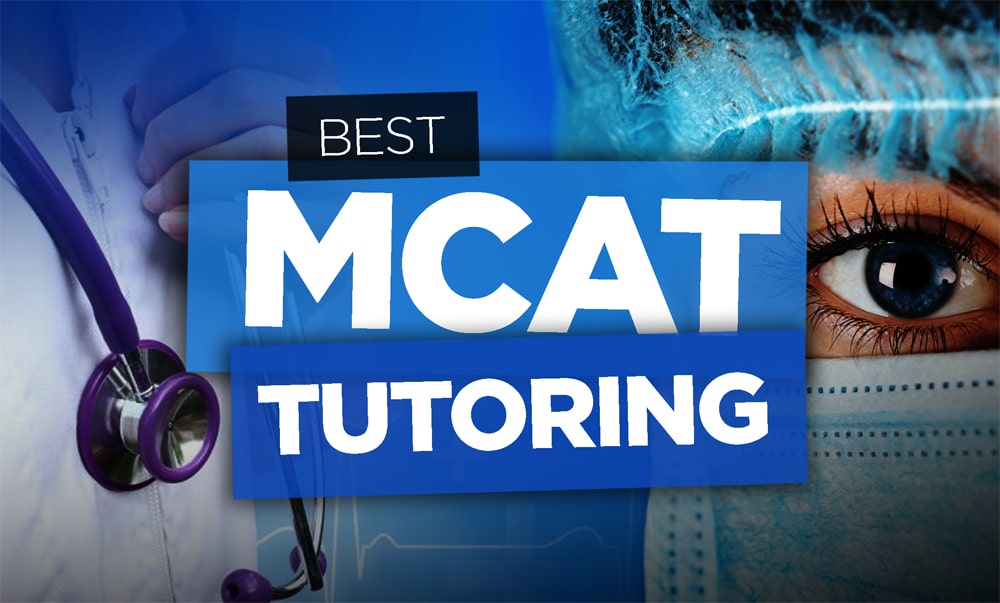 First, the SAT.
Then, the ACT.
Then, AP exams.
And now the question becomes:
What's the next standardized test on your horizon?
By now, you've probably experienced your fair share of standardized tests through middle school, high school, and in preparation for attending college (SAT, ACT, MCAS, TAKS, etc.). But, unfortunately, if you choose to pursue graduate education, especially in the field of medicine, the testing does end here… Which brings us to the next test you'll likely take:
Best MCAT Tutors Online 2020

If this is the first time you're hearing the acronym "MCAT" on your journey to medical school, you may want to jump over to our post covering Medical School Admission Consulting, which is a great place to start planning your medical school journey. If you already know MCAT stands for Medical College Admission Test, but are looking for the next steps to help you in your preparation, you are in the right place!
The MCAT is an extremely challenging standardized exam. You can think of it as 4 SAT subject tests wrapped into one and given a hefty dose of steroids. Preparing for this exam is no cake walk, and despite most of the subjects aligning with pre-medical courses in college, many students will find the test goes beyond what college professor may expect you to know in introductory biology, chemistry, and physics courses. This leaves most of us wondering…
How am I supposed to learn material that isn't fully covered in my courses???
Don't panic! Many people before you have dealt with this challenge, and now there are many resources available to assist in your MCAT preparation. From review books to study groups to flashcard decks, the available resources can be overwhelming to many people. Students often have the same questions:
How do I know I'm learning what I need to know?
How should I plan my study schedule?
I'm still in classes, how can I do my coursework AND prepare for the MCAT?
Do I really have time to take a full review course in school?
Adding test prep to a heavy and challenging college coursework load can generate a lot of stress. One of the best ways to alleviate that stress is to get someone who has taken the exam, knows what you're going through, can help you build an effective study schedule, and help you review material and practice questions: an MCAT tutor.
MCAT Tutoring Services
There are a wide variety of MCAT tutoring services available, both online MCAT tutoring and in-person MCAT tutoring. A lot of available tutors are contracted by larger test prep companies, which means a lot of them include varying levels of guarantees, free or discounted review books and question sets, and access to MCAT review courses and videos to use along with tutoring work. With many options available, how can you know what is right for you? Here, we'll review a couple of our favorite MCAT tutoring options, some of the best MCAT tutors and companies, and give some of the pro's and con's for each, as well as highlight what type of student they can best serve.

Med School Insiders MCAT Tutors
Med School Insiders operates similar to Med School Coach as a company with a specific focus on medical education. Med School Insiders does not generate their own review content (unlike Med School Coach), so their tutoring packages do not include review content, thus saving some money if you already have a review book or service you like. Additionally, Med School Insiders is even more targeted that most, focusing almost exclusively on successfully getting students admitted to medical school. It doesn't get more focused than that. Their staff consists of medical students, residents, and physicians, all who have excelled on exams and in medical school, to guide students to success on the MCAT and the application process.
| | |
| --- | --- |
| | The most focused of the MCAT review course companies, Med School Insiders does not dabble in other aspects of test prep. They are solely focused on medical school application process, which includes MCAT preparation. Certain packages even include admissions consulting sessions, which can help students prepare their entire application. |
| | With high quality tutors, the price goes up. And as compared to other companies, the per hour price is comparable, but without additional add-ons included (review books, question sets, etc.). |
The Bottom Line: Med School Insiders is a great way to target your MCAT preparation to make sure you are maximally successful at this stage in the process. If you have your review resources, but aren't sure how best to schedule and utilize them during your study period, Med School Insiders can help you achieve that goal.

Kaplan MCAT Tutoring Online
Up there with The Princeton Review as a top test prep company is Kaplan. Kaplan MCAT tutoring services share a lot of similarities with The Princeton Review – 1-on-1 tutoring with a hand-selected tutor who has been trained and prepared to help you succeed, a personalized study plan, and a series of review books. But Kaplan brings a few extras to the table that are automatically included in most packages: a large number of practice tests (16 at last report), live-streamed and on-demand subject specific instruction, and a full review course (either live online or in-person). Kaplan offers some flexibility in the number of tutoring hours per package (from 10 to 40 hours are the standard options), but offers less flexibility to opt out of other resources included in these packages.
| | |
| --- | --- |
| | Kaplan MCAT Tutors arguably offers the most comprehensive packages (review courses, review books, study schedule development and planning, and 1-on-1 tutoring) for MCAT preparation, so if you truly are starting from square 1, this is the best option. And despite including a lot of their course resources and materials, their packages are slightly less expensive than The Princeton Review packages (at least at the standard number of hours). |
| | While Kaplan does offer a similar score increase guarantee, they do not include admissions planning standard in their tutoring packages. For some, this might not be an issue, but if you are interested in including some admissions planning in your tutoring package, Kaplan does not include those services. However, Kaplan does offer admissions consulting with review courses and their test prep materials, so you CAN get admissions consulting through Kaplan, it just isn't included at baseline. |
The Bottom Line: Kaplan is a truly comprehensive place to get everything you could possibly need to succeed on the MCAT, especially if you feel you would benefit from a full review course in addition to personalized tutoring. While expensive, Kaplan MCAT tutoring services are in line with the rest of the industry.

MedSchool Coach MCAT Tutoring Service
MedSchoolCoach is a medical education-oriented company, focused solely on helping students prepare for all tests throughout their medical school journey (from the MCAT to licensing exams). As such, they have a very targeted approach with staff that are all extremely experienced with medical school exams. Their online MCAT tutoring packages include 1-on-1 online services with a qualified tutor with a proven record of success (>95 percentile score on the MCAT and MedSchoolCoach tutoring training program), access to their MCAT video library to help with review outside of tutoring sessions, and a number of MCAT practice tests. Tutoring packages range from 8-60 hours, with the option to add more hours if need. At 45 or more hours, MedSchoolCoach also includes an admissions consulting appointment to help students plan for all non-MCAT related aspects of their med school application.
| | |
| --- | --- |
| | As a medical education oriented company, everything MedSchoolCoach does is specifically geared towards medical education, thus they are consistently focused on improving their materials related to MCAT prep courses and medical licensing exams. Additionally, they offer varying tiers of tutors (standard tutor to master tutor), so students can pick options for more experienced tutors with hundred or hours tutoring experience (for a premium). Thus, flexibility in number of hours and tutor type can be considered a plus. Inclusion of an admissions consulting session is also a huge benefit, as 1-on-1 consulting for admissions can be very expensive. |
| | The biggest con is pricing at the top end of MedSchoolCoach services. Having a master tutor for 60+ hours is one of the most expensive services available. Because of the quality of their tutors, MedSchoolCoach can charge their maximum price and remain competitive with other companies. |
The Bottom Line: MedSchoolCoach provides multiple tiers of the highest quality of MCAT tutors, and includes 1-on-1 admissions consulting at higher tiers. If you are looking for a highly qualified tutor as well as input on the rest of your application, a high tier services from MedSchoolCoach is for you.

Varsity Tutors MCAT Tutoring
Varsity Tutors is a company focused solely on pairing tutors with students looking for tutors. Unlike other companies, Varsity does not have their own review materials or services beyond tutoring. Thus, their operation may look "bare-bones" compared to others, but if you are looking specific for a tutor to help you with the MCAT, Varsity is a great place to start. Additionally, Varsity is one of the only services that offers in-person 1-on-1 tutoring services (this may be somewhat limited by geographic location). Because Varsity doesn't include review courses, books, counseling, the cost of tutoring packages are solely based on the number of hours you work with your tutor. And the more hours you pre-pay for, the lower the hourly rate is.
| | |
| --- | --- |
| | Varsity is a tutoring-only company, so if that's what you are looking for, this is a place to find it. They are also relatively cheaper than most other companies because they do not include question books, tests, and review resources as part of the package. However, you'll still need review resources, so ultimately you'll need to buy your own books, but with Varsity you can be flexible with the type of resources you choose to use. This can further give you flexibility with how you and your tutor decide to develop your study plan. |
| | While varsity tutors are certified to be able to tutor given subjects and portions of the exam, there isn't a similar training program that tutors go through as there is with other big companies. So tutor-to-tutor variability may be greater with tutors from Varsity. However, they offer 100% guarantee with their tutor matches, so if you find your style and needs to match with a given tutor, they will help you find another tutor better suited to you. Another downside is Varsity does not specifically focus on MCAT tutoring, so while they have rigorous standards for their MCAT tutors, they are also focused on certifying tutors for all other subjects and tests. Thus tutors for the MCAT may not have a primary focus on tutoring for the MCAT as compared to other MCAT tutoring services. |
The Bottom Line: Varsity tutors is a great option if you are looking for ONLY tutoring (not a review course or review materials) or you want extra flexibility in developing and designed your study schedule.

Next Step Test Prep
Next Step Test Prep offers 1-on-1 MCAT tutoring with a lot of structure. They boast tutors scoring >95th percentile on the MCAT who are well prepared to help other students reach to achieve their maximum scores. Next Step has significant flexibility in their tutoring packages, ranging from a crash course of 12 hours 1-on-1 tutoring to a full comprehensive premium package for 60-hours tutoring with the most qualified tutors. Plans at varying levels include a study calendar and schedule personalized to you written by your specific tutor, a diagnostic test to help assess current status and help plan the study schedule, standard practice tests throughout the study schedule, practice questions, review books, access to Next Step MCAT review videos, and Next Step MCAT review course.
| | |
| --- | --- |
| | Next Step is extremely MCAT focused and comprehensive, similar to Kaplan, where additional consulting is available but not included. Thus, students looking for specific assistance with only the MCAT will get a focused approach. The flexibility and personalized study plan, while offered by other services, is a strong focus of Next Step, and their approach and resources are on the cutting edge of MCAT test prep. |
| | Not a con, but a simple word of caution. Next Step has relatively recently shifted to focus only on MCAT prep and away from other exams (GMAT, GRE, etc.), such that now Next Step and their parent company only provide services for two exams (MCAT and LSAT, the law school admission test). While shifting their primary exams has helped them refocus and revamp their MCAT services, providing high quality tutoring and support services for MCAT and medical school admissions, students looking to work with Next Step should make sure to read all fine print about duties to the student during their study period to avoid any situation where they might be forced to transition. |
The Bottom Line: Next Step is a forward thinking, cutting-edge test prep company that offers high quality tutoring for the MCAT with a study schedule-focused approach. Because they are a smaller company, pricing is highly competitive with other companies with similar packages.

The Princeton Review MCAT Tutors
One of the best known test prep companies for nearly all standardized tests that relate to higher education and beyond, The Princeton Review offers a couple different options for MCAT tutoring, with some flexibility, but it can broadly be broken into two categories: comprehensive tutoring and targeted tutoring. As the name suggests, comprehensive tutoring package is meant to fully prepare students for the MCAT, from beginning to end. This includes 60 hours of 1-on-1 tutoring with a high scoring tutor who has completed The Princeton Review's training program and will build a study schedule tailored to the specific needs and time frame of the tutee. It also includes access to your own personalized portal to schedule tutoring, track progress, and keep up with your study plan, and a large selection of Princeton Review MCAT review books to use during your study preparation. The targeted package essentially offers students the ability to mix and match specific services they want from the comprehensive package. So If you have your own review books already or only want to review a specific subject that won't require 60 hours, this flexible option will give you the ability to get the best without having to pay for everything.
| | |
| --- | --- |
| | The Princeton Review knows what they are doing. As one of the largest and most established names in test prep, they have years of data to back up their approach to providing the best MCAT tutor training and support for student and tutor pairs. For comprehensive package purchase, they include a score increase guarantee and also provide access to group admissions planning sessions. If the admissions planning sessions are of interest to you, please check out our Med School Admissions post (as many of those options include both admission counseling AND MCAT preparatory services). |
| | Really the only con is price. The quality of services and flexibility offered The Princeton Review allow them to charge top dollar for tutors who are the best and brightest around. If price is a deal breaker for you, some other services offer tutoring of similar quality without as much sticker shock. |
The Bottom Line: The Princeton Review is a trusted name in test prep and will without a doubt be able to help you reach your MCAT goals with their comprehensive program. Strongly consider The Princeton Review MCAT Tutors if you are starting from scratch or want specific targeted help, need help with your planning and time management, and money is not a concern.
MCAT prep can be stressful and challenging, but employing the assistance of a qualified tutoring from one of the above companies can be sure to alleviate the stress. Don't let a poor MCAT score stand in the way of your dreams of becoming a physician. Take whatever steps you can to make sure you can crush the MCAT and reach the next stage on your journey to become a doctor!