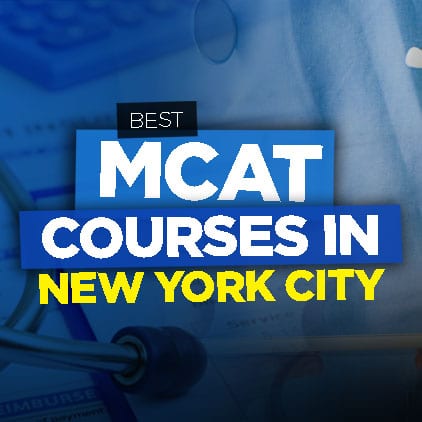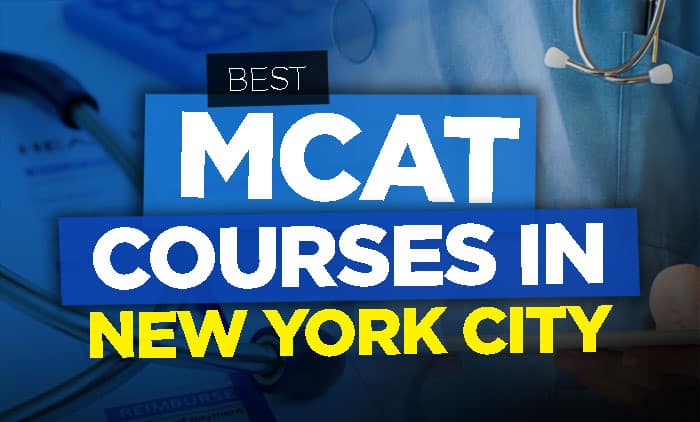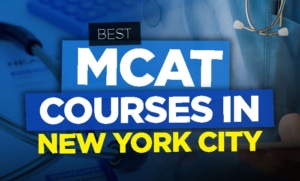 Because the MCAT is notorious for being one of the most difficult exams you'll ever take, it stands to reason that you need a rigorous prep course to help you conquer it. 
But not every MCAT prep course will feel right for you. Depending on your learning style, you'll need to choose between self-study or instructor-led courses, a plethora of study materials like flashcards, practice questions, and full length practice exams, and more.
On top of all those things, you'll also need to find a program in your price range.
This article will walk you through six of the best MCAT prep courses in New York City.
Due to the current health climate, accessibility is one of the most important aspects to consider when searching for an MCAT prep course. In addition to in-person courses, you can also take advantage of a live online class to stick to your study goals and feel confident on test day.
Best MCAT Classes in New York City
---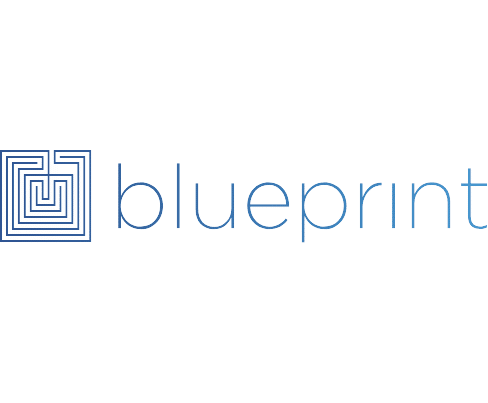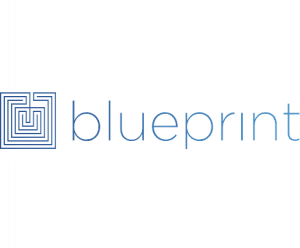 Blueprint MCAT Classes New York City
With Blueprint's live online MCAT courses, you can take one of the best MCAT courses available from the comfort of your couch. You'll learn from 99th Percentile instructors who scored 524 or higher on their test, and you have the option to be tutored by over 50 students who scored a 520 or better.
Blueprint guarantees that students who use their courses will increase their MCAT score by 13 points on average, which triples acceptance rates.
Want to hear from students like you who increased their score?
Check out our full review of Blueprint MCAT here.
Course Features
Two instructors who have scored a 519 or better teach Blueprint's live online MCAT course in an engaging, conversational format. The course provides you with over 40 hours of live instruction split up into 16 two-and-a-half hour classes. And as if that is not enough, you choose how strict or flexible your schedule will be. Need to reschedule a class? No problem. Blueprint's live online course is tailored to suit your needs.
You'll have access to all AAMA resources, 1,600+ flashcards, 160 learning modules, over 10,000 practice questions, 15 full length practice exams, and 6 MCAT content and strategy books.
---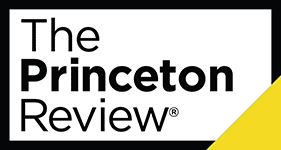 The Princeton Review MCAT Prep Course NYC
Another company well-known for delivering great results is The Princeton Review.
The Princeton Review guarantees you'll score a 510 or higher on your MCAT. Due to COVID-19, the company also offers an "Enroll with Confidence" refund to prospective students.
To see if The Princeton Review is a good fit for you, you can test out their trial.
Course Features
The Princeton Review knows that mindless memorization doesn't result in great MCAT scores. Rather than teaching you to memorize an unfathomable amount of information, The Princeton Review focuses on teaching you concepts with real-life examples. Part of the reason why so many students succeed on the MCAT after using The Princeton Review is the strategies the company employs.
By learning to identify patterns in the questions posed by the MCAT, you can conquer the test with a competitive score.
The Princeton Review gives you access to their MCAT Flashcards App, which has over 550 content flashcards and lets you create your own, too.
TAKE ME TO PRINCETON REVIEW MCAT
---
---


Kaplan MCAT Prep Course New York City
Kaplan is a well known test prep name for a reason. From the LSAT to the MCAT, countless students turn to Kaplan to prepare for their future.
Due to COVID-19, Kaplan might not be offering in-person classes in New York City at the moment, but their live online courses are a popular alternative. Kaplan guarantees that you'll score higher on your next MCAT or they'll give you a full refund.
To see if Kaplan's MCAT prep courses in NYC are a good fit for you, you can try a free class.
Course Features
Kaplan's live online course is split up into 12 three hour classes taught by a team of MCAT experts. In addition to the online course, you have access to one-on-one tutoring, homework assignments that are customized to challenge your strengths and weaknesses, and over 90 hours of live and recorded lessons on their MCAT Channel.
You also have access to over 3,000 Q-Bank questions, 16 full-length practice MCAT tests, 7 books that cover MCAT content and an additional lesson book, 130 interactive science review videos, and all AAMA resources.
---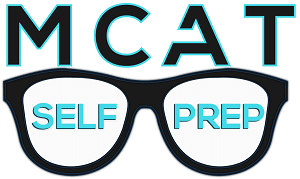 MCAT Self Prep Online
If a pricey MCAT prep course just isn't an option for you, you aren't alone. That's why so many students turn to MCAT Self Prep Online, which is one of the most comprehensive and effective courses online.
MCAT Self Prep Online has several paid options as well, which start at $9/month with a Pro plan.
Unlike the other courses we've included, MCAT Self Prep Online doesn't guarantee that you'll reach a certain score. Instead, MCAT Self Prep Online guarantees that you'll be satisfied or receive your money back, if you've decided to go with a paid plan.
Course Features
MCAT Self Prep Online provides you with 150 lessons divided into 10 content modules outlined in the AAMC. The eCourse has over 300 hours of video content and integrated MCAT study tips. You can also join the company's Facebook group to connect with other students who are self-studying, just like you.
Even better? MCAT Self Prep Online's CEO, who created the lessons you'll use, will answer any questions you have on course material.
---


Magoosh MCAT Course
Magoosh MCAT Self Prep Online is another popular MCAT resource that allows you to study at your own pace. You can access Magoosh via desktop or app no matter where you are, which can help you squeeze in some extra practice in between work or classes.
This company guarantees you'll improve your score by at least 10 points or your money back. You can test the site out with a free 7 day trial before you commit.
Course Features
Magoosh offers study plans for anywhere between one and six months so you can tailor your lessons to fit into your schedule.
The course comes with over 380 content review videos, more than 700 practice questions with detailed explanations, full length practice tests, and 24/7 email support.
Since you aren't paying for an instructor, Magoosh is also ¼ of the cost of other MCAT courses.
---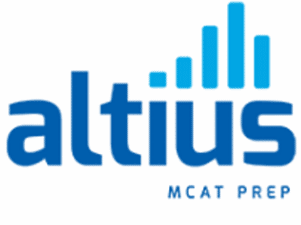 Altius MCAT NYC Live Online
Altius earned its reputation by offering one-on-one MCAT prep from an instructor that scored 515 or higher 24 hours a day, 7 days a week. If you're someone who learns best in a personal setting, Altius's small group and one-on-one mentoring might work best for you.
The company guarantees that you'll either score above the 90th percentile on the MCAT or you will improve your last score by at least 12 points after completing one of their courses. Because one-on-one mentoring might not work for everyone, Altius's 30 day free trial period allows you to test the waters before you commit.
Course Features
Altius's live online program emphasizes problem-based learning over lectures to bridge that gap between theory and application. Nearly every course Altius offers provides you with access to a mentor 24/7, which allows you even more study hours outside of class time. Instead of packing as many students as possible into one class, Altius focuses on small group learning to give each student quality time to ask questions.
Altius also offers an MCAT prep course in-person in New York City for students who don't want online classes.
---
FAQs
Still have a few questions about MCAT classes in NYC? Here's what other MCAT students want to know about the best MCAT prep courses in New York City.
Q: What are the best MCAT classes to take in New York City?
A: For MCAT classes in New York City, some of the best courses are live online. The spread of COVID-19 continues to limit in-person courses, making online options more accessible to students. You can always check a company's website to see if they've updated their COVID-19 policies.
Q: If I pay for an in-person MCAT course but it gets cancelled because of COVID-19, what happens?
A: Many companies offer refunds, such as The Princeton Review's "Enroll with Confidence" refund. If you're worried about an in-person course being cancelled, you can check a company's refund policy page or email the company directly.
Q: How does an MCAT prep course live online differ from an in-person course?
A: A live online MCAT course typically offers the same benefits as an in-person course but is more flexible. Several MCAT prep course companies allow students who choose the live-online option to easily reschedule or retake classes. Depending on which company you choose, you also have more control over your study pace, rather than being restricted to an instructor's time in person.
---
Wrapping Up
Choosing the best MCAT prep courses in New York City ultimately comes down to how you learn.
If you prefer to set your own schedule and enjoy having control over what material you're learning and when, then any of the instructor-free options might work best for you. But self-study isn't for everyone.
If you're the kind of student who thrives with deadlines and pre-set schedules, you'll probably learn more with an instructor or a tutor.
Whatever you choose, you can study confidently knowing that you're taking one of the best courses available to you in New York City.