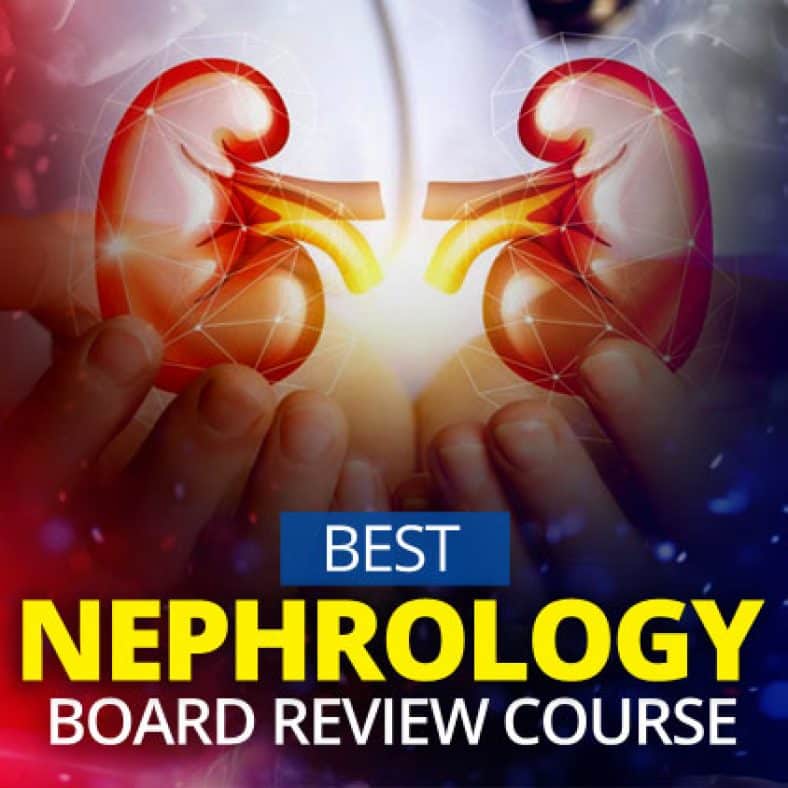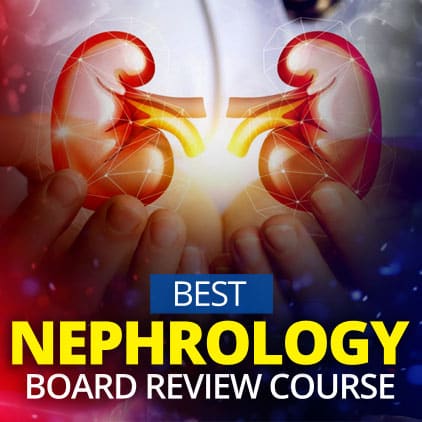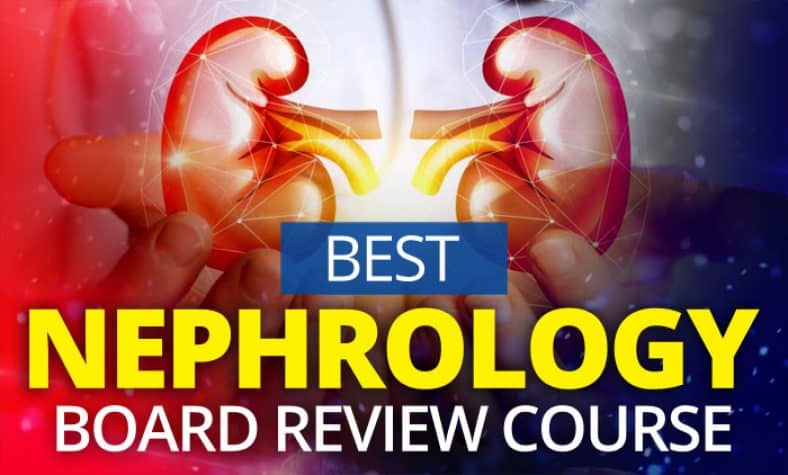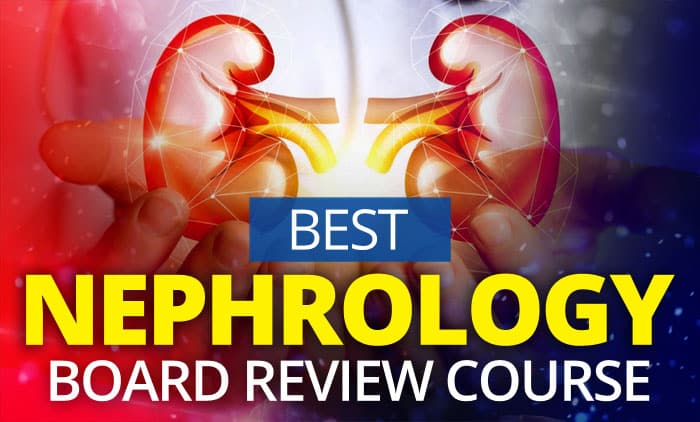 Picking the best nephrology board review course is vital for many reasons. It could even make the difference between passing and failing the exam on your first try.
While you may be tempted to pick up a nephrology board review book, the best resources for studying and passing your boards are online. Scouring the internet for courses is overwhelming, especially when every program claims to be the best.
Which ones are truly outstanding?
We've ranked below seven of the top nephrology board review courses from providers across the globe.
Top 7 Nephrology Board Review Courses
| | | | | | | | |
| --- | --- | --- | --- | --- | --- | --- | --- |
| Company Name | Oakstone | Board Vitals | The Pass Machine | Apex Kidney | Harvard Medical School | eMedsEvents | MedGo |
| Ranking | #1 | #2 | #3 | #4 | #5 | #6 | #7 |
| Price | $1,395 | $239 | $1,097 | Fees Vary | $795-$1,295 | Free | $40 |
Keep reading for an in-depth review of these nephrology board review courses!
1. Oakstone Nephrology Board Review Course


Oakstone's intensive review of nephrology board review course is your best study choice for these reasons:
Learning Objectives
Oakstone's online course provides a comprehensive review of nephrology-based clinical scenarios. Here are a few examples:
Genetic testing for improved prognosis and therapy selection
Physical exam of the dialysis access
Cases in cryptonephrology
After completing this course, you'll be able to do the following and more:
Review and interpret current literature relevant to your clinical practice
Summarize current and recommended nephrology guidelines
Identify and integrate current therapeutic options for specific renal disorders
Accreditation and Credit Designation
Brigham and Women's Hospital provides this course. Further, Harvard Medical School accredits the course.
How many credits do you receive?
The Harvard Medical School gives 52 AMA PRA Category 1 Credits alongside this approximately 52-hour course.
Multiple Media Formats
What's excellent about Oakstone's nephrology board review course?
You can choose from three media options.
The first is an online option priced at $1,395. Choosing online means all your nephrology board review course videos are virtual.
Priced at $1,495, the second option includes online and USB if you prefer added security for your course materials.
Prefer physical copies?
Oakstone's third option includes online videos, USB, and a print syllabus for $1,670.
Board Pass Guarantee
Oakstone guarantees you'll pass board certification through their nephrology board review questions, quizzes, and informational videos.
Still worried?
Even if you don't pass your exam on the first try, Oakstone gives credit equivalent to your purchase price if you send them proof of your board failure.
---
2. Board Vitals Nephrology Board Review Course & Practice Questions


Board Vitals nephrology board review questions are another excellent way to prepare for your certification exam. This online review packet comes with over 550 practice questions accessible at home or on the go.
Key Features
Board Vitals structured the format of these nephrology board review questions and images from the actual certification exam, meaning you'll feel extra confident on test day.
Further, the Timed Mode option lets you practice answering questions according to the actual nephrology exam schedule.
Each of the over 500 questions comes with thorough explanations and rationales for correct and incorrect responses.
Want to know the best part?
Top-program graduates, practicing clinicians, and faculty create these practice questions and answers.
You know you'll learn the relevant material with Board Vitals' nephrology board review questions.
Topics Covered
Still not convinced?
Here's a list of some of the topics covered in these questions:
Pharmacology
Kidney transplantation
Acute kidney injury and ICU care
Chronic kidney disease
Hypertension
Sodium and water
Payment Plans
Board Vitals offers four payment options for their review questions:
The first one's free but only comes with access to certain questions.
The "Cram" option gives one month's access to all questions for $135.
The "Prepare" option is the most popular and costs $239 for three months of access to all questions. This plan also comes with a 100% pass guarantee.
Need more time?
The "Master" option costs $399. It includes the same features as the "Prepare" plan but lasts up to six months.
---
3. The Pass Machine Nephrology Practice Questions


With a combination of lectures, questions, and practice tests, The Pass Machine nephrology board review course is another incredible option.
Quick Stats
For $1,097, this board review course provides the following:
600+ nephrology practice questions
25+ lecture hours
Guaranteed pass or 110% refund
45.5 AMA PRA Category 1 CME Credits
25.5 ABIM MOC points
Board-Style Questions
Each of The Pass Machine's over 600 multiple-choice questions strictly follows the ABIM board exam formatting.
Feel like you're actually taking the exam:
The Pass Machine also structures practice tests in nephrology board format.
These questions follow the "Question-Based Learning" method, ensuring your review time isn't wasted. This method places multiple-choice questions into course lectures.
Learn the "why" behind answers:
The Pass Machine questions and practice tests have detailed explanations for correct and incorrect responses.
Collaboration and Community
Here's something unique:
As you study, The Pass Machine invites you to stay motivated through real-life connections.
The Pass Machine's community-driven approach encourages you to ask and answer questions during lectures, create study groups, and track your progress with others.
Access Anywhere
The Pass Machine offers study flexibility through 24/7 online access to course material.
Their mobile app adds to the on-the-go convenience. Download lectures and answer questions without using data.
---
4. Harvard Medical School Nephrology Board Review

Harvard Medical School provides a comprehensive overview of nephrology knowledge through their course.
Course Overview
Typically in-person, Harvard Medical School is hosting its nephrology course online this year. Follow along with live-streamed lectures, Q&As, and more.
This course is great for:
Clinicians looking to review their nephrology understanding
Physicians seeking to certify or rectify their ABIM certification
Incredible nephrology physicians and educators speak at each session about topics like:
Electrolytes and acid-base
Acute kidney injury
Chronic kidney disease
Hypertension
Transplantation
It gets better:
Harvard Medical School records every live-streamed session. They're available to view online up to 30 days after the course ends.
TAKE ME TO HARVARD MEDICAL SCHOOL
---
5. Apex Kidney Nephrology CME Course


An in-person event, Apex Kidney holds the annual Apex Nephrology Board Review in April-May. This four-day academic gathering began in 2010 and takes place at the Mumbai airport in India.
In-Person Opportunities
Apex Kidney's nephrology board review course is unique from others on this list because it's completely in-person.
A group of twelve academic professionals gather in India to teach you through an intensive program.
This program includes Q&A sessions, lectures, and sample problem scenarios that prepare you for your upcoming board exam.
Cost
The Apex Kidney Foundation offers several different payment options dependent on multiple factors.
For those interested in attending that reside outside of India, Apex Kidney provides four prices:
| | | |
| --- | --- | --- |
| Ticket Type | International Standard | International Trainee |
| Single Room | $1,100 | $850 |
| Double/Sharing Room | $850 | $600 |
---
6. eMedsEvents Nephrology Board Review Course


eMedEvents hosts a nephrology board review course organized by the American Physician Institute (API) for Advanced Professional Studies.
What's the best part about this course?
It's free!
Learning Objectives
After completing this webinar course, you'll be able to:
Employ peritoneal dialysis treatments specific to each patient
Interpret fundamental concepts of nephrology
Identify kidney abnormalities
Create diagnostic and therapeutic options for kidney disease
Credit Information
Completing this online course earns you up to 25.5 MOC points. These points go toward the ABIM Maintenance of Certification (MOC) program.
You also get 25.5 AMA PRA Category 1 Credit.
7. MedGo Nephrology Practice Questions


For just $40, MedGo gives you access to a nephrology board review course. This course provides videos and PDFs from The Pass Machine's 2018 online lectures and tests.
This option may not contain completely up-to-date information, so what's it good for?
It's a great overview of the basics, and it can help you discover what material you need to brush up on.
---
Topic Overview
Topics covered in this nephrology board review course include these and more:
Electrolytes
Acid-base and potassium abnormalities
Calcium, phosphorus, magnesium, stones
Toxicology
Vascular disease
Hypertension
Chronic kidney disease
How Long is the Nephrology Board Exam?
According to the American Board of Nephrology, the nephrology board exam takes approximately 10 hours to complete.
The 10-hour total includes registration, a tutorial, an optional survey, and three breaks.
How Much Does the Nephrology Board Exam Cost?
The American Board of Nephrology administers this subspecialty certification exam for $2,325.
Late registration fees are an additional $400.
The American Board of Nephrology accepts the following forms of payment:
American Express
Visa
MasterCard
Discover