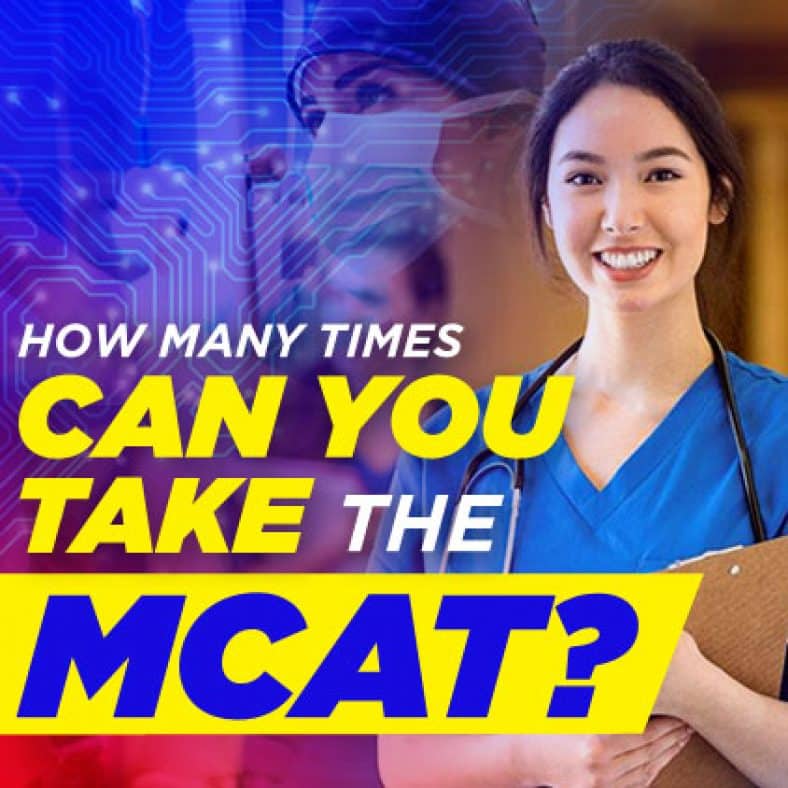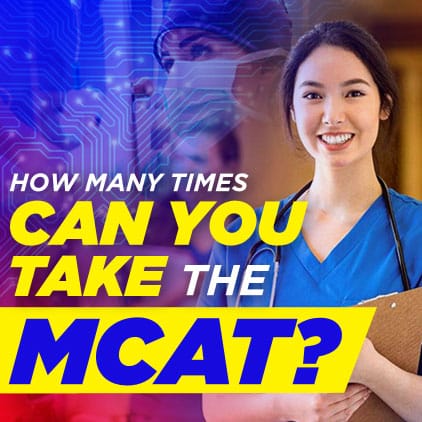 The MCAT exam, or the Medical College Admissions Test, is the entrance exam for students applying to medical school. The MCAT exam consists of skills you need to know for medical school but also analytical and applied skills to be successful in the medical field. 
The exam has four different sections. The first section is the biological and biochemical foundations of living systems. The next section is on the chemical and physical foundations of biological systems. The third section is critical analysis and reasoning skills. The last section of the MCAT exam is the psychological, social, and biological foundations of behavior. 
This exam is imperative and one of the primary measures of comparing you to other students applying to medical school.
How Many Times Can You Take the MCAT Exam?
The MCAT exam limits the number of times you can take it. When looking at the official MCAT website, the answer to the frequently asked question says you can take the exam up to three times within a single year of an exam period. Within two years, you can take the MCAT exam up to four times.
Overall, you can take the exam up to seven times in a lifetime. It's important to note that any time you don't show or void your exam, it penalizes the number of times you can take the MCAT in a lifetime.
How Long Are MCAT Scores Valid?

Your MCAT scores stay in the system for up to three years. It needs to be exactly three years when you apply, not a month over. For example, an MCAT exam taken in May of 2019 is valid for a student applying to medical school around May 2022. Depending on the school, some might accept MCAT scores up to four years old but it's a good idea not to count on that.
Should I Retake the MCAT?

A common rule of thumb is to score within the 504 range on the MCAT exam. If your score is lower, it's a good idea to study and retake the exam. Another note from the average of students who get accepted into medical school is scoring a 511. This score is considered more competitive and stands out from other students applying to the same medical schools as you. 
To put it into perspective, the highest score you can get on the MCAT is a 528, so a 511 is a competitive median average point to aim for. If your goal is to go to a more prestigious medical school, a 511 doesn't stand out and is least likely to get accepted.
On average, students admitted to one of those prestigious universities for medical school score a 522 on the MCAT, which is only six points below the maximum amount of points you can get on the MCAT exam. To succeed and improve your score depends on focusing on your weakest section or sections and increasing points.
The average number of points in each of the four sections is around 124-125 points. Besides your MCAT score, there are other factors to consider when applying to medical school, but the score is weighted with the same amount of importance and is one of the first things medical school admissions staff take into consideration.
How To Decide Whether Taking the MCAT Again Is Right for You?

There are a few different scenarios to consider when contemplating if you should retake the MCAT or if it's a waste of time.
Do You Need a Higher MCAT Score?
The first question you need to ask yourself depends solely on the schools you are considering applying to for medical school. Each medical school has a different average stated on their school website on the number of students accepted, how many applied, and what their MCAT scores and GPAs were.
Although there are other factors when admitting a student, like letters of recommendation and experience from shadowing, it's important to take the statistics of each school you're applying to seriously and compare them with your scores.
Do You Have the Time, Energy, and Strategy To Improve Your Score?
You will need all three of these if you're hoping to improve your MCAT score. There are only 24 hours in a day, so you need to prioritize your time with studying. Additionally, it's important to take a few practice exams to see where you are at with increasing points in specific sections. 
It's not just about making time to study. It's also about having the time to thoroughly go through each section of the test that you need help with to improve your score. With this in mind, any jobs or other obligations will have to take a backseat so you can prioritize studying for the MCAT exam. 
Do Medical Schools Discount Old Scores?

Your history of MCAT exam scores are recorded and sent to the admissions board at the medical schools you apply to. The only exception to this rule is if you took the MCAT exam before April 2003. To prevent a bad score from showing up when you apply to medical school, you can void your exam at the end. 
Voiding your exam is only a viable option if you think you did poorly and don't want them to score it. However, this does count toward one of your MCAT exam attempts. Since you have limited attempts allowed to take the MCAT, don't void your exam unless you're certain you scored lower than your previous exam or exams. 
What Are the Possible Reasons To Delay Medical School?

Many students on the premed track decide to take a gap year before studying for the MCAT and preparing to apply to medical schools. One of the reasons for this is they need time to strengthen their application. Now that they are out of their undergrad years, they can focus on other factors which can boost their admittance to a medical school. 
Volunteer Opportunities
With all the studying and social activities in undergrad, students usually don't have the time to volunteer and focus on studying for the MCAT exam. Delaying the MCAT exam can allow students to volunteer which can go a long way toward their medical school application. 
Time To Research Medical Schools
It's hard for students to think about what medical schools they want to attend when they haven't graduated from undergrad yet. It can be wise to dedicate time after college to sit down and go through a list of options for medical schools. 
There are so many medical schools in the United States to choose from, so narrowing it down to the ones with the best program, location, and a greater ability for you to be accepted is important to figure out while studying for the MCAT exam. The research and effort spent on determining where you want to attend medical school are important as you will spend four or more years in this state. 
Additionally, this gives you time to determine the best score to get into the medical schools you want to apply to while giving you a target score to aim for while studying and taking MCAT practice exams. 
Gives You Time To Determine if Medical School Is Right for You
The last reason is that after all that studying and hard work, it's possible medical school isn't for you. It's a big decision to make as a young person still in college. It's entirely possible by the end of your undergrad, you'll feel differently about applying to medical school, which is better to figure out earlier than later. 
Medical school is a huge commitment and isn't easy by any means. This is a challenge for some people. You might not be keen on the idea of spending 4 or more years in school and working until you can call yourself a doctor. 
Studying and going through the process of applying to medical school isn't for the faint of heart and depends on your dedication and passion for the medical field. There are other ways to practice in the medical world, but it all depends on what you are most passionate about and what you're willing to do to get there. 
Wrap-up
The MCAT exam demands time, energy, and focus from students who wish to accomplish their goal of the best score they can get. This is a timed exam for up to seven and a half hours and requires students to be dedicated and diligent workers. 
With the right MCAT prep course, students taking the exam can work towards improving their scores if they've taken the MCAT exam previously. After completing the exam, students can expect to have their results back within a month. The MCAT exam is challenging for a reason, but for determined students, it can be the key to their future successful careers. If you're ready to get started, Blueprint MCAT is a great resource for courses, tutoring, study guides and more.