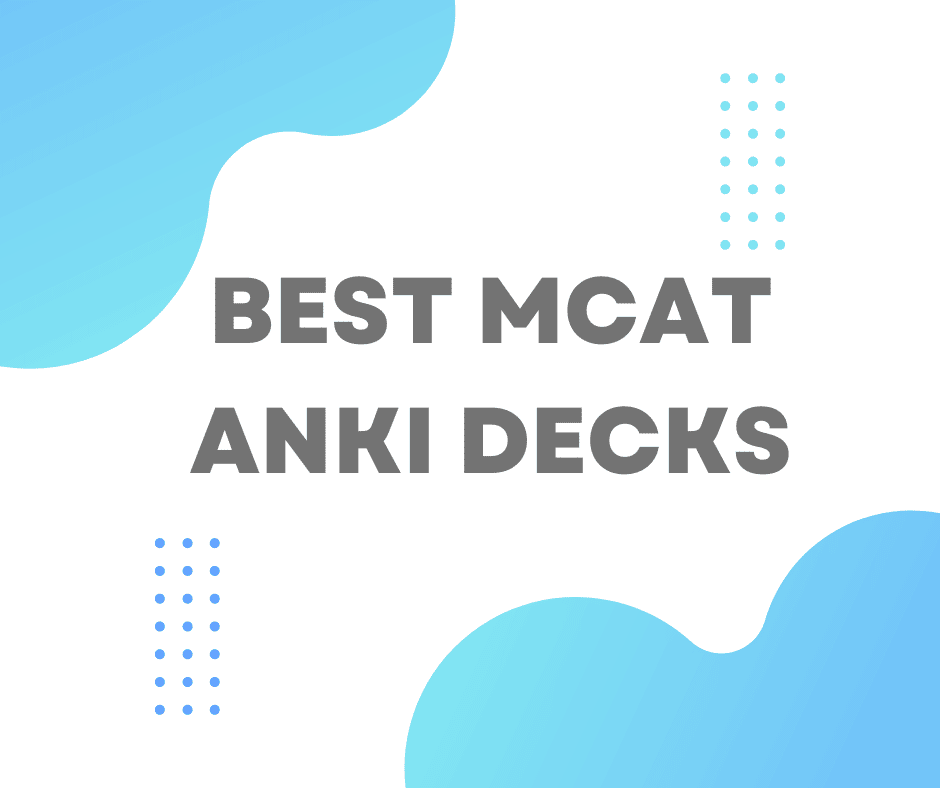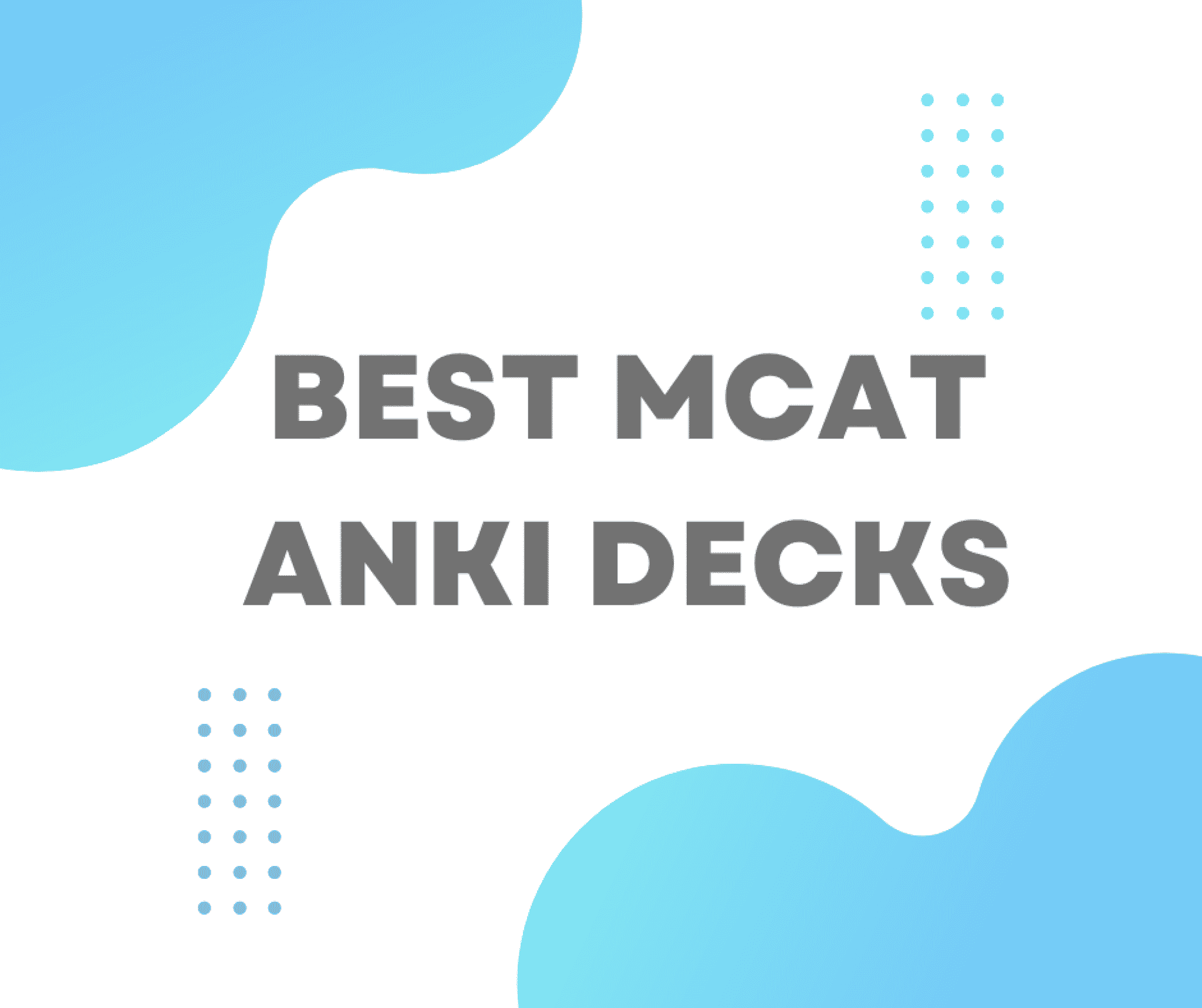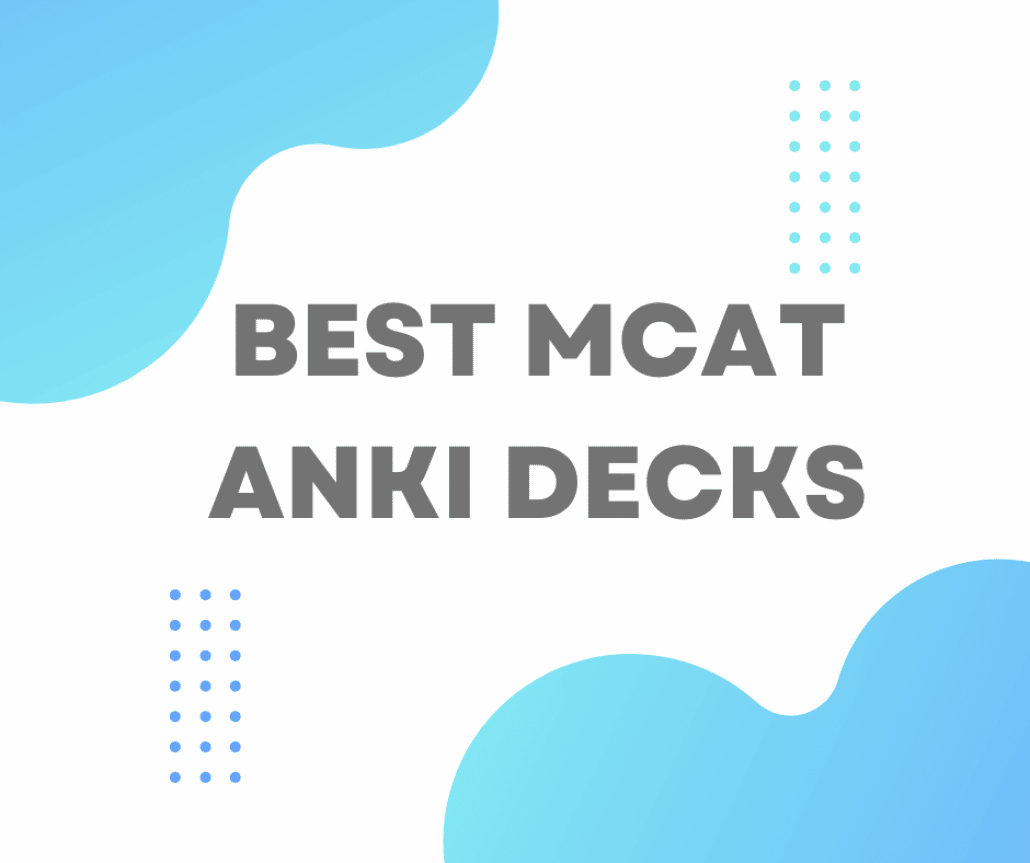 It's not easy to create your own study guide for the MCAT. There's too much info to cover, meaning that writing everything down would take too long. Considering the average 502 MCAT score is below medical school acceptance scores, you don't want to waste time setting up study guides.
That's where flashcard decks made using the Anki platform can help save time with premade decks and improved learning techniques.
Want to learn more about the best MCAT Anki decks? Keep reading to find out what Anki flashcards are best for you.
What Is Anki?
Anki is a desktop application similar to Quizlet that allows students to create flashcards to help them study materials. There is also a companion web application that students can log into to access their flashcards remotely.
Like regular flashcards, users create decks of Anki flashcards for the MCAT as a study guide and review them regularly to reinforce information learned in class. Anki is popular with students preparing for the MCAT thanks to the learning techniques Anki employs over other study apps.
How Is Anki Different?
Anki's main learning feature is spaced repetition. Rather than forcing students to review material they already know, Anki tracks your percentage of correct and incorrect responses to a card. Over time, a study deck will show you fewer cards with high correct answers and more cards with incorrect ones.
This learning technique helps reinforce learned information while assisting the student in reviewing the areas they struggle. Overall, this means the student spends time on subjects they need help with instead of pulling cards from a deck of flashcards and hitting cards they already know the answer to.
Is Anki Good for Test Prep?
Thanks to Anki's spaced repetition, the platform is a great study tool for the MCAT. Spaced repetition improves your mind's ability to store information and relates old information with new tidbits, thanks to how the cards go in and out of your regular prompts.
Also, Anki users can create decks to share with other students. There are plenty of premade MCAT Anki decks for users to take advantage of. Each of these decks relies on different study materials for the MCAT, meaning students with a collection of these decks can review info and subjects from across the several study guides out there.
Creating an Anki Deck for the MCAT
You won't be able to create an Anki deck without downloading the program and creating an account on the Anki website. Doing so allows you to not only download and store premade MCAT decks but also share your study materials with the rest of the Anki community.
Once you have Anki downloaded, you can follow these steps to make your deck:
Click Create Deck at the bottom of the app screen
Create subdecks based on subjects or categories of your choice to help organize cards
Click one of your subdecks and select Add
Choose a card type, such as Basic or Cloze
Type your prompt or question in the Front text field
Type the answer in the Back text field
Repeat for every card you want to make
To optimize your study habits, you should change the number of cards you receive each day to a higher value. Making this change will give you plenty of daily cards to review and ensure you see known and new problems when studying.
To change your daily cards, click on the gear wheel on the Anki main screen. Select options and look for the New Cards/Day value in the pop-up window. Change the default value of 20 to something more significant, like 999, to get as many cards as you can each day for your studies.
7 Best MCAT Anki Decks of 2023
While there are a lot of MCAT Anki decks out there, here are some of the best MCAT Anki decks you can use for your studies:
1. Bouras' MCAT Anki Deck
If you want the most extensive Anki deck possible for your studies, then the user Bouras put together this deck with over 13,000 cards. It requires the Hierarchical Tags 2 plugin. But, once you have that plugin downloaded, you can review cards based on materials from Khan Academy, Lab techniques, and ScienceSimplified.
---
2. Jacksparrow2048's MCAT Deck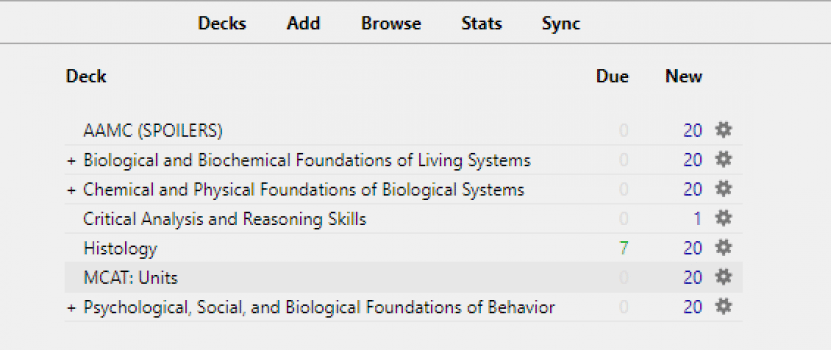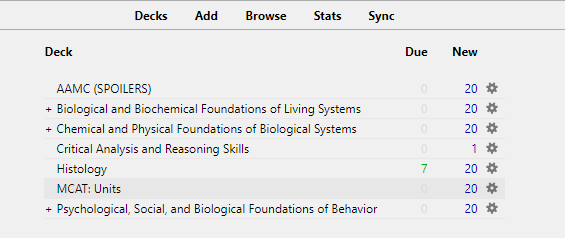 While it wasn't designed for others, this user created a deck of almost 6,300 cards to review for the MCAT. This deck made the rounds because it had AAMC spoilers as part of its questions, helping students learn from sources other than the traditional review books.
---
3. MCAT for Victory Anki Deck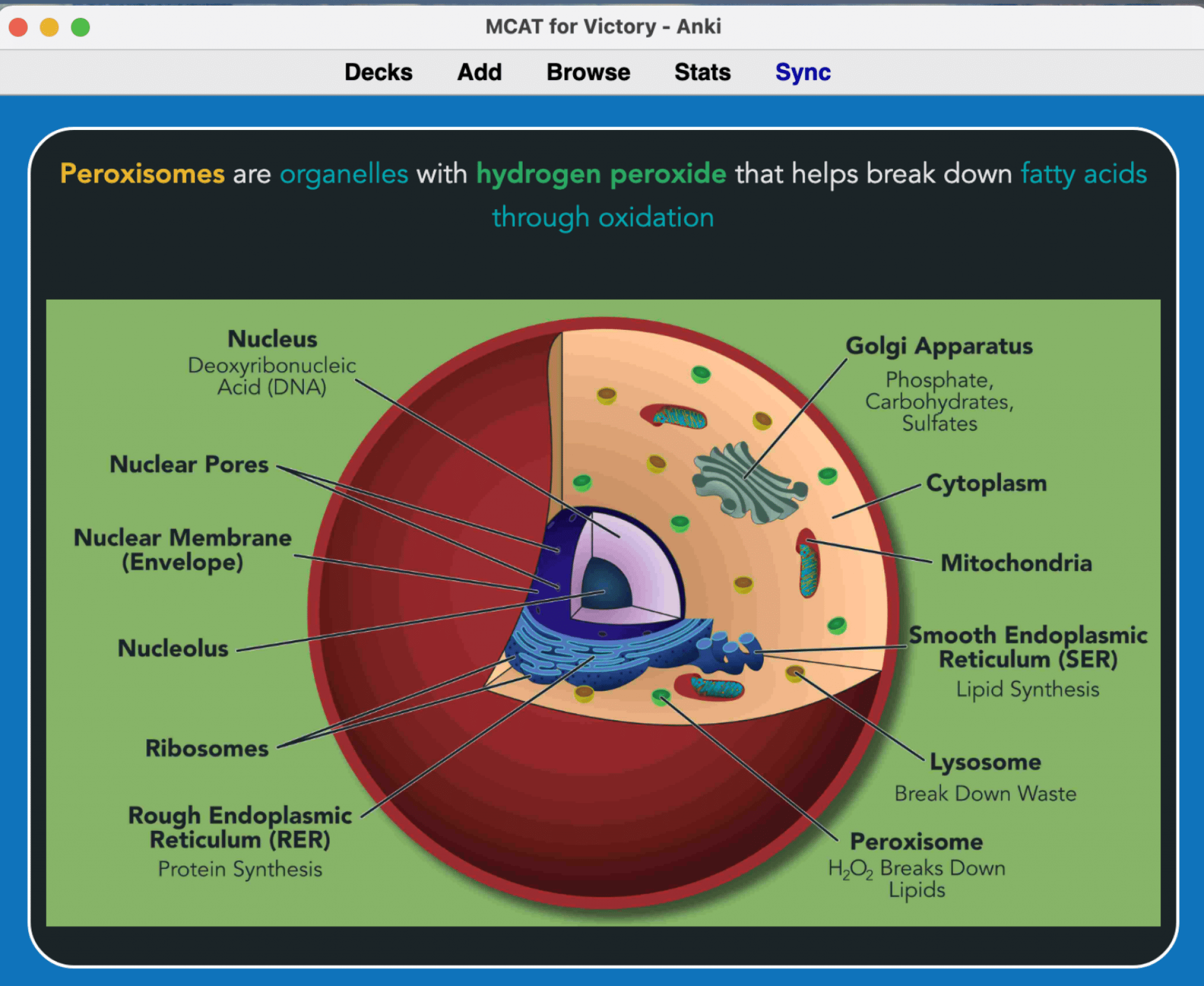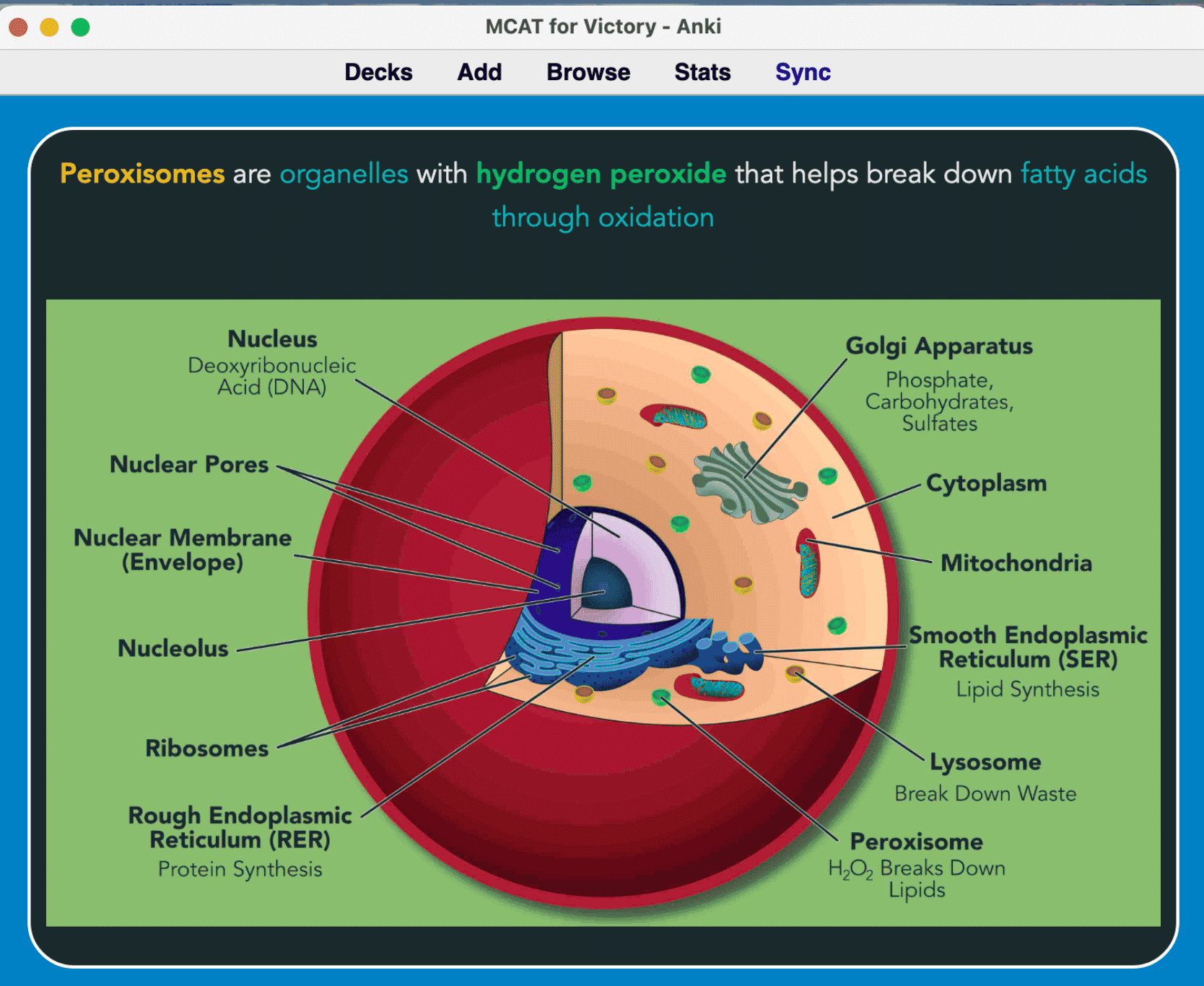 For a total review of everything you need to know for the MCAT, this Anki deck is the way to go. The deck features over 3,800 cards covering every subject you need to review for the MCAT and uses color coding in the questions and answers to help students retain information.
---
4. MileDown's MCAT Anki Deck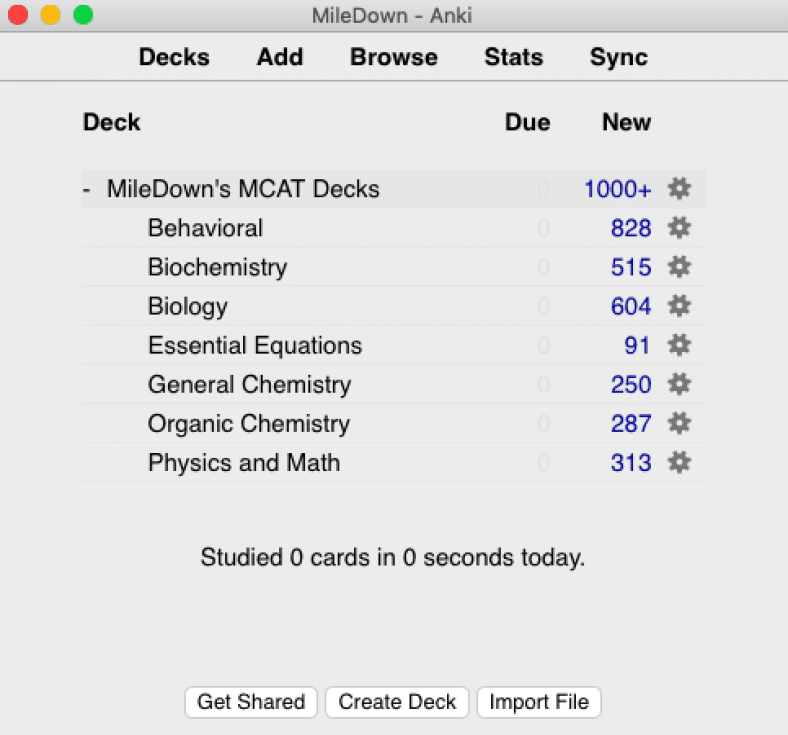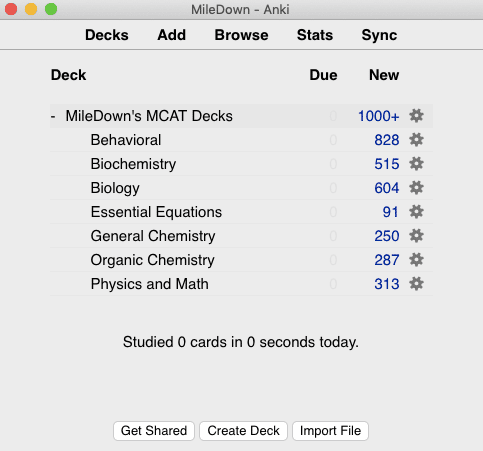 This well-known Anki deck contains over 2,900 cards based on the popular Khan Academy Psych/Soc document. The questions in this deck won't surprise anyone familiar with the document, making it a go-to based on familiarity alone.
You'll need to download the Hierarchical tags 2 plugin for this deck if you decide to grab it.
---
5. Ortho528's MCAT Anki Deck
This user created a beginner-friendly deck of roughly 4,000 cards using materials from Khan Academy, Kaplan Biochem, and Examkrackers to make simple cards to review.
The tags in the deck aren't perfect, and the deck requires the Image Occlusion plugin to work well. Still, this deck pulls from many good review sources, and the pictures help keep info clear and concise when studying.
---
6. NextLevelColor's MCAT Anki Deck
Using the material from the UWorld platform as a base, this user created a deck that helped them fly through the MCAT after a little over two months of study.
The deck requires several plugins to work. However, this is one of the few MCAT Anki decks with specific amino acid reviews, making it great if you need to review their structures.
---
7. RebopBebop's MCAT Deck
This user created a popular Anki deck relying solely on the Kaplan review materials. It doesn't require any plugins, making it accessible for all students as soon as they download Anki.
Most often, students come to this deck for the biochemistry questions since the other sections have changed a fair bit since the deck's creation in 2016.
---
Frequently Asked Questions
Here are answers to some of the other common questions out there about the best MCAT Anki decks:
Is Anki good for MCAT prep?
Anki is one of the best MCAT prep courses. The platform uses effective learning techniques as part of its design to help students retain more information for the test.
However, the MCAT is about more than just memorizing info. You won't excel at the MCAT without knowing how to apply the information you learn.
Is Anki free?
Anki is free to use as both a desktop and web application. You won't have to spend any money to download the app or to take advantage of the library of MCAT study decks on the platform.
What MCAT Anki deck is the best?
While most students combine a few Anki decks for review, the MCAT for Victory deck is the most popular due to its size and reliance on many different review books during its creation.
Summary
Studying for the MCAT takes time and dedication, much like any other part of a pre-medicine program. If you decide to use an Anki deck as part of your review, check out as many of the best MCAT Anki decks listed above as you can.
Blending different decks gives you the best chance at scoring high on the MCAT, just like students before combined sources for these well-written decks!