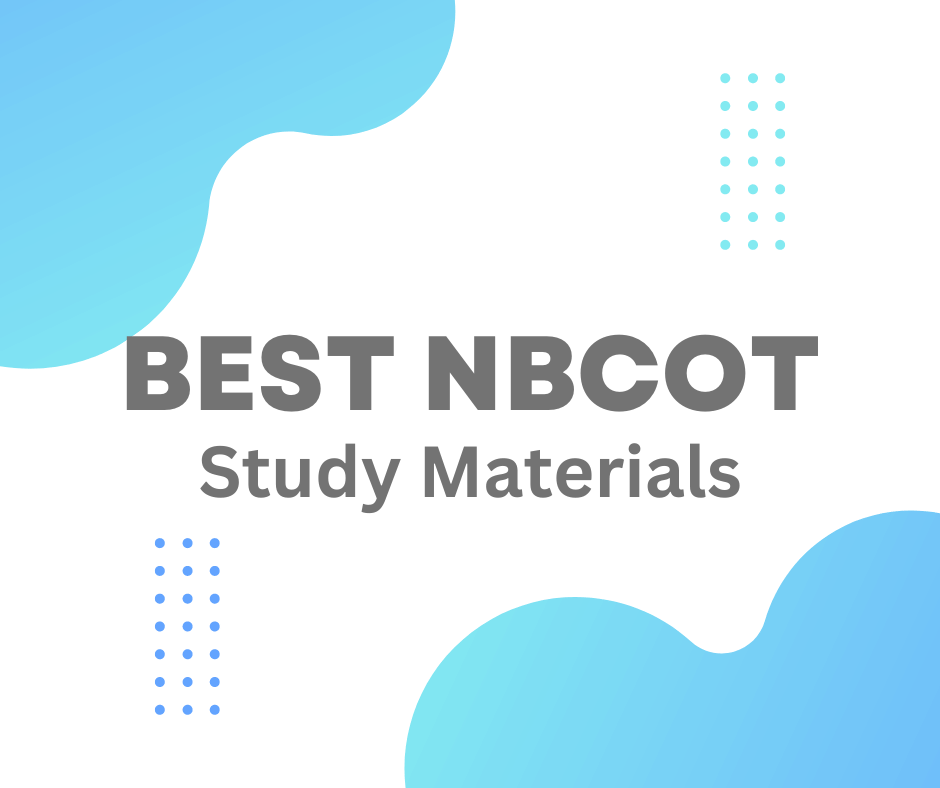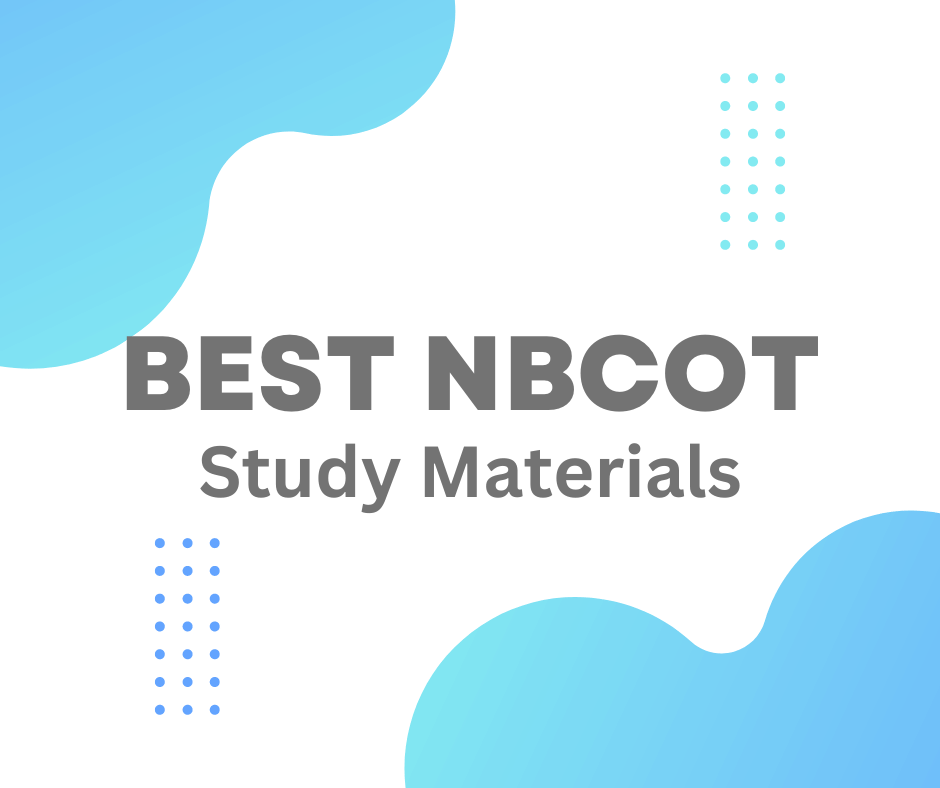 It can feel intimidating to have the National Board for Certification in Occupational Therapy (NBCOT) exam on the horizon before you can become a certified occupational therapist. Knowing what to expect on the exam can help you study the right materials. It also helps to understand the format of the test and how much time you have to take it.
Before you sit for this four-hour test, the bulk of which is multiple-choice questions, you want to study using quality materials. Whether you learn best by taking practice tests, studying flashcards, or watching videos, you'll find an ideal study package on the list below.
Read on to learn about the top five options and what they offer you.
Best NBCOT Study Guide of 2023
There are so many NBCOT study materials on the market that you might not know where to start. Instead of wasting time with programs that don't give you practice tests or represent what's actually on the exam, these five study guides will help you pass the test.


1. TrueLearn NBCOT Study Materials
TrueLearn is a resource for study guides in multiple medical fields. The TrueLearn NBCOT OTR Exam Preparation is the best overall option because it's thorough and helps you prepare for the actual exam based on sample tests from previous years.
Features
This study guide includes over 1,800 practice questions. Since there are only 170 on the exam, you have a great chance to know what you'll see on the exam if you make time to answer every question on the practice tests. Certified occupational therapists wrote the guide and arranged the topics according to the exam, which can improve your performance on test day.
TrueLearn includes a new feature of a daily mnemonic video to help you learn the required material. The videos are about two minutes long, so you can study anytime you get the chance. The mnemonic device can improve your exam score by 50% by increasing your information retention.
There are daily quizzes to take to ensure you're sticking to a study routine that will prepare you for the exam. While you use the program, you can analyze your performance based on other users. Best of all, TrueLearn offers a first-time pass guarantee, so there's no risk in investing in this guide.
Pros
More than 1,800 practice questions
Choose multiple access tiers, ranging from 30 days to one year
Offers a free trial for five days
Can upgrade to access more practice tests
First-time pass guarantee
Bottom line
If you want to find the best NBCOT review course, TrueLearn has it all in one package. It's an affordable option with the ability to subscribe for one, three, six months, or a full year. If you're unsure that the structure works for you, activate the free five-day trial. You'll have the chance to test the TrueLearn dashboard and access sample materials before paying a penny.
People who are taking the NBCOT exam but don't feel confident about their knowledge will love how this study guide helps them brush up on all their occupational therapy information. You'll get a solid foundation of information related to the test and learn handy mnemonics to improve your retention.
---


2. AOTA's NBCOT Exam Prep
The American Occupational Therapy Association is a professional organization serving students and professionals while helping improve the quality of occupational therapy. With such a solid purpose in the field, it's understandable that AOTA's NBCOT Exam Prep is a reliable choice for your study guide.
Features
Because AOTA is an occupational therapy-specific organization, you can expect high quality from the study guide. The program is one you can access from a computer, phone, or tablet, whether you have internet access or not. This flexibility is helpful because you can study anytime, anywhere.
As you progress through the materials, you can see your problem areas on the dashboard so you have an idea of what you should focus on. You can also use the platform to set goals to ensure you're meeting benchmarks in time to pass the test.
The program includes flashcards, games, and quizzes tailored to your needs. There are over 1,000 practice questions, including multiple-choice and clinical simulation, on the practice test. You'll get detailed feedback on each answer to help you learn the material if you get it wrong.
Pros & Cons
Over 1,000 practice tests with multiple-choice and clinical simulation questions
Provides feedback for your answers
Shows your score compared to other users
Allows you to schedule study time based on your test day
Subscription includes one year of access
Fewer practice questions than in the TrueLearn materials
bottom line
AOTA's NBCOT Exam Prep is a high-quality option from a professional organization. You know the material you get from this study guide will steer you in the right direction for the test. However, it doesn't offer as many sample questions as the TrueLearn package. You also don't get video footage—it's all in the form of flashcards, games, and study plans.
If you recently graduated with your occupational
therapy degree
, the AOTA materials will be enough for you. You'll already have the information in mind from your coursework, so you may just need to brush up on key areas before the exam. Since this program helps you pinpoint those problem areas, it's the right solution for grads.
Take Me To AOTA's NBCOT Exam Prep
---

3. Pass the OT NBCOT Study Material
Pass the OT is a study prep company that's been around for ten years, offering a web course and personal online tutoring. More than 4,200 OT students passed the NBCOT in that time, so this service has a reliable track record. Most people that use this program get a passing score of 470, while people retaking the test using these materials boost their score by over 30 points.
Features
Pass the OT offers many different types of materials. You can study using more than 50 hours of audio and video assistance. The program includes over 800 practice questions that you can take in a timed setting or untimed. There's also a final practice test that mimics the experience of sitting for the actual exam.
You also get access to flashcards, a study guide, and study schedules to ensure you stay on track as you approach your test day. There are also test-taking tips from people who have passed the exam. You can even get information looking ahead to your career, with worksheets on pediatric development and other knowledge you'll need in the field.
The tutoring options make this plan stand out from other options on the list. Even the most basic plan includes four group tutoring sessions. If you need more help, you can sign up for optional one-on-one online tutoring hours to get help on the specific areas that give you trouble.
Pros & Cons
All plans include a pass guarantee
Work at your own pace, finishing in as little as one week
Can continue working on difficult sections until you master it
Includes online coursework and tutoring options
Affordable program spanning one to six months
Solo tutoring costs extra
Six months is the longest plan option
bottom line
Pass the OT is a great study service for people who like using different approaches to retain information. You get flashcards, worksheets, and audio files. You work at your own pace, so you can complete the work within a week or more than six months, depending on how much you need to study and your test day.
---


4. TherapyEd's Prep Course for the NBCOT OTR Exam
TherapyEd's Prep Course for the NBCOT OTR Exam is a unique program on the list because it includes online and in-person options. Professionals hold two-day sessions at universities around the country, so you can sign up for the one nearest you if there's not one on your campus. The online sessions have a similar structure, so you'll get the same information.
Features
The in-person sessions have morning and afternoon agendas, each covering material for 3.5 hours. You'll learn about the exam format and content before diving into the material and assessing your strengths and weaknesses. The instructors will go into each section of the actual test so you know what you might need to answer.
The second day focuses on developing a study plan and learning test-taking tips. You'll also have the chance to take a simulated exam. They also walk you through the process of taking the exam so you can follow regulations and feel more confident on the test day.
Pros & Cons
Offers online and in-person workshop sessions
Covers a mix of test materials and exam strategies
The study guide comes as a print version or ebook
Each session goes into specific exam sections
Must order the print study guide separately
It can be expensive if you travel for a session
bottom line
These intense sessions are ideal for anyone, whether you're taking the NBCOT exam for the first time or need to boost your passing score for a retest. It can help to have two structured days to focus on the exam and develop your approach to studying and taking the test. While the study guide costs extra, it's a helpful resource to have in print or ebook format.
---
5. OT Dude's Free NBCOT Exam Prep Course
The OT Dude's Free NBCOT Exam Prep Course may sound most casual, but it's a reliable resource for people who can't afford another program from the list. Everything is available for free online, so you'll find something to suit your learning style.
Features
This program has something for everyone: learning modules, videos, podcasts, mnemonics, and interactive quizzes. You can take a simulated exam that includes both multiple-choice questions and clinical simulations.
The quizzes stand out from other options on this list because they include matching, fill-in-the-blank, videos, and podcasts to ensure you engage with the material and retain the information for the exam.
Though everything is available online for free, you can pay a small monthly fee to save your progress and have access to more bonus content, including the chance to interact with other students on the message board. The site also has many other resources for students or professionals, such as a salary database, rehab calculator, and consulting services.
Pros & Cons
All materials are completely free
Includes printed material, audio, and videos
Engaging quizzes help you retain information
Over 200 learning modules are available
Must pay a monthly fee to save progress
No offer of a pass guarantee
It can be difficult to navigate as the site looks cluttered
bottom line
The OT Dude has an amazing approach to studying by allowing everyone access to free materials. If you can't afford some of the pricier options on the list, this is the choice for you. It's also a great way to start studying before you move ahead with a more intense study schedule. You can access the material and get an idea of what you need to focus on for the exam.
---
General Information About the NBCOT Exam
Before you take the NBCOT exam, you need to meet eligibility requirements. Students from the United States should graduate from an Accreditation Council for Occupational Therapy Education (ACOTE) accredited OT school. Anyone with a degree from another country will go through the Occupational Therapist Eligibility Determination (OTED) process.
You'll study for the exam, then schedule a test date. The NBCOT exam covers topics such as:
Evaluation and assessment
Analysis and interpretation
Intervention management
Competency and practice management
There are three clinical simulation test questions that have three components:
Opening scene
Section headers
Response options
You'll read the background information from the opening scene, then get more data from the section headers. The question comes from that information. You can consider a list of potential responses, then get feedback about why your choice is correct.
You have four hours to complete the test, which includes the three clinical simulations and 170 multiple-choice questions. The exam scores range from 300 to 600, and a passing score is 450 or higher.
After the exam, you'll have the certification but still need to apply for your license. If you don't pass the exam, you'll get feedback on your score and performance so you can study before retaking the test.
---
Conclusion
Whether you're a recent graduate or newly deciding to expand your occupational therapy knowledge, taking the NBCOT exam can seem intimidating. The key to success is to find the right materials for your learning process, including sitting for a practice test.
This roundup includes study guides that use flashcards, videos, and sample questions to prepare you for the exam. Whether you want to study for two months or a year in advance, you'll have all the materials you need to pass the NBCOT exam on your first try.
---
FAQs
You have five reliable resources to help you study for the NBCOT. If you need more information, check out the answers to the frequently asked questions below.
How much should you study for the NBCOT?
Ideally, you should study for six to eight hours every day, at least six days a week, for eight weeks. This type of study habit will best prepare you for the material on the exam. However, some students study for a month and can pass, while others need six months. Once you review the material, you'll see where you are and can develop the best study routine.
How many questions can you miss on the NBCOT?
You need to earn a 450 or higher to pass the NBCOT, but you won't lose points for choosing the wrong answers. There are 170 multiple-choice questions and three clinical simulations, so you have a good chance of passing based on your correct answers alone.
What percentage of people pass the NBCOT on the first try?
About 85% of people pass the NBCOT on their first try, which is reassuring. If you use any of the materials above, you'll likely pass too. If not, you can apply to retake the exam after a 30-day waiting period. You can retake the test without other constraints, though some states require you to complete further education if you don't pass after three attempts.