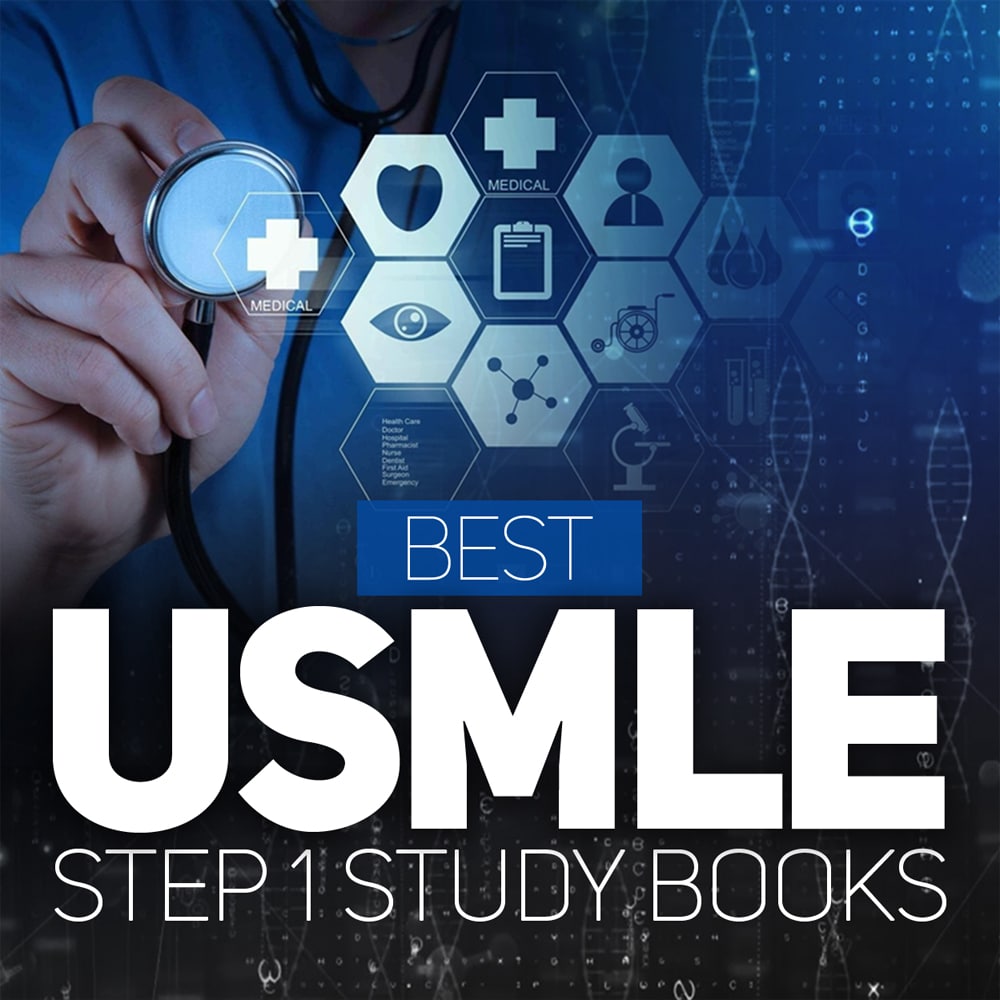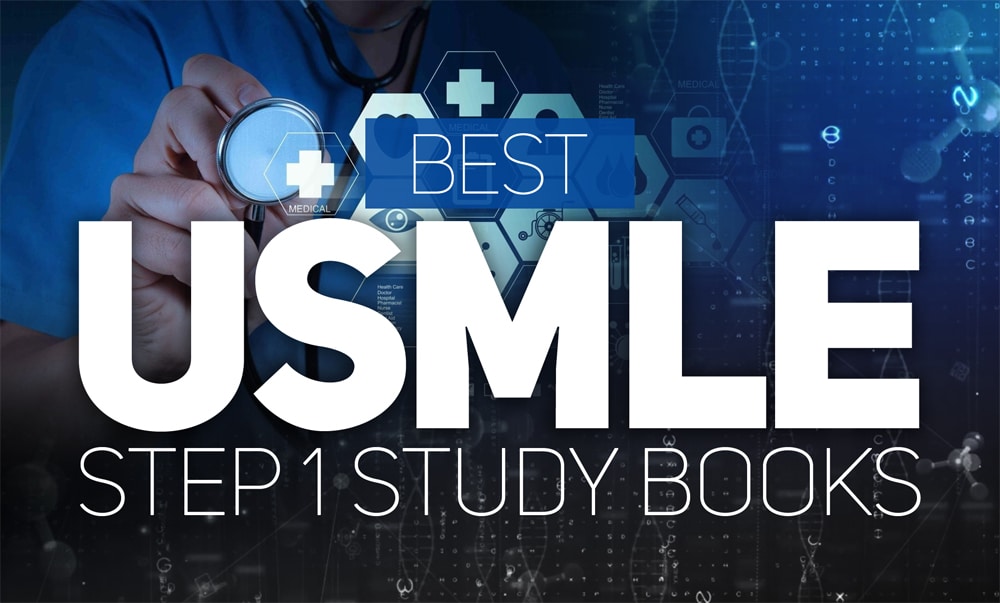 Introduction
Are you gearing up for the USMLE Step 1 exam? Could you be finding it difficult to settle on the study book to use? We're here to help you! Achieving your goal of becoming a medical doctor takes intensive preparation. Ensuring that you go for the best USMLE Step 1 study book is one thing that you can't avoid. The secret of getting it done the right way is following expert advice on which books are the best in helping you crush the USMLE Step 1. We have come up with a comprehensive list of books that are best in helping you get great scores in your USMLE Step 1. Before we take you through this list, we'd like you to understand who the target of the test is.
Who takes the USMLE Step 1 Exam?
The United States Medical Licensing (USMLE) Step 1 is the first among three standardized exams administered to medical students. The goal is to assess their abilities in applying basic fundamentals of science in practicing medicine. It's a multiple-choice computer-based test that takes 8 hours.
Best USMLE Step 1 Study Books
It's time for you to know the best USMLE Step 1 books and how they can help you in hacking the USMLE Step 1 exam questions. Get yourself one or two of these review guides and you'll be on your path towards becoming a doctor. The review includes core study guides and other complementary study materials like flashcards.
Best USMLE Step 1 Study Books
---
1. USMLE Step 1 Qbook: 850 Exam-Like Practice Questions to Boost Your Score
This review guide by the popular Kaplan Medical specifically focuses on giving you the right footing through high-yield practice tests and answers. The 'USMLE Step 1 Qbook' includes these practice questions so that you can easily find your way around the exam objectives. You'll also get access to the best exam taking strategies to guide you in mastering all the Step 1 topics. Testing your Step 1 board exam knowledge using this review book by Kaplan editors is simply the best way to pass your exam.
Important Features of the Guide
Includes 850 practice questions
Explanations for every answer whether correct or incorrect
17 sets of high-yield practice tests covering Physiology, Anatomy, Biochemistry, Pathology/Pathophysiology, Microbiology/Immunology, Pharmacology, as well as Behavioral Science/Biostatistics
Here's where to get your copy of the guide
---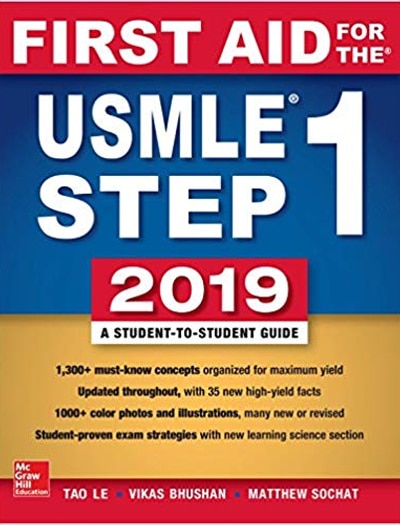 2. First Aid for the USMLE Step 1 2023, 29TH Edition
This iconic 'First Aid for the USMLE Step 1 2023' prep book features thousands of relevant USMLE exam information, tips as well as mnemonics. It's concise, straight to the point and offers you high-yield support directed at preparing you for the exam. The text is also up to date and is characterized with fresh content. It brings out the actual picture of the USMLE Step 1 since it has been prepared by students who recently took their exam. This means you'll get real-time support from this great text. Don't forget that it's jam-packed with tips coming straight from those who understand what it means to prepare and take this exam. Whether your cramming for your soon-to-be USMLE Step 1 exam or still have some good time to cover the exam contents, the facts in this book won't let you down.
Important Features of the Guide
Over 1300 must know exam topics including mnemonics to help you focus on your prep
Includes color photos and illustrations to help you visualize on processes, clinical finding s and disorders
A section for rapid review to help you with an effective last minute prep
Includes real-time updates
---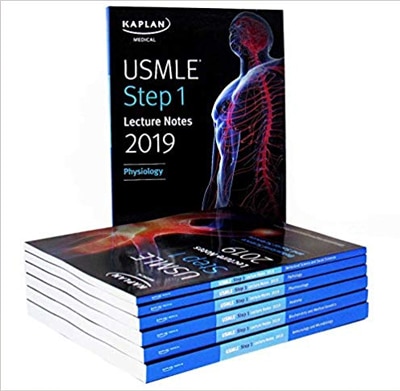 3. USMLE Step 1 Lecture Notes 2023: 7-Book Set
What happens when you don't have enough money or time to enrol in a real Kaplan course? You definitely need a study guide to take care of this! This Kaplan Test Prep 'USMLE Step 1 Lecture Notes 2023: 7 Book Set' is the real deal. That's why we're including it as one of the best USMLE Step 1 study books. All the relevant USMLE Step 1 exam topics are comprehensively covered in this text.
Considered as Kaplan official lecture material, the book has been prepared by Kaplan's leading lecturers. It covers quality material in Pathology, Pharmacology, Anatomy, Biochemistry, and Behavioral/Social Sciences. Other areas include Immunology/Microbiology, Medical Genetics, and Physiology.
Important Features of the Guide
It's up to date
Combines color diagrams and charts with text to help improve your mastery of the exam material
End of each chapter has a summary guide to aid you in retaining more material
Includes outlines, flow charts, quality tags, as well as summary boxes
---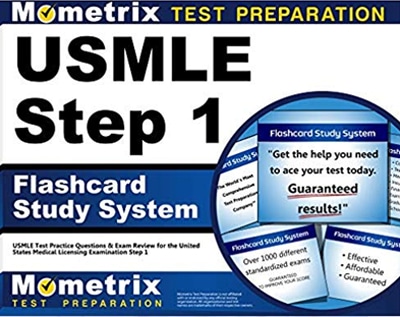 4. USMLE Step 1 Flashcard Study System: USMLE Practice Questions and Exam Review
Reinforcing knowledge requires an approach that employs repetitive study exam methods such as flashcards. The 'USMLE Step 1 Study System' uses this exact approach to help you understand and retain the required knowledge. As you wait to take your USMLE Step 1 prep, you can take advantage of moments such as when travelling, hanging around the hospital, or waiting to take your favorite cup of coffee. Every minute counts when it comes to preparing for this exam.
And if you want to jog your memory a little, then flashcards should be your best choice. This exam review guide harnesses the useful power of flashcards. The 'USMLE Step 1 Flashcard Study System' topic coverage is wide and provides you with a continuous review of topics. This makes it easier for you to identify your weak areas so that you can work on them.
Important Features of this Guide
Covers Pathology, Microbiology, Anatomy/Physiology, Pharmacology, Primary Immune responses, and more
Uses a repetitive flashcard approach to make your learning fast, fun, and interesting
Here's where to find this review guide
---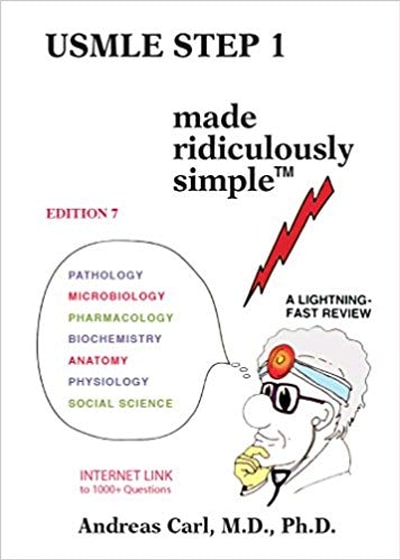 5. USMLE Step 1 Made Ridiculously Simple, 7TH Edition
Is your USMLE Step 1 almost here? Are you already suffering from information overload due to too much cramming? If this is your case, then the 'USMLE Step 1 Made Ridiculously Simple' has your back! The guide comes in a chart format and has all the basic facts categorically arranged. This is done to make it easier for you to review the exam subjects before the exam day. After studying hard, it's time to give this guide an opportunity to help you tie together all that you've studied. The chart format approach gives you maximum material while utilising minimum quantity of words. This improves your performance in a multiple-choice scenario.
Due to its unique approach, previous exam candidates who've used this prep guide cannot fail to recall at least a single mnemonic or that funny illustration that comes with the text. It surely is the best way to break away from the monotony of the usual USMLE Step 1 guidebooks! For most exam candidates, it works best when combined with another option as it may not work as a standalone prep book for USMLE Step 1 exam.
Important Features of the Guide
Its compact way of presenting information helps cover major topics like Microbiology, Anatomy, Biochemistry, Pharmacology, Pathology, and Social Sciences
Includes numerous online practice tests
---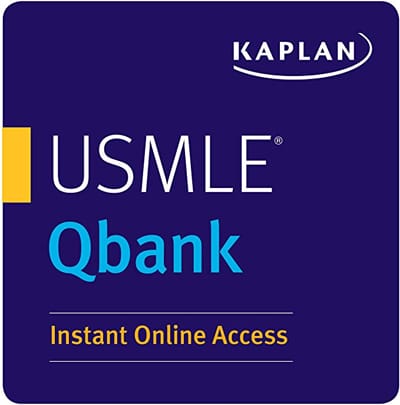 6. USMLE Step 1 Qbank 12 Months
USMLE Step 1 prep should go beyond lectures and lecture notes. You need an interactive, customized approach to prepare for your exam. The Kaplan's 'USMLE Step 1 Qbank 12 Months' gives you this and much more. It includes an interface that mimics the actual exam environment. Creating targeted quizzes, tracking your progress, and practicing with exam questions in an interactive test environment are all offered by this unique USMLE exam prep guide. The guide is thorough in covering all the required exam content areas.
Important Features of the Guide
Includes over 2,000 practice exam questions
Accessible through mobile devices
Includes explanations to answers
Topic references to other exam materials provided
Includes two full-length tests to help you develop your question answering muscle
---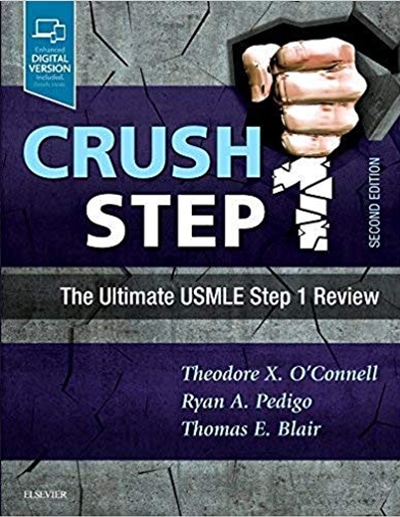 7. Crush Step 1: The Ultimate USMLE Step 1 Review, 2ND Edition
This best USMLE Step 1 study book is popular and has proven to be effective in reviewing the material for the USMLE Step 1. The 'Crush Step 1' study guide is a collaborative effort between editors who passed the USMLE Step 1 and aspiring doctors. Acing your exam is now possible through this cover-all exam guide. The easy-to-read format employed by the text will enable you to take in all the information you need to crash the USMLE Step 1 test on your first try.
Important Features of the Guide
Includes test prep strategies that focus on comprehension instead of memorization
Each chapter includes review questions
Includes visual tools like tables and images to teach you and reinforce the knowledge of the USMLE Step 1
Access your copy of the guide here
---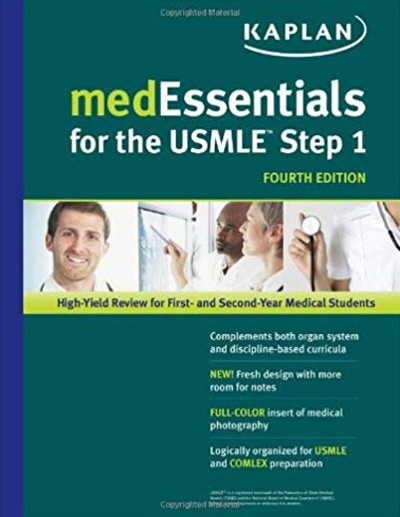 8. MedEssentials for the USMLE Step 1, 4TH Edition
This Kaplan Medical's guide for the USMLE Step 1 has been consolidated to provide a concise coverage of all the required topics. It employs an approach that works with a quality or high-yield topic review of what you covered in medical school in your first two years. The 'MedEssentials for the USMLE Step 1' is organized to cover most of the medical school's core curriculum and focuses on content like organ systems. It's best in reviewing Biochemistry and Pharmacology. You can easily complement your Kaplan course notes or Kaplan's review lectures with this guide!
Important Features of the Guide
Features tables as well as photos
Includes note-taking spaces to help you build your knowledge by bringing to light required concepts
Includes helpful charts and diagrams
A copy of the guide is available through this link
---
Conclusion
By utilising any of these best USMLE Step 1 study books, you'll manage to crush your USMLE Step 1 the first time you take it. Reaching your goal of becoming a doctor is such an elating experience. You can only arrive in this destination by making use of the best USMLE Step 1 prep books around.