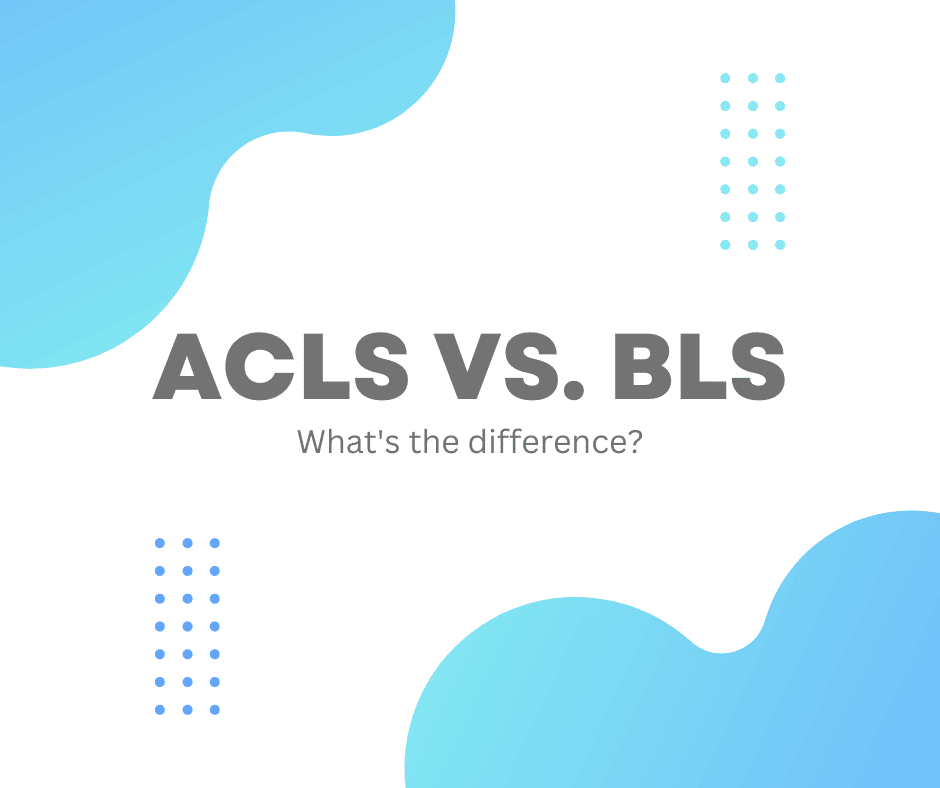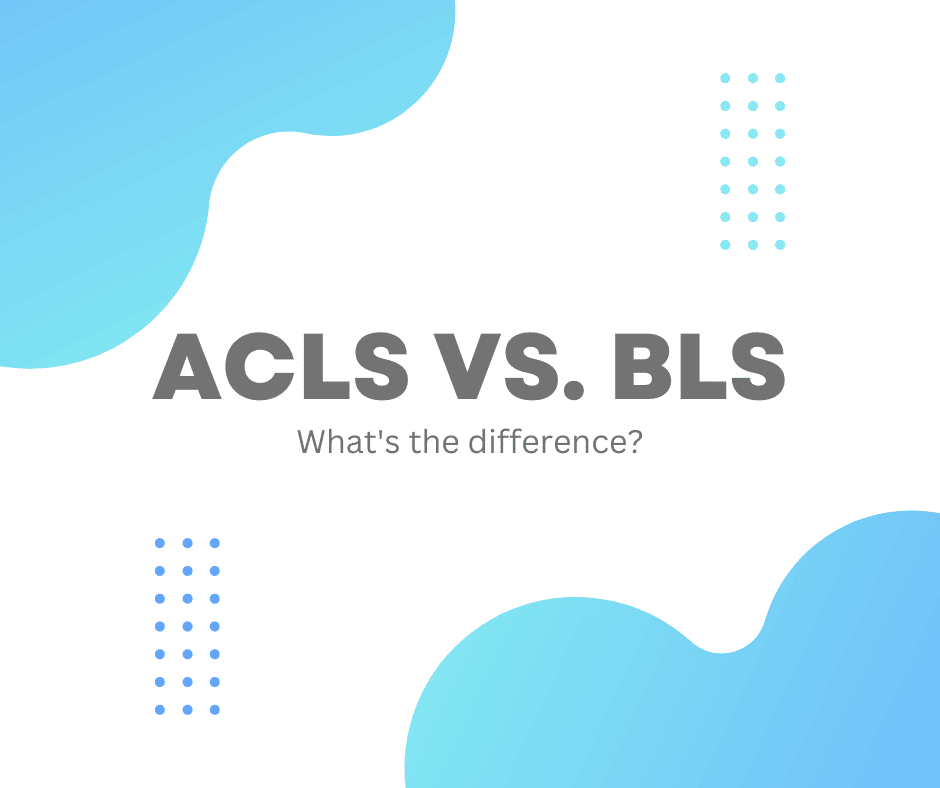 Did your employer suggest you get certified in life support? That probably left you wondering whether you need a BLS or ACLS certification. What's the difference?
BLS stands for Basic Life Support, while ACLS stands for Advanced Cardiac Life Support. BLS certification courses teach you how to handle common, less complicated emergencies, and ACLS courses provide more in-depth training.
Although both teach you effective methods to help save lives, there are crucial differences. Learn which is best for you below.
Overview
Find some quick facts about BLS and ACLS certifications here.
| | | | | | |
| --- | --- | --- | --- | --- | --- |
| Certification | Audience | Purpose | Tools You Can Use | Timeline | When to Recertify |
| BLS | Anyone | Learn primary lifesaving methods | AED (automated external defibrillator) | 4-5 hours or less | After 2 years |
| ACLS | Medical professionals | Learn more advanced lifesaving methods | AED, intubation materials, ECGs, intravenous meds | 8 hours or more | After 2 years |
Similarities
As you can see, there are a few similarities between BLS and ACLS certifications.
Most medical professionals must be certified in BLS and ACLS. In both courses, they learn primary lifesaving methods. For example, people with either certification know how to perform CPR and use an AED. They can apply their knowledge to help people in cardiac arrest, respiratory arrest, or those with obstructed airways.
BLS and ACLS certifications are valid for two years. After two years, you must become recertified, as the techniques and guidelines change frequently.
Differences
ACLS courses cover much more information than BLS courses. Read on to learn some of the key differences.
Who Needs a BLS vs. ACLS Certification?
BLS certifications are more widely used than ACLS certifications. Some occupations that may require a BLS certification include
Babysitter
Childcare provider
Coach
Dentist
Doctor
EMT
Firefighter
Lifeguard
Medical assistant
Nurse
Nursing aide
Nursing home employee
Paramedic
Police officer
Teacher
The use of BLS is most common among people other than medical professionals who are acting outside of the hospital.
On the other hand, ACLS certifications are reserved for medical professionals, such as
Anesthesiologists
Doctors
EMTs (Emergency Medical Technicians)
First responders
Nurses
Paramedics
Physicians
What Is the Purpose of a BLS vs. ACLS Certification?
BLS courses are designed to teach only primary lifesaving methods. People with this certification can respond effectively to many of the most common emergencies.
For example, nursing home employees may encounter cardiac arrest. They must know how to sustain life until advanced help arrives. Likewise, daycare workers may need to assist a child with an obstructed airway from swallowing a toy. Lifeguards must know how to perform CPR (cardiopulmonary resuscitation).
Medical professionals encounter more complex emergencies and must know how to respond appropriately. These courses instruct them on how to respond to
Cardiac arrest
Respiratory arrest
Heart attack
Stroke
What Tools Can You Use After Receiving a BLS vs. ACLS Certification?
If you get your BLS certification, you will be comfortable using AEDs and bag valve masks. You will also know how to perform CPR, pulse checks, and rescue breaths without compressions.
Those with ACLS certifications are well-versed in advanced tools. They can use
AEDs
Electrocardiograms to study the heart's rhythm
Intraosseous lines
Intubation materials
Pharmaceutical drugs
They will also learn how to administer intravenous medications and algorithms for use in emergencies.
Where To Prepare for Certification
Finding the right provider for BLS and ACLS certification is important. Continue reading to find the most reliable and effective providers.
Where Should I Get a BLS Certification?
The two most popular providers for BLS certification are the American Heart Association (AHA) and the American Red Cross (ARC).
| | | | |
| --- | --- | --- | --- |
| Certification Course | Is it accepted by employers? | What options are included? | Minimum score to pass |
| American Heart Association | More hospitals and dentistry offices accept AHA BLS certifications | BLS for the Healthcare Provider and Heartsaver CPR AED | 84% |
| American Red Cross | Many employers accept ARC BLS certifications | CPR for Healthcare Providers, CPR Programs for Schools, and CPR for the Workplace | 80% for the online portion |
Although AHA certifications are more widely accepted than ARC certifications, most employers that operate outside of hospitals accept ARC certifications.
ARC certifications are ideal for those focussing on a non-medical career. With this provider, you can find courses tailored to school employees and business employees.
American Heart Association BLS Certification
BLS for the Healthcare Provider includes online and hands-on aspects. It takes only one to two hours to complete the online section and one to two hours to complete the hands-on skills session.
Heartsaver CPR AED also includes online and hands-on portions. The online course lasts one to one and a half hours, and the hands-on skill session lasts one hour and 45 minutes.
American Red Cross BLS Certification
You can complete BLS for Healthcare Providers entirely in-person or partially in-person and partially online. This course takes three and a half to four hours to complete.
You can also complete other BLS programs in-person or in-person and online. These last only a few hours.
Where Should I Get an ACLS Certification?
The ACLS certification test may seem overwhelming, so here is a cheat sheet about how to pass it on the first try.
There are several providers of ACLS certifications. We will discuss some of the most popular ones below.
National Health Care Provider Solutions (NHCAPS)
Save a Life by NHCPS offers an online BLS training course for free. This course emphasizes protocols that are easy to remember, even in high-stress situations. It takes place online, and the lessons align with American Heart Association guidelines.
Certification comes with a fee, but the practice test is free. There is a 100% pass rate because you can attempt the test until you pass. The certification is accepted internationally, but NHCPS offers a full refund if you or your employer are not pleased with the certification.
American Health Training
American Health Training also offers online training and ACLS certification. The provider ensures the information is up-to-date and meets current standards. The course and test last an average of two hours.
Like the NHCPS test, you can attempt the American Health Training certification test as many times as you need to pass. This provider also offers a money-back guarantee.
Frequently Asked Questions
Do you still have unanswered questions about BLS vs. ACLS certifications? Learn more below.
Do you need background knowledge to take an ACLS course?
It is helpful to begin an ACLS course with some prior knowledge. Much of the information covered in BLS courses will appear briefly in ACLS courses, but it can be difficult to follow if you are not already familiar with the material. A solid foundation allows you to complete ACLS courses more quickly.
However, you do not need background knowledge to take a BLS course. It covers basic information and is suited for beginners.
What is the pass rate for BLS certification tests?
There is a 100% pass rate for BLS tests. You can take the exam as many times as you need to pass.
Are online or in-person BLS courses better?
In-person BLS courses are best suited for those who need hands-on training to learn effectively. However, online courses are usually much more affordable and best for those who can learn from either method.
Which certification allows you to prescribe medications?
Only those with ACLS certifications can prescribe and administer medications. When taking an ACLS class, you will learn about pharmaceutical drugs. You will know what they treat, how to administer them, and how they work.
Final Thoughts
BLS and ACLS are designed for different groups of people. Basic Life Support training is for those who work outside of medical environments. These courses teach you how to sustain life in an emergency until advanced medical support arrives.
Most medical professionals need to complete Advanced Cardiac Life Support training. This certification will prepare you for even more emergencies.
You have multiple options for BLS and ACLS training courses. Whichever you choose will help you prepare to save lives.