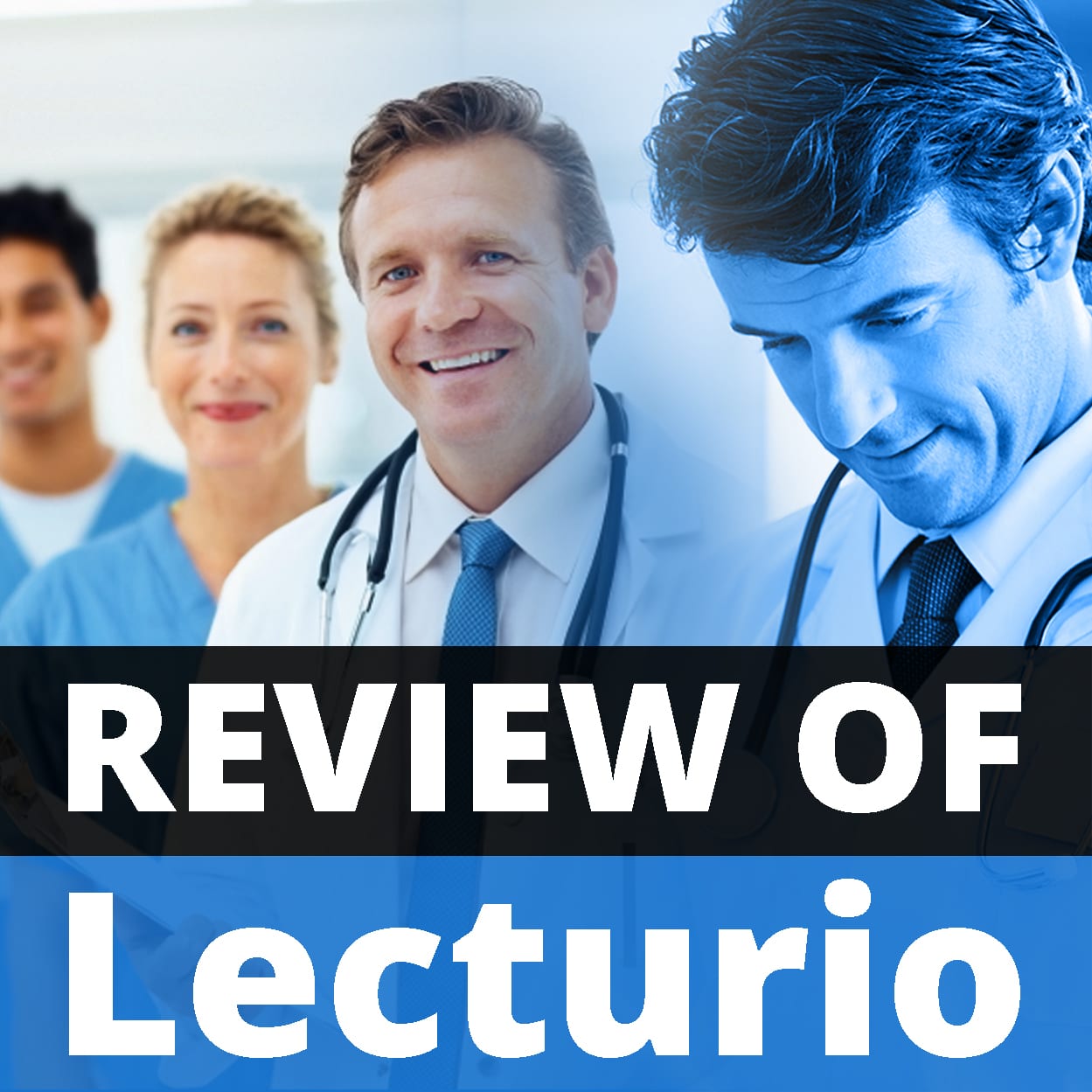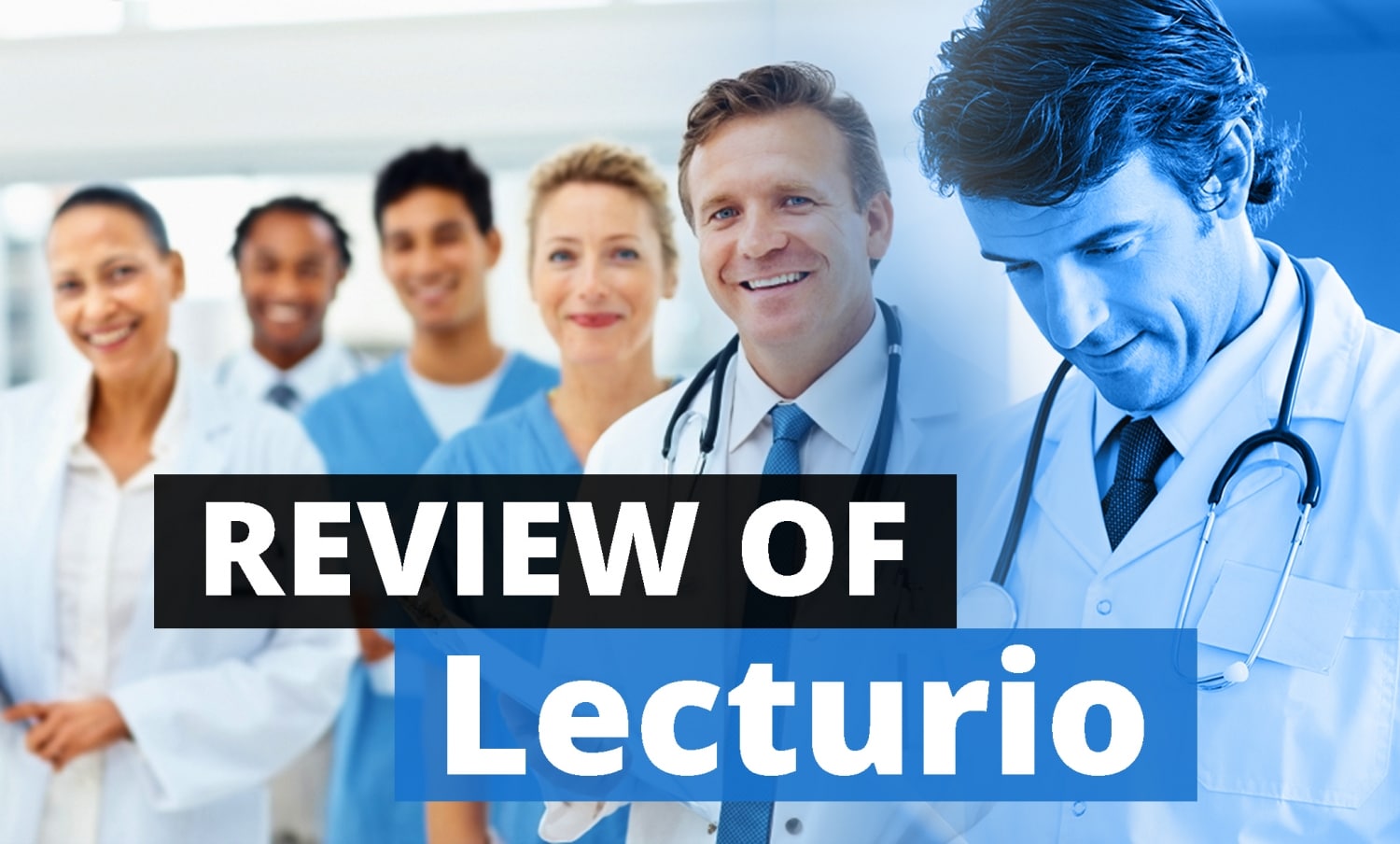 Overview:
Preparation for the USMLE is a daunting task. With so much material to learn and a ton of potential resources available, so many test-takers waste valuable time simply deciding which resources to use.
How do you rate Lecturio Review ?
Enter Lecturio.
Lecturio is a fully comprehensive medical curriculum and medical boards review resource that covers all pre-clinical and clinical material required for the USMLE Step 1, COMLEX Level 1, USMLE Step 2 CK, and COMLEX Level 2 (as well as MCAT and NCLEX for pre-med and nursing exams). While many resources only one source of information (video lecture materials, flashcards, or stand-alone question banks), Lecturio combines all these resources in an integrative fashion with relatively seamless transitions between each to ensure users are learning material, reinforcing what they've learned, and practicing applying those concepts on boards-style questions. With 100+ hours of video, 2000+ boards style questions, and countless flashcards in their spaced repetition program, there are very few resources that can compete with Lecturio's one-stop-shop board prep approach.
You may be thinking "100+ hours of video and 2000+ questions??? That's going to be too overwhelming for me." But Lecturio allows you to customize your study plan or select a pre-made plan (as of this review, there are 99-day and 33-day "crash-courses" available) where Lecturio will assign you videos, questions, and flashcards to help you learn the necessary materials on the schedule you set for your goals.
With its customizability and comprehensive approach, Lecturio is an excellent option for those looking for a comprehensive, unified approach the USMLE prep.
---


What's Included:
On-demand video lectures (including notes, transcripts, and downloadable slides for each lecture)
Written review articles (can be paired with most sets of videos)
2000+ QBank questions for USMLE Step 1
Spaced-repetition quiz/flashcard program
Guides to approaching medical school
Study schedules for the USMLE (33-day and 99-day "crash courses")
*Bookmatcher* (Enter a book and page number and Lecturio will link to a Lecturio video covering that topic – a BRILLIANT resource)
And more!
LEARN MORE ABOUT LECTURIO REVIEW
---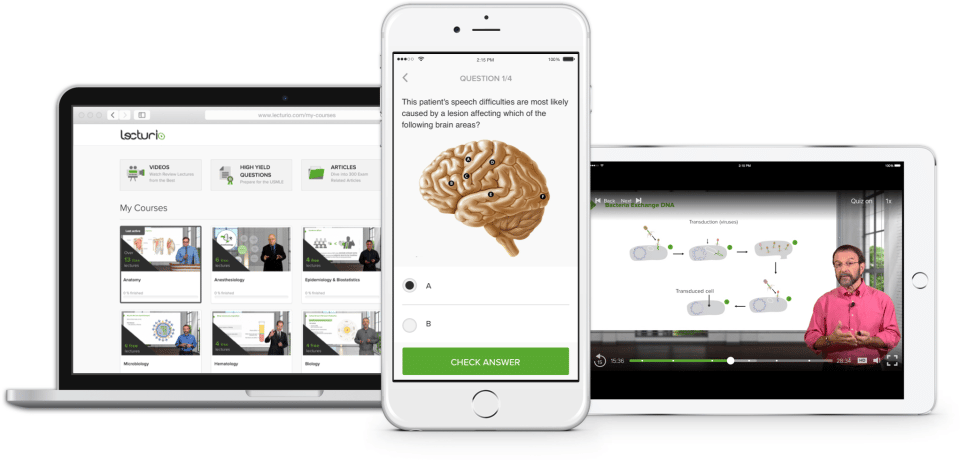 Pricing
Lecturio offers monthly subscription for $49.99, with price breaks if you pay for 3 months ($34.99/month) or 12 months ($24.99) of the service upfront. They offer a free account option, but this doesn't provide access to the QBank and only a fraction of the lectures – great if you want to try it out, but not enough to get you to your goal score.
---
MAIN FEATURES
Videos
Lecturio videos feature faculty who exceptional lectures in their area of expertise. The videos are similar to those you might find in other on-demand video resources, but Lecturio videos are easily searchable and can be grouped and sorted by organ system or subject, making finding videos for quick review much easier. The videos are also shorter than in other resources, allowing you to avoid having to stay focused on a lecture for 30 minutes to an hour. The videos also include written transcripts and the lecturer's slides if you like to take notes directly on pictures as they are discussed.
What truly makes Lecturio videos excellent is the spaced-repetition questions assigned at the end of each video. Following each individual video, you'll be asked a series of quick, "flash card" quiz questions to help reinforce the material you just learned. As you complete questions, they get added to a cumulative quiz and are reassigned on future days, so you are continually tested and re-tested on material you've just seen that day, yesterday, a week ago, or a month ago. Spaced repetition reinforcement is a proven technique to assist with learning and retaining information and having it integrated directly into the video platform is an excellent feature of Lecturio.
---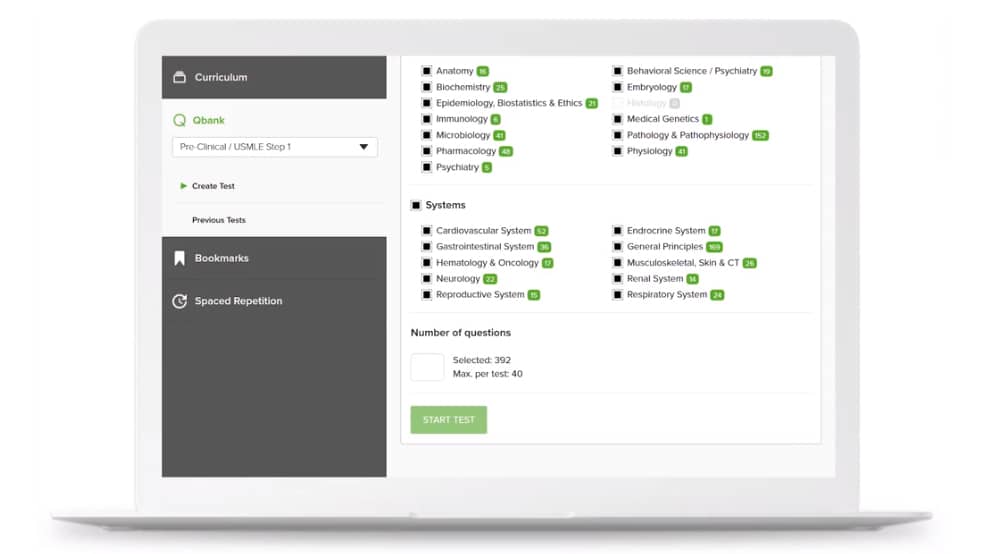 QBank
Lecturio's QBank uses a similar user interface to that of the Prometric Centers that administer the USMLE Step 1 and Step 2CK exams, allowing you to practice your questions in the same way they will be presented on test day. The question wording is slightly different from questions written by the NBME (but this is common among all QBanks). The QBank has wide ranging difficulty, and includes questions that require integrating across organ systems and subjects, as well as questions requiring purely rote memorization of answers, and the content recapitulates that of the NBME questions very well.
The question explanations are not quite as clear as in some other QBanks, but Lecturio includes links back to the appropriate video covering the question material, making it easy to review any difficult questions. And when combined with the spaced-repetition quiz following the video, reviewing these QBank questions will fully reinforce all the key concepts covered in the question.
---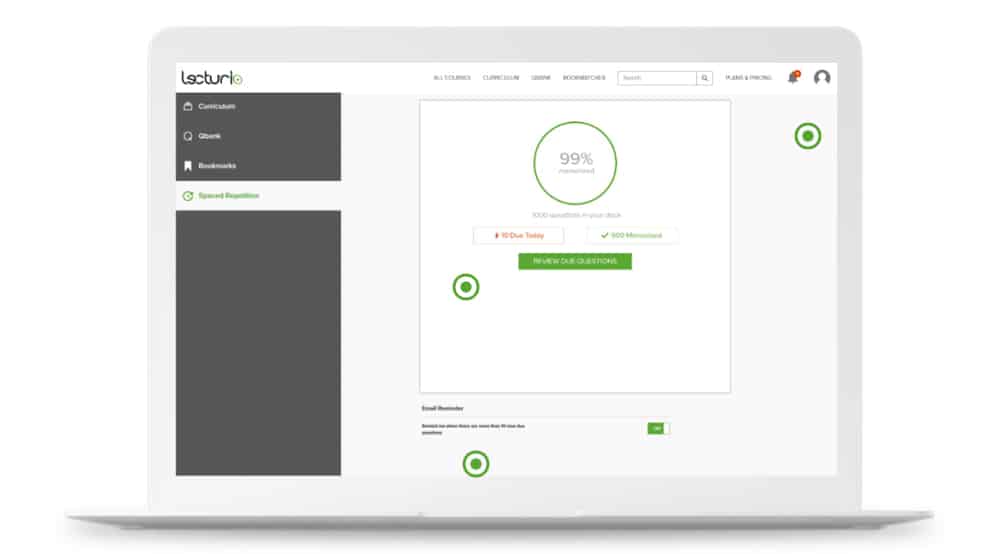 Spaced Repetition
The spaced repetition program in Lecturio allows users to continually review the material they struggle the most with until it becomes second nature. The questions are simple and exact enough that they can be approach almost like flashcards and reviewed quickly to solidify information day after day. Because Lecturio is set up to assign these questions as you review material, there is rarely a need to find a particular quiz to do on your own. However, it is easy to navigate to a particular topic and do questions related to that topic without watching a video if you so desire. Repeat questions are assigned each day as part of the review schedule, so as long as you keep up with these questions, you'll keep all the information you previously learned fresh and ready to help answer questions when they come up.
---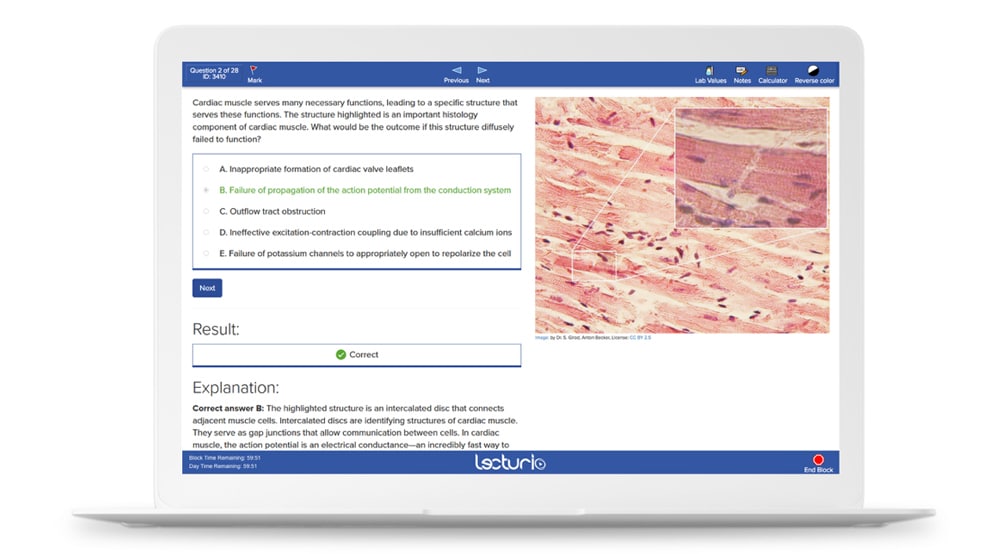 Integration
In my opinion, the integration between the lectures/notes, QBank, and spaced repetition quizzes is the best part about Lecturio. Any deficiencies in question content, topic explanations, or having to suffer through a "boring lecturer" are overcome by integrating all of these learning methods for each topic you review. Put simply, you'll learn everything you need to because at least 1 of the 3 approaches (lecture, questions, spaced reptition) will successfully give you the information you need for any given topic. That's not something you can generally guarantee piecing together other resources.

As mentioned above, each component of Lecturio would be a decent resource in isolation, but the nearly seamless integration of them all makes each one better, and the overall service a great tool. Lecturio is comprehensive and customizable to an extent, so it can be used with nearly any timeline, and in preparation for most of the major medical exams. Together, the content covers everything in the detail necessary for success.

The biggest downsides of Lecturio are because it relies on integration, none of the components can really be used effectively in isolation, which means you'll likely be devoting nearly all your time to Lecturio, which leaves very little time if you wanted to use other resources. Again, this is really only a "con" if you have something else you're required to devote your time to doing. The only other con is the discussion of test taking strategies leading up to test day and on test day. The strategies discussed don't necessarily apply to all tests (namely, they do not apply to taking the USMLE Step 1 in the USA). Take this lecture with a grain of salt and always verify with your test center what their protocols and rules are.
---
Who is this best for?
Lecturio is a great resource for a few groups. First, any test taker who is looking to start from scratch (from a testing perspective), like IMG's who have decided to take the USMLE a few years after completing medical school. You can study and review on your own schedule, and rest assured you are learning all the information needed to pass the exam. Second, Lecturio can act as a replacement resource for allopathic or osteopathic medical students during any part of the didactic years (say, if you have a school lecturer who isn't teaching you what you need to know or is unclear). Third, Lecturio can also best be used by students who are setting aside dedicated time to study for the boards in parallel with their curriculum. Spacing out lectures and questions over 8-9 months will help information stick better as you continually see it, and that time frame is manageable for completing all coursework and Lecturio content.
While these are groups that could ideally benefit the most from Lecturio, honestly, anyone can use Lecturio during their preparation and it will help improve their score. If you decide to use it, be forewarned: you will be sucked into the beauty of their integrative system and you may wonder why you didn't try it sooner!
https://crushtheusmleexam.com/wp-content/uploads/2018/10/lecturio-review_feature-copy.jpg
1249
1249
James Edge
https://crushtheusmleexam.com/wp-content/uploads/2020/04/Crush-Logo.png
James Edge
2021-08-02 01:22:56
2022-03-28 17:59:50
Lecturio Review (USMLE, MCA,T, & NCLEX)