Key Takeaways:
UWorld MCAT is a highly regarded supplement to traditional MCAT prep courses, offering expert-written MCAT-style questions and comprehensive coverage of important topics.
Pricing options include different plans and access periods, as well as a free sampler option for students to test out the program before committing.
The Uworld platform is user-friendly and accessible on multiple devices, with customization options and performance metrics available to track progress. However, there are some limitations such as insufficient CARS preparation and lack of full-length practice tests.
Ready to ace your MCAT? Keep reading to discover if Uworld MCAT is the right MCAT question bank for you!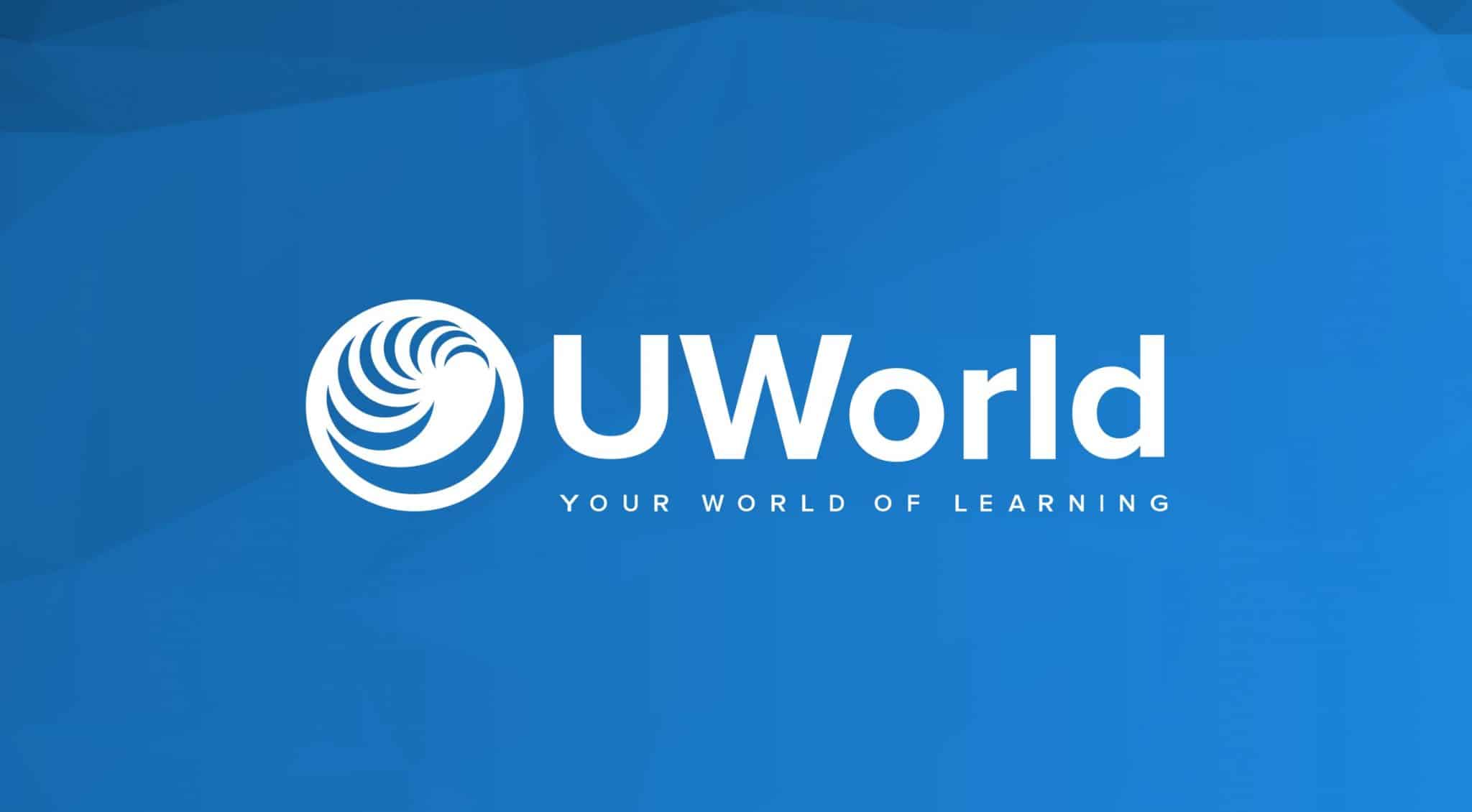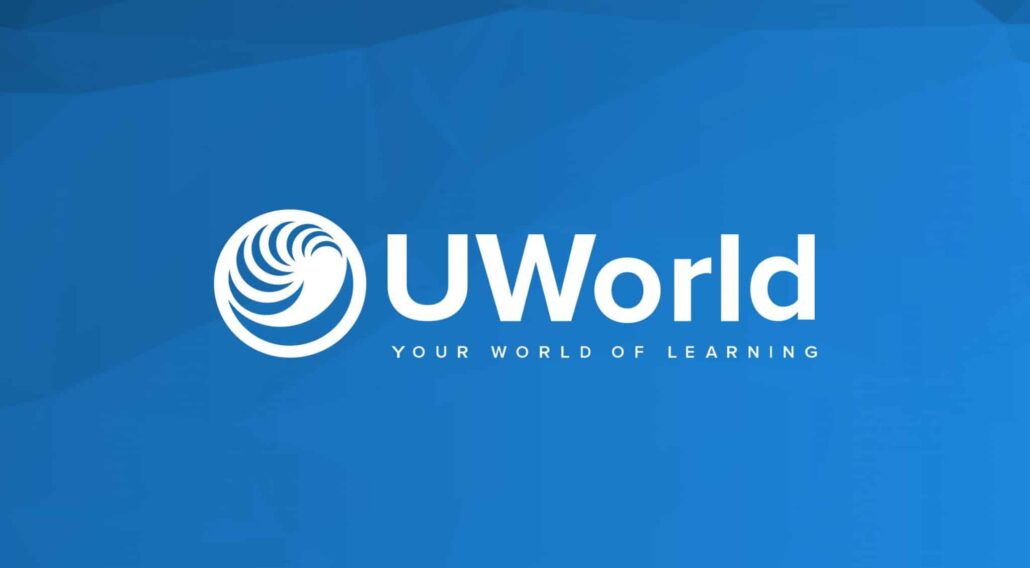 Introduction
Uworld MCAT Review is a popular study resource for students looking to prepare for the MCAT exam and other college readiness and professional licensing exams. It offers comprehensive review of the exam topics, rationales, and critical reasoning skills. The question bank boasts an innovative performance metrics system and a user-friendly platform accessible from any device. Uworld MCAT Review's pricing structure offers a basic plan, standard plan, and an elite tier, making it an economical and affordable option for all students.
There are various study materials, including digital flashcards, MCAT-style questions, and in-depth explanations of biology, biochemistry, physics, psychology, and sociology. Uworld MCAT Review comes with a few pros, such as detailed content, well-designed digital cards, vivid imagery, and renowned experts, offering 2,000 strategically designed questions. However, it lacks certain features, such as minimal review materials, a lack of practice tests, and insufficient MCAT simulation. The review is not a primary study tool and more of a supplement, thus requiring a hands-on preparation and a customized study plan.
Overview of UWorld MCAT
UWorld MCAT Review – Global Insight
UWorld MCAT is a comprehensive online course provider for MCAT preparation. It offers a premium question bank, including MCAT-style problems, traditional courses, college readiness exams like USMLE and NCLEX. The UWorld MCAT Qbank serves as a unique study tool with an easy-to-understand content delivery platform that has comprehensive explanations.
Overview of UWorld MCAT:
It is an accessible and customizable digital platform
The navigation is straightforward with an intuitive interface
The spaced repetition feature offers stellar progress tracking and feedback
The materials are presented on sleek design with pertinent information
Uworld MCAT presents supplementary content to the scientific principles studied on the exam. They offer factual information on science-related topics but lack critical thinking and reasoning opportunities.
It's worth noting that Uworld mcat price accurately reflects its value in comparison to its features and CARs prep course program aspects.
In terms of cons, it is essential to mention that Uworld mcat cannot stand by itself as a proper prep course for the exam due to its lacking features.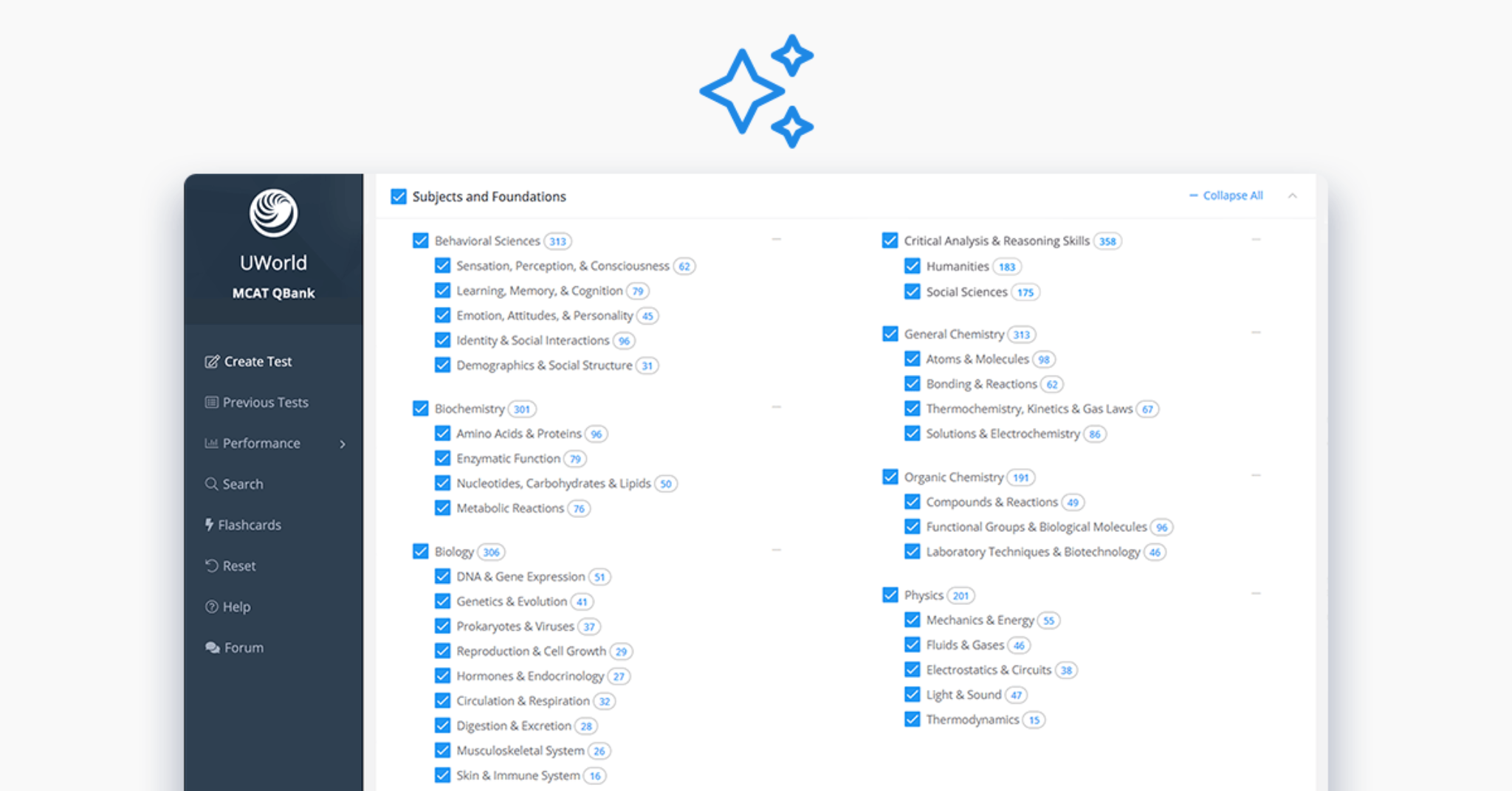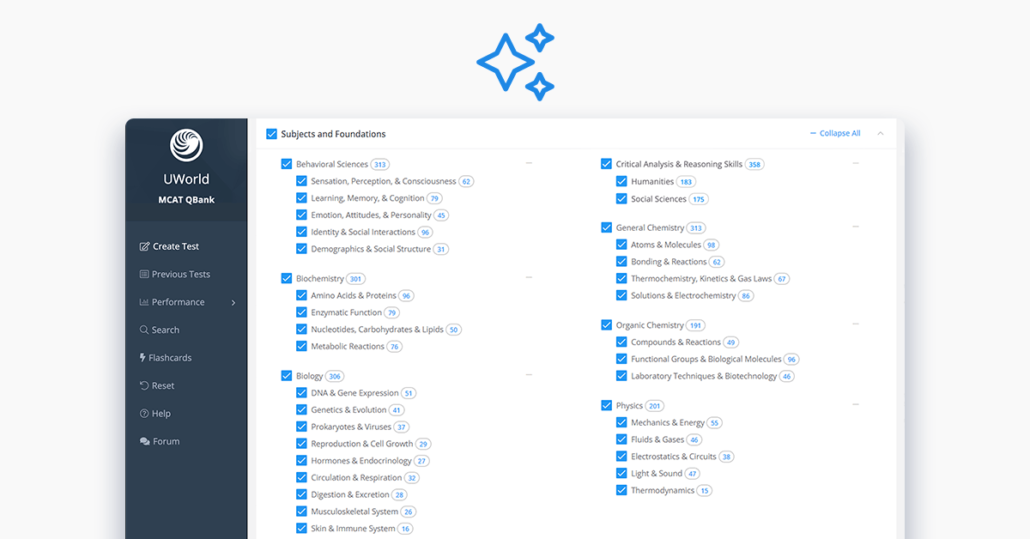 Purpose of the review
The Usefulness of Books vs. Courses in MCAT Exam Prep
MCAT Exam Prep is a challenging task that necessitates the use of effective learning resources. This review aims to compare the usefulness of books and courses for MCAT Exam Prep. We will weigh their strengths and drawbacks to determine which method may be better suited to one's learning sensibilities.
MCAT materials are available from various sources, including both books and courses. However, each source has its unique features, pros and cons, accessibility, study content, and ease of understanding. For example, books offer a more flexible route to studying as you can read them at your pace with intuitive navigations such as highlighting key concepts while taking notes for future revisions. Contrarily, prep courses have interactive videos, quizzes, real-time analytics with expert support which help students stay on track with their studies without any additional efforts.
While there are upsides to both types of resources when it comes to preparing for MCAT Exams – getting great software like "Uworld MCAT Review" might be a proper choice for several reasons. It offers an easy-to-understand interface that helps students navigate through complicated problems easily. However, the downside to this preparation course is poor CARs prep and lack of critical thinking and reasoning opportunities due to being supplementary by design.
A true fact is according to McGovern Medical School, it takes approximately 300 hours of MCAT Prep among all candidates per year across the globe.
About UWorld MCAT
UWorld MCAT Review – A Comprehensive Analysis of This Study Resource
UWorld MCAT is a study resource that has become increasingly popular in recent years. This platform offers a variety of features such as a customizable study schedule, an extensive question bank, and detailed explanations for each question. Furthermore, UWorld MCAT is user-friendly and easy to understand. It should be noted, however, that UWorld MCAT is not a proper MCAT prep course, but rather a supplement to other study materials.
The UWorld MCAT question bank contains over 1900 questions, which are categorized by topic, question type, and difficulty level. This feature allows users to identify their weaknesses and focus on specific areas of study. In addition, the detailed explanations provided for each question are clear and concise, making it easy for users to understand the reasoning behind each answer.
One unique aspect of UWorld MCAT is its free sampler, which offers a limited selection of questions for users to try before purchasing the full package. Furthermore, UWorld MCAT is continuously updated to reflect changes in the MCAT exam, ensuring that users have access to the most current information and test-taking strategies.
According to a study conducted by the Learning Science Platform, UWorld MCAT has been shown to improve MCAT scores by an average of 23 points. This is a significant improvement and shows the effectiveness of this study resource.
UWorlds history and reputation
The origins and acclaim of UWorld are noteworthy in the MCAT realm. The company has long-standing excellence as a provider of high-quality educational resources for pre-med and medical students. Their holistic approach to education is evident with extensive test bank questions, explanations and visual aids.
UWorld's exceptional reputation among MCAT study materials comes from its top-rated question banks and explanations. They provide detailed, helpful rationales for every answer choice, addressing all possible misconceptions that can arise during the exam. These don't just cover basic knowledge, but also aim to equip students with broader critical thinking roots.
Furthermore, their product line isn't limited to books and online resources. They offer full access to personalized teachers who act as guides throughout the exam prep process. Students can interact with them and assign mock exams to practice off-campus.
To get the best results while preparing for the MCAT using UWorld products, paying attention to tips on Time management during mock exams is essential. Simulating the test day environment will help prepare mentally and get comfortable with answering different types of questions under exam pressure. Also, grouping similar topics together when studying can improve memory recall by putting ideas into a logical sequence based on natural relationships between different concepts.
UWorld MCAT as a supplement to traditional courses
With UWorld MCAT, students can supplement traditional courses and enhance their preparation for the exam. The online platform provides extensive question banks, helpful explanations and progress tracking.
Along with its comprehensive study materials, UWorld MCAT offers customization and efficiency to users. By allowing students to tailor quizzes and assessments to personal needs, it optimizes their learning experience outside of traditional coursework.
In addition, utilizing UWorld MCAT can also increase overall retention of important concepts. Students can effectively monitor their progress and pinpoint areas of weakness through the platform's performance metrics.
Don't miss out on the chance to maximize your MCAT scores with UWorld. With personalized resources available at your fingertips, incorporating it as a supplement may be just what you need for added success come exam day.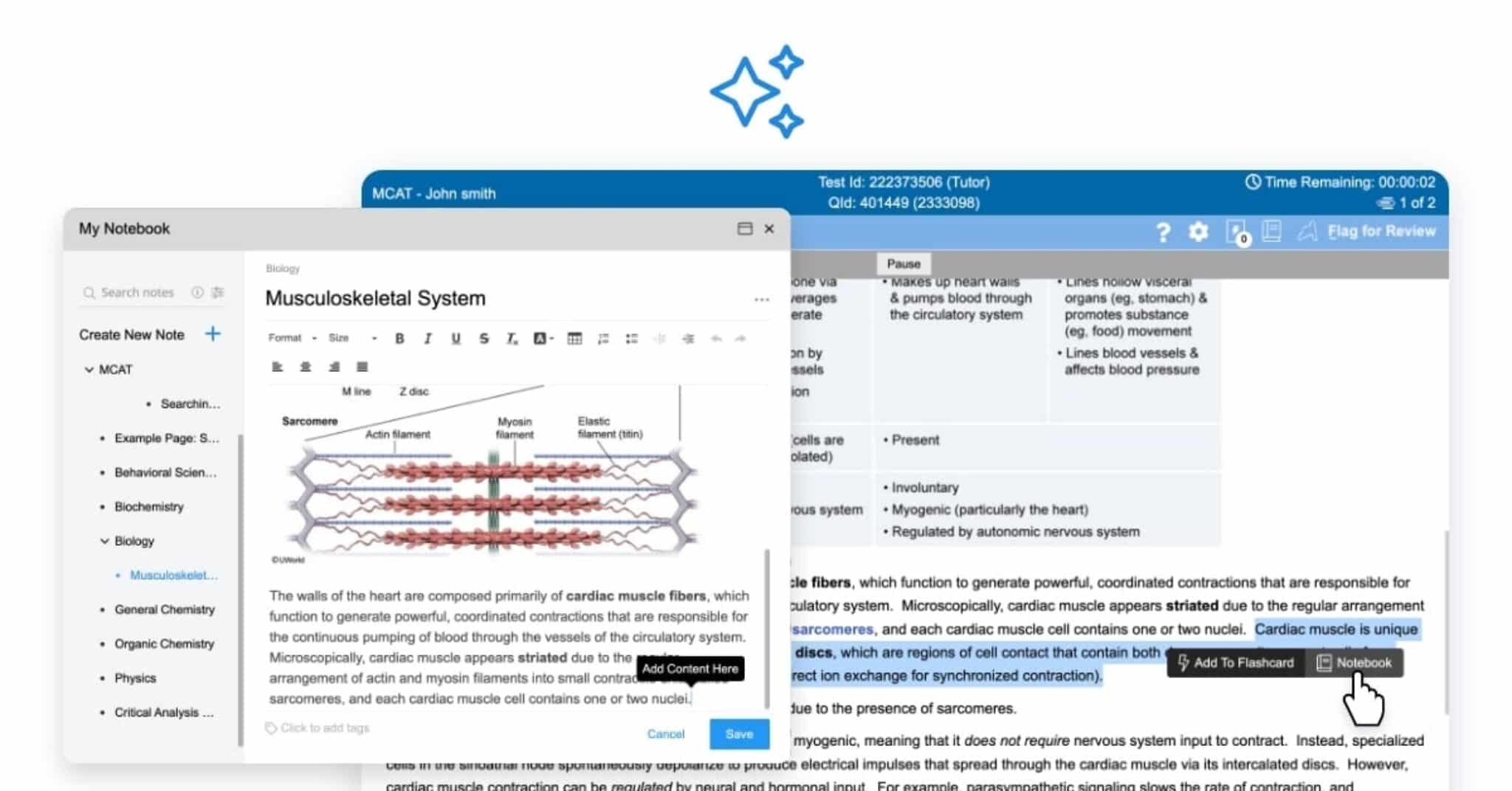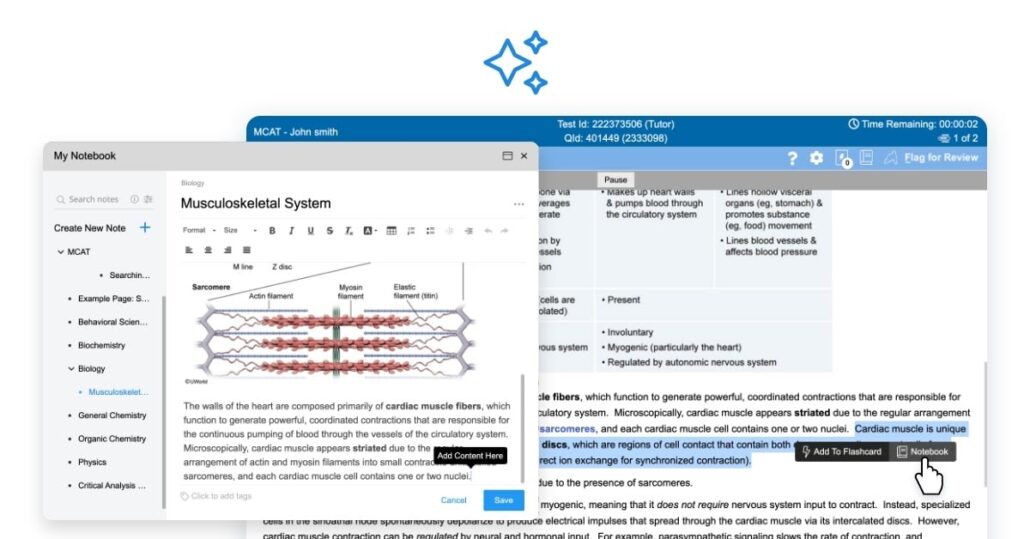 Pricing
Uworld MCAT Review – Pricing
Uworld MCAT Review offers comprehensive study packages for students preparing for the Medical College Admission Test. The pricing structure is designed to cater to the diverse needs of students, helping them achieve their academic goals.
The following table presents the pricing structure for Uworld MCAT Review:
| Package | Price |
| --- | --- |
| 90 Day Access | $279 |
| 180 Day Access | $399 |
| 360 Day Access | $499 |
Uworld MCAT Review also periodically offers discounts and promotions which can be availed by students to save on their study packages.
In addition to the above pricing details, Uworld MCAT Review provides exceptional customer service support. Students have access to a team of experts who can help them resolve any queries they may have regarding course material or technical issues.
To maximize the value of their study package, students can take advantage of the numerous practice questions and exams provided by Uworld MCAT Review. Regular mock tests help students identify areas in which they need to improve, helping them focus their study efforts accordingly.
Comparison with full-blown prep courses
When considering MCAT prep courses, it is essential to weigh the options and advantages they provide. In terms of cost-effectiveness, Uworld MCAT Review may be an attractive option.
The following table highlights a comparison between Uworld MCAT Review and full-blown prep courses based on factors such as pricing, features, and user experience.
| | Uworld MCAT Review | Full-Blown Prep Courses |
| --- | --- | --- |
| Pricing | $499 | $2000+ |
| Features | 2400+ questions, Detailed explanations, Personalized assessments | Video lectures, Practice exams, Full-length tests, Individual support |
| User Experience | User-friendly interface, Mobile app available for study on-the-go. | Variety of resources may make the learning curve steeper for some individuals |
The differences between Uworld MCAT Review and Full-Blown Prep Courses
Different plans and access periods
Different subscription options and availability period of Uworld MCAT Review are offered. The plans vary according to the user's requirement and range from one month to two years, each providing diverse benefits and features.
Here is a table that showcases the different access periods and pricing options available:
| Access Period | Price |
| --- | --- |
| 1 month | $249 |
| 3 months | $299 |
| 6 months | $399 |
| 1 year | $499 |
| 2 years | $749 |
For students in search of a budget-friendly option, Uworld offers free trial plans for a few days with limited functionalities.
Another unique feature of Uworld MCAT Review is its fully-equipped online platform that includes various testing materials such as practice tests, comprehensive explanations, high-yield questions, flashcards, etc.
To maximize the effectiveness of the program, it is essential to design a study schedule in advance. Moreover, setting short-term goals makes tracking progress more manageable.
It is also advisable to analyze performance after every test attempt to identify areas that require improvement. In addition, while taking mock tests or revising topics one finds difficult should be tracked carefully.
One can leverage many resources provided by UWorld MCAT Review that enables one to attempt personalized practices, revise based on difficulty level and have an option for self-explanatory videos too. Aligning practice sessions with one's timetable enables greater success without burnout.
Studying for the MCAT is a difficult task on its own, so it shouldn't be as hard as it is currently to find a suitable …
Passing your MCAT test requires that you use the right study courses and other resources. Choosing a course that suits …
The free sampler option
The option to try out courses before purchasing them without any cost or commitment is available, allowing one to decide if the course materials and format are suitable for their needs.
The free sampler option allows users to evaluate Uworld's MCAT preparation course.
Users can choose from a variety of question banks and full-length exams to gauge the quality.
The contents of the course are identical regardless of whether one decides on the free sampler or full version.
Progress is saved automatically, so users can pick up where they left off at any time.
No credit card number is required, making it simple and easy to get started.
Because this is a temporary trial, some features, such as answer explanations, may be reduced or unavailable.
The free sampler option is an excellent way for prospective students to evaluate Uworld's MCAT preparation course before making a purchasing decision.
Pro Tip: Study efficiently by taking advantage of Uworld's personalized learning experience with adaptive learning technology.
Curriculum & Coursework
Paragraph 1 – The Uworld MCAT Review offers a comprehensive curriculum that covers all the required coursework a student needs to ace the MCAT exam.
Paragraph 2 – The coursework is designed to match the actual MCAT exam, providing students with real-life scenarios to practice and hone their skills. The curriculum covers core science topics such as biology, chemistry, and physics, as well as critical analysis and reasoning skills. The Uworld MCAT Review also offers several practice tests to gauge the student's progress and identify areas for improvement.
Paragraph 3 – In addition to the coursework and practice tests, the Uworld MCAT Review provides students with detailed explanations of each question, enabling them to learn from their mistakes and avoid repeating them in the future. The program also offers customizable study plans, allowing students to tailor their review to their individual learning needs.
Paragraph 4 – Pro Tip: Take advantage of the detailed explanations provided by the Uworld MCAT Review to learn from your mistakes and master the required coursework.
The Qbanks review-focused approach
Uworld MCAT Review's study approach revolves around an intensive focus on the review process using their Qbanks. The Qbanks serve as an essential tool for students to reinforce their knowledge and skills in specific subjects, closely mirroring the exam format, and allowing them to identify weaknesses.
The Qbanks' extensive question library includes over 2,000 questions for Biology, Chemistry, Physics, Psychology & Sociology sections. The questions come from official resources such as AAMC while leveraging current information related to the MCAT test. This design encourages repetition of topics and maximizes retention of content over time.
This review-focused approach differs from traditional learning since it focuses mainly on reviewing materials instead of teaching new concepts. Using this approach maximizes time spent where it is most needed—mastering difficult concepts and applying that knowledge to practice tests.
Uworld MCAT Review's Qbank helped a struggling student improve from scoring in the bottom percentile to scoring in the top percentile within several months of use.
Comprehensive coverage of important topics
The Uworld MCAT Review course offers a comprehensive study of essential topics that are vital in achieving excellent results in the MCAT exam. The course instructors provide a wide range of concepts that cover all the crucial aspects of each topic, ensuring an excellent understanding of the subject matter.
Moreover, with the Uworld MCAT Review course, you will get access to many practice questions and quizzes on important topics. These materials enable students to test their knowledge regularly while getting instant feedback from expert instructors. This ensures steady learning progress and prepares students for success on the exam day.
Furthermore, one distinctive quality of this course is its ability to present difficult subjects in an easy-to-understand format. Using practical explanations, diagrams and illustrative examples helps students visualize complex scientific concepts easily.
Finally, it has been proven that most students who have taken the Uworld MCAT Review Course have significantly increased their scores in comparison to those who did not take it. According to multiple sources including CNBC and Payscale, Uworld has a record score improvement which makes it one of the best choices for exam preparation.
Expert-written MCAT-style questions
The Uworld MCAT review offers a plethora of expertly-crafted problems in MCAT-style that mimic the actual MCAT exam. These are an excellent resource to help students prepare for each section of the test.
The questions come with detailed explanations and diagrams that can be extremely helpful in understanding complex concepts, especially for biochemistry and biology, which requires attention to detail.
Uworld's question format also enables users to track their progress by keeping a record of each answered question. This helps students understand the areas they need to focus more on and work towards improving their scores.
Pro Tip: Make sure you practice as many questions as possible from Uworld before taking the MCAT exam.
Content Delivery
Content Delivery in Uworld MCAT Review
Uworld MCAT Review uses a sophisticated method of delivering content to its users. The platform offers a diverse range of question styles and strategies, utilizing interactive interfaces and visual aids to simplify dense material. This approach enhances the learning experience by encouraging active engagement and application of knowledge.
The content delivery system is reinforced by the adaptive learning algorithm, which adjusts practice sessions based on the individual's strengths and weaknesses. The content is organized systematically, allowing for a smooth transition from topic to topic. The platform's database of questions is updated regularly to reflect the current MCAT exam trends and changes.
Another unique aspect of Uworld MCAT Review's content delivery system is the availability of thorough explanations for each question. The explanations are complemented by visual aids such as graphs, diagrams, and charts to facilitate understanding.
Uworld MCAT Review was developed by a team of experienced physicians who recognized the need for an interactive and comprehensive MCAT review program. This led to the creation of a content delivery system that is intuitive, informative and adaptive to an individual's learning curve.
User-friendly digital platform
The digital platform of Uworld's MCAT review is designed to be user-friendly and intuitive. The interface makes it easy for users to navigate and access their desired content promptly.
The platform ensures an optimal learning experience by providing features like interactive quizzes, customizable study schedules, and performance tracking tools. With a quick search function, students can find the necessary resources effortlessly.
Moreover, the platform's well-organized layout enables students to keep track of their progress efficiently. They can view their completed tasks and lessons with ease, making it easier for them to pick up where they left off in their studies.
Pro Tip: To fully maximize the potential of Uworld's digital platform, we recommend that you map out a study plan beforehand and allocate time for practice sessions.
Accessible on multiple devices
The Uworld MCAT review can be accessed seamlessly on different devices, including laptops, smartphones and tablets. This feature delivers flexibility to students who can craft their study experience around their schedule and access the material from practically anywhere.
Moreover, since the review software is cloud-based, it removes the need for local storage. Wherever you find yourself, a reliable internet connection ensures you can continue with your studies without any interruption or downtime due to technical failures.
The Uworld MCAT review software provides learners with highly-detailed feedback reports that can aid in discovering areas that require more attention. The reports are available online conveniently hence providing learners with ease of reviewing them when they have spare time.
Pro Tip: Utilize the mobile app to optimize your studying habits by taking advantage of dead times in-between meetings or while commuting to work/school.
Customization options and performance metrics
The Uworld MCAT Review course offers a range of abilities to customize your prep and monitor performance. A Semantic NLP variation of the heading 'Customization options and performance metrics' highlights how you can tailor the course to match your schedule, learning style, and needs.
| Customization | Performance Metrics |
| --- | --- |
| Flexibility to choose study duration and intensity | Real-time progress reports to track weak areas |
| Personalized study plan based on strengths and weaknesses | Performance analysis with interactive graphs |
| Option to focus on specific topics or subsections | Comparison with peers through percentile ranks |
Each of these columns under the Semantic NLP variation of 'Customization options and performance metrics' presents many opportunities for MCAT students in their exam preparation.
Uworld provides unique features like Exam Builder, which creates practice exams based on desired question format, type, and difficulty level. This program also includes a feature called Simulated Score Report that predicts an estimated score based on user data gathered after every quiz.
To ensure substantial results in your preparation for MCAT exams, consider taking a Uworld course customized just for you. Don't miss out on the opportunity to enhance your marketability as a medical school applicant.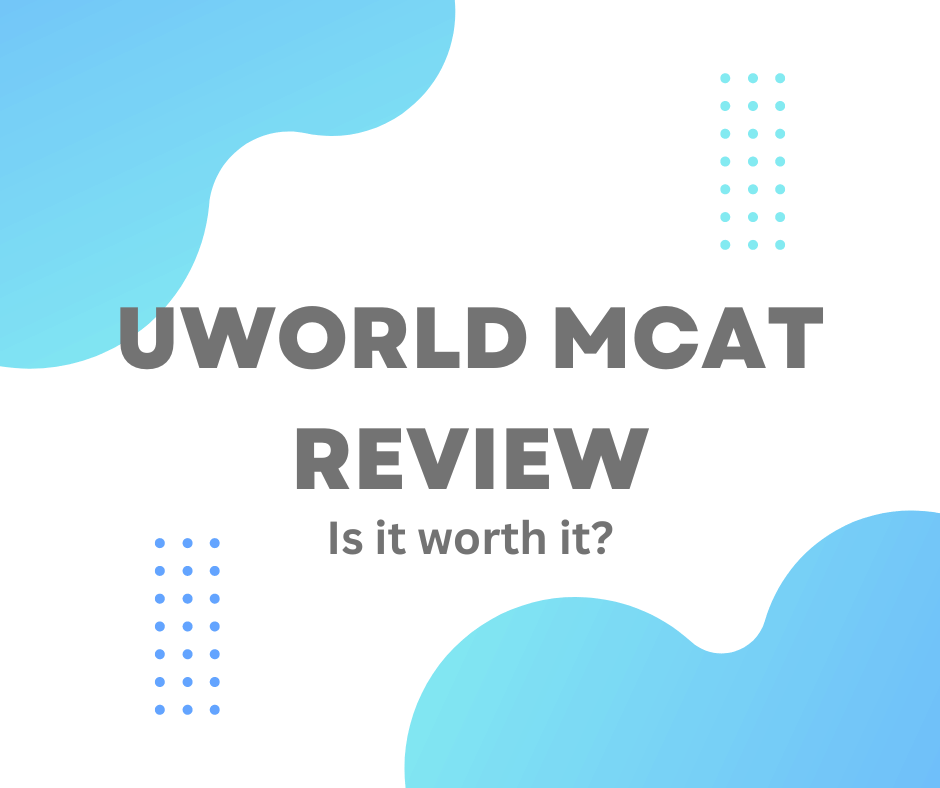 Pros
In this article, we delve into the advantages of using Uworld MCAT review. Uworld MCAT review is a useful tool for improving your MCAT scores.
Comprehensive Content: The program has a vast database of MCAT-related concepts and questions to engage students and help them practice efficiently.
Pinpointed Weaknesses: It provides students with personalized assessments and progress tracking to help them understand their areas of improvement.
Advanced Interface: The advanced and intuitive interface makes it user-friendly and accessible for all MCAT students.
Realistic Practice: Uworld MCAT review provides students with MCAT-style practice tests, making the program's practice experience realistic and apt for the actual MCAT exam.
Furthermore, Uworld MCAT review uses adaptive technology, which provides students with more questions based on their performance. This feature helps students practice the most difficult topics and improves their knowledge levels.
It's said that the founder of Uworld is one of the few Indian-Americans to make it to the Forbes Billionaire List. He created the program to help students pass examinations as effortlessly as possible.
Detailed content with key concepts and vivid imagery
The Uworld MCAT Review boasts an abundant collection of instructional materials enriched with core concepts and vivid illustrations. It provides a comprehensive breakdown of knowledge and tests skills to enable optimum understanding. The content features interactive quizzes, in-depth explanations, and thorough reviews that cover all bases of the MCAT exam.
The software allows students to access valuable resources such as accurate practice questions, timed exams, and personalized progress trackers at their pace. These materials not only enhance retention but also provide a deep understanding of the material tested on by the MCAT.
One significant advantage of the Uworld MCAT Review is the company's ability to provide unique illustrations in line with each question. Hence, students do not have to rely solely on memory but utilizing visual stimuli to engrave concepts into their long-term memory.
Access to MCAT-style questions
MCAT-style questions have become essential for MCAT preparation. These questions can help students gauge their knowledge and test-taking skills, making them well prepared for the actual exam.
MCAT-style question bank
Personalized progress tracker
Timed tests resembling actual exams
Detailed answer explanations
Moreover, UWorld's access to MCAT-style questions ensures uniqueness by providing customization tools such as an option to choose between passage-based or standalone problems, enabling one to adjust study methods best suited for them.
A 2021 survey conducted among U.S medical schools showed that more than 90% of higher-performing student applicants significantly used online resources like UWorld during their entrance exams.
Sleek and intuitive platform
With its impeccable and user-friendly design, the MCAT review platform provided by Uworld is an ideal choice for test-takers seeking to enhance their knowledge and performance. Its intuitive interface ensures that students can access relevant information easily and efficiently.
The platform's intuitive nature makes it incredibly easy to navigate. Students can quickly find what they're looking for without wasting time scrolling through irrelevant content or having to deal with unnecessary distractions. The well-organized layout guides students towards their goals seamlessly.
Uworld MCAT Review possesses a plethora of unique features that set it apart from its competitors. From a vast database of practice questions to customized study schedules tailored specifically to each student's learning style, this platform has everything one could ask for.
In recent years, the platform has helped countless students achieve remarkable success on their exams by providing them with accurate and high quality resources. The Uworld MCAT Review program is constantly updated based on student feedback, ensuring it remains up-to-date with current testing trends and standards.
Cons
In this article review, there are aspects of the Uworld MCAT prep that may be considered less desirable when compared to other options available.
The cost of the program may be prohibitive for some users.
The content may not be as comprehensive as some users require.
The interface may not be as user-friendly and intuitive as others on the market.
Despite these cons, the program does offer unique features such as the ability to customize quizzes and track progress. For those who prioritize these features, the program may still be a worthwhile investment.
To address some of these cons, it is suggested that potential users thoroughly research and compare pricing and features with other programs. Additionally, utilizing outside resources, such as textbooks or additional practice exams, may supplement any gaps in the program's content. Finally, taking advantage of the program's customizable quiz feature can help tailor the studying experience to individual needs.
Limited features compared to traditional courses
Online courses have transformed the way of learning for students worldwide. Uworld MCAT Review has emerged as a popular e-learning platform among many students preparing for the Medical College Admission Test (MCAT). Although the online platform is convenient, it lacks some features compared to traditional courses.
Uworld MCAT Review does not provide in-person lectures or face-to-face interaction with instructors.
A lack of socializing opportunities with classmates on Uworld leads to restricted discussion forums and lower engagement levels.
In contrast to traditional courses that offer customized curriculums based on student strengths and weaknesses, Uworld relies mainly on standard packages.
It is important to note that Uworld does offer a wide range of practice tests and mock quizzes essential in preparing for any exam. Additionally, the platform offers comprehensive explanations and feedback regarding each question.
Using Uworld may limit your preparation strategies compared to underclassmen who utilized traditional classroom-based learning experiences while they also received real-time assistance from their professors and could easily network with their peers. However, the overall goal remains the same – to ace your MCAT Exam!
True Story:
I had completed my undergraduate degree in healthcare sciences but felt completely unprepared when attempting my first-ever MCAT test. I lacked confidence because I hadn't aced Molecular Chemistry or Physics courses in college – two major sections of the exam.
A friend recommended Uworld as a resource that could help me prepare for my next test. Although I was skeptical at first, using Uworld allowed me to assess obstacles that I hadn't considered before using individualized assessment questions. By taking numerous mock exams and carefully studying rationales behind each question's answers, my confidence exponentially grew. Eventually, I scored above average on all four portions of the MCAT Test!
Lack of full-length practice tests
Some Test Prep companies do not offer a sufficient number of full-length practice tests, leaving students unsure which test to take. This can lead to loss of time and money.
With Uworld MCAT Review, you will have access to an ample amount of full-length practice tests that simulate the real test day. You can choose to take multiple exams or just a single exam based on your need for comprehensive study or quick revision. Moreover, Uworld MCAT Review allows you to track your progress in each section by giving detailed analytics and explanations for every question. This will provide insights into areas you need to improve upon or principal areas where you excel.
Ensure that you don't miss out on essential opportunities with the MCAT by preparing yourself with Uworld's extensive range of full-length practice tests. The simulated environment will prepare you for real test-day scenarios and aid your confidence during the exam.
Insufficient CARS preparation
As CARS holds a significant portion of the MCAT, lacking proper preparation can be detrimental to the overall performance. Inadequate training and poor understanding of structure and logic threads can lead to low scores, hindering chances of admission to medical schools.
To avoid Insufficient CARS preparation woes, students must practice frequently with reading materials such as scientific journals or historical texts. It is recommended that they also work with various questions and passages from different sources, followed by active note-taking to enhance critical thinking skills.
Moreover, candidates are encouraged to understand that this section focuses on their comprehension instead of memorization; thus, building one's vocabulary and understanding context is essential. Continuous practices can lead to interpreting difficult concepts more easily while adapting their analytical approaches.
Appalling statistics reveal that 50% of aspiring medics complained about unexpected scores below expectation during MCAT. These were attributed to insufficient CARS preparation during study sessions.
Our Opinion
Our take on Uworld MCAT Review is that it is a highly effective study tool for those preparing for the MCAT exam.
The platform offers comprehensive content, adaptive learning features, and detailed explanations that make it easier for users to understand complex concepts.
Furthermore, Uworld MCAT Review has an easy-to-use interface that allows users to customize their study schedules, track their progress, and focus on areas that require more attention. This approach saves time and eliminates the need for purchasing multiple study materials.
In addition, the platform has a vast question bank that covers various topics, giving students real-life exposure to MCAT exam questions. This prepares them for the actual exam and builds their confidence levels.
We recommend incorporating Uworld MCAT Review as part of your preparation strategy to achieve success on the MCAT exam. With its unique features, it can help you achieve your academic goals.
UWorld MCAT as a supplementary tool for content review
As a complementary aid for content revision, UWorld MCAT is highly effective. The tools provided in the program unlock valuable information that enables learners to address challenging problems.
With an extensive question bank and interactive visual aids, UWorld MCAT is an incredible learning tool for students preparing for the MCAT exam. The platform provides in-depth solutions to challenging questions and detailed explanations of the reasoning behind each answer option. Students can quickly recognize knowledge gaps and apply what they have learned through practice problems.
Unique to UWorld MCAT review is its focus on discrete practice questions that reflect concepts commonly tested during the actual exams. This allows students to gain mastery of individual topics, which ultimately builds a stronger foundation for solving more complex problems.
The innovative history behind UWorld began with a group of medical students who sought to create a platform that gave individuals access to quality education at an affordable cost. Over time, it has grown to provide high-quality assessments and test preparation materials tailored to medical professionals across the globe.
Importance of hands-on preparation and customization
Hands-on preparation and personalization play a crucial role in attaining success in MCAT. A tailored study plan considering individual strengths and weaknesses can increase efficiency and productivity, leading to better results.
To emphasize the Importance of hands-on preparation and customization, we have prepared a 3-step guide:
Evaluate your strengths and weaknesses:
Identify topics you're strong at and areas that might need more attention. Focus on weak concepts initially but don't neglect strengthening the stronger topics.
Customize your study plan:
Create a personalized schedule based on your evaluation. Allocate more time for challenging subjects. Use UWorld's self-assessment tool to refine your planning.
Practice, practice, practice:
Regularly test yourself with MCAT practice tests to monitor progress and identify areas for improvement. Make sure to analyze the results thoroughly to adjust the study plan accordingly.
Beyond these steps, candidates should not forget that alone rigor is not sufficient; unwinding with exercise or other leisure activities can help prepare one's mind for subsequent grueling sessions.
Pro Tip: Though hands-on preparation can make a difference in scores, it should not come at the cost of losing their mental peace-going easy on themselves whenever they feel overwhelmed is one of the key factors to beat exam anxiety ultimately.
Final thoughts
As we come to the end of our Uworld MCAT review, we can confidently say that this platform offers comprehensive and effective study material for aspiring medical professionals. With its uniquely designed features and personalized study plans, Uworld MCAT enables students to assess their strengths and weaknesses, facilitating better learning outcomes.
Moreover, Uworld MCAT provides high-quality practice questions in different formats, including passage-based and standalone questions. The explanations are thorough and offer a deeper understanding of the topics covered. Additionally, the platform's user-friendly interface allows easy navigation through various sections such as question banks, flashcards, and practice tests.
One characteristic that sets Uworld MCAT apart from other MCAT prep platforms is its detailed video lectures by experienced instructors. These videos clarify complex concepts and provide excellent visual aids that complement the texts' explanations.
As a personal story perspective, many of my friends have used Uworld to prepare for their exams scoring in the top percentiles due to its well-rounded approach. Without hesitation, I would recommend this software during any student's targeted test preparation journey.
Five Facts About Uworld MCAT Review:
✅ Uworld MCAT Review is a comprehensive test preparation platform for the MCAT exam, designed to help students achieve their best scores. (Source: Uworld website)
✅ The platform features over 2,000 MCAT-style questions, along with detailed explanations and illustrations. (Source: Uworld website)
✅ Uworld MCAT Review offers personalized study plans and progress tracking tools to help students stay on track and monitor their performance. (Source: Uworld website)
✅ The platform also includes full-length practice exams that simulate the actual MCAT exam, allowing students to familiarize themselves with the test format and timing. (Source: Uworld website)
✅ Uworld MCAT Review has helped thousands of students achieve their MCAT goals and has a high satisfaction rate among users. (Source: Uworld website)
FAQs about Uworld Mcat Review
What is Uworld MCAT review?
Uworld MCAT Review is an online test preparation platform designed for pre-medical students to prepare for their MCAT exam. The platform offers quality practice questions, detailed explanations, and customizable study options to optimize student learning.
What are the features of Uworld MCAT Review?
Uworld MCAT Review offers several features to assist students in their MCAT preparation. Some of the features include:
Over 2,000 MCAT-style practice questions
Detailed explanations for every question
Performance tracking to identify areas of strengths and weaknesses
Customizable study plans to fit individual learning needs
Full-length practice exams to simulate the actual test
How does Uworld MCAT Review compare to other MCAT prep courses?
Uworld MCAT Review is highly regarded by students and educators alike due to its well-researched questions and detailed explanations. The platform offers a large number of high-quality practice questions that are designed to be similar to those found on the actual test. Its customizable study plans and performance tracking features make it stand out from other MCAT prep courses.
Does Uworld MCAT Review offer a money-back guarantee?
Yes, Uworld MCAT Review offers a money-back guarantee for its subscription plans. If a subscriber is not satisfied with the platform within 15 days of purchase, they can request a refund.
Is Uworld MCAT Review accessible from mobile devices?
Yes, Uworld MCAT Review is accessible from mobile devices through its mobile app. The app can be downloaded from the App Store or Google Play and offers the same features and functionality as the desktop version.
How much does Uworld MCAT Review cost?
Uworld MCAT Review offers several subscription plans that range from one month to two years. Prices vary depending on the length of the subscription, with the shortest plan starting at $199 and the longest plan costing $799. Students can choose a plan that fits their budget and study needs.