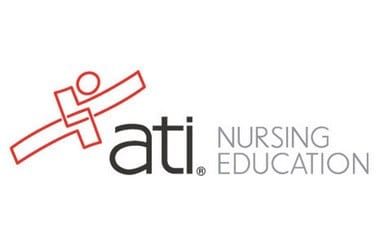 RATING:
The Virtual-ATI review course offers a combination of mentoring and coaching over the course of twelve weeks that heavily incorporates online study materials such as practice assessments, learning activities, and forums. ATI's online courses come with a variety of features and in a range of formats. These include audio lessons, video reviews, a substantial question bank, mobile apps, PowerPoint presentations, personal coaching, in-depth assessments, and weekly study plans based on student performance. This multi-faceted approach helps ATI cater to students of many different learning styles.
COMPARE THE BEXT NCLEX COURSES
Pros
1. One-on-One Coaching
Virtual-ATI Review's best feature is their one-on-one coaching and mentoring. All students are assigned personal mentors that touch base with them on an individual basis. These instructors will provide helpful tips, study plans, and individual assessments. Each coach is a highly qualified Nurse Educator with a masters degree and at least 5 years of teaching experience, ensuring their expertise as an educator. When a student is ready to pass the NCLEX exam in their coach's eyes, their coach will give a "Green Light" based on their student's performance in the course.
3. Diagnostics, Assessments, and Metrics
Virtual-ATI provides detailed diagnostics and analytical reports to show students how well they are performing in their course. In addition to weekly assessments from their coach, they will also receive information and tips about which areas that need more work through weekly assessment practice tests. The online study portal displays all of this information, offering a powerful tool to help students focus their studying in the most effective manner.
4. Study Calendar
Each student's personal coach will design a weekly study calendar based on their performance assessments and each week's study material. This takes a great deal of stress out of the study process and provides students with the exact knowledge of what to study and when. Since nerves can play a large role in a student passing or failing the NCLEX exam, this can come as a tremendous benefit to those who are more stress-prone.
5. Virtual Review
At the very end of the twelve-week course, Virtual-ATI offers a comprehensive exam to measure each student's performance. This is a fantastic way to build confidence in students and evaluate their readiness; offering a mock exam serves as a sort of dry run before the real thing and can significantly improve their chances of passing.
6. Wide Range of Study Materials
Virtual-ATI offers a plethora of study materials in a wide range of formats which can play on individual students' learning strengths. These materials include an online bookshelf, audio-backed PowerPoint presentations, 500-plus practice questions, two learning apps with flashcards and more practice questions, and more than 250 online learning activities and printable resources. These different educational tools provide students with the option to study on their computer, tablet, mobile phone, or with pen and paper. This combination of traditional and moderns study materials can be a refreshing and even fun way to keep students motivated while also presenting the NCLEX material in a manner that best fits their learning style.
Cons
1. Reactivation Fee
If an enrolled student goes six weeks without contacting their coach or tutor, their Virtual-ATI account is moved into inactive status. This can be helpful for students who need to take a few weeks off for whatever reason; however, those who take off more than 6 weeks will have to pay a $75 reactivation fee to access their account again.
2. Audio Lessons
Although video lectures are the de facto standard for online prep courses, NCLEX or otherwise, ATI primarily uses audio-backed PowerPoint presentations. These largely accomplish the same purpose but the presentation is definitely outdated compared to similar services. This is also a less convenient method for delivery, since it prevents students from taking advantage of the convenience factor that normally comes with audio-based educational content.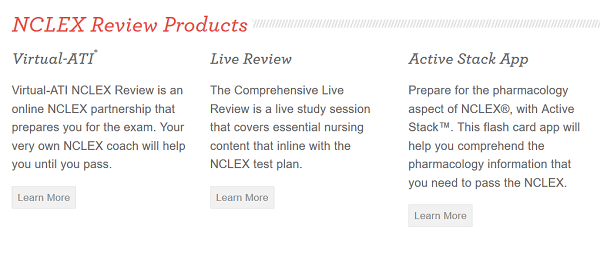 Conclusion
Virtual-ATI has a larger variety of study materials than most competitors at a very reasonable price, which help to make it a more appealing choice comparatively. However, their NCLEX prep program offers so many resources to study for and pass the exam that it may cause some students may feel overwhelmed. Fortunately, the use of personal coaches should help gently nudge students onto the path to success. Their audio PowerPoint presentations are outdated but the plethora of other study materials offered by ATI more than makes up for it. Some flexibility is also offered for students who need to take a short break from studying but not so much to avoid fees entirely. In summation, this course is a good fit for self-motivated students and auditory learners looking for a comprehensive review course with feedback from professionals.
Features
Instructors: Instructor Chat, Coaching, Individual Support
Course Features: Audio Lessons, Learning Activities, Practice Questions, One-on-One Coaching, Personalized Student Calendar, Diagnostic Reports, Comprehensive Predictor Exam, Supplemental Mobile Apps
Practice Questions: 500+
Course Format: Audio Lessons, Live Coaching, PowerPoints, Reading Material
Learning Material
Recorded Audio Lessons
Powerpoints
Reading Materials
eBooks
Apps
Flashcards (cost extra)
Mentors & Coaches
Questions & Reviews
Student Support
Mentoring & Coaching
Assessment Based Feedback
Email
Phone
Social Media
BBS Forum
Pricing
Virtual-ATI NCLEX RN Review
Price:
$525, $350 for existing users, $499 for existing users in Canada
Delivery:
on-demand, online course materials with virtual coach
Virtual-ATI NCLEX PN Review
Price:
$500, $295 for existing users
Delivery:
on-demand, online course materials with virtual coach
BoardVitals NCLEX Prep RN
Price:
$69
Delivery:
on-demand, virtual quiz engine with 3,000+ practice questions
BoardVitals NCLEX Prep PN
Price:
$69
Delivery:
on-demand, virtual quiz engine with 3,000+ practice questions
Active Stack Pharmacology Flash Cards
Price:
$15
Delivery:
on-demand, mobile app with 1,800 flash cards on pharmacology
ATI NCLEX Review Breakdown
| ATI NCLEX REVIEW | STRENGTHS  |
| --- | --- |
| 1. | 1 on 1 Coaching |
| 2. | Diagnostics, Assessments |
| 3. | Virtual Review |
| 4. | Study Calendar |
https://crushtheusmleexam.com/wp-content/uploads/2018/02/ATI-NCLEX-REview-Course.jpg
250
380
James Edge
https://crushtheusmleexam.com/wp-content/uploads/2020/04/Crush-Logo.png
James Edge
2020-10-01 00:00:01
2019-09-27 03:42:23
ATI NCLEX Review