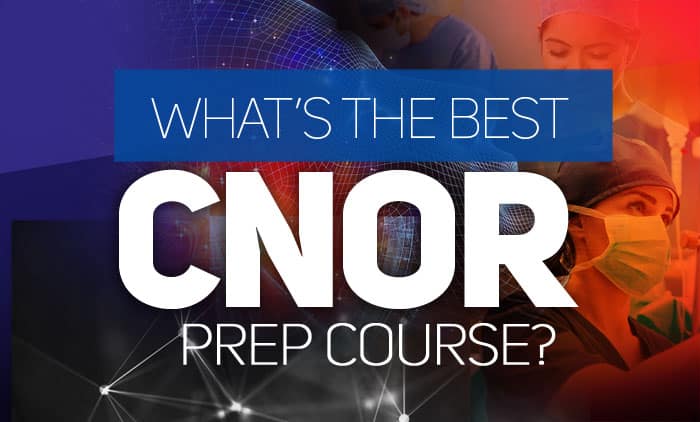 Surgeons are incredibly capable individuals who save countless lives, but they never work alone. Certified Perioperative nurses are vital to ensuring surgeries of all kinds are completed properly with minimal adverse effects. And while it doesn't take as much education to work as a perioperative nurse, there's still a considerable need for qualified candidates to demonstrate their knowledge of the necessary procedures and terminology.
That's one reason why registered nurses seek out CNOR certification— to qualify for a position as a perioperative nurse in a variety of locations and situations. In addition to widening your career horizons, becoming a Certified Perioperative Nurse can increase your salary by more than $1,000.
Interested in learning more? Check out our comparisons of the best CNOR prep courses available online so you can start preparing for a rewarding career from the comfort of your own home!
Mometrix University Certified Perioperative Nurse Prep Course (Rank #1)
One of the best resources for perioperative nursing study materials is Mometrix University. This company offers a wide range of study resources for a variety of nursing certifications, but their CNOR prep course is among their best. It offers a wide range of content that covers all the necessary information without boring you or wasting any time.
Mometrix University Features
800+ practice questions
300+ digital flashcards
Study guide with 60+ lessons
1 week money back guarantee
Flashcards: One of the easiest ways to memorize difficult terms and concepts is through flashcard studying. Mometrix University offers over 300 digital flashcards that can be accessed on your smartphone, tablet, or computer— this is a guaranteed method of memorizing everything you need to know for the day of the exam.
Guided Study: Alongside a large practice question bank and the aforementioned flashcards, Mometrix University includes more than 60 text-based lessons in a large study guide. Feel free to work through one or two of these a day alongside the flashcards and practice questions, or tear through several of them in a few weeks if you're in a hurry!
Free Trial: Not sure if this is a good choice for your study needs? Thanks to their seven day money back guarantee, you can request a full refund for any reason within a week of enrollment. This basically means you can have a free week of studying.
Bottom Line: If you want to join thousands of students who passed their exams and started careers in the healthcare industry, I recommend enrolling in Mometrix University today. They have the perfect blend of study materials to adequately prepare you for a career in perioperative nursing.

TAKE ME TO MOMETRIX UNIVERSITY
Flash Sale- Save 25% on Mometrix Test Prep
754 uses today
Last Used: 55 minutes ago
---
Zander Perioperative Education CNOR Training Course (Rank #2)
Unlike some online nursing courses, this company is entirely focused on providing educational resources for future perioperative nurses. This single-minded focus results in an exceptional collection of study materials that will have an instrumental effect on your exam performance.
Zander Features
200 practice questions
7-15 practice quizzes
60 days or 120 days of access
Bonus content for perianesthesia
Flexible Pricing: If you want to save some money on your education and don't mind a shorter access period, sign up for Zander's 60-day course. Otherwise, they offer a slightly more expensive version with double the access period, which is plenty of time to adequately prepare for the test.
Perianesthesia: Anesthesia is a vital part of successful surgical procedures, so it's very important to get it right. Fortunately, Zander offers an entire course based around this subject with several practice quizzes to ensure you fully understand what's expected of you in this department.
Practice Questions: Despite offering a large volume of practice quizzes, there aren't very many practice questions in Zander's test bank. If you want a larger library to work through, you may prefer enrolling in Mometrix instead.
Bottom Line: If you're worried about the perianesthesia portion of the CNOR exam, check out the study materials offered on this website. Even if you're just looking for a general prep course, there's still something here that can help you achieve your desired career.

TAKE ME TO ZANDER PERIOPERATIVE EDUCATION
---
Nurse Builders Certified Perioperative Nurse Review Course (Rank #3)
To become a Certified Nurse Operating Room, you can get a lot of help with the aid of Nurse Builders. They provide a multifaceted approach to studying for the exam that also helps you understand the job duties and essential terminology once you start working as a perioperative professional.
Nurse Builders Features
150+ practice questions
7-13 contact hours
Audio lectures
Onsite instruction
Group discounts
Catered Education: For some organizations, Nurse Builders is kind of like an educational catering company— they can come to your location with all the necessary study materials and hold a class over one to two days. This is great when used in combination with their group discounts.
Audio Content: In addition to practice questions and video content, Nurse Builders offers audio lectures in a separate package. These are provided on a disc, which makes it easy to listen to in the car while commuting or on a long road trip.
Pricey: Unless you're with a group of future nurses or have an employer that's willing to bankroll your education, this course's costs are too high to justify when compared to more affordable options like Mometrix University.
Bottom Line: If you have a few friends or peers who are also working towards CNOR certification, Nurse Builders can be an excellent educational resource. They also offer special study tools like their audio lectures that can be hard to find elsewhere.

---
ExamEdge CNOR Study Materials(Rank #4)
ExamEdge promises to prepare you for a passing score on your CNOR exam through practice, practice, practice. Whether you're looking for a supplement to another course or only want to tear through several exam simulations, there's something here that can help you achieve your study goals.
ExamEdge Features
1-15 full-length practice exams
1,500 practice questions
4 retakes per exam
Detailed answer explanations
Practice Exams: As its name implies, ExamEdge has more than enough practice tests to give you the edge when it's time to take the real thing. By the time you've completed several of these practice tests, you'll be an expert on the CNOR examination for sure!
Flexible Packages: Are you just looking for a few exam simulations to pad out your study schedule, or do you want to drill through several tests like it's going out of style? Regardless of your answer, this website offers an affordable course to meet your specific study needs.
Videos Wanted: What would make this course much more student-friendly is some kind of video-based guidance from a real instructor. Having a friendly face to work through all the included topics would be a great addition to a solid library of practice exams.
Bottom Line: Check out ExamEdge if all you want is to drill yourself with realistic exam simulations. Otherwise, there's a lot more varied content with Mometrix that can better suit your study needs.

---
Competency & Credentialing Institute CNOR Study Guide (Honorable Mention)
This organization offers you the opportunity to stay up-to-date with the latest developments in the healthcare industry. If you want to start your career with the most relevant working knowledge, consider supplementing your education with CCI.
CCI Features
Several live webinars every month
Free textbooks and exam prep handbook
5 free practice questions
2 day virtual prep course
Free Study Material: CCI offers a decent amount of free content for you to work through, which makes them an ideal supplement to another course like Mometrix University. This includes several textbooks that are directly referenced on the CNOR exam, as well as a handbook teaching you how to effectively prepare for and pass the test.
Virtual Class: For less than $200, CCI offers a two day long virtual class that offers live instruction on the exam and all the topics it covers. There's a competitive element to the two quizzes included with this course, as well as the opportunity to earn contact hours towards your credential.
Limited Curriculum: Compared to many of the top courses on this list, CCI is less of a full study guide and more of a collection of convenient study resources. It's a better idea to use these materials as a supplement for another course— although it may come in handy if you're attempting the exam for a second or third time.
Bottom Line: Check out some of the free content CCI offers if you want some extra credit. You can also get a lot of great info from their live webinars, but you should stick to a different course if you want the full experience.

---
Nurse.com CNOR Prep Course (Honorable Mention)
Once you've passed the CNOR exam and started your career, you don't stop learning. In order to meet your continuing education requirement, Nurse.com has a collection of excellent study materials that can keep you up to date and maintain that credential you worked so hard to earn.
Nurse.com Features
16 1-hour continuing education courses
Taught by subject matter experts
Networking opportunities with other students
Printable transcripts upon completion
Subject Matter Experts: All of the people who wrote and presented the courses included with this company are highly qualified with ample professional experience. You can expect a practical lesson plan with direct impact to your experiences in the field.
Printable Transcripts: In order to maintain your credentials, Nurse.com allows you to print transcripts and certificates of completion once you earn contact hours. This makes it easy to submit to your employers, but it also looks nice in a frame on the wall of your office!
Continuing Education Only: Unfortunately, Nurse.com doesn't provide any study materials to prepare you for the CNOR exam as a beginner. However, they provide a large library of continuing education courses that can help you maintain your professional status, which is also very important.
Bottom Line: Although they can't help you earn your exam the first time around, Nurse.com is a site you should bookmark and return to once you've started working as a perioperative nurse.