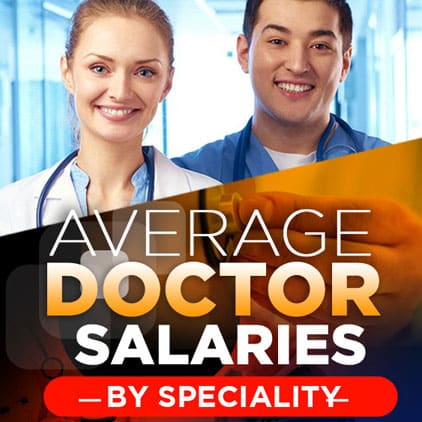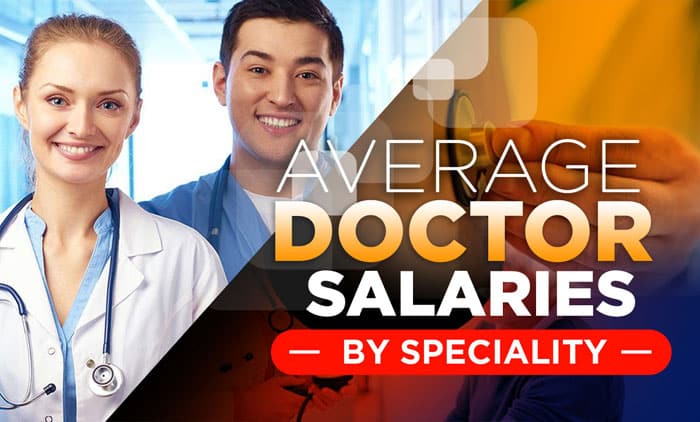 Considering average doctor salaries by specialty is an essential factor for many medical students. Finding a career path that inspires passion and pays the bills is vital for a healthy professional life. Notably, doctor incomes continue to rise, as indicated by the Medscape Physician Compensation Report for the year 2020.
While this upwards trend applies to all doctors, specialists were paid more on average. Specifically, primary care physicians made $243,000 in 2020, while specialists earned about $100,000 more annually.
Two primary factors contribute to annual compensation, including the medical specialty and the location of the practice. Skilled doctors are necessary for every space of the medical field, but reviewing income trends and rates can help you make a final decision as you consider how to shape your career.
From Alabama to Indiana, states and cities across the country are seeking specialized medical professionals in nationally-ranked hospitals near major city centers. Additionally, even during the pandem ic, some specialized fields experienced a salary increase. While other key considerations help ensure you are choosing the best career fit for you, understanding the average annual compensation for medical specialties is vital.
Average Doctor Annual Compensation by Specialty
Reports produced that list salary scales depend on surveys given to doctors, and some extrapolation is required to determine salary estimates. In the past two years, the COVID-19 pandemic impacted various specialties. For instance, some medical centers paused elective procedures, so some specialties like plastic surgery and orthopedic surgery might have experienced a temporary income dip.
Highest Compensated Specialists
Below are the top ten highest-paid specialty medicine doctors and their average annual income. The average is based on a survey of doctors in the field in various locations across the county. Depending on location and demand, a specialist salary might be higher or lower than the listed median.
Plastic Surgery $526,000
Orthopedic Surgery $511,000
Cardiology $459,000
Urology $427,000
Otolaryngology $417,000
Radiology $413,000 
Gastroenterology $406,000
Oncology $403,000
Dermatology $394,000
Ophthalmology $379,000
Plastic surgeons experienced a slight salary increase in 2020, despite having less work due to the reduction of elective surgeries due to the pandemic. Other specialists also saw gains; oncologists experienced a seven-perfect salary increase while both rheumatologists and cardiologists drew a five percent salary increase.
Lowest Compensated Specialists
While specialties offer higher annual incomes, not all specialty medicines earn equal pay. Here is the list of the lowest annual compensation specialties.
Pediatrics $221,000
Family Medicine $236,000
Public Health & Preventive Medicine $237,000
Endocrinology $245,000
Infectious Disease $245,000
Internal Medicine $248,000 
Immunology $274,000
Psychiatry $275,000
Rheumatology $276,000
Neurology $290,000
Even those specialties listed towards the bottom of the compensation list are earning a higher annual income than general practitioners. However, the distinction between general and specialty is not the only wage differential in the medical field.
Pay Disparity Between Male and Female Doctors
The male and female pay disparity between doctors continues to plague the field. Women practicing as primary care physicians earned about twenty-seven percent less than their male counterparts.
Sadly, the disparity between male and female specialists is even more significant, with male specialists earning thirty-five percent more than female specialists in 2020. Many female doctors and specialists are constantly working to shatter the glass ceiling and earn an equitable annual income.
---
Top States for Maximum Earning Potential
The Medscape annual report outlined the locations where doctors were most needed and well-compensated for their work. Whether you're considering opening a practice or thinking about specializing in medical school, future earning potential is a vital consideration.
Medscape reports annually about various trends in the medical field. In 2021, the report revealed where physicians earn the most.
Alabama
Doctors are paid more in Alabama than in any other state — about $348,000 annually. The University of Alabama at Birmingham focuses on training medical professionals and has four specialties ranked within the top 20 in the United States.
Indiana
Physicians in Indiana will make on average $337,0000 per year. Cities like Indianapolis and Evansville offer high quality of living at a relatively low cost, so practicing in the state provides an excellent opportunity for many doctors.
Missouri
General practicing doctors in the state earn an average annual salary of $332,000. Indeed, a recent report noted that two Missouri hospitals are nationally ranked.
South Carolina
Doctors in South Carolina earn about $332,000 per year. Ranked number one for five years consecutively, The Medical University of South Carolina offers specialty programs, with some ranking top in the country.
Kentucky
Kentucky has a few larger cities like Lexington and Louisville. Practitioners in Kentucky earn about $340,000 every year, with doctors engaged in a specialty practice making more.
Oklahoma
Oklahoma physicians earn an aggregate of $338,000 a year. Oklahoma City is a fast-growing metropolis, so living and working as a specialty care physician in the area could help you earn a high wage.
Georgia
Doctors in Georgia earn an average of $330,000 a year, and those who practice in a particular field have increased earning capacity. Atlanta is a hot spot for qualified doctors to receive high pay.
Local doctors may have the opportunity to work with physicians working at studying at Emory School of Medicine.
Iowa
Physicians in Iowa earn on average $330,000 per year. The University of Iowa offers a medical center for students to learn and for doctors to practice.
Florida
In Florida, the average physician salary is $331,000. Notably, Florida's Shands Hospital has nine top-ranked specialties. As you'll see below, both Orlando and Jacksonville, Florida, are among the cities offering the highest pay rates for doctors.
Tennessee
Doctors in Tennessee earn about $329,000 every year. Additionally, Tennessee is home to the famous Vanderbilt University Medical Center, one of the country's best hospitals and colleges.
---
Top Earning Metro Areas for Speciality Doctors
Similar to Medscape, Doximity is a networking tool for doctors that also conducts surveys, specifically about top earning areas for doctors. Keep in mind that while the two distinct groups often produce similar results, their methods and points of contact can vary, leading to variances in rankings.
Doximity reviewed earnings data and produced a list of the top ten cities where physicians earn the most. Interestingly, the top-earning Metro areas are concentrated in the Midwest, West, and South.
The top-earning cities vary slightly from year to year, and notably, some of these cities are not within the states listed above that pay doctors a higher wage on average. The report found that in 2020, the top-paying cities for medical practitioners and average annual salaries were:
Milwaukee, WI $430,274
Atlanta, GA $428,244
Jacksonville, FL $427,090
Buffalo, NY $407,070
Orlando, FL $406,587
Raleigh, NC $406,365
Charlotte, NC $404,285
Minneapolis, MN $401,978
Riverside, CA $397,005
Dallas, TX $396,184
Other cities that are often ranked within the top wage-earning locations include Hartford, CT, and Cincinnati, OH. Equally interesting to note is that the lowest-paying city for doctors was San Antonio, Texas, with an average yearly salary of $329,475.
The total earning potential of doctors, in particular specialty care doctors, depends on the city or the state.
---
Key Considerations: Choosing a Specialty
For medical students looking to choose a specialty, some key considerations can guide the final decision. Indeed, in 2019, the Association of American Medical Colleges (AAMC) asked recent medical school graduates how and why they chose a specialty.
According to the questionnaire, the most crucial factor which resonated with about eighty-seven percent of respondents was that the specialty "fit with personality, interests, and skills." Over the last few years, graduates have consistently cited personal fit, content, and mentor influence as the top rationales among medical school graduates for choosing a particular career path.
Other notable key considerations include:
Work and life balance at 77 percent
Income expectations at 48 percent
Competitiveness of specialty at 39 percent
Education debt at 22 percent
The expectation of future earnings is a comparatively vital factor in determining specialty, with about fifty percent of respondents including it as a reason.
---
Final Thoughts
For medical students, two primary decisions must occur. The first is whether you want to practice general medicine or become a specialist, then the second decision is which specific special field of medicine you would like to study.
While many considerations influence a person's decision, income impacts are clearly an essential factor. Overlaying the list of the highest-paid specialty fields with states and cities that pay doctors higher annual wages can also help you decide.
While women still suffer from a pay disparity, female specialists still earn higher wages than generalists. Across the country, particularly in the South and Midwest, nationally ranked hospitals are searching for skilled medical specialists.
Be sure to study reports and studies across the medical field about compensation practices and rationales for specialty selection to help you decide on a career and life path.