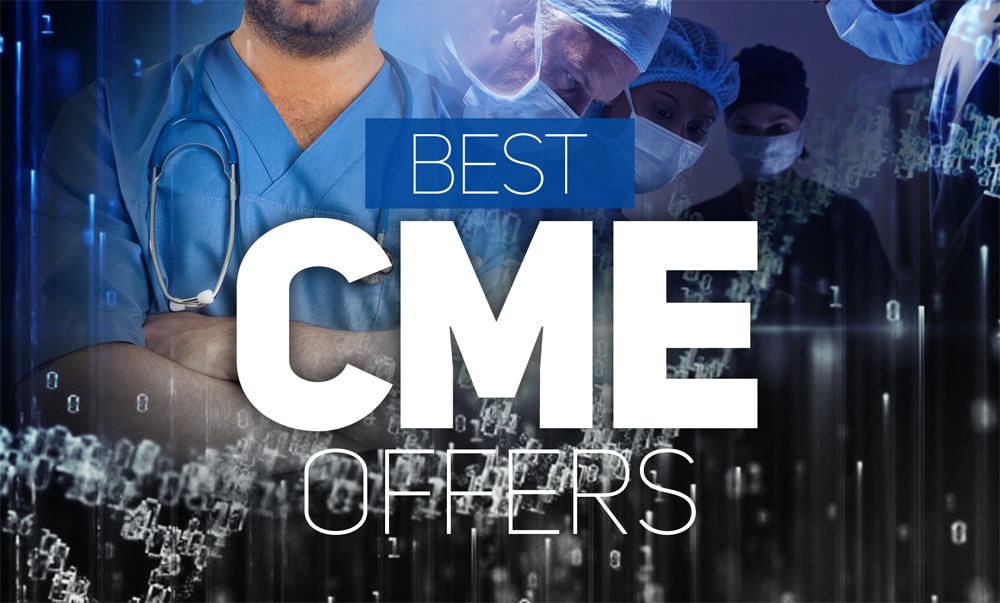 It is said that there is no end to upgrading oneself in professional careers. With technology progressing at an astronomical rate, and the implementation of said enhancements occurring faster than ever, it is almost impossible for doctors who are contributing multiple hours of strenuous work to keep track of these recent developments.
Continuing Medical Education (CME) consists of educational activities that are crucial for any physician in the US to maintain or increase their knowledge and skill. This also helps them to keep updated on the latest developments as well as maintain their high standard of delivering patient care.
In the US, physicians are required to obtain a specified number of CME Credits to maintain their medical licenses. This is required by many hospitals to certify that the physician remains credible to treat patients and maintain high standards of patient care.
If you are a physician who is looking to add to his/her CME credits or a loved one hoping to get your relative who's a medical practitioner something useful, scroll down to see some of the most popular CME offers available
The BoardVitals CME Pro Plus bundle comes along with a maximum of $2500 amazon gift card.
The exciting features that the BoardVitals CME Pro Plus provide are:
Up to a $2500 amazon gift card for a 24-month subscription!
The doctor, depending on the subspeciality can earn up to 100 AMA CME CreditsTM.
The CME bundles are customizable based on the doctor's CME allowance, making this an almost unfair advantage for those who subscribe for this offer to combat the recent increase in the cost of CME activities!!
Additionally, MOC points are also provided for some subspecialties!
The BoardVitals CME Pro Plus has enabled access of content throughout all your favorite devices including computers, tablets and even your smartphone to study on the go!
Updated for you is the content provided by over 500 top medical faculty who are experts in their respective fields, this content is periodically reviewed and updated! The board review questions provided in this bundle have excellent and detailed explanations that are backed up with scientific evidence, proving their authenticity and credibility!
The most popular and affordable subscription packages for the BoardVitals CME Pro Plus are provided below along with their rates:
| | |
| --- | --- |
| 24 Month Subscription with $2,500 Amazon Gift Card | just for $4750! |
| 18 Month Subscription with $1,500 Amazon Gift Card | just for $2895! |
| 12 Month Subscription with $1,000 Amazon Gift Card | just for $1995! |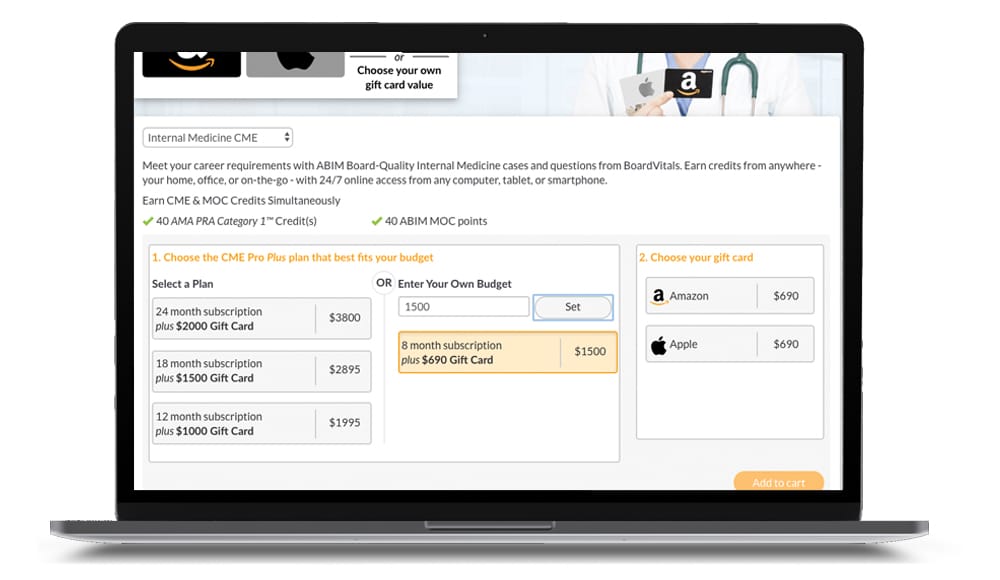 Alternatively, BoardVitals allows the Physician to customize the CME plan!
For instance, if the doctor wishes to avail a $1500 plan according to his CME allowance, he may do so! And in doing so he shall be able to avail 8 months subscription with a $690 amazon gift card!
Not only does this meet your CME Credit demands, but the BoardVitals CME Pro Plus bundles also help you take your recertification exam which is required once in 10 years! The period review and updating see to it that the doctor receives the credible scientifically backed information from the top faculty in their respective fields!
Practical reviews On-Demand enables a practicing physician to earn unlimited AMA CME CreditsTM as well as an Amazon gift card worth $1000!!
This exciting CME activity offers:
Over 20 different subspecialties from which a physician can earn unlimited CME credits and MOC points!
A user-friendly mobile app enabling the physician to study anywhere, anytime!
A huge content breadth spanning 125 thousand journal articles!!
This content from journal articles has been simplified and made easy to consume and retain making this an invaluable asset to the physician!
Additionally, all this content is available as audio, video as well as text format from which the physician can choose based on his/her requirements!
The program is accessible via a personal computer, tab, or mobile app. It contains expert reviews and summaries from vital research articles from leading journals!
Being one of the best online CME mobile applications featuring a CME tracker using which a physician can keep track of his CME credits and achieve his CME goals, it guarantees a novel and wonderful experience!
The various subscription plans available for Practical Review On-Demand are given below:
| | |
| --- | --- |
| 12-month plan with $500 Amazon gift card | at just $998! |
| 24-month plan with $1000 Amazon gift card | at just $1998! |
These plans make this CME offer one of the most affordable offers in the market!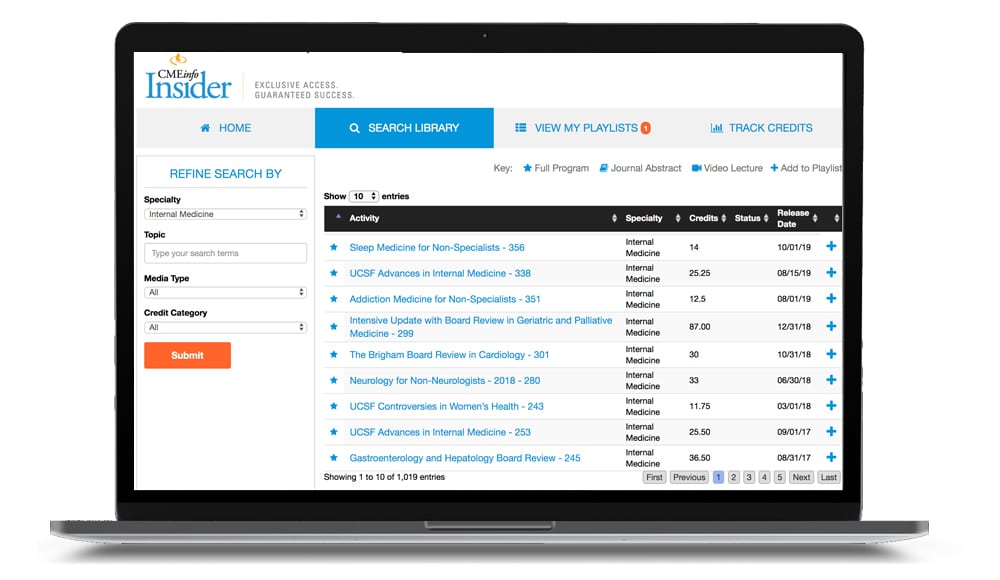 CMEinfo Insider offers the following:
Complete access to Oakstone's library consisting of CME activities for over 19 unique subspecialties!
The physician can earn unlimited AMA CME CreditsTM and MOC points depending on the specialty!
The content is constantly and consistently refreshed and updated with the addition of new content every month!!
Along with a user-friendly and handy CME tracker, CMEinfo Insider also comes with a pass guarantee or board certification and MOC exams!
An Amazon gift card worth up to $2000!
Based on the physician's budget and CME allowance, they may choose from any one of these three bundles:
| | |
| --- | --- |
| 36-month access period with a $2000 Amazon Gift Card | for just $3849. |
| 24-month access period with a $1500 Amazon Gift Card | for just $2999. |
| 12-month access period with a $1000 Amazon Gift Card | for just $1999. |
The content includes complete access to Oakstone's entire content library, which includes over 18000 journal article summaries and 1,230 board reviews! Additionally, the content is updated every month to incorporate any latest guidelines!
Talk about an insider peek into the CMEinfo Insider! The image below is just that! A screenshot showing the well organized and extremely user-friendly interface of CMEinfo Insider. There are also customizable playlists to organize your content further! All these features make CMEinfo Insider an indispensable aid for a physician's CME Credit needs.
LEARN MORE ABOUT CME INFO INSIDER
Audio-Digest Clinical Compendia
The Audio-Digest Clinical Compendia is music to the ears of any physician who is not a fan of staring into the screens of gadgets all day long to gain knowledge!
The Audio-Digest Clinical Compendia offers:
Audio lectures with detailed written summaries and even CME test questions for various specialties such as:
| | | | |
| --- | --- | --- | --- |
| Gastroenterology | Neurology | Orthopedics | General Surgery |
| Urology | Ophthalmology | Pediatrics | Hospitalist |
| Obstetrics and Gynecology | Oncology | Psychiatry | |
In addition to enabling the user to gain up to 413.5 AMA PRA Category 1 CreditsTM dependent on specialty, the bundle also comes with an Amazon gift card of up to $2000!
It comes with an easy-to-use mobile app that is also compatible with a computer and tablet!
The app also includes an organized CME credit tracker!
The biggest advantage of the mobile app in addition to the ones mentioned above is the state-of-the-art media player which allows the physician to store the audio files offline and access them when a stable internet connection is unavailable!

Med-Challenger CME Flex Package
There are unique bundles in the Med-Challenger CME Flex Package from which a physician can choose, these are:
Med-Challenger Internal Medicine PRO
Med-Challenger Emergency Medicine PRO
Med-Challenger Pediatrics PRO
Med-Challenger Family Medicine PRO
Each of these bundles come with a $1000 Amazon gift card!
To top it all a physician can subscribe and get updates from all of the specialties for a full-access period of 2 years under the Med-Challenger Library CME Flex package for just $4999!
After the 2-year full-access period the physician can renew their access every year for new content updates with the discounted annual updates package for just $200!!
The other features offered by this package is that it enables the physician to gain up to 275 AMA PRA Category-1 CreditsTM and 275 MOC points dependant on specialty!
Access is granted on Two computer devices and all mobile devices of the doctor!
The uniqueness of this offer is the comprehensive board style questions with detailed answers! An example is shown below: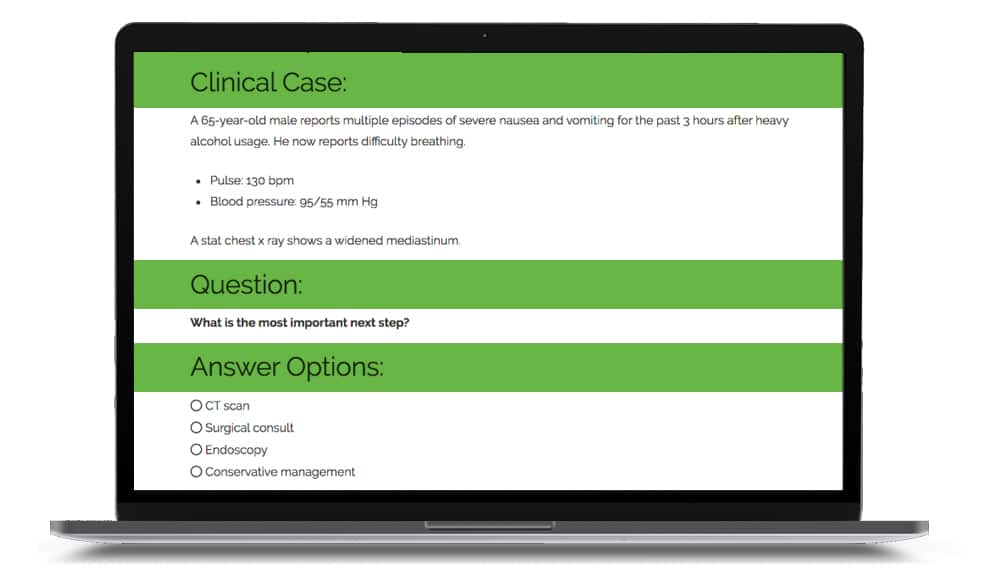 These questions are essential for the initial certification and re-certification exams in the respective fields making this resource extremely useful for physicians!
These are just a few top CME offers, many more such offers are available in the CME market! Do go through them and select the best option that suits your CME allowance of 2020!