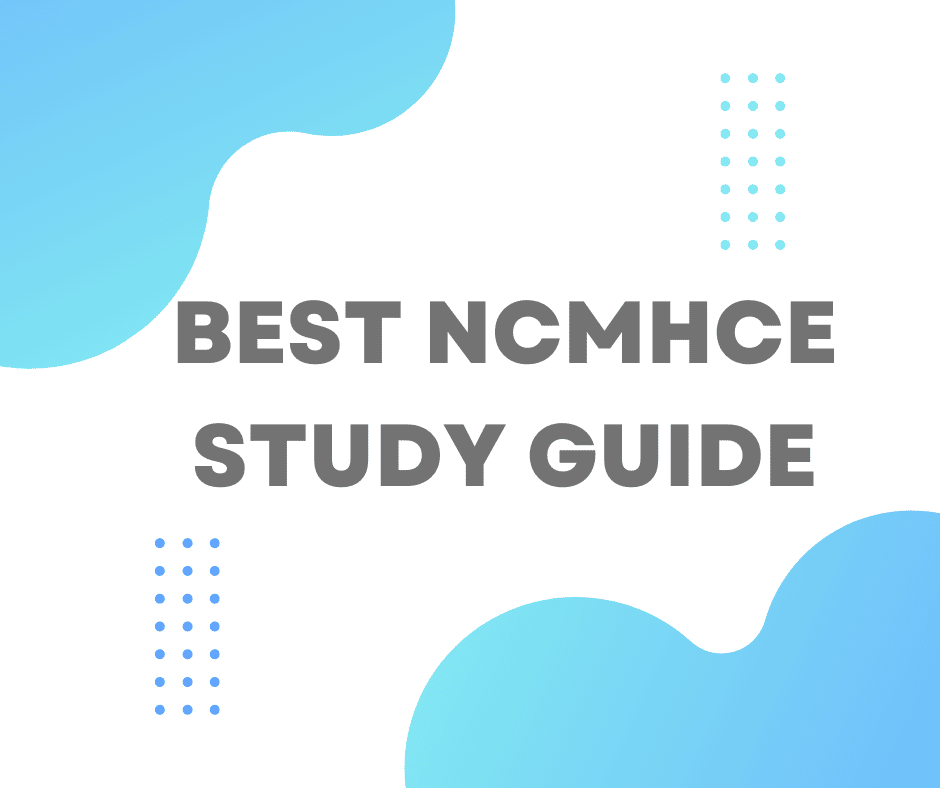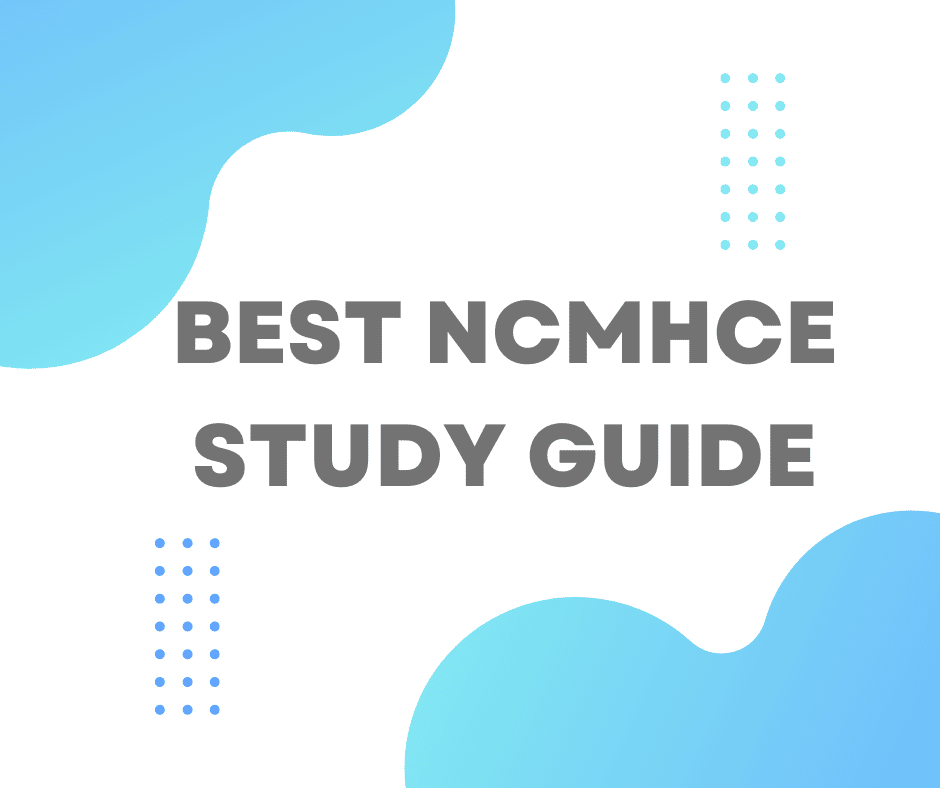 The National Clinical Mental Health Counseling Examination (NCMHCE) is the official professional test for mental health counselor licensing. The National Board of Certified Counselors (NBCC) creates and administers the test.
Many states require the NCMHCE to earn your clinical licensure, but every state requires it if you intend to be a Certified Clinical Mental Health Counselor (CCMHC). You can also take the NCMHCE to become a National Certified Counselor, but there are other choices. The National Counselor Examination for Licensure and Certification (NCE) is another option.
You can check your state requirements to ensure you take the correct exam. The NBCC also has an online handbook to give more information about the test format, registration process, administration, and steps after you complete the exam.
The ideal candidate for the NCMHCE exam has a graduate-level degree from an accredited counseling program. The Council for Accreditation of Counseling and Related
Educational Programs (CACREP) lists specialized programs and degrees accredited universities offer.
Preparing for the test increases your chances of passing. As it is, only about 55% to 60% of test-takers pass the test on their first time. Those taking the NCMHCE to further their professional goals need the best NCMHCE study guide to ensure you pass the first time. While you can retake it three times, the exam fees get expensive and who doesn't want to save money in this economy? Studying in advance will save you a lot of time and money.
7 Best NCMHCE Study Guides of 2023
Many NCMHCE review courses are available, but not all will prepare you for the test. You want to find something that focuses on the test's new format, which changed in Spring 2022. Since there are only two testing dates yearly, one in April and one in October, you should choose the best National Clinical Mental Health Counseling Exam study guide for your learning process.
1. Mometrix NCMHCE Prep Course


The best NCMHCE study guide is through Mometrix test preparation, which provides courses for professionals. They offer courses for industries, including:
Business
Finance
Legal
Medical
Public Service
Teaching
Mometrix stands out because they cover every base for all learners. Visual learners will appreciate the videos, charts, and graphs that make memorization easier. Those who need to repeat lessons can revisit materials as often as necessary and quiz themselves with flashcards.
Course Features
To prepare you for the NCMHCE, Mometrix focuses first on the test. You'll learn the best test-taking approaches and keys to success. Having the exam in mind when you start studying helps ensure you learn the necessary information instead of getting bogged down in details that don't apply to the test.
Once you understand the test format, the Mometrix test preparation covers everything you need to know for the NCMHCE. Topics include:
Professional Ethics
Intake, Assessment, and Diagnosis
Clinical Focus Areas
Treatment Plans
Intervention and Counseling Skills
Within each general subject are smaller lessons so you can easily focus on specific information. You take a quiz when you've covered all the information in one section. The results show you what you need to brush up on to ensure you're ready for the exam.
This study guide includes more than 600 practice questions, 500 flashcards, and 30 videos. There are also four practice tests you can take at any point. It's a good idea to space them out and get a feel for the exam while you're studying.
The guide looks great on desktop computers, mobile phones, or tablets, and your progress syncs across all devices. This feature is convenient because you can review material whenever you have free time instead of waiting until you're at your desk.
Pros
Repeat lessons as often as needed to learn the material.
Offers videos, images, and graphs to help visual learners.
Take quizzes after each lesson and full practice exams.
Access materials online through a desktop or mobile sites.
Four practice tests to take on your schedule.
Cons
Bottom Line
Mometrix is an effective study guide because it appeals to all learners. You can access the materials as long as necessary since you're paying for a monthly subscription. With four practice exams, this guide is the best option for people serious about passing the NCMHCE.
Mometrix Promo Codes & Discounts
NCMHCE Review Course For $69.99
Are you thinking about taking the NCMHCE test but don't know where to start? Well, Mometrix has got you covered! Check out the current Mometrix discount codes below and get up to 25% off depending on the promotion.
Flash Sale- Save 25% on Mometrix Test Prep
842 uses today
Last Used: 45 minutes ago
---
2. Study.com NCMHCE Study Guide

Study.com aims to make educational materials accessible by providing self-paced courses. The site has courses you can take for your knowledge or credit, so it's an effective way of learning on your schedule. They offer test prep courses for the ACT, SAT, GRE, GMAT, LSAT, MCAT, and military placement exams.
The Study.com study guide for NCMHCE has a monthly subscription that you can pay as long as you need access to the material. This method ensures you get the necessary information for the test, regardless of when you plan to take it.
Course Features
Study.com includes 86 video lessons and transcripts to ensure people who don't like visual content still get the necessary information. The average video length is eight minutes, so that you can view these bite-sized lessons with a short break in your schedule.
There are over 687 practice questions to try throughout the course. You can also take quizzes after you complete each lesson. Unfortunately, there's only one practice test to take. If you're confident in your test-taking abilities, this won't be a problem. However, many students prefer taking different exam versions to get comfortable with the format.
When you subscribe to Study.com, you get unlimited access to the NCMHCE material. You can review lessons as needed.
Pros
Offers 86 short video lessons and transcripts for written notes.
Has more than 680 practice questions to quiz yourself.
Immediate quiz results help you know what to study more.
Reviewers give the guide 4.6 stars on Trustpilot.
Try for 30 days with a money-back guarantee.
Cons
Only one practice test is available.
Bottom Line
Study.com is a reliable site that offers short lessons that make the NCMHCE seem less daunting. You can review the material as often as you need, whether you rewatch videos or read the transcripts. This option is an excellent choice if you want to focus more on the material than the exam format.
---
3. AATBS NCMHCE Study Guide

AATBS has provided exam prep materials for over 40 years. Their courses focus on behavioral and mental health careers, so they know what professional institutions and organizations require from employees. This background makes their NCMHCE test prep one of the top options.
The company hires mental health professionals to write the study guides and pulls from past tests to create NCMHCE practice exams. You can even take a free practice exam to understand the test format and see what areas you should study the most.
Course Features
Depending on your schedule and learning style, you can choose a live prep course or a self-paced option. If you work better with someone explaining concepts, the package with live instruction is best because you get one-on-one help and online workshops along with the study guide, flashcards, and charts.
The self-study package gives you access to the materials to use on your schedule. You don't have to worry about logging in for a live lecture at any set time. You access the same study guide, flashcards, practice exams, and charts as the other package. There are 20 video vignettes and two full exams to try with both plans.
Pros
Distinct packages based on your schedule and learning style.
Created by working professionals who know the exam.
Offers a pass guarantee because of their confidence in the products.
Routinely offers coupon codes to take 25% off the package.
Take a sample exam for free to see where to focus your studying.
Cons
Course fee only gives you six months of access.
Books give general knowledge, not geared toward the exam, so you need to rely on CDs and online materials.
Bottom Line
AATBS is a professional study guide that gives you difficult case studies to ready you for the exam. Since you practice with hard examples, you'll feel more prepared for the test, which can improve your score. The materials come from professional counselors, so you know they're giving you practical information that will help you pass the exam and thrive in your career.
---
4. Dr. Arthur's NCMHCE Study Guide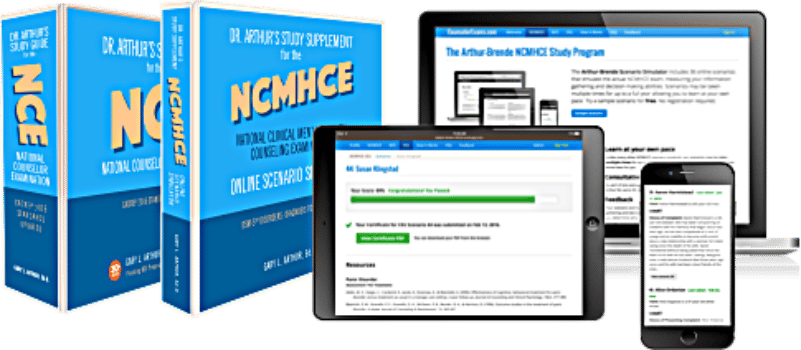 Dr. Arthur is a professional counselor and a professor at Georgia State University. He used his education and experience to create study guides for the NCMHCE and NCE. Reviews call this program an NCMHCE cheat sheet because it prepares them so thoroughly for the exam in a quick and straightforward way.
The format differs from many other options on this list because it focuses on tutorials and exam scenarios rather than the test itself. People who don't experience test anxiety might get the most benefit from this approach. However, the course has a pass guarantee, so you won't lose money even if you fail the exam.
Course Features
A subscription to Dr. Arthur's Counselor Exams includes two scenario types: tutorial and exam formatted. Both give you feedback on your answers, so you can learn as you go and find out what areas need more focus. You can try a free sample scenario before paying for access. That sample shows you how Dr. Arthur structures his content areas so you know if it's right for you.
Dr. Arthur's program includes a pass guarantee. If you use the course and still fail your exam, you can send the results to customer service within 90 days to get a refund. This policy means there's no risk involved with trying the program, but you're likely to pass due to the quality of the materials.
Pros
Subscription gives you one year of access to materials.
Can retake practice scenarios as many times as necessary.
Price includes a phone consultation with Dr. Arthur.
Plan has a pass guarantee, or else you get a refund.
Cons
No set practice exam, only sample scenarios.
Slight wait to have the study materials mailed to you.
Bottom Line
The structure of Dr. Arthur's study guide might not be right for all students because there's no practice exam in the official format. However, with the pass guarantee, there's no risk in trying this program. You can use it, take the test, and get your money back if you fail. Then you can try a different study guide that better suits your needs.
5. Pass the NCMHCE Prep course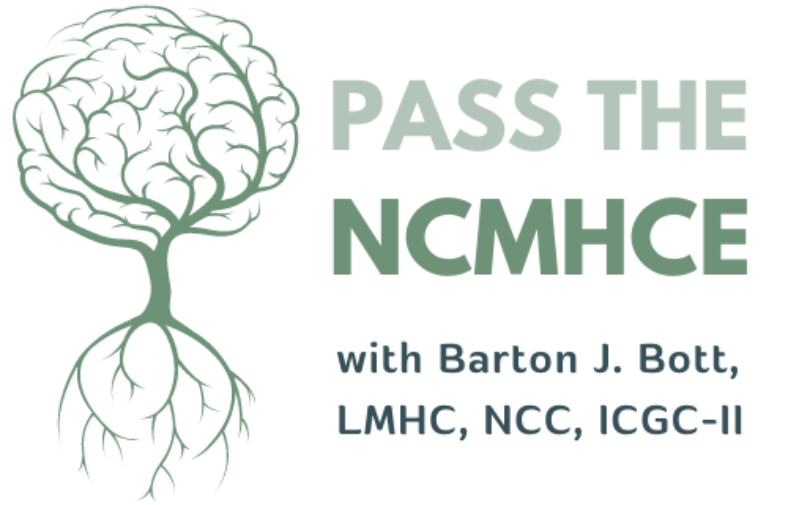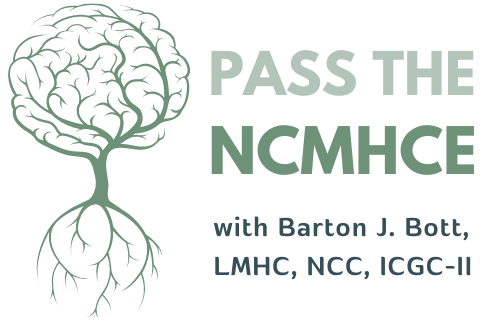 First Coast Counseling is a team of professional counselors that created the Pass the NCMHCE course. There are two different bundles you can choose, or opt to buy them both at a discount. This approach to study guides means more students can access and benefit from the materials.
Though you'll get an NCMHCE study guide PDF, the big draw of this course is the workshop, which you can either attend live or watch on demand, depending on your schedule.
Course Features
The classic bundle gives you a three-hour NCMHCE workshop and a six-hour Decision-Making workshop. The three-hour workshop gives you strategies for passing the test and getting the most out of the study guide. The six-hour workshop covers the actual info on the test, such as:
Diagnostic skills
Person-centered approaches
Real-life simulations
NCMHCE practice exams
Question and answer session
The other bundle includes two six-hour workshops, both covering the same topics. Since the NCMHCE workshop is twice as long with this package, you'll get more info about the exam and test-taking strategies. This option also includes a study guide so you can review the material without needing to access the on-demand videos from the workshops.
Pros
Two different workshop options depending on your needs.
Ability to watch workshops live or on-demand.
Discounts when you buy different bundles.
Developed by professional counselors with real-life experience.
Cons
Workshops aren't divided into bite-size clips, so you must watch long videos.
Only get a PDF study guide with the more expensive program.
No example test to learn the format ahead of time
bottom line
Pass the NCMHCE is a solid study guide created by professional counselors. However, it offers a very specific type of study material that isn't right for everyone. People who prefer to learn in person will appreciate the video workshops, but working professionals might not have the time to devote to this style of learning.
---
6. Ecare Behavioral Health Institute NCMHCE Study Guide


The NBCC accredited Ecare Behavioral Health Institute to provide continuing education credits for counselors. When you take their NCMHCE boot camp, you'll also get two hours of continuing education credits with a formal certificate. This course is a great option for working professionals who need to maintain their credentials while leveling up.
Course Features
The boot camp is four days, with set topics for each lesson. You'll have eight hours of learning all the concepts covered on the NCMHCE. You can take the course as live webinars to have a chance to ask the presenter your questions. If you prefer to work on your schedule, you can access recorded webinars instead.
The course includes self-assessment quizzes you can take at the end of each day's lectures. This approach gives you some flexibility in how you review your learning, but it requires even more time beyond the webinars, so you need to make room in your schedule. There are no sample exams included, so you'll have to find some free versions online for practice.
Pros
Get lifetime access to the materials.
Offers coupon codes up to 50% off webinars.
Counts as continuing education credits.
Cons
Must sign up for each day individually.
Price doesn't include practice exams.
All quizzes are self-assessments done on your time beyond the webinars.
Bottom Line
Ecare Behavioral Health Institute is an affordable course option for professionals who want to get continuing education credits while studying for the NCMHCE. However, it doesn't offer as much test prep as other options on this list. It's best for people who are familiar with the material and only need a general overview before taking the exam.
---
7. NCMHCE Practice Exams & Training
NCMHCE Training is a company that offers many types of training, including in-person, in a group webinar, or one-on-one online. It's a budget-friendly option for people who prefer to learn and study online since all materials are digital files sent via email.
Course Features
This course focuses on learning how to study and teaches the exact information you need to pass the exam. This strategy is very efficient because you don't get bogged down with unnecessary terms while you're studying. You also learn test-taking strategies that help you stay calm and do your best when you sit for the exam.
NCMHCE Training offers live group webinars every month. These sessions are affordable and held on Zoom, so you can join from any device. If you need another session or want more specific help, you can book a one-on-one webinar through the company. You also get access to digital study programs to refer back to as needed.
Since this training focuses more on the exam than the lessons, it's ideal for students who just want to brush up on their counseling skills. The priority here is learning how to pass the exam based on efficient test-taking skills.
Pros
Online webinars make it easy to join regardless of your location.
Covers the test format, study habits, and test-taking strategies.
Addresses exactly what you need to learn for the test.
Cons
In-person training is only available in the Miami, Florida, area.
Doesn't include practice exams.
All study materials are digital files.
Bottom Line
NCMHCE Training is so affordable that you can attend the group webinar and then take practice exams independently. If you still have some problem areas, you can attend another webinar or even schedule a one-on-one session to work on your needs. You also have unlimited access to digital study materials.
---
General NCMHCE Exam Information
The NBCC administers the NCMHCE twice a year, in April and October. Make sure you schedule the right date to give yourself plenty of time to study and take practice simulations. You don't want to rush the process and have to retake the exam.
Test Structure
The NCMHCE is a computer-based test, but it focuses on clinical simulations. The exam recently adopted a new format, which you can compare to the old version. Students taking the new exam should learn as much as possible about the test format. There are three main parts:
Intake
Clinical Session I
Clinical Session II
You'll see text-based narratives for 11 unique patients. For the test, you'll address these three main parts for each client.
Intake
The Intake portion of the test resembles what you'd experience during a new patient intake. You'll learn information about the client, including:
Age
Gender
Presented problems
Beyond the basics, you'll have a setting and the concerns the client faces. If they have a diagnosis, you get that data, too.
Clinical Session I
The focus of Clinical Session I is to use evidence-based approaches to work with the client and address their concerns.
Clinical Session II
Clinical Session II expands on what you addressed in the previous session. You'll wrap up by evaluating how the client received their initial diagnosis. From there, you'll either propose additional co-occurring diagnoses or plan a therapeutic relationship that allows you to monitor the evolution of their diagnosis.
Test Format
The test structure sounds involved, but it's a multiple-choice exam given on a computer. You have four choices for each question, so you have a decent chance of getting it right if you have a strong foundation of counseling knowledge.
Over 900 Pearson testing centers administer the NCMHCE during the applicable dates, so you can find a location nearby.
Areas of Focus
When you're studying, spend time on professional ethics, intake, assessment, diagnosis, and treatment. Practice simulations help your counseling skills and focus on how you'd act in real-world settings. The new format of the NCMHCE prioritizes developing long-term relationships with clients.
Test Results
The NBCC releases exam results four to five weeks after your testing date. You can then log into your NBCC account and send test scores to your state licensure board.
NCMHCE Buyers Guide
There are several features to consider while you search for the best NCMHCE study guide. Knowing what you want to get from the program and what approach works best for you will help you choose the course that can improve your success rate the most.
Study Materials
Some courses focus on written study materials that you can read at your pace, then take online quizzes and practice exams. Others offer video lessons and transcripts. Pass the NCMHCE has an option that only includes video workshops. Knowing your learning style will help you decide what materials best help you study.
You can always sign up for a video course and find supplemental study guides at the library or bookstore. But if you're looking for an all-in-one course, you'll want to ensure the study materials can adequately prepare you for the actual exam.
Beyond the type of study materials, you also want to consider how they prepare you. Many courses, like AATBS and Study.com, focus completely on the exam. The information is specific to what you need to pass each practice quiz. This can boost your score on the exam, but it's best for people who have confidence regarding their test-taking skills.
However, many people get anxious when they're taking a test, especially when it's for something as important as licensure. Therefore, you might want to choose a program that includes study materials about tests in general. Mometrix is the top pick because it offers the best of both worlds. You can improve your test-taking skills before studying for the NCMHCE.
Practice Exams
Learning the material in small lessons is a great way to prepare for the NCMHCE, but most people want even more practice. The courses that compile practice exams based on the structure of the official test are most helpful for students. You're able to learn the material and take a short quiz to review. Then you can take a practice exam to get a feel for the real test.
Mometrix ranks highest in this regard since the course includes four practice exams. You can study and take a test early on in the process to see how you fare. The test results give you an idea of what areas you need to focus on as you review the material again. Each time you take the test, you'll get experience with the format and brush up on your skills.
There are a few programs that only offer one practice exam, and this can still be a good choice for many people. You still have a chance to see the format of the test and understand how your learning will apply on your official test day. If you choose study materials that don't include a practice exam, make sure you check out a free version of the test, so you know what to expect.
Duration of Access
Many NCMHCE courses offer a monthly subscription. This method is ideal for most students because they can continue to pay for access as long as they need it. You can also skip a month if you know you won't have enough time to dedicate to studying due to your personal or work schedule.
Some courses have set access periods, like how AATBS offers a set six-month subscription. You can renew it for another six months for additional study time, but there's no flexibility if your test date is nine months away—you're either paying for six months and having a gap in study time or buying a year and not using three months of access.
However, this type of subscription can work well if you plan ahead and know what you need. Recent graduates or people who have studied on their own have the knowledge fresh in their minds and might only need six months to brush up. You can schedule your exam and start reviewing material through a set subscription six months before the date.
Price
You can find free NCMHCE practice exams online, so you can take the test to see how much you need to study before sitting for the real thing. But study programs ensure you know the material covered and won't have to pay to retake the test, so it's worth the investment.
Depending on your budget and confidence in your test-taking skills, you might want to choose a course with a pass guarantee, like Dr. Arthur's Counselor Exams. If you use the materials and still fail the exam, you can get your money back for the study program.
This approach means there's no risk to trying the guide because it might help you, but you're not out the funds if it doesn't. You'll still have to pay the exam registration fee, but you get the study program fees back, so you can try another company.
Conclusion
The best NCMHCE study guide depends on your needs. Whether you prefer to interact online or learn from written materials, flashcards, and take several practice exams, you'll find the right option on this list. Also, consider your budget and study time before committing to a program. Studying in advance will help you pass the NCMHCE, so get started today.
Frequently Asked Questions
You've learned the best seven NCMHCE study guides on the market. If you need more information before taking the test, check out the answers to these frequently asked questions.
How to pass the NCMHCE?
The best way to pass the NCMHCE is to study with professional materials. Work hard learning the material and taking practice exams, so you understand how to complete the actual test. The format is different from most other certification tests, so you need to prioritize your study time to learn all the information.
How much does the NCMHCE exam cost?
When you register for the NCMHCE, you have to pay $275. If you don't pass, you can wait 90 days and take it again, up to three times within two years. Every time you retake the test, you have to pay the registration fee again. This expense doesn't include any of your study materials.
How many people pass the NCMHCE?
About 55% to 60% of people pass the NCMHCE. The odds aren't bad that you'll pass, but you should prepare yourself as much as possible. Using any of the study guides reviewed above will help you learn the material and understand the format of the test. Taking practice exams is an especially effective study method.