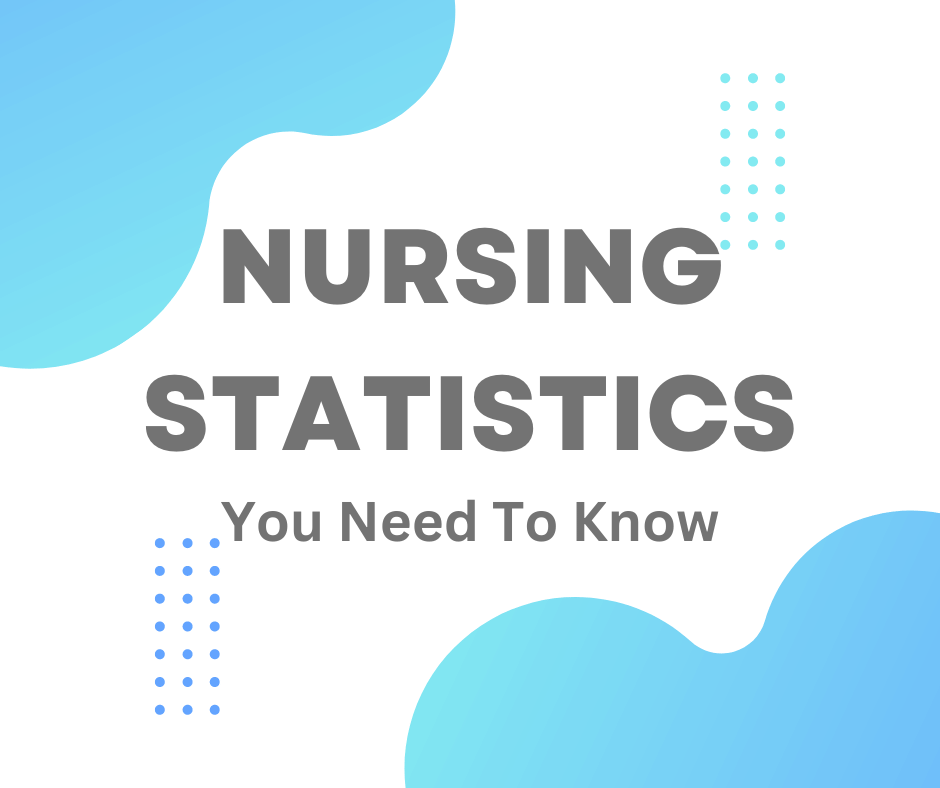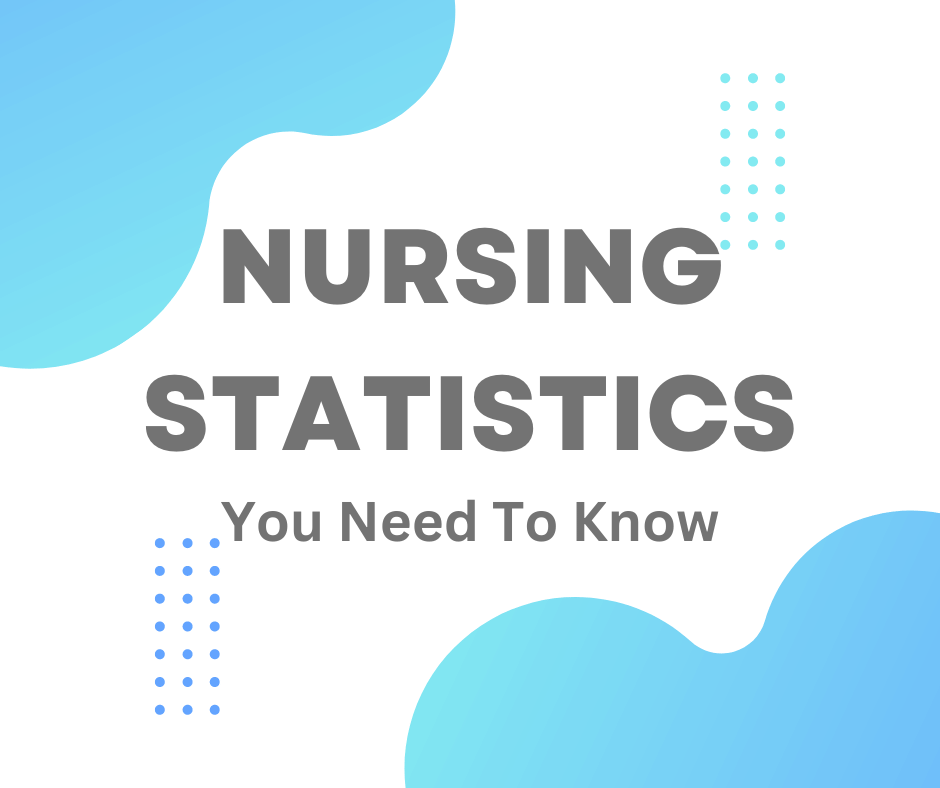 Many people think of nursing as a career path that will always be in demand due to medical needs and care people require as they age. However, when you look at the nursing statistics, there are interesting facts you don't see on the surface.
This list of over 100 nursing statistics pulls from factual organizations like the World Health Organization, the National Council of State Boards of Nursing, and the Bureau of Labor Statistics. Read on to find out more about nurses' education, credentials, and workload.
General Nursing Statistics
These statistics give you a broad overview of the status of the nursing field in terms of the job positions, demographics of the employees, and duties they complete on the clock.
1. Almost 50% of Global Healthcare Workers Are Nurses or Midwives
That's 27 million nurses and midwives worldwide, both men and women. Though that may seem like a lot of specialized healthcare workers, nurses, and midwives also represent 50% of the global nursing shortage.
(WHO)
2. With Some 4.2 Million RNs Across America, It's the Largest Sector of the Healthcare Profession
Regardless of the nursing shortage, there are more licensed registered nurses because only 84.1% of the 4.2 million are practicing nurses. However, the government expects to create over 200,000 new RN positions annually until 2031, leading to many potential job openings in healthcare services.
3. Nurses Aged 65 or Older Made up the Largest Proportion of Nurses in 2020
Nursing is a role with plenty of job security and many employment opportunities, but most nurses are older employees instead of nurse graduates.
4. Following the COVID-19 Pandemic, 41% of RNs Have a Mean Age of 36 and Less Than a Decade of Experience in the Field
Despite the average age of RNs being older than fresh graduates, the statistics are changing along with the medical climate in the country. Since the pandemic, more young people have gone into healthcare services, meaning they will continually gain experience to cover for the retiring nurses.
5. In 2020, the Median Age in the Nursing Field Was 52
However, as the previous nursing statistic explained, the average age of nurses is dropping each year. For example, by 2022, the median age dropped to 46 due to the influx of younger nurses entering the field post-pandemic.
6. 20% of RNs Identify as a Minority
In the National Nursing Workforce Survey, "minority" refers to respondents who marked "other" or "two or more races." Further breaking down the minority category, the National Council of State Boards of Nursing found the number of Hispanic or Latino nurses increased from 3.6% in 2015 to 6.9% in 2022.
7. LPN/LVNs Are More Diverse Than RNs, With 34% Identifying as Minorities
Licensed practical nurses (LPNs) and licensed vocational nurses (LVNs) have more minorities in their field, with 34% marking themselves as minorities. Of those 34%, 11.5% are Hispanic or Latino.
8. There Were 109,545,164 RNs Registered in the US in 2021
According to the American Community Survey from the census, there were an estimated 109,545,164 registered nurses in the country in 2021. There's a margin of error of about 125,000 over or under, making this nursing statistic impressive no matter what the exact number may be.
9. 6.7% of RNs Identify as Black or African American
The number of Hispanic and Latino nurses continues to rise, and so do Black or African American nurses. They made up 6.2% of the workforce in 2017 and now account for 6.7% of the nursing workforce.
10. The Average Age of LPNs and LVNs Is 42.9 Years
Just as LPNs and LVNs have more minority nurses in the field, these categories also skew younger than an advanced practice registered nurse. Since you can become an LPN or LVN with less education, it makes sense that these nurses are younger. They may still be completing nursing education toward an RN degree in the meantime.
11. Nurses Average 5,000 Steps on a 12-Hour Shift
If you want to ensure you meet your FitBit goal, nursing is a job that will help. With an average of 5,000 steps over 12 hours, you can tell nurses are working hard. They have to make rounds to their patient rooms throughout the shift, plus go sign out medications and record patient stats periodically.
12. The United States Has Over Three Times as Many RNs as Physicians
Nurses may prefer their job of providing patient care instead of being responsible for surgery and serious medical issues as doctors do.
13. 82% of RNs Say That Doing Meaningful Work Is the Number One Reason to Stay in a Position
With 82% of advanced practice registered nurses saying they appreciate their meaningful work, it's easy to understand why they strive for this position and stay in it instead of continuing their education to find other roles.
(Mckinsey)
14. Nurses Have Topped the Gallup Polls for Having the Highest Honesty and Ethics for the Past 20 Years
There are some jobs, like lawyers and car salespeople, where you don't put a lot of trust in them because you know they're not the most honest people. However, when you have someone caring for you after surgery or during an illness, impressive honesty and ethics are the key traits you appreciate.
(Gallup)
15. There Are Just Under 36,000 Nurse Anesthetists in the United States
Nurse anesthetists provide pain medication for patients before, during, and after their surgery. They may work in doctor's offices or hospitals. While other classifications of nurses will provide ongoing patient care, these 36,000 nurse anesthetists have a critical role in the medical system.
16. The Percentage of Male RNs Has Risen More Than 3% Since 2015
In 2015, male nurses made up 8% of the RN population. Now that number has increased to 11.2%, showing that males and minorities are finding their place in the nursing field.
17. The United States Has Over 211,000 Nurse Practitioners
Nurse practitioners (NP) have more advanced degrees than LPNs, LVNs, and RNs. They often have graduate degrees in medical specialties to provide the best care to their patients. Some people prefer to see an NP instead of a doctor, so these 211,000 American nurse practitioners have their work cut out for them.
18. More Than 6,000 Nurses Are Midwives in the United States
Many countries rely heavily on midwives to assist women through childbirth. In the United States, you can use a midwife for a home birth or have her with you in the hospital. Hiring a nurse midwife is the best way to go because they can take care of the mother and baby after birth, increasing their chances of a safe and healthy recovery.
19. An RN Averages 37 Hours Per Week
Many people think of a workweek as 40 hours, but when you factor in mandatory breaks, RNs average 37 hours weekly. However, there are also unique shifts, as hospitals need nurses around the clock. Some RNs may work two 12-hour shifts on weekend nights and make a salary similar to day shifts.
20. New Nurses Can Expect to Work Three 12-Hour Shifts and Some Overtime for Around 39.4 Hours Per Week
There are always plenty of opportunities to work, so nurses often jump right in to get hands-on experience. They can work standard day shifts like other jobs, but they typically sign on for 12-hour shifts. If you work three 12-hour shifts, you'll have the chance for overtime, which can significantly boost your salary.
(Zippia)
21. It Is Anticipated That the US Will Have 194,500 Job Openings for Nurses Each Year From 2020 Through 2030
The United States population keeps growing, which means the need for nurses increases accordingly. Experts project that the country will need to add 194,500 nurses annually to have enough employed to serve the population in 2030.
(Zippia)
22. South Carolina Currently Has the Greatest Need for Nurses, With Less Than Eight Nurses for Every 1,000 Residents
While adding 194,500 job openings will help the country have enough nurses for the citizens, it's crucial to send these nurses where they're needed. South Carolina currently has the greatest need for more nurses, as they have less than eight nurses for every 1,000 residents. That would be an overwhelming caseload for the nurses!
(Zippia)
23. Over 70% of Nurse Practitioners Handle Primary Care, Though 88.9% Are Certified to Do So
Nurse practitioners can see patients, perform physicals, diagnose diseases, and prescribe medication, much like doctors do. With that in mind, they can work in primary care situations and handle all their patients' needs. However, only 70% do that, though 88.9% of the NP population have the certifications necessary to provide primary care.
(Zippia)
24. Nurse Practitioner Is Among the Best Jobs in the United States, according to US News & World Report
Nurse practitioners are seen as the best medical position to have because they make high salaries and can have their own nursing practice, giving them the freedom they wouldn't find working in a hospital or for another doctor. They also provide excellent care, so they get a lot of job satisfaction.
(Zippia)
25. In 2019, More RNs Were Injured in the Workplace Than Construction Workers
You might think that working with tools and heavy machinery would be the riskiest job, but in 2019, more RNs got hurt than construction workers. The work is taxing, so many nurses overexert themselves, leading to dehydration, muscle pain, and slips and falls. They can also get sick from their patients.
(USA.edu)
Educational Statistics
Nurses need certain courses and a specific degree for each level of employment, including LPN, BSN, and RN. There are also professional certificates nurses can earn to further their education and increase their earning potential.
26. 47.2% of US Nurses Hold a BSN Degree as a Qualification for Their Initial License
It's possible to go to community college and earn an associate degree in nursing to get the basic knowledge. However, over 47% of nurses in the United States go on to get a Bachelor of Science in Nursing, or BSN, to work as a professional nurse.
27. 82% of LPN/LVNs Earned a Vocational or Practical Certificate to Qualify for Their Initial Certification
Becoming an LPN or LVN is often the first step nurses take as they work their way up to becoming registered nurses or nurse practitioners. To become an LPN or LVN, you need an associate degree or vocational certificate to show you understand the basics. With this degree, you can start working in the field and then decide if you want to continue your education.
28. About 41.5% of Registered Nurses Were Required to Have a Bachelor's Degree in 2018
In many states, you can earn a two-year nursing degree and then take your RN licensing exam. However, this rule doesn't apply everywhere. About 41.5% of RNs needed to get a degree before they could take the licensing exam and earn their full credential.
(bls.gov)
29. As of 2020, Over 65% of RNs Hold a Baccalaureate or Higher
Even though it's not a requirement nationwide, it seems that many RNs prefer to continue their education by earning a degree. They'll have more knowledge to help them pass the RN licensing exam and can provide more involved care for their patients.
30. 14.9% of RNs Hold a Master's Degree, and Just Over 2% Have a Doctoral Degree
Once you earn a degree and pass your RN licensing exam, you have the credential. You need to remain in good standing, but you don't have to pursue further education. However, 14.9% of RNs continued on to earn a master's degree. About 2% more went above and beyond to earn a doctoral degree.
31. Over 40% of Employers Require New Nurses to Hold at Least a Bachelor's Degree and Over 75% Prefer It
As previously mentioned, you can become an LPN or LVN with an associate degree or vocational certificate. However, you might struggle to find a job when you only meet the baseline qualifications. Over 40% of employers require their nurses to have a degree, and more than 75% prefer it, even if it's not a requirement.
32. Over 36,000 People Graduated From Nurse Practitioner Programs in 2020
You can become an RN after earning a degree and passing the licensing exam, but many nurses decide to continue their education. Over 36,000 people graduated from NP programs in 2020 because they wanted more autonomy in their work lives, along with the chance to make a higher salary.
(USA.edu)
33. The Fastest You Can Earn an LPN Is Seven Months
If you want to change your career, you don't have to go back to school and start from scratch, earning a two-year and then four-year degree. It's possible to become an LPN in just seven months, thanks to accelerated vocational programs.
34. Rasmussen University Nursing School Has a 100% Acceptance Rate for Students Who Meet Admission Requirements
It can be tough to get into nursing school, with many requirements you must meet because you can even study at the institution. If you have trouble getting admitted, apply to Rasmussen University Nursing School, which has a 100% acceptance rate for nursing students.
35. The Top-rated LPN School in the Country is Santa Barbara Community College
If you meet all the requirements and have your choice of nursing schools, consider attending Santa Barbara Community College in California. It's the top-rated school for LPNs, and only takes three semesters to graduate.
36. About 48.2% of RNs Were Required to Have Prior Work Experience
You might think that a bachelor's degree and passing the RN licensing exam are enough to get a job, but that's not always the case. About 48.2% of jobs require the RNs they hire to have previous work experience before accepting the new position.
(bls.gov)
37. Maine Is the Best State for LPNs to Work in, but They Are Most in Demand in New York City
Maine is a beautiful state, so many LPNs love to work there. However, due to the booming population in New York City, the position is more in demand there.
(Zippia)
38. LPNs Are 88% More Likely to Be Privately Employed
Many RNs work in hospitals, and nurse practitioners may own their practice, but LPNs are 88% more likely to be privately employed. This nursing statistic means they may work for home health companies, nursing homes, or assisted living facilities instead of in big hospital organizations.
(Zippia)
39. About 98.2% of Licensed Practical Nurses and Licensed Vocational Nurses Required to Have Some Form of Pre-Employment Training
Even if you earn an associate degree or vocational certificate to become an LPN or LVN, many jobs still require you to have pre-employment training. About 98.2% of LPNs and LVNs said they had to undergo further training before accepting a job.
(bls.gov)
40. Approximately 75% of Grads Had a Job Offer Upon Graduation From Their MSN or BSN Program
While you might need to work hard for your degree and to pass the licensing exams, it all pays off. About 75% of graduates got job offers as soon as they completed their program.
(USA.edu)
41. An Average of 92% of MSN Grads and 94% of BSN Grads Have Job Offers Within Six Months of Graduation
It's reassuring to know that you're more likely to get a job offer quickly if you complete a bachelor's or master's degree. About 92% of MSN graduates and 94% of BSN graduates found employment within six months of graduating, putting their education to good use.
(USA.edu)
42. About 20% of Certified Nurse Midwives (CNMs) Possess Doctoral Degrees
You must complete nursing or midwifery degree programs to become a certified nurse midwife, but many continue their education, with 20% of CNMs holding doctoral degrees.
43. Around 84% of CNMs Earned a Master's Degree, Which Is Required to Enter Practice as a Midwife
CNMs need to complete a nursing degree because they're able to provide involved medical treatment to women before, during, and after giving birth. However, they also need to complete a two-year master's program for full certification.
44. The US Has 40 Midwifery Education Programs That Are Accredited by the Accreditation Commission for Midwifery Education
If you want to become a certified nurse midwife, you need to complete graduate-level training in nursing and midwifery. The Accreditation Commission for Midwifery Education (ACME) has a list of 40 programs with impressive reputations that can help you reach your goal.
45. Nurse Practitioners Must Earn at Least Two Degrees and Pass Two Exams
To become an NP, you need to earn two or more degrees and pass two professional exams. You must earn a Bachelor of Science in Nursing (BSN) and then go on to complete a master's or doctoral degree. You'll take the RN licensing exam, and then take a national exam.
(AANP.org)
46. It Takes Three to Five Years to Become a Nurse Practitioner on an Accelerated Track
With all these degrees serving as benchmarks on your journey to become an NP, it's no surprise that it takes anywhere from three to five years to reach your goal—and that's when you follow an accelerated track. If you complete a doctoral degree, you'll already have four years of education to complete.
47. Certified Radiology Nurses Take 2 to 4 Years to Complete Their Programs
Many people think it takes a significant time investment to work in the nursing field, but you can become a certified radiology nurse in two to four years.
48. Over 80,000 Qualified Nursing School Applicants Were Rejected From Nursing Programs in 2020 Due to Nursing Shortages of Everything From Educators to Space
Everyone remembers 2020 as the year society shut down, so it's understandable that nursing students weren't able to complete their education due to a lack of space and nursing faculty. The current nursing shortage impacts many aspects of the field.
(Zippia)
Statistics on Nursing Certifications
After getting specific degrees, many nurses pursue certifications in specific fields to narrow their focus on care.
49. Critical Care Registered Nurse (CCRN) Requires at Least 1,750 Hours of Direct Care
You need two years and 1750 hours of care experience, or five years and 2000 hours working with acute or critical adult patients.
50. To Earn a Psychiatric Mental Health Nurse Practitioner Certification, You Need at Least 500 Supervised Clinical Hours
The hands-on work is only part of it. You also need to earn a master's or higher degree. Once you finish the education and clinical hours, you should study to ensure you pass a multiple-choice exam.
51. A Certified Emergency Nurse (CEN) Should Have at Least Two Years of Experience in an Emergency Setting, Though There's no Established Minimum
The emergency room is stressful, so a CEN is someone who can keep their cool and provide necessary services when everyone else is frantic. Two years of experience helps them learn this skill.
52. In 2019, 564 Certified Nurse Manager & Leader (CNML) Tested, and 411 Passed
Certified Nurse Manager & Leader oversee the nursing teams in a unit or hospital. The test has four main categories, including financial and human resource management.
(AONL.org)
53. You Must Score at Least 70 to Pass the CNML Exam
While hands-on experience in a nursing unit will help you understand the tasks, you'll want to study for the CNML exam to ensure you score at least a 70 to pass.
(AONL.org)
54. Over 25,000 RNs Have the Certified Pediatric Nurse (CPN) Credential
It's tough to see sick children on your work shift, but it's rewarding to help them get better. Therefore, it's understandable that over 25,000 RNs have become certified pediatric nurses to make a difference for children.
(PNCB.org)
55. About 90% of CPNs Renew Their Certifications, the Highest of all RN Certifications
Clearly CPNs are passionate about their jobs, with about 90% of them renewing their certification so they can continue working in that field.
(PNCB.org)
56. There Are Over 40,000 Certified Oncology RNs (OCNs)
CPNs are just one nursing specialty—oncology is another. There are more certified oncology RNs, with over 40,000 in the field.
57. In 2022, Progressive Care Nursing Certification for Critical Care Nurses (CCRN) Had an 81% Pass rate for Adults and 75.9% for Pediatric
Critical care nurses work in intensive care units, providing care to patients who are critically ill. They provide basic care while also treating their critical condition. About 81% of the nurses who provide critical care to adults pass the certification, while 75.9% of RNs who provide critical care to children pass.
(AACN.org)
58. Over 80% of Those Testing for Family Nurse Practitioner Certification Pass on the First Attempt
Nurse practitioners can provide primary care for their patients. If they pass the family certification, they can see patients of all ages. Over 80% of the nurses who take the family certification pass on their first try.
59. There Are Two Certifications Available for Family Nurse Practitioners – FNP-C (AANP) and FNP-BC (ANCC) With Slightly Different Requirements
If you plan to open a clinical practice, you need to take the FNP-C. Family nurse practitioners who want to teach should take the FNP-BC. However, anyone who passes the FNP-BC can still practice, so if you think you want to go into education, you should study for that certification to get the best of both worlds.
60. The United States Has Over 23,189 Certified Nurse Educators (CNE)
Providing direct patient care is a crucial role for nurses, but it's equally important that experienced nurses share their knowledge with students by becoming nursing faculty. This practice ensures nurses can help patients and have job satisfaction.
61. Almost 90% of CNEs Are Women
Just as the nursing field is predominantly female, even the certified nurse education field has more women teachers. About 90% of the educators in the industry are women.
62. The American College of Nurse-Midwives (ACNM) Is a Professional Association Representing Over 13,000 Certified midwives (CM) and Certified Nurse-Midwives (CNM)
There are many professional organizations in the medical field, like the American Nurses Association, that provide guidelines and support for the nurses. The American College of Nurse-Midwives has regulations midwives must follow to ensure they give their patients the best care.
63. CNMs/CMs Attended Over 370,000 US Births in 2019
People typically envision women having babies in the hospital under a doctor's care, but CNMs and certified midwives attended more than 370,000 births in 2019, making them a popular choice for mothers' care.
64. The Top Certifications for Nurses Are Basic Life Support (BLS), Advanced Cardiovascular Life Support (ACLS), Pediatric Advanced Life Support (PALS)
Nurses get professional certifications to help them on the job. These three options provide a lot of basic information so they can handle many patients.
65. LPNs Can Boost Prospects by Earning Three Specialty Certifications: IV Therapy, Long Term Care, and Wound Care
LPNs are lower paid than RNs and nurse practitioners, so it's worth getting certifications to increase your earning potential. You can take these courses without needing to commit to another degree, like to become an RN.
66. The Top Specialty Certifications for RNs Are Holistic Nursing, Nurse Executive, and Nursing Informatics
RNs can also earn professional credentials to increase their earning potential. These courses also help them find their focus for specialties.
67. Certification Fees and Renewal Fees Can Cost Between $100 and $1000 Each
It takes money to keep up your nursing credentials, but having them and being a member of a professional organization can greatly help your nursing career and income, so it's worth the investment.
68. The Highest Level of Nursing Is a Doctoral Degree That Typically Leads to Positions as a Chief Nursing Officer or Nursing Director
If you love learning, you can get a doctoral degree and still work providing patient care or overseeing nursing teams.
69. 2022 Saw Over 25,000 Renewals of Nurse Practitioner Certifications
While many areas of the medical field don't have as many employees as they need, over 25,000 nurse practitioners renewed their certifications in 2022. This number is a boost of confidence because you can tell these professionals care about their work.
70. There Were Three Certification Exams for School Nurses in 2021 and 71% Passed
Being a school nurse is very different from working in an emergency room or hospital. You need to pass certain exams to get this job, and an average of 71% of test-takers pass and can work in schools.
71. 2021 Saw 97 Exams for Certified Radiology Nurses With 70% Passing
Radiology nurses perform diagnostic imaging procedures and radiation therapy, so they need to pass strenuous exams. In 2021, about 70% of the people taking the exam passed.
Employment Statistics
There are different types of nurses, including LPNs, BSNs, and RNs. They also have specific industries and can work in many environments, such as hospitals, nursing homes, rehab centers, and doctor's offices.
72. There Is a Global Nursing Shortage of Qualified Workers, Some 50% Less Than What Is Required
You can never have too many nurses, but unfortunately many locations worldwide have 50% less qualified nurses than they need for proper care. The nursing shortage is one that needs a quick fix.
(WHO)
73. About 800,000 RNs Report Plans to Leave the Field by 2027
According to the nursing profession, about 800,000 RNs plan to leave the field in the next few years. Reasons include retirement, nurse burnout, and finding a new career.
74. Over Half of RNs Work in Hospitals, About 57.5%
Most people assume that RNs work in hospitals, and it's true that over half of them do, with about 57.5% of RNs working in large hospital organizations.
75. Slightly Over 30% of LPN/LVNs Work Primarily in Nursing Homes or Extended Care Facilities
LPNs and LVNs can work in hospitals, but many choose the more hands-on and caring environment of nursing homes, where they can really engage with the patients.
76. The RN Workforce Is Growing About 6% Per Year
The nursing profession continues to grow, and there are always jobs available. The current trend is that it's growing by 6% annually.
(bls.gov)
77. Mean Salary for Nurse Practitioners Was $124,680 Per Year in 2022
Nurse practitioners need more education, with two degrees compared to one for RNs, but they also make more money. Their mean salary is about $124,680.
(bls.gov)
78. California Has the Most RNs in the US, at 325,620, in 2022
California is a big state with a large population, so it's not surprising that they have the most RNs, with over 325,620 working.
(bls.gov)
79. The pharmaceutical industry Pays Nurse Educators the Most
Nurses provide great care, but sometimes you can't make a difference without medication. For that reason, the pharmaceutical industry pays great salaries for nurse educators.
80. About 60% of RNs and LPN/LVNs Noted a Workload Increase Since the Pandemic
This nursing statistic shouldn't surprise anyone with the demand that stretched the healthcare industry thin during the pandemic.
81. The Average Hourly Wage for an RN in 2021 Was $37.31 Per Hour
RNs can make different hourly rates depending on their shift, as overnights and weekends earn more. However, the average hourly rate is around $37.31.
(bls.gov)
82. About 88% of RNs Had Access to Medical Care Benefits
It can be tough to find a job that offers impressive benefits like insurance, retirement, and medical care. About 88% of RNs have access to this type of package through their job.
(bls.gov)
83. RNs Had a Medical Care Benefit Take-up Rate of 74% in 2018
Nurses are more likely to get sick on the job since they care for ill patients. About 74% of RNs participated in their work's medical benefits in 2018.
(bls.gov)
84. Over 30.6% of LPN/LVNs Worked Primarily in Nursing Homes or Extended Care in 2022
Many nurses in this position work for smaller organizations compared to busy hospitals. In fact, the 2022 nursing statistic is up from 27.5% in 2020.
85. About 31% of RNs Surveyed Indicated They Planned to Leave Their Current Position Within the Next Year
Nursing is a stressful job, and many RNs realize they're overexerting themselves in their nursing career. About 31% of RNs plan to leave their job in the next year, whether they'll look for something else, move into administration, or follow another career path to prevent burnout.
(McKinsey)
86. 91% of RNs Had Access to Retirement Benefits in 2018
Many organizations don't offer their employees benefits, but in 2018, 91% of RNs had access to retirement benefits through their jobs.
(bls.gov)
87. Take-up Rate for Retirement Benefits for RNs Was 88% in 2018
The take-up rate refers to how many people opt into retirement benefits. In 2018, about 88% of RNs were enrolling in retirement plans.
(bls.gov)
88. Median LPN/LVN Pre-tax Earnings Rose Only $6,000 Between 2020 and 2022
Many people think the pandemic and consequential demand for nurses led to an increase in salary—after all, if you need a service, you should be willing to pay for it. However, LPNs and LVNs only earned about $6,000 more during those years.
89. Median RN Pre-tax Earnings Rose About $10,000 From 2020 to 2022
While LPNs and LVNs may not have gotten a raise, the same was true across the board. RNs only got a median raise of about $10,000 during the pandemic.
90. New York/Newark/Jersey City Has the Highest Employment Level in a Metropolitan Area, With Over 182,700 RNs
The New York, Newark, and Jersey City metropolises have a huge population, so it's understandable that they also have the highest employment level. There are more than 182,700 RNs working in this area.
(bls.gov)
91. Median Annual Salary for LPNs or LVNs in May 2021 Was $48,070
Since you can become an LPN in as little as seven months with a vocational certificate, knowing you can start making an annual salary around $48,070 is great motivation to finish your coursework and find a nursing job.
(bls.gov)
92. South Dakota Has the Highest Concentration of RNs, With a Location Quotient of 1.59 in 2022
Many people think of South Dakota as a low-population area, but that state has the highest concentration of RNs. Any location quotient above one means it's higher than average, so this nursing statistic is impressive.
(bls.gov)
93. Median Annual Salary for RNs in May 2021 Was $77,600
One of the main reasons LPNs and LVNs continue their education is to make more money. The median registered nurse salary in 2021 was $77,600. Most LPNs and LVNs make a bit less than $50,000 annually, so the additional education and license will make a big impact on your income.
(bls.gov)
94. 82% of RNs Surveyed Say Doing Meaningful Work Would Be the Most Influential Factor in Whether They Stay in Their Current Position
It takes a lot of work to become a nurse, so it's no surprise that RNs value their job and how much they care for their patients. In fact, 82% of nurses say that their meaningful work is why they stay in the field.
(McKinsey)
95. California Has the Highest Mean Wage, at $133,340
If you're a nurse and can relocate, you might want to move to California. The state pays nurses the highest mean wage of $133,340. While the cost of living can be expensive in major cities, you can find affordable locations and live a great life working your dream job.
(bls.gov)
96. Oncology Nurses Average $81,635 Per Year, One of the Highest-paid Specialties
There are many different types of cancer, so there need to be nurses to care for all the patients. Oncology nurses make some of the highest salaries in the nursing field, with an average of $81,635 annually.
(payscale)
97. Projected 10-Year Job Growth for LPN/LVNs Is Over 9%
Many nurses continue their education to become RNs, but there's a need for LPNs and LVNs. In fact, experts project the field will grow more than 9% in the next ten years.
98. San Francisco-Oakland-Hayward, CA Is the Highest Paying Metropolitan Area for an RN at $164,760 in 2022
RNs make higher salaries than LPNs and LVNs because of their education and experience. However, they also make higher pay in certain areas of the country. In San Francisco-Oakland-Hayward, they average $164,760 annually. While this sounds nice, always calculate the cost of living before taking a job in a new city.
(bls.gov)
99. Average male LPN/LVN Makes Over $47,000 While Their Female Counterparts Average Just Under $40,000
The sad truth is that jobs don't pay women as much as they pay men, with the US Department of Labor calculating that women make an average of 83.7% of what men make. With nursing being a female-dominated field, you'd hope that it would be different, but that statistic proves there's still a discouraging wage gap.
100. Massachusetts and Rhode Island Pay LPN/LVNs the Most at an Average of $27.70 Per Hour
All nursing jobs require a great deal of skill and care, but LPNs and LVNs are those who typically have the least education and experience. With that in mind, it's understandable that they make less than RNs. However, if you work in Massachusetts or Rhode Island, you'll still make a great hourly wage.
101. Bloomsburg-Berwick, PA Has the Highest Location Quotient for a Metropolitan Area, at 3.14
The location quotient is the ratio of the area's employment concentration compared to the national average. Anything over one means the area has a high share of employment. The Bloomsburg-Berwick area having an impressive 3.14 means that there are many RN jobs there.
(bls.gov)
102. Around 74% of LPNs Work in the Healthcare Industry
Many people get their LPN because it's the quickest way to get educated and try the nursing field. However, many people realize that nursing isn't the career they want. With that in mind, it's impressive to know that 74% of LPNs still work in the healthcare industry. Others can also use their knowledge in other capacities.
(Zippia)
103. Certified Radiology Nurses Make $91,000 Per Year on Average
There's a lot of money you can make in the nursing field. Whether you choose to become an LPN, LVN, RN, NP, or certified radiology nurse, you can find a way to make good money while providing life-changing care for your patients.
bottom Line
These statistics tell a lot about the shape of the nursing profession in 2023. If you plan to become a nurse, take this information about education, retirement, and wages and find the best field and location for employment. Nursing services are always necessary, so joining this field will provide job security and a comfortable income while you make a difference in the world.